10 Closest Ski Resorts to Colorado Springs, CO
By our count, there are 10 resorts within a 2.5-hour drive from Colorado Springs, CO. Surprisingly, there are not many ski resorts that are super close to the city limits.
Denver International Airport is just over an hour north of Colorado Springs. This is the airport that would be best for most of the ski resorts we found below. However, Colorado Springs does have its own airport.
Colorado Springs Municipal Airport [COS] is located on the east side of the city, and has nonstop flights from a variety of major metro areas around the country. This includes Atlanta, Dallas, Chicago, Houston, Salt Lake City, Las Vegas, and Phoenix. Some major airlines fly in and out of there as well, including Delta, American, Southwest, and United.
Pikes Peak Ski Area
By our count, we've found 10 ski resorts that meet the 2.5-hour drive criteria, with all but one at least two hours away. However, that was not always the case.
Built in 1939, Pike Peak Ski Area was 21 miles, or about 40 minutes away from downtown. While it was significantly smaller than the ski resorts in the area we know of today, it was large enough to be the place to ski for the people of Colorado Springs.
Pikes Peak had 5 trails, one rope tow, and two Poma lifts for most of its life, but started a major expansion project in the early 1980s. The area began by adding two new trails, snowmaking capabilities, an updated lodge, and a brand new $700,000 triple chair made by Poma as a part of the project. Unfortunately, shortly thereafter, Pikes Peak fell behind in its taxes. Poma helped them out the first year by lending them the money to pay off the back taxes, but the reprieve didn't last long. The next spring, Poma reclaimed the lift, and the park has been closed ever since. Its last year of operation was 1984.
Colorado Springs Ski Resorts Map
Which Ski Resort Is Best For You?
Of course, this is a loaded question, as everyone can have different opinions on what constitutes the "best ski resort" for you. Here are some of the best ski resorts in Colorado Springs, based on a variety of factors:
| | |
| --- | --- |
| Best for Experts | Winter Park |
| Best for Beginners | Eldora Mountain |
| Best for Apres-Ski Activities | Breckenridge |
| Best for Families | Copper Mountain |
| Least Crowded Big Resort | Copper Mountain |
| Cheapest | Echo Mountain |
| Most Luxurious | Breckenridge |
Ski Resorts Near Colorado Springs, CO
Here are the 10 ski resorts closest to downtown Colorado Springs. Colorado has way more ski resorts, but most are too far away to visit from here. They are ranked from closest to furthest away.
Echo Mountain (102 miles, 1.75 hours)
Echo Mountain is the only ski resort less than 2 hours from Colorado Springs. It also happens to be the second best deal in Colorado.
Breckenridge Ski Resort (105 miles, 2 hours)
Breckenridge is the virtually tied with Winter Park as the most difficult ski resort on this list. It is also one of the crown jewels of the Epic pass.
Arapahoe Basin Ski Area (130 miles, 2 hours)
Eldora Mountain (119 miles, 2.25 hours)
Keystone Ski Resort (141 miles, 2.25 hours)
Loveland Ski Area (123 miles, 2 hours)
Monarch Mountain (128 miles, 2.5 hours)
Winter Park Ski Resort (132 miles, 2.5 hours)
Ski Cooper (137 miles, 2.5 hours)
Copper Mountain Resort (145 miles, 2.5 hours)
Bonus… Garden of the Gods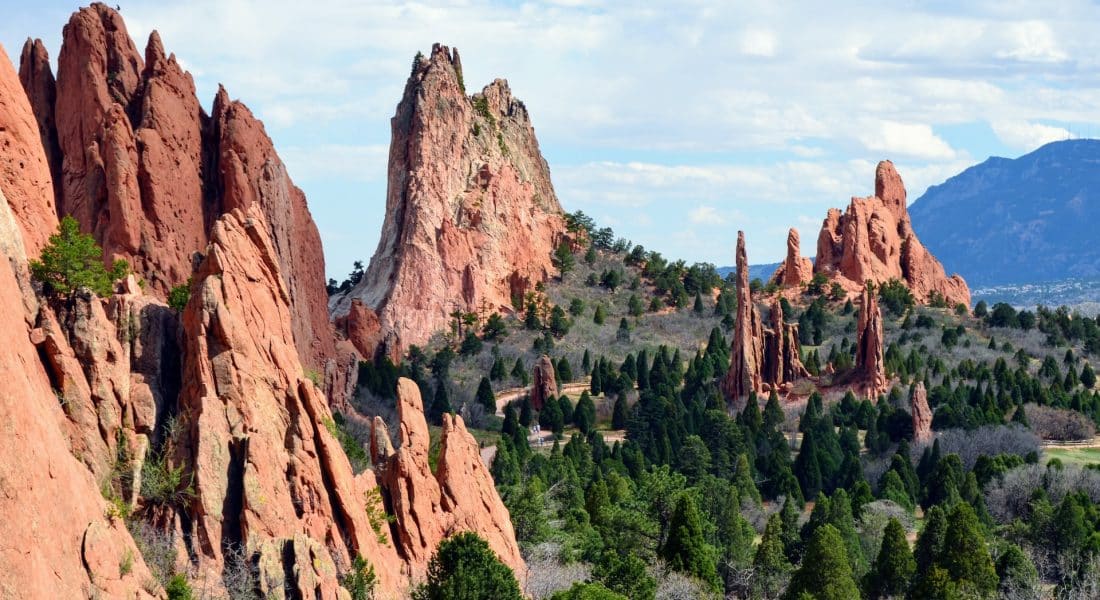 And since I love talking about anything National Park related, I have to mention that Colorado Springs is home to the amazing Garden of the Gods Nature Center. Even open in the winter, Garden of the Gods is a great place to visit when in Colorado Springs. With 21 miles of trails, Segway tours, and guided walks with park rangers, it is a must-see attraction if you're ever in the area.