Yosemite National Park Through the Seasons
Yosemite National Park was America's first officially designated national park, and is located in central California. Nestled into the Sierra Nevada mountains, this park is most famed for its enormous and ancient sequoia trees, and for Tunnel View, the iconic vista of towering Bridalveil Falls. The two granite cliffs of El Capitan and Half Dome are also major attractions.
What is the Best Month to Visit Yosemite?
Based on our research and data, the best month to visit Yosemite National Park is September. September sees the least amount of visitors out of all the summer months, the weather is still gorgeous and all the roads and trails are still open (they begin to close in October).
As for the other seasons, here are our picks for best months within each of them:
June in Spring
September in Summer
October in Fall
December in Winter
Spring (April – June)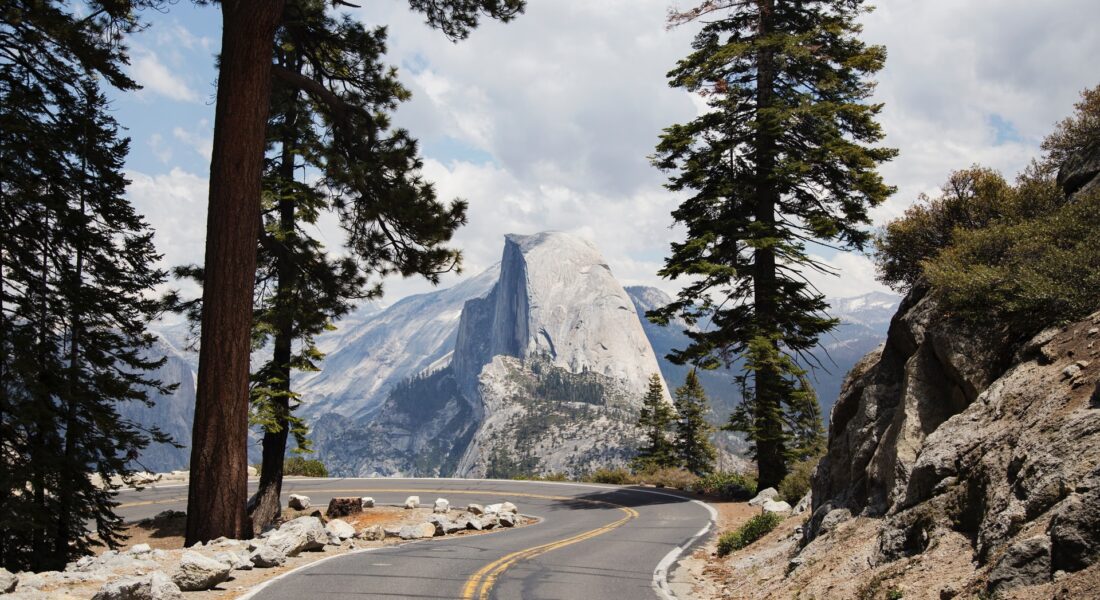 Spring is a time of transition in Yosemite, with lower elevations in full wildflower bloom, while higher elevations are still covered in snow. In fact, at higher elevations snow will still be falling come April, and sometimes even as late as May.
Yosemite's spring season usually lasts well into June, as snow in the elevated areas can persist in the park until then. As snow melts, streams and rivers fill or overflow with runoff. The lower elevations of the park, (~7,000 feet), typically melt by mid-May while the higher elevations – 10,000 feet and up – usually aren't accessible until mid-June or later.
The famed Glacier Point Road typically reopens around the end of May or early June. Once the roads fully reopen, there may still be significant snow and water on nearby trails. Most facilities also do not open for a few weeks until after the roads open.
Temperatures are generally mild in the spring, although they can vary from freezing at night to the 70s during the day. With these warmer temperatures and finally accessible roads, the visitors begin to reappear for the year. May and June see a huge influx of visitors compared to April and earlier.
Yosemite's Spring Statistics:
Average Precipitation Amounts: 43 inches (109 cm)
Average High Temperature: 54 °F (12 °C)
Average Low Temperature: 35 °F (2 °C)
Average Park Visits per Month: 400,000
Summer (July – August)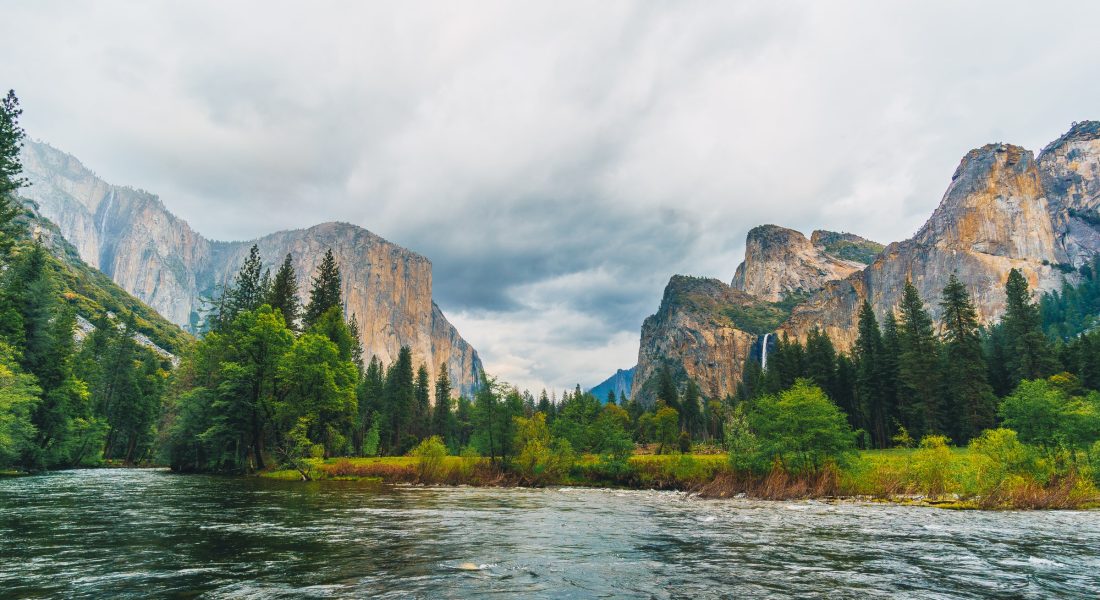 Summers in the Sierra Nevadas are warm and dry. Yosemite National Park receives less than five percent of its annual precipitation in summer, mostly as rain from thunderstorms. Daytime temperatures in Yosemite Valley sometimes reach 100 °F during summer, but are regularly in the 70s, stretching into the 80s occasionally. Summer nights are cool, often dipping into the 50s.
Though skies are usually clear in the morning and night, thunderstorms can be a daily occurrence in summer afternoons. They usually pass quickly, allowing activities to resume.
Visitation peaks in July, with August a close second. Hotels, Airbnbs and other accommodations quickly fill up this time of year, and you regularly need to book them six or more months in advance in order to secure a spot.
Yosemite's Summer Statistics:
Average Precipitation Amounts: 36 inches (91 cm)
Average High Temperature: 71 °F (22 °C)
Average Low Temperature: 51 °F (11 °C)
Average Park Visits per Month: 710,000
Fall (September – October)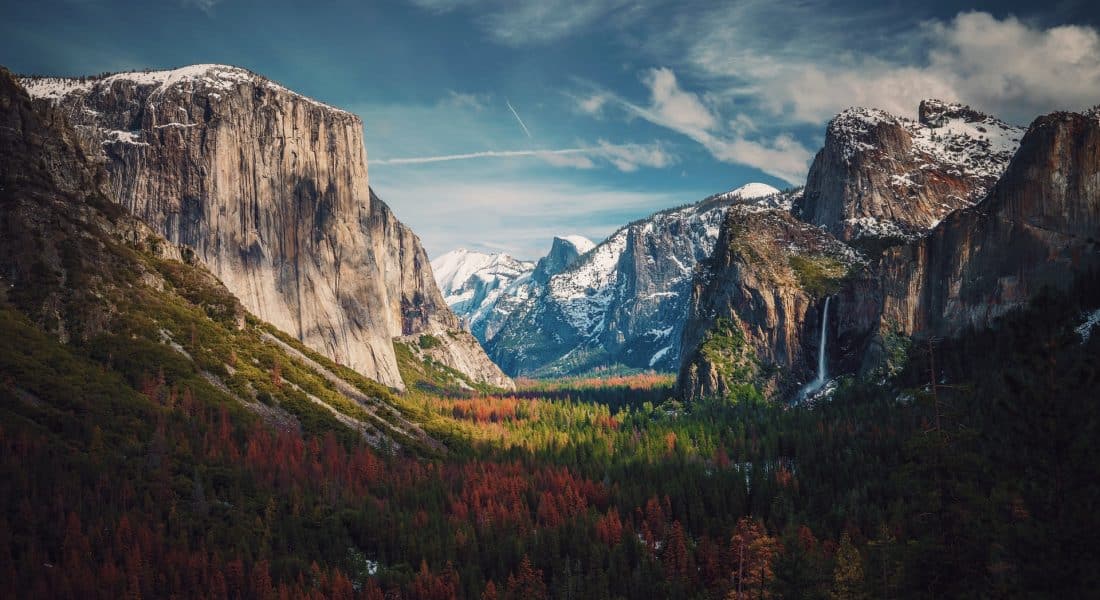 Fall nights grow increasingly cold throughout Autumn, while daytime temperatures continue to be warm through the month of October. The beginning of this season usually has multiple days of clear, brilliant days with cool evenings. However, by late October, early winter storms can pop out of nowhere. At higher elevations, regular snowfall may occur as early as September.
By mid-October, nighttime temperatures at higher elevations are below freezing and daytime temperatures are cool to mild.
Yosemite is mostly filled with evergreen trees, but the fall colors come from the aspens, dogwood, sugar maples, big leaf maples, black oaks, deer brush, and white alder trees. The fall colors vary from year to year but typically appear during the last half of October and last through the first winter storms around the beginning of December.
Hazy or smoky conditions may occur during fall. This may be due to fires in the area or inside the park. Lightning-caused wildfires occurs naturally in the Sierra Nevadas.
Visitation numbers begin to drift down from their summertime highs, but fall doesn't offer an enormous break from the crowds. Monthly averages still top over 500,000 for the autumn season.
Yosemite's Autumn/Fall Statistics:
Average Precipitation Amounts: 28 inches (71 cm)
Average High Temperature: 60 °F (16 °C)
Average Low Temperature: 40 °F (4 °C)
Average Park Visits per Month: 517,000
Winter (November – March)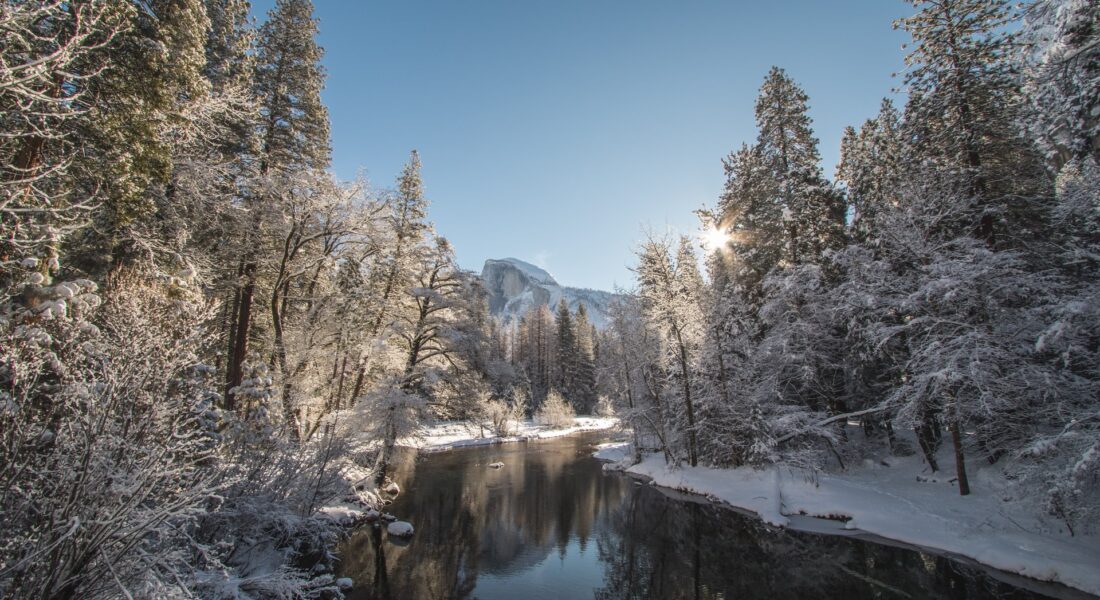 Winter in the Sierra is cold and wet, with over 70 percent of the year's precipitation falling between November and March, usually as snow. The snowpack increases during winter and reaches maximum depth in mid-March, often reaching dozens of feet at its peak.
Many trails and roads become impassable due to the snow, so be prepared for limited access to the park if you come during the winter. The Glacier Point Road is plowed to the Badger Pass Ski Area from mid December through March. If you plan to drive the park in the winter, travelers should carry tire chains in their cars, as they could become mandatory on park roads at any time.
Yosemite's Winter Statistics:
Average Precipitation Amounts: 76 inches (193 cm)
Average High Temperature: 37 °F (3 °C)
Average Low Temperature: 21 °F (-6 °C)
Average Park Visits per Month: 156,000