EPIC Ski Pass Resorts: 2023-24 (Updated)
Vail Resorts created the EPIC ski pass in 2008. Back then, passholders only had access to 7 partner resorts, and they were all Vail owned and operated resorts. Today, EPIC encompasses over 50 ski resorts located across the globe.
The Epic pass is a physical card that gets scanned as you use the lower lifts at the resort you visit.
What is the EPIC Ski Pass?
The EPIC pass is a lift ticket that you buy in bulk that works at multiple mountains. Depending on the type of pass purchased, you will get access to the associated ski resorts for anywhere between 1 day and the full winter season. All EPIC passes allow you to access more than one of their member resorts. For a skier that plans to travel across the country skiing different slopes, a nationwide or local pass like EPIC will be a great deal.
EPIC pass holders get deals on other items including rentals and food, but the pass itself is only good as a lift ticket. This is called their Epic Mountain Rewards program.
When you purchase a lift ticket from EPIC, you get a few benefits. First, the tickets are cheaper than if purchased them one at a time at each resort you visit. Other benefits are available to the Epic pass holder, but will depend on the type of pass chosen.
Types of EPIC Passes
EPIC has several types of ski lift passes available.
EPIC has an unrestricted pass that allows unlimited access to all their member resorts without any blackout dates or holiday restrictions. This pass is, unsurprisingly, also their most expensive.
Their Nationwide local pass provides access to all their unlimited resorts without blackout dates, and 7 others with either limited number of days or blackout dates.
The most commonly purchased EPIC pass is one of their hyperlocal offerings. These hyper local offerings provide access to a tight group of resorts that are all clustered close to each other. For instance, the Tahoe Local Pass provides access 9 resorts around Lake Tahoe. They also have a Tahoe Value Pass that only includes access to 3 resorts (Heavenly, Northstar & Kirkwood). These hyper local passes are available for various locations in Colorado as well as the Northeast.
EPIC also sells season or day passes for each of their owned resorts. These passes only work for the individual resort they are purchased for.
Check out all of EPIC's passes on their comparison page.
EPIC Pass Pricing (23/24 Season)
The Unlimited EPIC pass costs $909 per adult (ages 13+), and $463 per child.
The EPIC Local pass is $676 per adult (ages 19+), $547 per teen (ages 13-18), and $226 per child (ages 5-12).
The Unrestricted EPIC 4-Day Pass is $443 per adult (ages 13+), or $195 per child (ages 5-12). EPIC also has anywhere from 1-7 day passes available. Adults can expect to pay around $111 per day, with a higher discount the more days you purchase. You'll save about $68 if you opt to ski around the blackouts. If you know you'll be visiting a Vail resort, the Epic day pass is something you need to seriously consider.
However, the prices of these multi-day passes can vary quite a bit depending on the options you choose. You can pick between having holidays included, or not. You can also select to have the pass be available to all resorts, or only a subset of them. For example, a 7-day adult ticket that is only available at 22 resorts and is subject to holiday blackouts, costs $281 ($41 per day).
Prices for EPIC passes usually go up marginally each season. We did a deep dive on the price changes of the EPIC pass since its inception.
Most of these EPIC passes cost less than the comparative IKON pass, but the cost you see isn't always the cost you pay. Typically, parking and amenities ares more expensive at Vail resorts, but that is just a generalization.
Is the Epic Pass Worth It?
In our opinion: Yes! The only reason it wouldn't be worth it is if you purchase too many tickets and then cannot go for whatever reason. Epic passes are non-refundable and non-transferrable. This means that once you buy the Epic pass, then you will need to use it or lose it.
The benefit of buying an Epic pass is that you get ski lift tickets at a steep discount over same-day gate pricing. If you buy your Epic tickets in March when they first go on sale for the next year, then you can save over 20%! This doesn't even take into account the fact that you get discounts on rentals, and aprés ski services like food and drinks as well.
Alternatives to EPIC
EPIC is one of five nationwide similar ski lift passes. Each pass network has its own benefits, prime locations, and important limitations. While there are four alternatives to the EPIC pass, typically IKON is listed as the most direct competitor.
The first difference that jumps out between IKON and EPIC passes are the varying amounts of Unlimited and Limited ski resorts within each network. Limited typically means that you are allowed to ski anywhere between 2-7 days at each resort in that category. However, average skiers only ski 2.7 times a year, which means this limitation is not really one at all. This only becomes an issue if you are buying a specific pass for your local resort that you plan on skiing often throughout the season.
North American Resorts Only
The table above shows statistics for North American ski resorts only. Most of the passes include ski resorts in other countries like Australia or Italy, but since we are a US-based travel company, we are focusing only on local resorts to us.
Which Regions are best for EPIC Passes?
Since each ski pass has a specific set of ski resorts within its network, some regions of the US and Canada are better served by a specific pass. Based on where EPIC ski resorts are located, here are the list of regions that we feel are best served by the EPIC pass:
Colorado (but it depends on the resorts you want to visit)
Boston (equally great with IKON)
| Rank | State/Province | # Resorts |
| --- | --- | --- |
| #1 | Pennsylvania, USA | 8 |
| #2 | Colorado, USA | 6 |
| #3 | New Hampshire, USA | 4 |
| #4 | Ohio, USA | 4 |
| #5 | California, USA | 3 |
| #6 | Vermont, USA | 3 |
| #7 | Missouri, USA | 2 |
| #8 | Minnesota, USA | 1 |
| #9 | New York, USA | 1 |
| #10 | Michigan, USA | 1 |
When Can You Purchase an EPIC Pass?
You can buy EPIC passes on EPICPass.com. The passes go on sale March 7th, 2023 for the 23/24 ski season.
As for typical timing, EPIC passes for the following ski season usually go on sale around the mid-to-late March.
Last year (2022/23) EPIC passes went on sale March 20th, and in 2021/22, on March 23rd. EPIC also offers a slight discount when tickets are purchased early as soon as they go on sale. Payment plans are also available.
EPIC passes are off sale, and no longer being sold for the season by the beginning of December.
If you are planning a ski trip in January or February, more than likely you'll have to pay full price for a lift ticket at the resort. Most if not all EPIC passes will not be sold that late into the season.
Changes for the 22/23 Season
The IKON Pass has poached the Sun Valley and Snowbasin ski areas from Vail Resorts' EPIC Pass for the 2022-23 ski season. Idaho's Sun Valley and Utah's Snowbasin are both owned by Grand America Hotels & Resorts.
In early 2022, Vail also purchased three ski resorts in Pennsylvania. Seven Springs, Hidden Valley and Laurel Mountain are all located in the middle of the state, less than 2 hours west of Pittsburgh.
List of all EPIC Pass Resort Mountains
All Vail resorts (Vail, Breckenridge, Crested Butte, Park City, Blackcomb, etc) are a part of the EPIC pass.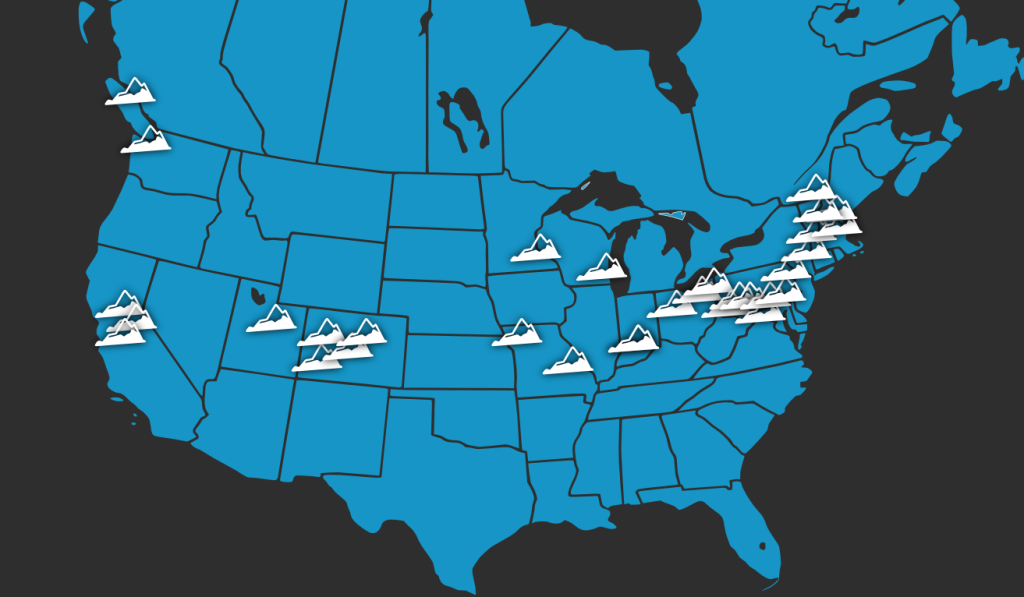 All EPIC ski resorts are exclusive to EPIC. This is different from every other available season pass. For example, IKON and INDY share some of their resorts with Mountain Collective. However, this is not the case with the EPIC pass. Vail's resort mountains are only available with the EPIC pass.
Here is the full 2022/2033 ski resort list for the EPIC Pass: