National Park Visits in the US Have Increased 75% in 40 Years (2023 Data)
If your family is anything like mine, most of our vacations include at least one National Park. This is actually why I created Parks & Trips – I wanted a place to share the road trip ideas that I've accumulated throughout the years.
Vacations to National Parks have always been popular, but have become increasingly more so over the last decade. Some of this is, of course, how close to a National Park you live, but they've also become magnets for the Instagram crowd for their amazingly beautiful vistas. I decided to analyze yearly National Park Service data to see if any trends or interesting visualizations could be found.
The numbers did not disappoint.
Yearly Visitation Numbers Have Steadily Increased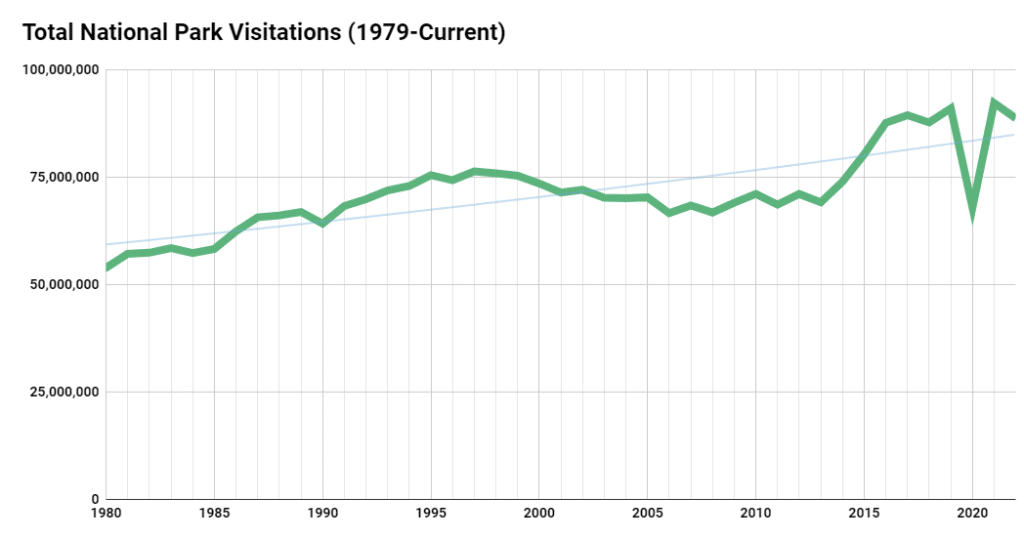 The National Park Service (NPS) only provides visitation data starting in 1979. The park system has been around since 1916.
Since 1976, total recreation visits to our National Parks have increased by 75%. Visits steady rose throughout the 80's and 90's until they peaked 1997. That year started a slight decline that only quickened with the 9/11 events of 2001. Starting in 2001 and until 2013, visitation numbers basically held steady. While there was a slight downturn and subsequent recovery, 2001 and 2013 numbers were basically unchanged.
I've tried to find the reason for the sudden revival of interest in visiting our National Parks starting in 2014, but I have not been able to. The US economy did enter a 2-year period of success that year, but that would hardly account for such an increased demand to see our nation's parks.
Significant Years
1989-90 – Acadia's precipitous drop-off was not actually what it seems. That year, administrators decided to change their counting method to improve its estimates.
1990 – The 1990–91 recession severely hampered the ability to travel for many Americans. From July 1990 to March 1991, the US economy shed 1.623 million jobs. Unemployment peaked at 7.8% in July 1992.
2001 – The terrorist attacks in New York City, Washington, DC and Shanksville, PA caused many to forgo travel for the next couple of years. The downturn of visitation numbers actually started a few years prior, but the visitation losses became much more pronounced starting in 2001.
2013-14 – A 16-day government shutdown in the middle of prime vacation time caused 2013's total visitation numbers to be muted. By 2014 the park system's numbers rebounded to hit a record at the time. This started a steep increase in visits to all NPS sites, until…
2020 – The COVID pandemic and associated lockdowns caused a steep 25% decline in National Park visitation that lasted only a year. By 2021, people were ready to get back outside, and ended up beating 2019's record number by almost 1.5% (1,241,073 visits).
2021 – The nation collectively rebounds from lockdown and takes revenge travel to a new level, with total visits to our National Parks reaching an all-time high.
It's Not Only National Parks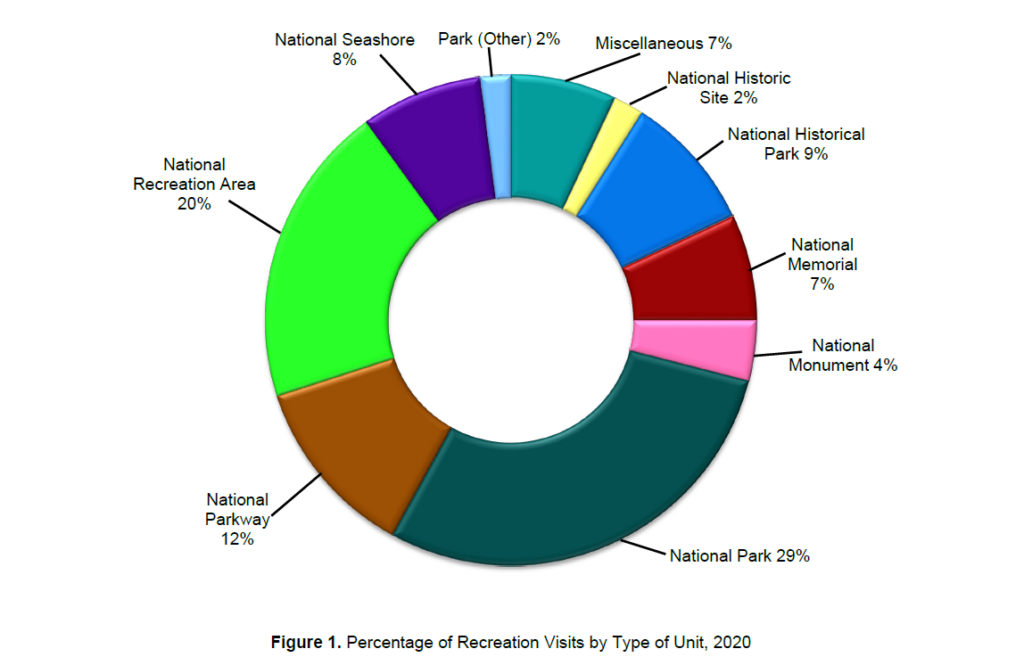 According to data released in early 2021 by the NPS, National Parks only account for around 30% of the total visitations across all NPS sites. National Parks—which occupy over 56 million acres across our country—are the largest slice of the pie, but National Recreation Areas (NRAs) are right behind them with 20% of the total visits. National Parkways, National Historical Parks and National Seashores round out the top five.
In fact, the most visited property within the NPS system is The Blue Ridge Parkway. It actually has over 1.7 million more visitors per year than the Smoky Mountains.
| Rank | Park | Designation | State(s) | Visits |
| --- | --- | --- | --- | --- |
| #1 | Blue Ridge National Parkway | Parkway | NC,VA | 15,711,004 |
| #2 | Golden Gate National Recreation Area | National Recreation Area | CA | 15,638,911 |
| #3 | Great Smoky Mountains National Park | National Park | NC,TN | 12,937,633 |
| #4 | Gateway National Recreation Area | National Recreation Area | NY,NJ | 8,728,291 |
| #5 | Lincoln Memorial | National Memorial | DC | 7,825,397 |
The Most Visited National Parks
Starting in 1979 (the earliest date we have data for, but likely for much longer than this), the Great Smoky Mountains have been the most visited National Park, and it hasn't been close. We created the racing bar chart below to illustrate how different National Parks have changed in popularity over the years.
In the past 42 years, the Smoky Mountains have never relinquished their top spot. Ranking from second-place on down have changed throughout the years, but this little national park situated between Tennessee and North Carolina has always been the favorite. As of today, its visitation numbers are almost triple that of its closest competitor.
We visited about ten years ago, and I will say, the place is great. The free access certainly helps boost numbers, but so does the fact that it is by itself in the area. A few new National Parks (Gateway Arch, Cuyahoga Valley, New River Gorge) have been added in the general area over the last decade or so, but none are nearly as impressive as the Smokies.
Secondly, we have to guess that because it's a free park, people who "drive by" or quickly stop at a visitor's center are probably also being counted here.
Acadia was in second place until the Grand Canyon overtook it in 1990. The Grand Canyon has held onto that second place spot until it gave way to Yellowstone in 2020 as all National Park visits took a hit. Zion the assumed the silver position in 2021, but gave it right back to the Grandest Canyon in 2022.
Maybe the most interesting thing in the chart is how different the rankings of the early 80's were compared to today. While Zion is one of the most popular National Parks today, that was not the case four decades ago. Zion's visitation numbers were nearly tied with the Badlands, Hot Springs and Mammoth Cave. While two of those three parks are certainly worth visiting (we're looking at you Hot Springs…), none should have been on the level of Zion. If I had to guess, this probably had something to do with the fact that Zion wasn't near any major city, and flights weren't as affordable as they are today.
US National Parks by Visitation & Rank for 2022