Is a Day Trip to Yellowstone from Salt Lake City Possible?
If you ever find yourself in Salt Lake City, Utah, you may find yourself wondering if a day trip to Yellowstone National Park is possible. I mean, how often will you ever be this close to Yellowstone again… right?
We went digging and crunched some numbers to see if this trip was possible or not.
Distance from Salt Lake City to Yellowstone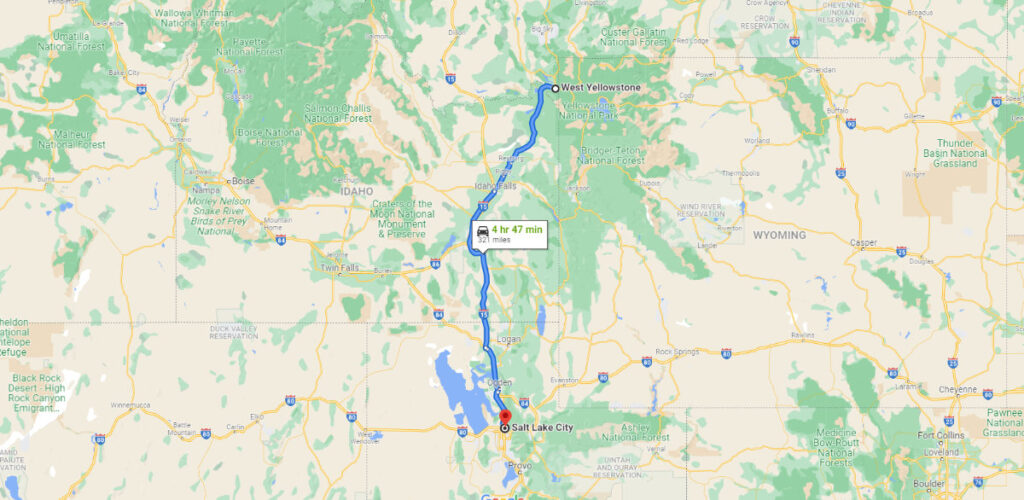 Foremost, let's determine which part of Yellowstone you should visit. If you were to visit Yellowstone National Park for one day, then you'd definitely want to see the Old Faithful Geyser and probably the Prismatic Springs as well.
To see these two iconic attractions within Yellowstone, you'd need to enter at the West Entrance in West Yellowstone, Idaho.
From the center of Salt Lake City to West Yellowstone, ID, it is 321 miles (517 km) or approximately 4 hours, 45 minutes of driving.
If you were going to try to make this trip up and back in the same day, you'd be driving at a minimum 642 miles (1,033 km), and 9.5 hours.
Example Itinerary for a Day Trip
If you left Salt Lake City at 6AM, you wouldn't reach Yellowstone's entrance until 10:30-11:00 AM. In order to get back to SLC by 10 PM, you'd have to leave the park by 5:30 PM at the latest.
6:00 AM: Leave Salt Lake City
11:00 AM: Arrive at Yellowstone National Park
11:00 AM—5:30 PM: Visit the park.
5:30 PM: Leave Yellowstone
10:30 PM: Arrive back at Salt Lake City
If you are willing to stretch your day like that and drive (in total) over 700 miles in one day, then I guess this day trip may work for you. You would be left with about 6.5 hours to do whatever you wanted in the park before heading back to Salt Lake City.
Optimal Timing for Your Time in Yellowstone

First of all, avoid July if at all possible. It is the month with the highest amount of visitors entering the park. June, August, and September are not much better. May and October are probably the best months to visit seeing as the weather is still decent, yet the crowds are much thinner.
The park is still open in winter, but the snow may close some roads. This would still be a great time to visit Yellowstone, considering how few people are there during these cold months.
However, if your trip to Yellowstone is going to fall in one of the heavy visitation months (June-September), then here are a few tips to help avoid the crowds as much as possible.
Avoid Midday (10am to 4pm). This is when most of the crowds are out. Unfortunately for you, this is really the only time you can visit during a day trip. Early morning or late afternoon are better times.
Parking Fills Early. To get a good parking spot, you need to be in the park by 8am.
Focus on Other Attractions. Old Faithful will undoubtedly be the busiest of the sights. Focus on others instead to get away from the crowds.
Conclusion
So can you visit Yellowstone from Salt Lake City in one day? We have to give this a "soft" no.
The numbers work out to where you actually can do it, but we wouldn't, and here's why.
First, Yellowstone deserves more than a quick few hours. There is a lot to this park you'd have to miss if you were there for only the middle of one day. The Grand Canyon of Yellowstone, the Upper and Lower Geyser Basins… all would likely be skipped in a trip like this. Most people spend at least a couple of days here so they can take advantage of the smaller crowds in the morning and evening.
Second, driving 700 miles in one day is not fun. At least it wouldn't be for me.