Las Vegas, Nevada is well known as the city that never sleeps. Driving down the strip at night, it becomes abundantly clear why Sin City has that moniker. However, if you spent any more than a few days in Vegas, you'll probably find yourself wanting to see something other than traffic, lights and enormous buildings. Taking a day to refresh yourself in nature is something that helps the mind any time, but especially in a city like Las Vegas.
Here we list out our top five destinations to take a day trip out of the city to explore nature. All of these are well known by locals, but as a visitor to a new city, this list may be just what you're looking for to get away from the bright lights and loud sounds for the day.
5. Hoover Dam / Lake Mead Recreation Area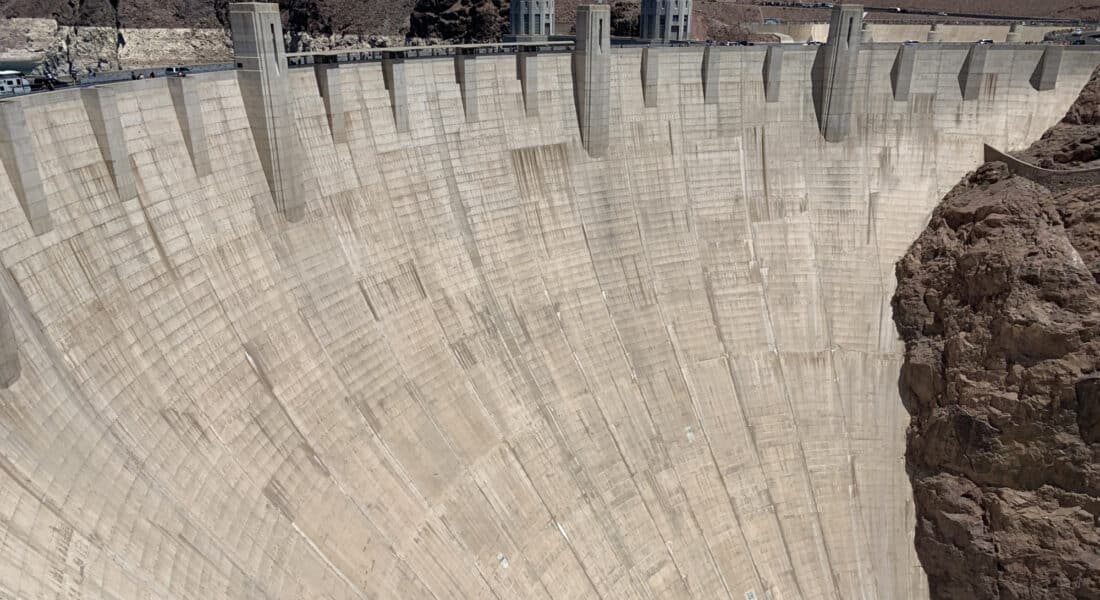 Distance Away from Las Vegas: 40 miles (40 minute drive)
In less than an hour, you can be standing at the edge of one of America's most impressive structures. Finished in 1936, the Hoover Dam is built on the Colorado River in the Black Canyon. The dam is used to generate hydropower to much of the southwest, including Las Vegas.
Don't skip out on taking a tour of the facility to see how the power generation takes place. It is a massive structure that you really have to see to understand how large it actually is.
Hoover Dam impounds Lake Mead, the largest reservoir in the United States by volume when full, which it unfortunately has not been for quite some time. Lake Mead Recreational Area is a 1.5 million acre NPS-managed site that offers visitors a chance to swim, boat, hike, bicycle, camp, and fish.
4. Red Rock Canyon National Conservation Area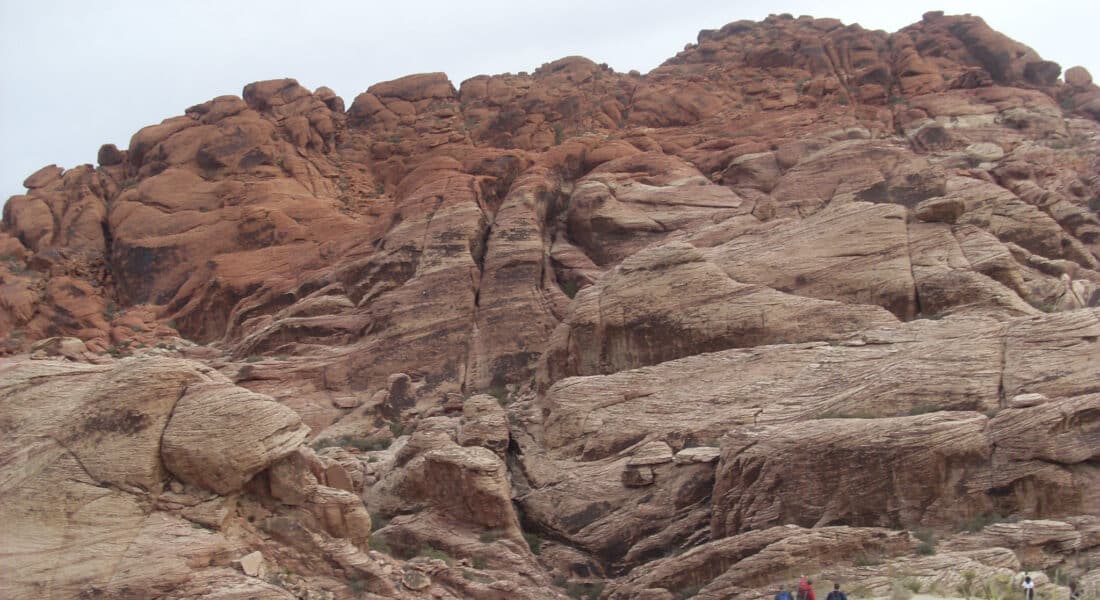 Distance Away from Las Vegas: 16 miles (20 minute drive)
Red Rock Canyon was the first place we visited when we wanted to get away from Vegas for a morning. Being less than 20 minutes away from the city center didn't hurt either… so it quickly became one of our favorites when visiting.
Since we've visited, the park has introduced a timed entry requirement, where you'll need to reserve your visit ahead of time. Beginning October 2022, the Bureau of Land Management instituted timed reservations for vehicle entry to the Scenic Drive between 8am and 5pm. The scenic drive is most of the park, so if you're visiting… you'll need to get one of these tickets.
With over 30 hikes, Red Rock Canyon offers trails for everyone from the beginner to the expert. If you're short on time, hike the Ash Spring Trail. Before heading out, grab a map at the Visitor Center (open from 9am-4:30pm daily).
3. Death Valley National Park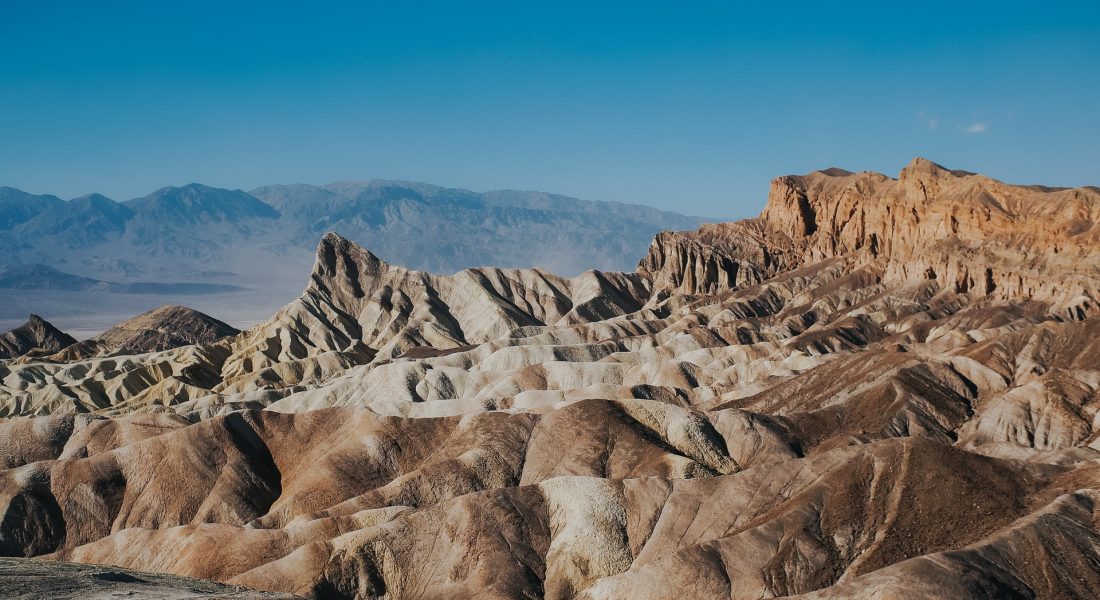 Distance Away from Las Vegas: 140 miles (2 hour, 10 minute drive)
Northwest of Las Vegas sits a national park that holds numerous world and US records.
Death Valley National Park is known for its extremes. It is North America's driest and hottest spot. It receives fewer than two inches of rainfall annually and has a record high of 134°F in the summer. It also has the lowest elevation on the continent, which is Badwater Basin at 282 feet below sea level.
When visiting from Las Vegas, first stop at the Furnace Creek Visitor Center. From there you can decide the sights you want to visit or the trails you want to hike.
What you do will likely depend on the time of year you're visiting. It is perfectly safe to visit in the summer if you use caution. First, drink and carry plenty of water with you. Carry with you and drink at least one gallon (4 liters) of water per day to replace loss from sweat, and drink more if you are active. Second, stay on paved roads in summer. 
The fall, winter and spring months (October to April) see the most visitors due to the weather being much more enjoyable. Average high temperatures during these months range from 80°F in October to mid-50s in December and January.
2. Grand Canyon West Rim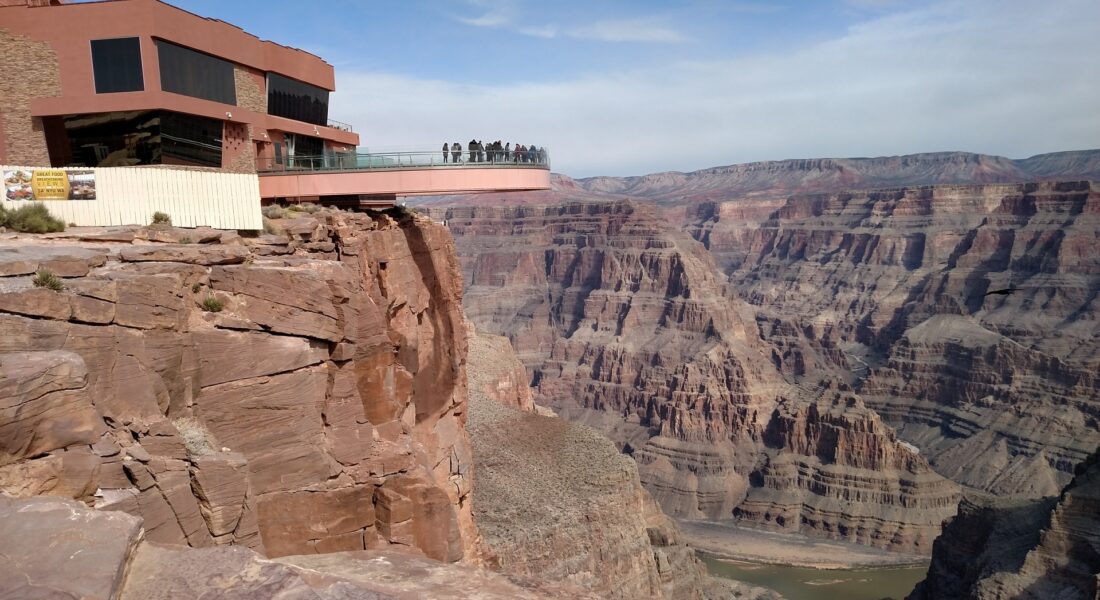 Distance Away from Las Vegas: 125 miles (2 hour, 15 minute drive)
The Grand Canyon is a place that you simply need to see with your own eyes. Pictures simply do not do it justice.
However, visiting the Grand Canyon National Park from Vegas takes over 4 hours and 280 miles – one way! So instead, in order to see the canyon, you should visit the lesser known West Rim.
The West Rim of the Grand Canyon is not managed by the National Park Service, but rather the Hualapai Tribe. The West rim has the famed Skywalk glass bridge that stretches out over the canyon's floor. The West Rim is about 125 miles away from Las Vegas' city center, and will take about 2 hours and 15 minutes to drive one way.
General Admission at the West Rim starts at about $65 per person, and goes up from there if you decide to include meals and/or helicopter or boat rides.
The round trip from Las Vegas to the West Rim of the Grand Canyon would be about 250 miles (402 km), and would take about 4.5 hours.
1. Valley of Fire State Park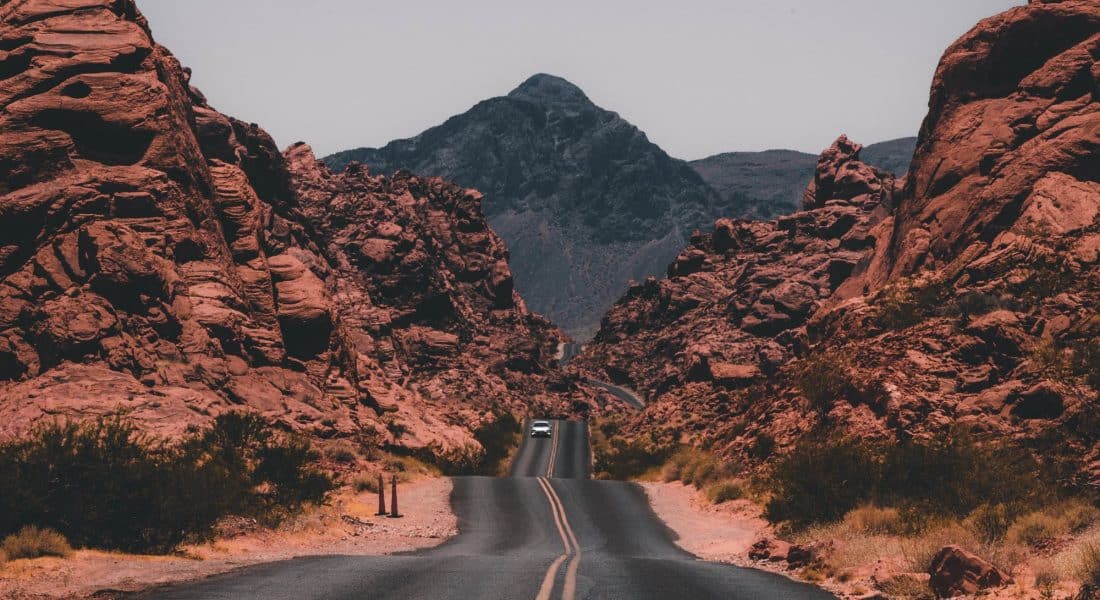 Distance Away from Las Vegas: 50 miles (1 hour drive)
Valley of Fire State Park in Nevada is the perfect distance away from the hustle-bustle of Las Vegas.
This state park has 2,000 year old petroglyphs carved into massive red sandstone formations in the Mohave Desert. It is the largest (46,000 acres) and oldest state park in the state. This park consists of bright red Aztec sandstone outcrops nestled in gray and tan limestone mountains. The sandstone is from the Jurassic period and is the remnant of the sand left behind by the wind after inland seas subsided and the land rose. There are nearly 20 miles (32 km) of roadway in the Valley of Fire that seem to take you to a completely different world.
Tips for travelers visiting in 2023 or later—the state of Nevada is implementing a timed reservation system for all state parks beginning in 2023. This is not surprising as this Valley of Fire state park sees nearly 1 million visitors a year, so limiting traffic on peak days is essential. Plan ahead and reserve your spot if you plan on visiting!