Visiting Shark Fin Cove in Santa Cruz, CA
Shark Fin Cove (also called Davenport Cove or Shark Tooth Beach) is a popular beach located just north of Santa Cruz, California. Known for its view of a rock formation that resembles a shark fin, this small beach is a favorite for both locals and visitors passing through. This gorgeous secluded beach gets its name from the large shark fin-shaped rock formation that sits just offshore. This formation, along with the surrounding cliffs, provides a stunning spot that just about anyone would enjoy.
Getting to Shark Fin Cove
Address to the Shark Fin Cove parking lot: CA-1, Davenport, CA 95017
GPS coordinates are 37.005861, -122.185596
To get to the Shark Fin Cove Viewpoint, take Highway 1 along the California coast about 10 miles north of Santa Cruz and 1.5 hours south of San Francisco. You'll pass the small town of Davenport, and the Bonny Doon Beach before you reach the small dirt parking lot. The parking area will be on your left if you are driving north. Calling it a "parking lot" is probably a little too generous. It will be less than a lot, and more like a wider than normal side of the road. There will be no signs designating this as the place to see the famous shark fin.
There are no restrooms or garbage cans at this spot. Be respectful and take out what you take in.
The parking at all Coast Diaries State Park beaches is free, but there are limited spaces at the "official" Shark Fin Cove parking lot. To get a close spot, it is best to arrive early in the day. Stopping by in the evening to watch the sunset is also a great time. There are also a few parking spots across the road along it, and even more down the beach at Bonny Doon Beach lot.
Exploring Shark Fin Cove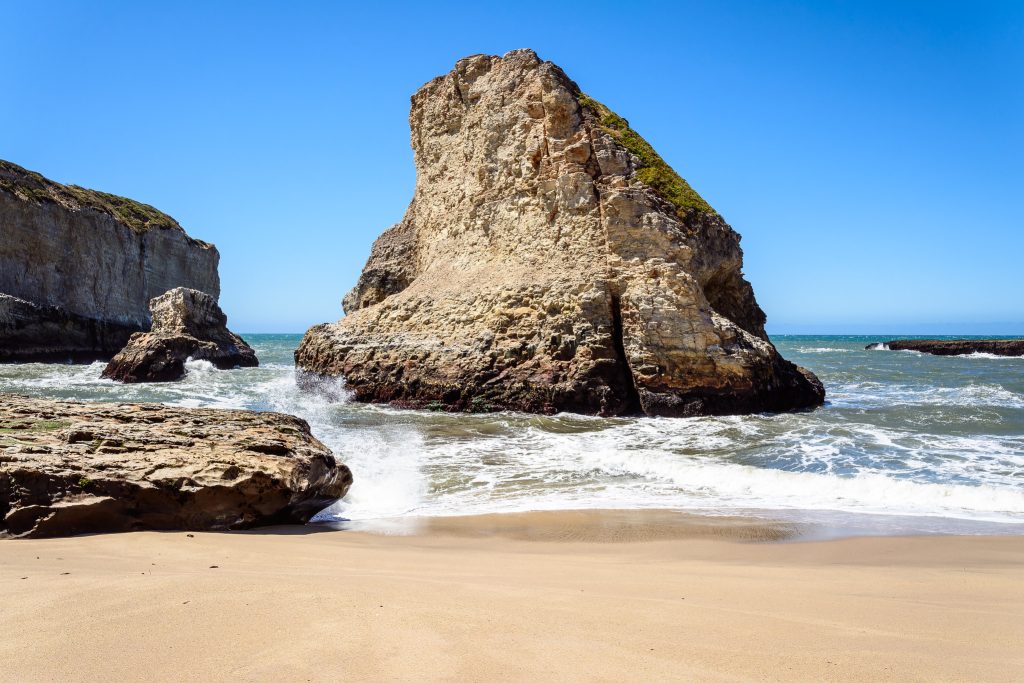 The Shark Fin Cove parking lot doesn't look like much at first. After parking, take the path down to the railroad tracks. From this point, you can begin to catch a glimpse of the beach and the surrounding rocky sea stacks (sea cliffs). Head right to go up to the Shark Fin Cove Overlook, or left to begin down the steep and rocky trail that leads to the beach access.
This short trail down to the water from is steep, sandy, and rocky. While it's not an exactly easy path, I think most will be able to do it if they're careful. It's only about 0.3 miles one-way down to the water.
The beach itself is a fairly small and secluded cove that is somehow set up perfectly. The sights from the top of the trail before the descent are great, but as you make your way onto the beach, you begin to realize how big the "shark fin rock" actually is. Unfortunately, you can't get onto the beach during high tide.
| | |
| --- | --- |
| Hiking Distance | 0.6 miles (1 km) round trip |
| Hiking Duration | 0.5-2 hours |
| Route Type | Out and Back |
| Difficulty Level | Moderate |
| Elevation Climb | 75 feet (23 m) |
| Trail Type | Dirt |
| Wheelchair Accessible | No |
| Pets Allowed | No |
| Fees | Free |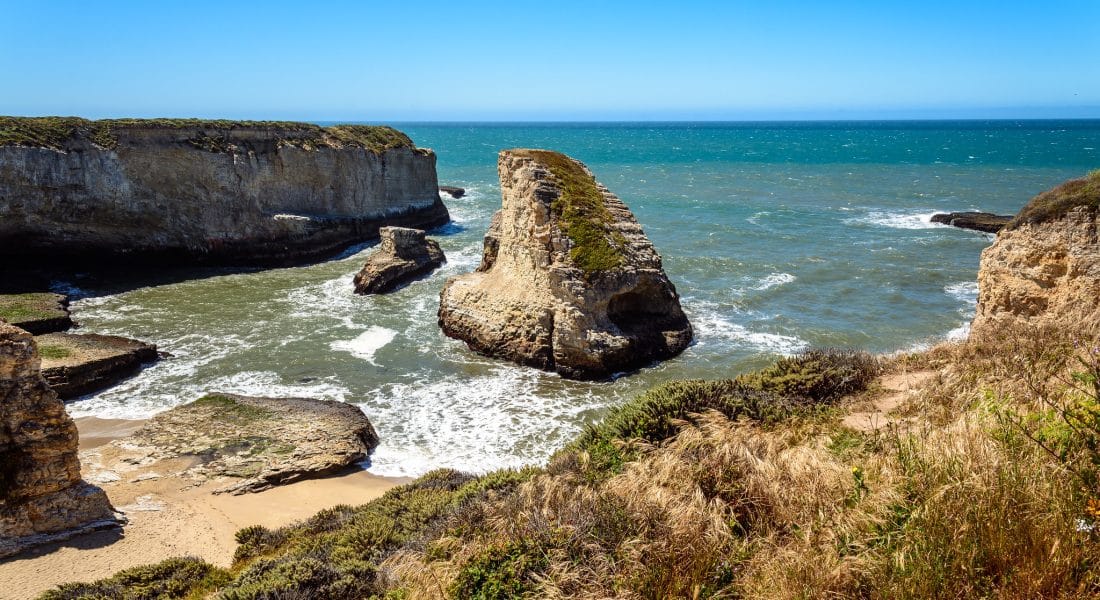 There will be a large sea cave (an old mining tunnel) immediately to the left, and a wide sandy beach on the right. The water here, like most places in the area, won't be super calm. Expect waves crashing against the rocks and sea cliffs.
Other Nearby Attractions
There are no official trailheads at the Shark Fin Cove viewpoint, but there are a lot of places to hike around up at the Overlook or down on the beach during low tide.
A great place to stop near Shark Fin Cove is the Natural Bridges State Beach. This beach is known for its natural bridge formation, as well as the super easy Monarch Trail. The 0.6 mile loop through the nature preserve shows you where Monarch butterflies stop during their migration in October and November.
Santa Cruz Weather
Santa Cruz is known for its mild weather, with cool temperatures and low humidity. The summer months are typically the warmest, with temperatures in the high 60s to low 70s. The winter months are cooler, with temperatures in the high 50s to low 60s. The beach can be chilly year-round, so bring a jacket or sweater when you visit Shark Fin Cove.