12 Places That Really Should Be National Parks
We recently outlined why we think there needs to be more official National Parks created. This will help with overcrowding at current national parks and will provide necessary funding to parks that desperately need it.
You may be asking yourself why the official designation matters. Well, funding for one. A park currently designated as a National Recreation Area below sees the same number of visitors as Yellowstone, but has less than a third of its funding. That's a considerable gap that is unlikely to be fixed without a congressional act.
We also hate asking for change and not offering at least some solutions. So, here we list 12 parks we think would make great new National Parks. There are a handful of others that didn't make our cut, but they are fantastic in their own right as well. Take a look below – you may find a park near you that you didn't realize existed!
How we Chose These Parks
The good news is that all of these parks already exist. Yes, they may be underfunded, but they are all imminently worth visiting. Hopefully, you'll beat some of the crowds, too.
These are the parks that, we feel, are deserving of National Park status. The hurdles needed to get them there are great, and it would likely take years to make anything happen. While the NPS has its own criteria for choosing a National Park, we chose them with the following ideas in mind:
Must be over 20,000 acres, or be conjoined with surrounding parks to hit that number. Currently, only five National Parks are smaller than that, two being islands, and the other three being urban parks.
Should have significant relevance in either history or geology.
Must already be a cohesive plot of land managed by either a state or the federal government.
Should be in or near a section of the country that is devoid of National Parks.
1. Delaware Water Gap National Recreation Area, PA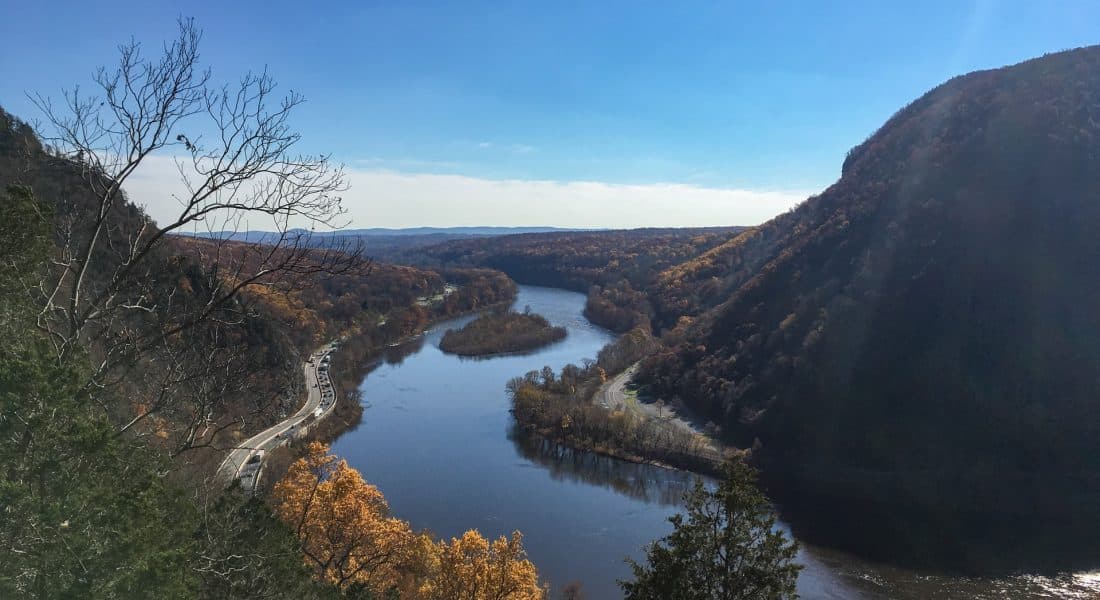 The Delaware Water Gap consists of nearly 70,000 acres, and is already going through approvals to become a National Park, although nothing is guaranteed yet. It is the perfect location, being within 3 hours of 60 million people. The Delaware Water Gap has nearly the same number of visitors as Yellowstone, yet receives far less in annual funding.
The East Coast is devoid of National Parks, and making the DWG a National Park would immediately help fix that. Currently, Shenandoah is the closest NP to New York City, and it's just over 5 hours away.
2. Red River Gorge Geological Area, KY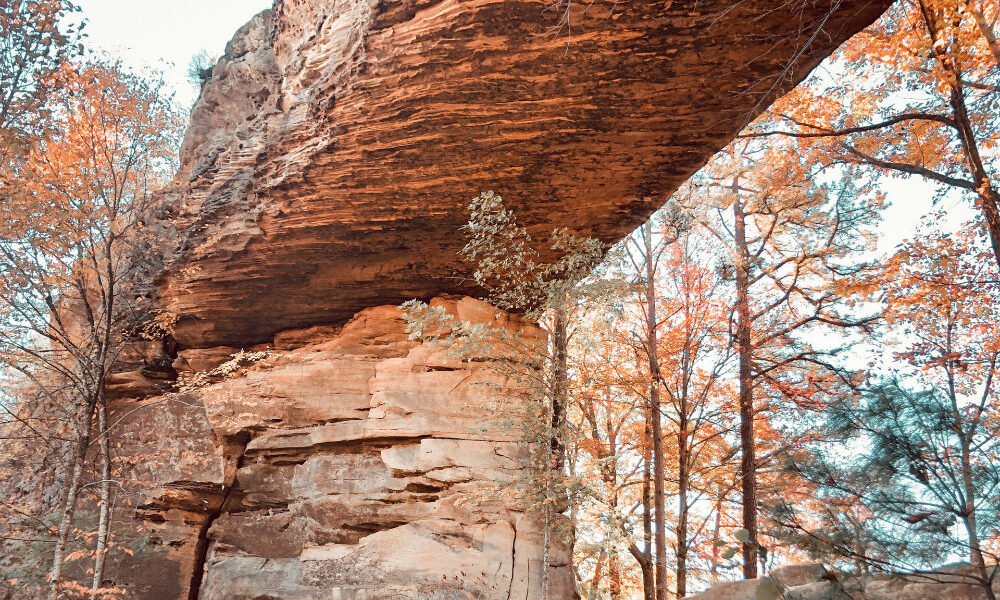 The Red River Gorge Geological Area in Kentucky is managed by the US Forestry Service, and consists of 29,000 acres. That size can balloon to over 730,000 acres if it is combined with the Daniel Boone National Forest that sits right beside it. Within the forest's boundaries lie three state managed parks, Buckhorn Lake, Cumberland Falls, and Natural Bridge. There is one designated National Recreation Area, the Big South Fork, located in the southwest corner of the forest, and one National Recreation Trail, the Sheltowee Trace. Because of its unusual and rugged nature, the Red River Gorge features a remarkable variety of ecological zones.
This park is 200 miles (~4 hrs) from The Great Smoky Mountains. Seeing that the Smokies are the most visited park by a wide margin, the area could use a new park or two to pull visitors away from eastern Tennessee.
3. Colorado National Monument, CO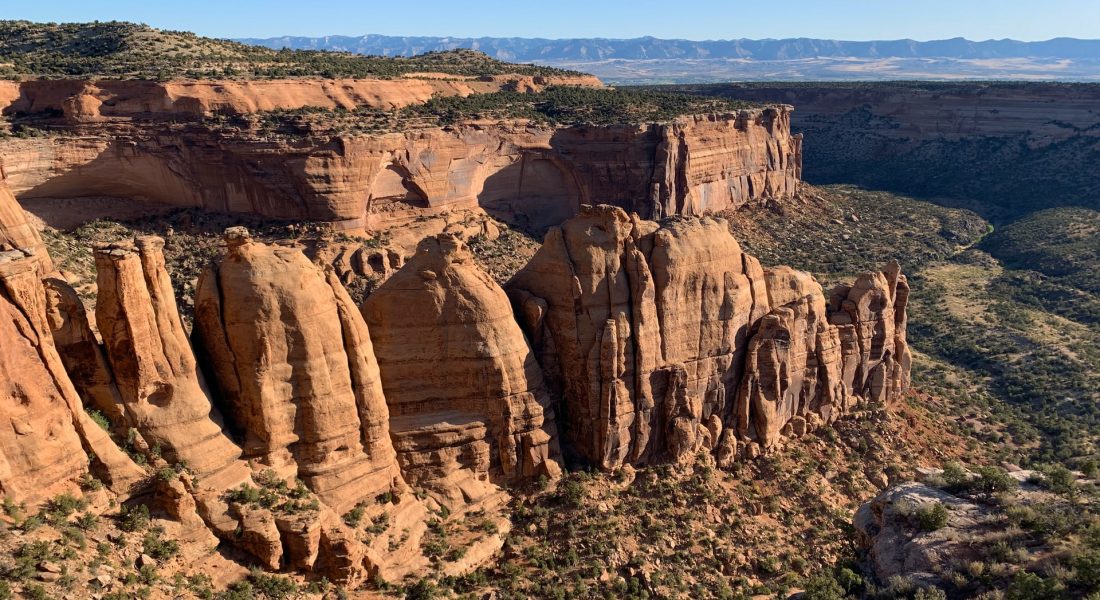 Managed by the National Park Service, the Colorado National Monument is 30 minutes from Grand Junction, CO. It consists of 20,500 acres, but can add another 75,000 if it is combined with the nearby McInnis Canyons National Conservation Area. This park is in a perfect location to leach some of the visitors from nearby Arches and Canyonlands National Parks. This monument boasts canyons as deep as 500 feet and rock monoliths as tall as 450 feet. Rim Rock Drive is a perfect scenic byway that cuts directly through the park.
4. Pictured Rocks National Lakeshore, MI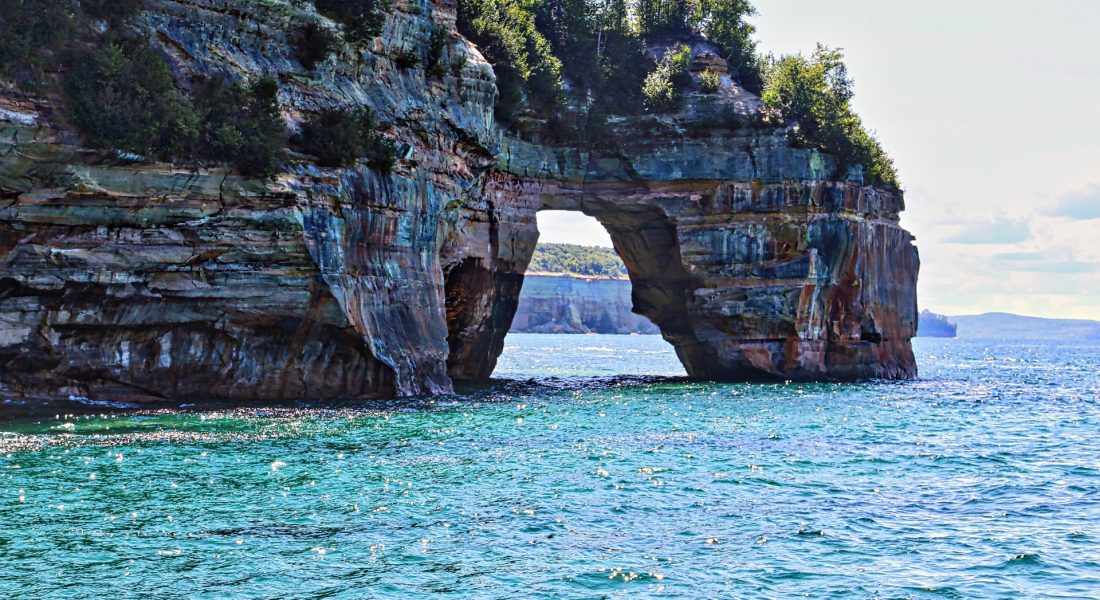 Pictured Rocks National Lakeshore has 73,236 acres and 42 miles of shoreline along Lake Superior's rugged coast. There are about 15 miles of colorful sandstone cliffs climbing 50-200 feet high rise from the lake in Michigan's Upper Peninsula. It's dramatic multicolored cliffs were created when groundwater seeped through the cracks and trickled down its face. Iron (red and orange), copper (blue and green), manganese (brown and black), limonite (white) are the most common color-producing minerals at work here.
In addition to the Pictured Rocks, the lakeshore also offers 12 miles of beautiful beaches, nearly five miles of enormous sand dunes, several waterfalls, and lighthouses. Over 100 miles (161 km) of trails crisscross the park.
The park's area could conceivably increased to nearly 87,000 acres if the nearby to Grand Island National Recreation Area is absorbed into the park's boundary.
5. Columbia River Gorge National Scenic Area, OR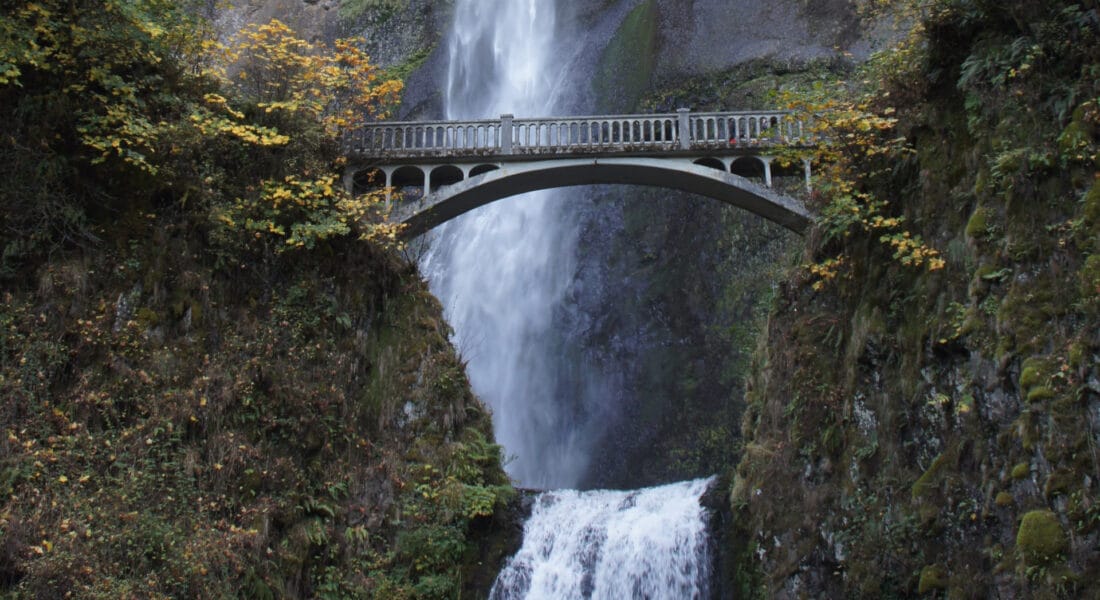 The 293,000 acres that make up the Columbia River Gorge Scenic Area is home to a spectacular river canyon, that's 80 miles long and up to 4,000 feet deep. It meanders past cliffs, spires, and ridges set against nearby peaks of the PNW's Cascade Mountain Range, and is adjacent to Mt. Hood National Forest (1+ million acres) and the 65,000 acre Mark O Hatfield Wilderness Area.
A new National Park that includes a potentially active stratovolcano in Mount Hood can be a bit concerning on the surface. However, the odds of an eruption in the next 30 years are estimated at between 3 and 7%, so while the USGS characterizes it as potentially active, the mountain is informally considered dormant.
6. White River National Forest, CO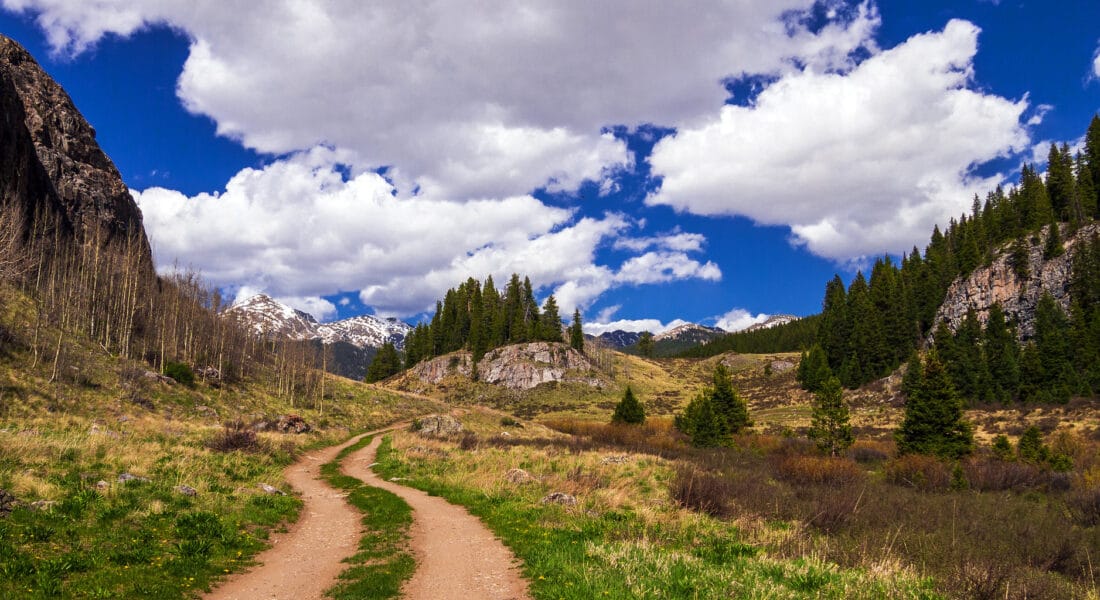 At an astonishing 2,285,970 acres, White River National Forest is the largest national forest in the nation. It also happens to be the most visited national forest, but that is likely in part due to the 12 ski resorts within its boundary. Aspen, Vail, Breckenridge, and Beaver Creek are just some of the Colorado ski resorts that call the White River Forest home.
This national forest also contains 8 Wilderness areas, 2,500 miles of hiking trails, and 10 peaks of 14,000 feet or more. Even if a fourth of the forest's land is converted to National Park status, it would still be larger than Rocky Mountain National Park, which is also about 1.5 hours from downtown Denver.
7. Custer State Park, SD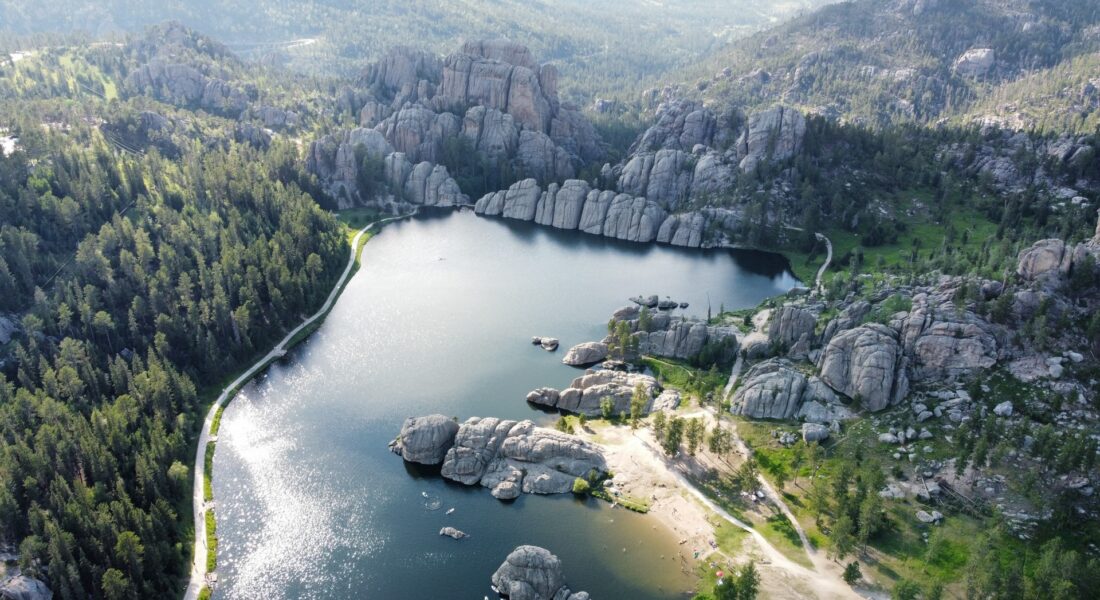 Our first state park featured here, Custer State Park is a gem that South Dakotans would probably prefer to keep to themselves. In 2021, this park saw 2.3 million visitors, which would make it the 14th most visited National Park, just after Cuyahoga Valley in central Ohio.
Custer State Park has an area of 71,000 acres, which can be increased to 1.2 million with inclusion of the Black Hills National Forest that surrounds it. Black Hills is home to nearly 1,500 head of North American bison, one of the largest herds in the world.
8. Valley of Fire State Park, NV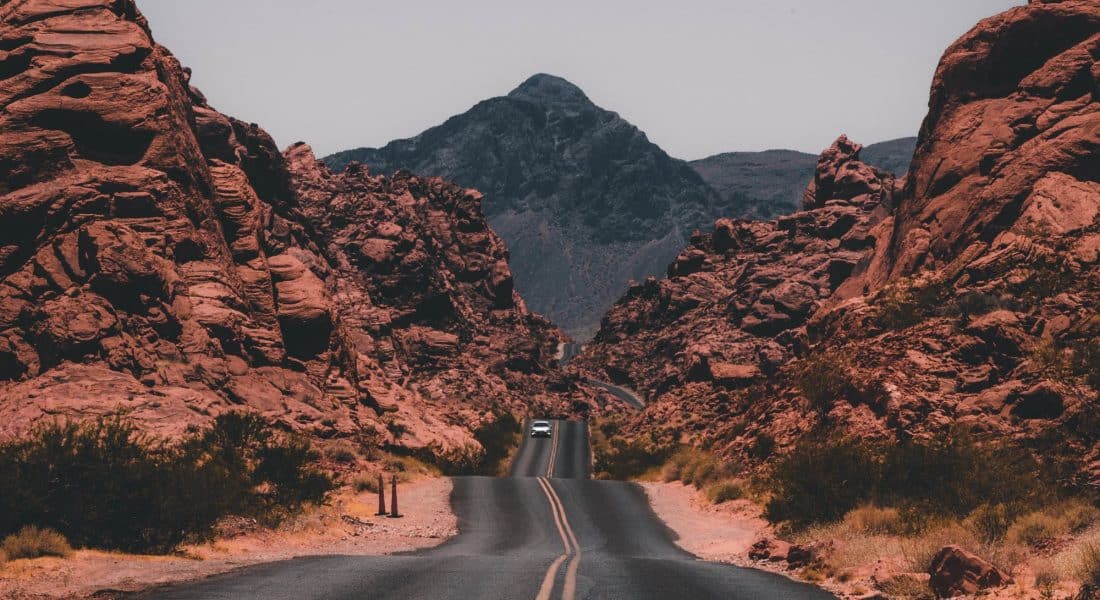 Valley of Fire State Park in Nevada has 2,000 year old petroglyphs carved into massive red sandstone formations in the Mohave Desert. It is the largest (46,000 acres) and oldest state park in the state. This park consists of bright red Aztec sandstone outcrops nestled in gray and tan limestone mountains. The sandstone is from the Jurassic period and is the remnant of the sand left behind by the wind after inland seas subsided and the land rose. There are nearly 20 miles (32 km) of roadway in the Valley of Fire that seem to take you to a completely different world. Today, about 800,000 people visit annually.
9. Adirondack Park, NY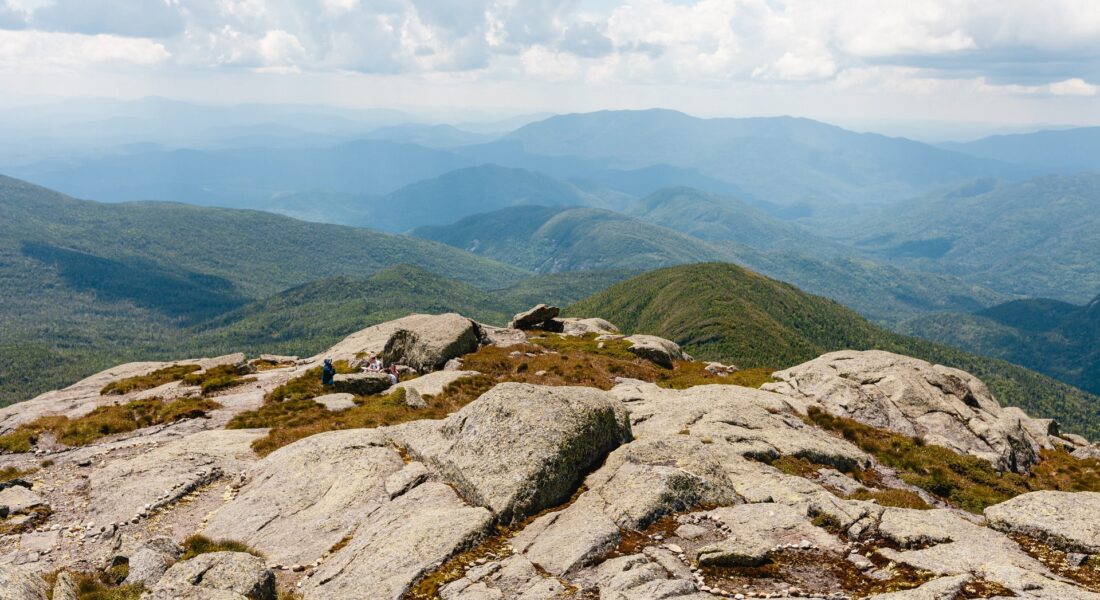 Adirondack Park in upstate New York is the nation's largest publically protected area in the lower 48, with more than 6 million acres. However, contrary to public belief, it is not a state park. The state of New York owns approximately 2.6 million acres of it, while the remaining 3.4 million acres are privately owned. It's also the largest National Historic Landmark in the United States.
Splitting the rectangular main park out from the rest of the protected area would create a National Park of around 64,000 acres. It is about 1.5 hours northwest of Lake Placid, site of the 1980 Winter Olympic Games.
10. Fall Creek Falls State Park, TN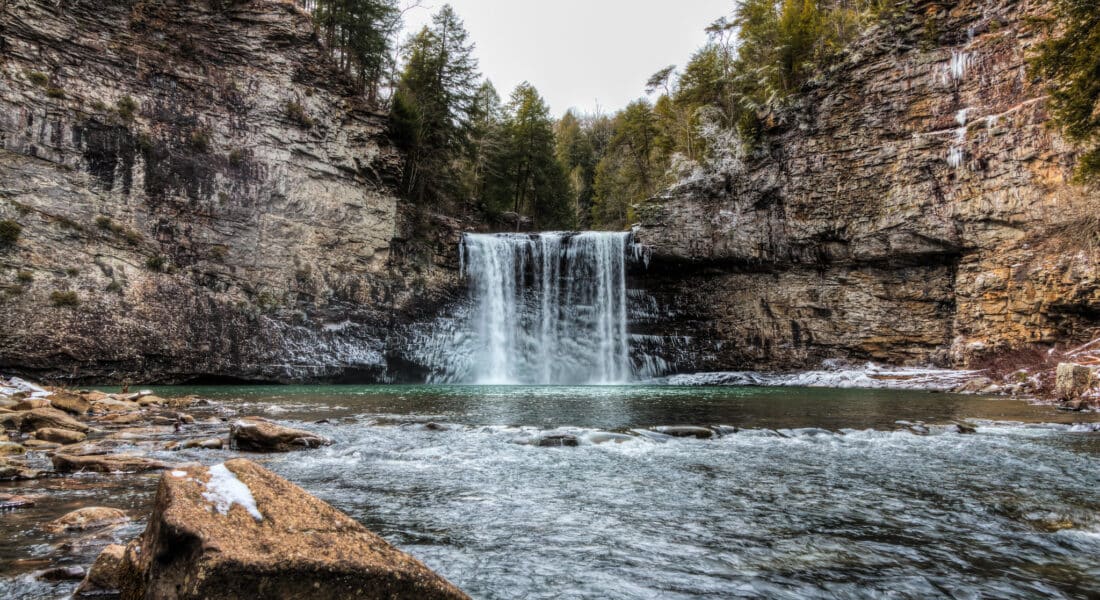 The crown jewel of Fall Creek Falls State Park, sits a waterfall that – at 256 feet – is one of the highest in the eastern United States. This state park sits across the eastern top of the rugged Cumberland Plateau. It is one of Tennessee's most visited state parks. This park consists of almost 30,000 acres laced with cascades, gorges, waterfalls, streams and lush stands of virgin hardwood timber. It is about 3 hours west of the Great Smoky Mountains National Park in Spencer, TN.
11. Ohiopyle State Park, PA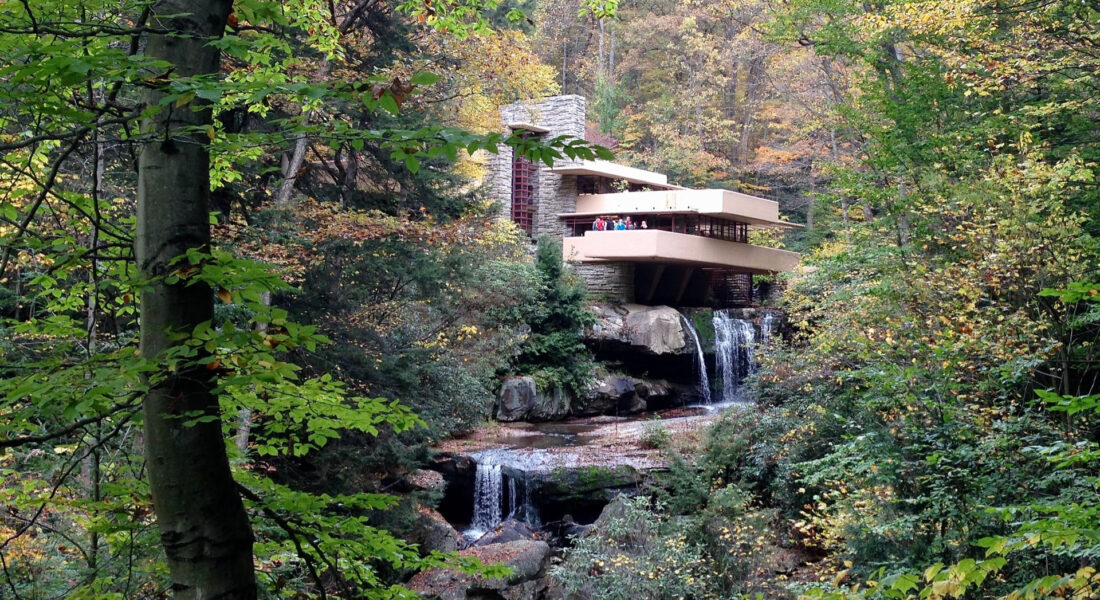 Ohiopyle State Park is in the south-central Laurel Highlands area of Pennsylvania, and has 20,500 acres. It is about 1.5 hours away from Pittsburgh. Ohiopyle is already an insanely popular park. It attracted 1.4 million visitors in 2020. It contains 27 miles of the Great Allegheny Passage, and the focal point of the park is the more than 14 miles of the Youghiogheny River Gorge that passes through it. If you combine this park with two adjoining state game lands, this new national park could have over 47,000 acres.
Ohiopyle also contains two buildings that were designed by the famed architect Frank Llyod Wright: Fallingwater (pictured) and Kentuck Knob.
12. Baxter State Park / North Maine Woods, ME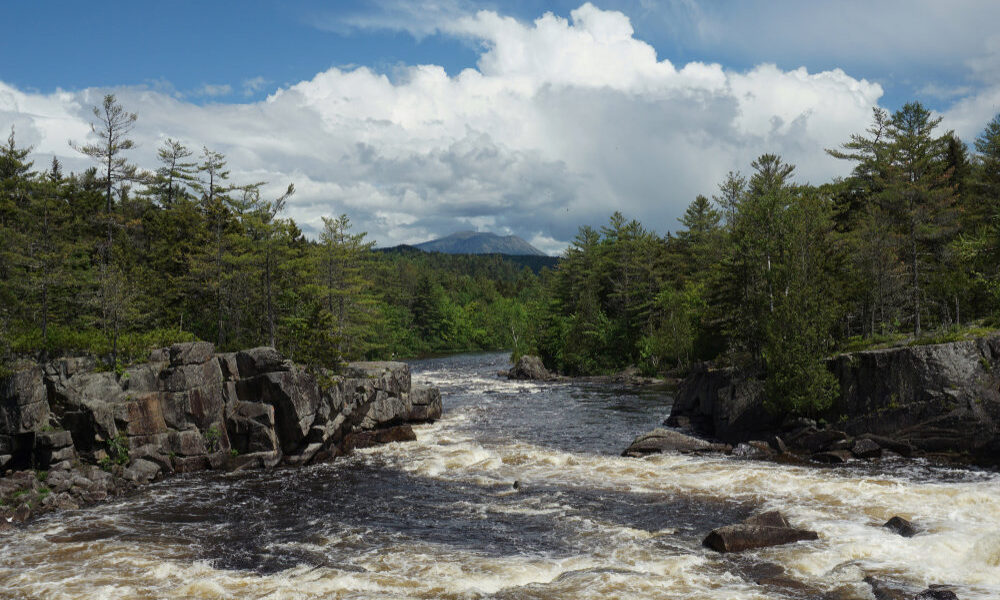 Baxter State Park is located in northern Maine, and has 209,501 total acres, making it one of the largest state parks on our list. This park was already at the center of a contentious battle for federal designation.
Roxanne Quimby, a co-founder of Burt's Bees, began purchasing land near Baxter State Park in 2001 before formally announcing her plans that the land would one day become part of a national park called North Maine Woods. Due to heavy opposition from some locals and the insane amount of work needed to make it into a National Park, she instead switched her focus to a National Monument.
Katahdin Woods and National Monument was established in 2016 by President Obama right next to Baxter on the more than 87,500 acres that were originally donated by Mrs. Quimby.
Map of These Parks
One of our criteria for choosing parks was that they were to help spread out the crushing amount of visitors that are currently inundating our national parks. We chose two near the most visited park (Smoky Mountains), and four in the Northeast, which currently only has Acadia.
Parks that Just Missed the Cut
These parks are fantastic, but didn't meet our (admittedly vague) criteria.
Vermillion Cliffs is simply too close to the Grand Canyon and Bryce. The Alaskan parks don't get enough people to reclassify them as National Parks.
Monument Valley (Indian reservation) and the Northeast Kingdom (state & private) are not on state or federal grounds. Most of the state parks are just too small, with all but one with areas less than 10,000 acres.
| Park | Current Designation | State(s) |
| --- | --- | --- |
| Pisgah National Forest | National Forest | NC |
| Oregon Dunes | National Recreation Area | OR |
| Mount Baker Wilderness | Wilderness Area | WA |
| Vermillion Cliffs | National Monument | AZ |
| Misty Fjords | National Monument | AK |
| Tongrass National Forest | National Forest | AK |
| Monument Valley | Indian Reservation | AZ, UT |
| Northeast Kingdom | Various state and private lands | VT |
| Thousand Springs | State Park | ID |
| Dead Horse Point | State Park | UT |
| Peninsula | State Park | WI |
| Eldorado Canyon | State Park | CO |
| Big Bone Lick | State Park | KY |
| Watkins Glen | State Park | KY |
| Tettegouche | State Park | MN |
| Montana de Oro | State Park | CA |
| Kartchner Caverns | State Park | AZ |
| Petit Jean | State Park | AR |
| Anza Borrego | State Park | CA |
| Sucia Island | Marine State Park | WA |
| Ichetucknee Springs | State Park | FL |