Zion National Park Through the Seasons
Zion National Park is America's 2nd most visited National Park, just behind the Great Smoky Mountains.
From skinny slot canyons though which you can barely squeeze to the large monolith-flanked canyons of the Virgin River, this park is awe-inspiring from its small southwest corner of Utah.
Due to its nearly 5,000 feet of elevation changes, Zion National Park has four distinct major vegetation zones. It is home to a huge and diverse biome, from lush grottos to aspen trees.
What is the Best Month to Visit Zion?
Our data and research shows the best month to visit Zion National Park is April. It has mild temperatures (60s and 70s during the day) and has not yet reached peak visitation numbers yet (it's the 7th-most visited month). If we had to pick the best month per season, it would be as follows:
April in the Spring
May in the Summer
October in the Fall
December in the Winter
Spring (March – April)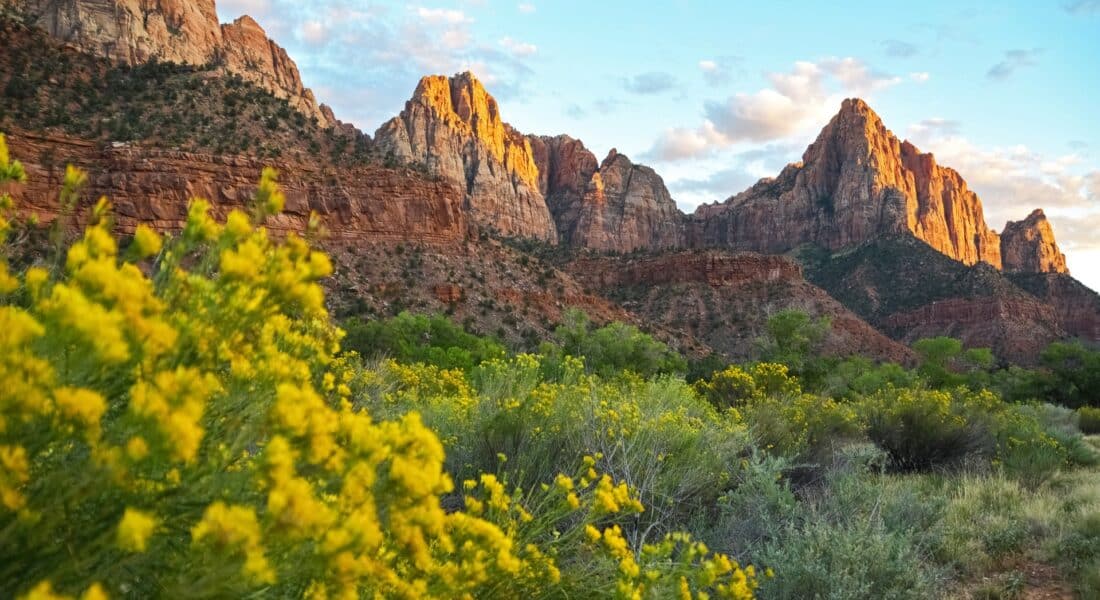 Spring in Zion National Park only lasts two months, March and April. During this time, many plants here take advantage of the seasonal rains, flowering and reproducing quickly, before the precious snowmelt water is gone. Flowers like the desert marigold (Baileya multiradiata), or the eye-catching slickrock paintbrush (Castilleja scabrida), often take visitors by surprise with their brilliant colors in early-to-mid April.
The park's shuttles begin running during weekends in March. This ramps up to everyday starting in May, and lasting until December. Zion's visitor count will begin to practically double month-over-month during this time, eventually reaching almost 400,000 visitors by the end of April.
Zion's Spring Statistics:
Average Precipitation Amounts: 32.5 inches (83 cm)
Average High Temperature: 58 °F (14 °C)
Average Low Temperature: 36 °F (2 °C)
Average Park Visits per Month: 335,000
Summer (May – September)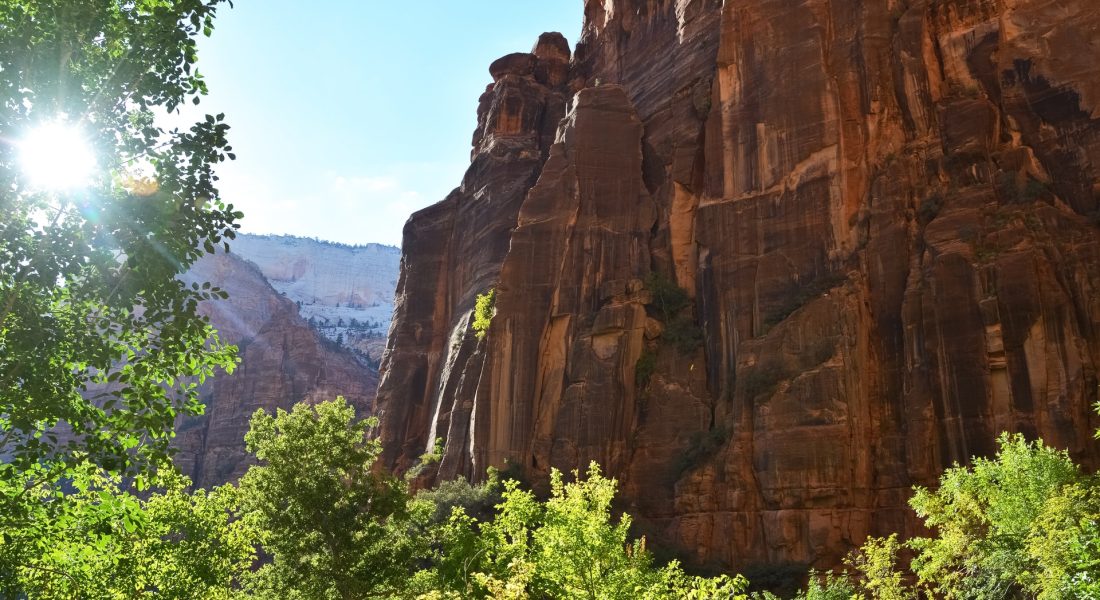 Summer in Zion lasts 5 months, from May through September. Summers here extremely hot, with temperatures regularly over 100°F (38°C). These months also coincide with the peak visitation season at Zion.
With daylight and staffing at a maximum, facility operating hours will be the longest for the year. However, this also means the park's shuttle system is in full effect. The roads inside the park are closed to personal vehicles, and the only way into and out of the park is via their free shuttle.
Zion's Summer Statistics:
Average Precipitation Amounts: 22 inches (56 cm)
Average High Temperature: 81 °F (27 °C)
Average Low Temperature: 54 °F (12 °C)
Average Park Visits per Month: 558,000
Fall (October – November)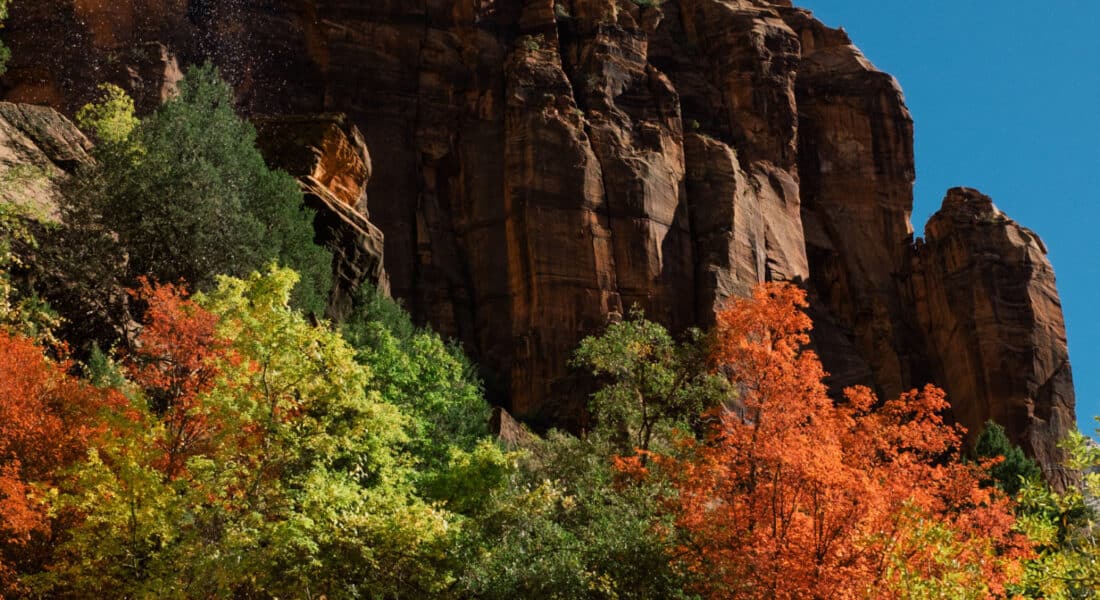 October and November constitute Fall at Zion National Park. During Fall, the leaves of the Cottonwood and Aspen trees change to vibrant oranges, yellows, and reds. While most of the park's trees are evergreen, there are still plenty of Cottonwoods and other deciduous trees that will change the colors of their leaves come fall.
Shuttle buses are still required in the Fall, but they begin running a little less frequently and for fewer hours each day. Total visitation numbers begin to slow down, dropping dramatically in November.
Zion's Fall Statistics:
Average Precipitation Amounts: 30 inches (76 cm)
Average High Temperature: 60 °F (16 °C)
Average Low Temperature: 37 °F (3 °C)
Average Park Visits per Month: 330,000
Winter (December – February)
Nearly half of the annual precipitation in Zion Canyon falls between the months of December and March. The roads inside the park are regularly plowed, but certain trails may be closed due to the hazard of falling ice or hazardous conditions. Snow typically disappears within a matter of hours at lower elevations, but at higher elevations, snow will accumulate.
The shuttle stops running daily at the beginning of December, and runs weekends and holidays through the end of the month. However, this does not mean the park closes. In fact, it stays open 24 hours a day, but is now open to personal vehicles.
December, January, and February are also the least visited months at Zion. During these months, Zion will see less than a sixth of the amount of visitors that it sees in the summer months.
Zion's Winter Statistics:
Average Precipitation Amounts: 41 inches (104 cm)
Average High Temperature: 43 °F (6 °C)
Average Low Temperature: 28 °F (-2 °C)
Average Park Visits per Month: 124,000