The Best US National Park to Visit for Every Month
Not everybody takes their vacations during the busy summer months. Sure, those families with small children in school will find it hard to get away for a week or more during school season (August to May).
However, if you are one of the lucky souls that can take your visit any time you'd like – then this list is for you. We break down the best National Park in the US to visit during each month of the year.
To make these determinations, we factored in a few different data points. First and foremost was weather. You want to avoid visiting Death Valley in July, or Glacier in January. There are simply some parks that are off limits during certain parts of the year. We also looked at each park's peak visitation months, and tried to stay away from those. Overcrowded parks will make for a miserable experience for everybody.
January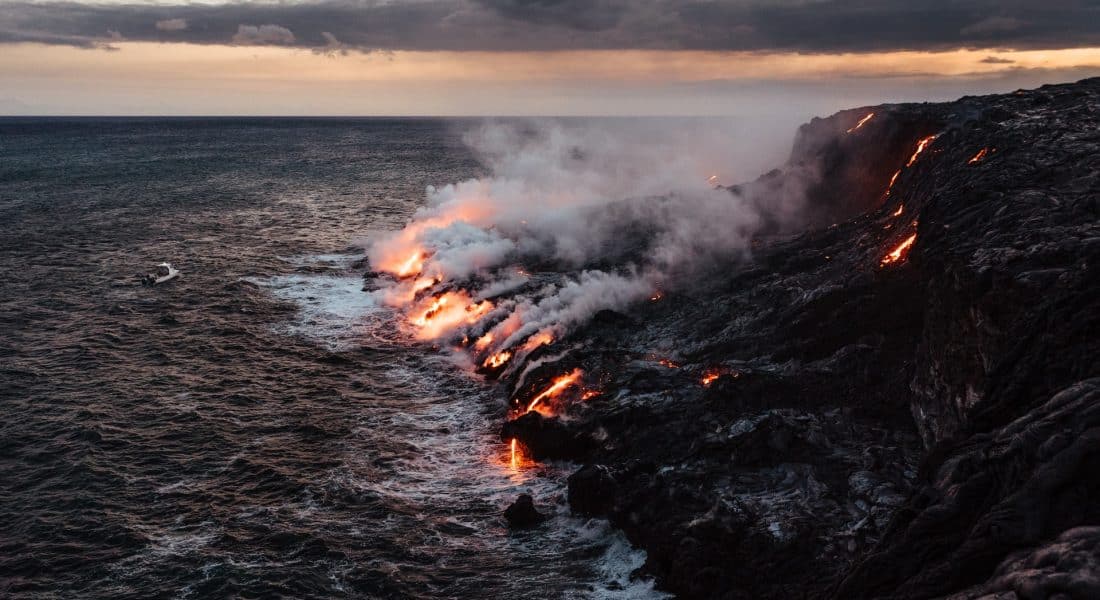 Hawaii Volcanoes National Park
There is never a bad time to go to Hawaii. January happens to be one of this park's busiest months, but it's all relative. There is only about a 40,000 visitor difference between Hawaii Volcanoes' peak month (July), and its slowest month (September).
February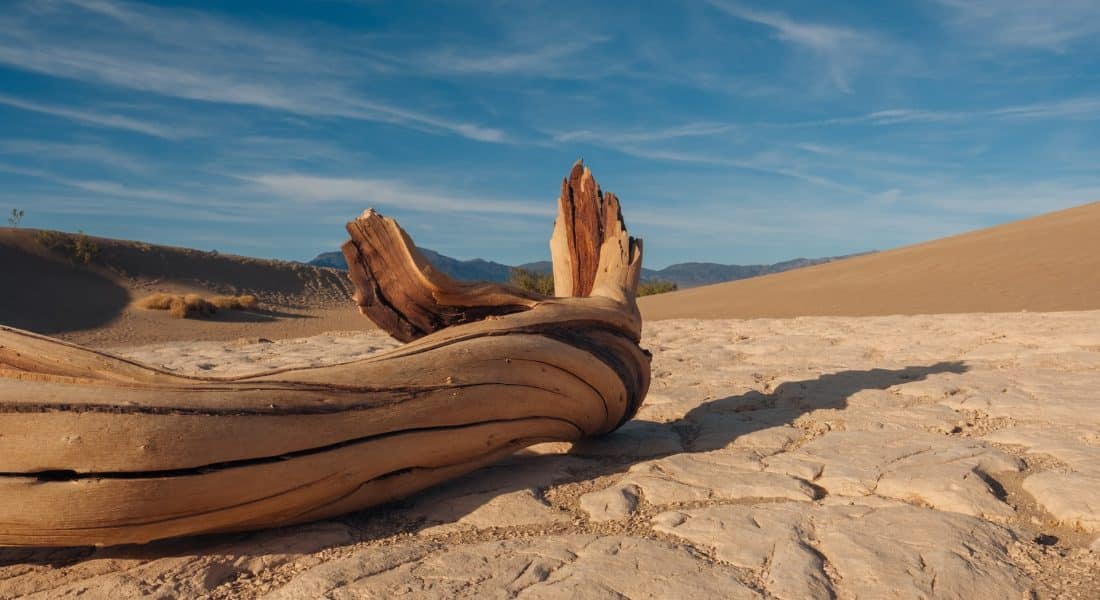 Death Valley National Park
Death Valley National Park's peak visitation season is during the winter, when temperatures are not soaring into the 90's and 100's. Death Valley is the hottest place on Earth. In the summer months (May-September) temperatures average over 100°F (38°C), and often exceed 120°F (49°C).
However, while February is usually the fifth-busiest month of the park, it features highs only in the 60's and 70's during the day. Visiting Death Valley in the winter allows you to spend all day at the park which is impossible other times of the year.
Death Valley is worth visiting due to the records it holds in our great National Park system. Badwater Basin is the lowest point in North America, it holds the record for hottest and driest place on earth. It is also the largest national park by acreage in the contiguous United States.
March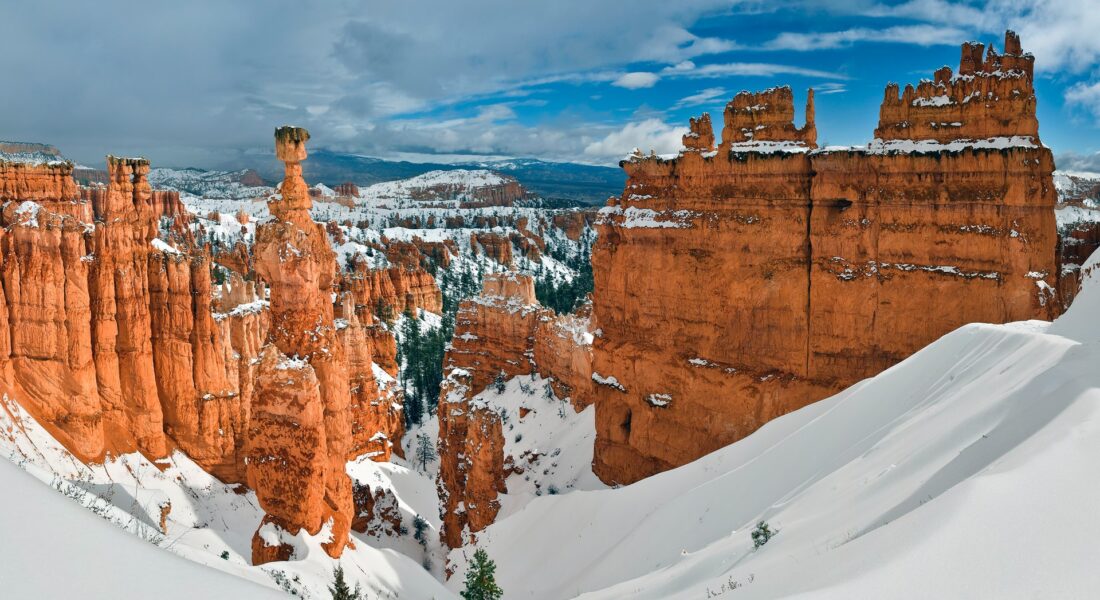 Bryce, Canyonlands & Capitol Reef National Parks
Bryce Canyon and its neighboring parks including Canyonlands and Capitol Reef are the best National Parks to visit in March. These parks will certainly have a blanket of snow covering them, but the crowds will be less than a third of what it will be during the summer months. You simply can't beat visiting Bryce without the crowds and the off season rates in March.
Unfortunately, there are sparse crowds for a reason. The main scenic drive could be closed due to weather and road conditions (but not all the time… March is when temperatures start to creep up). If the road is closed, you'll only be able to see the amphitheater section of the park.
April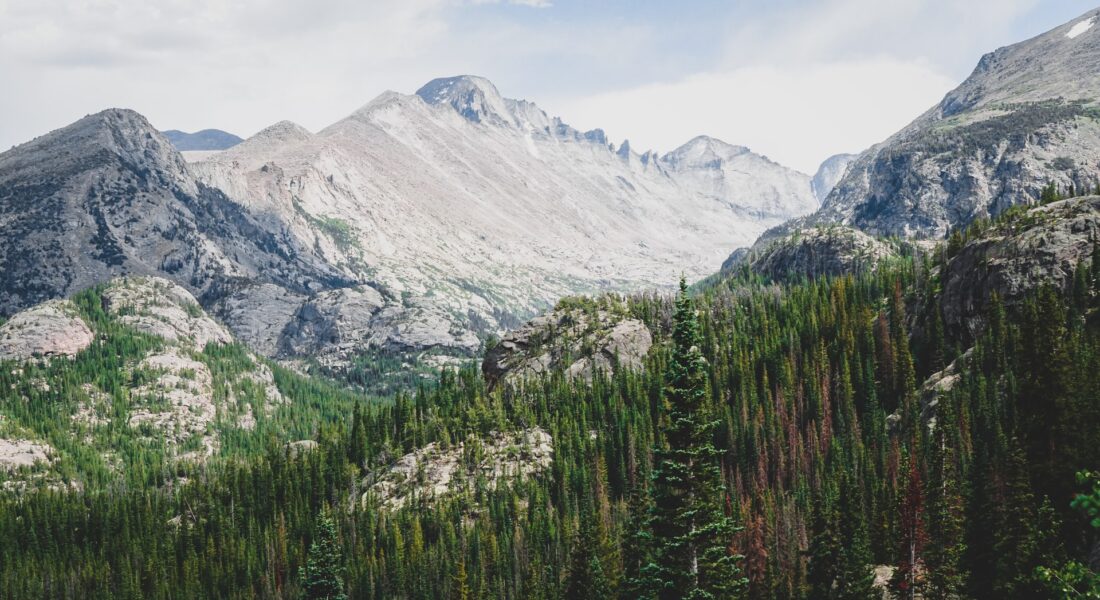 Rocky Mountain National Park
There is just something about seeing snow capped mountains. If you visit the Rocky Mountains in April, you'll see plenty of these, and the highs usually don't get out of the 40s during the day. The crowds are much, much lighter in April as well, since the crowds begin to turn out in late May until October.
One downside to visiting in April is that the scenic Trail Ridge Road won't be open. However, plenty of other great trails will be, including the popular Lumpy Ridge Loop Trail. The road's opening dates vary year-by-year depending on weather, but the earliest it's ever opened is May 7, which happened in 2002. Road conditions can vary greatly during winter, which April is at the tail end of. All visitors driving in the park between mid-October and early June should be prepared for winter driving conditions and should have vehicles with 4-wheel drive.
May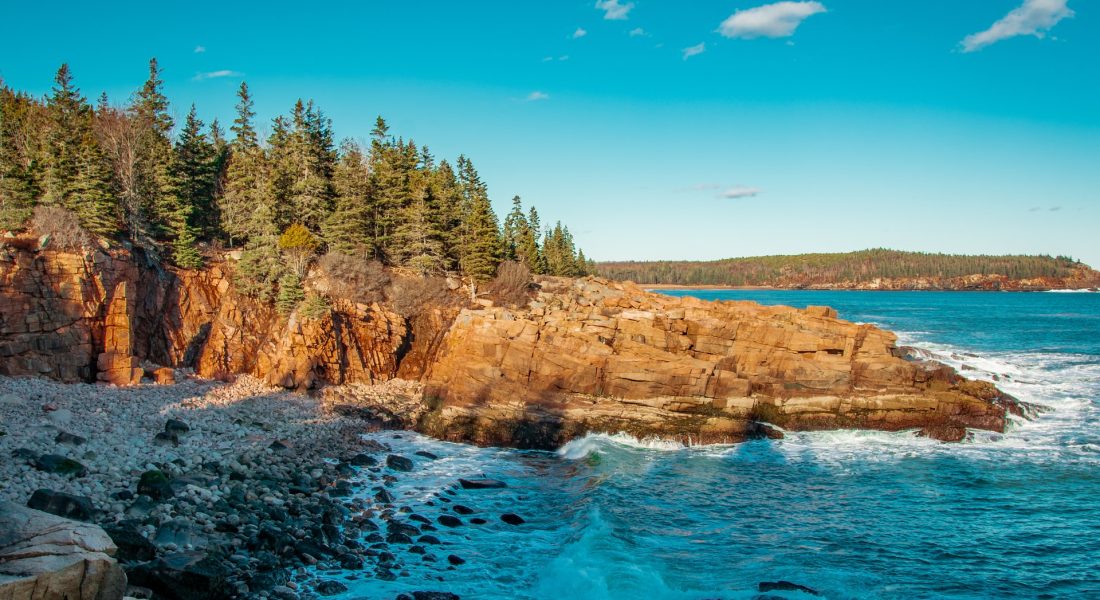 Acadia National Park
Acadia National Park usually dries out from spring showers in May, just as the hotels, restaurants, and shops begin to open up for the season. May is outside the busy season for Acadia, and it has very mild temperatures during the day in the 60s and 70s, with nighttime temps dropping into the 40s.
While this is a park that has a lot of water, there will not be a lot of swimming here anyway, as average monthly highs never break 80°F. Enjoy the picturesque views, the old-time history and rocky shores that are unlike anywhere else on the eastern seaboard.
June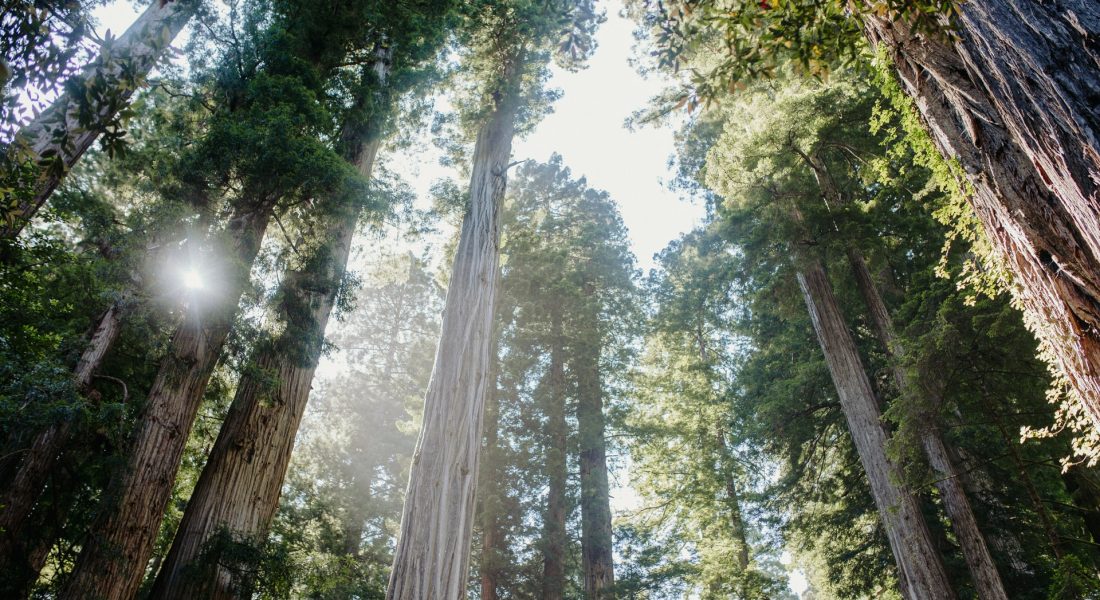 Redwood National Park
Did you know that Sequoia and Yosemite National Parks are not the only places to see towering Redwood trees in America? In fact, in Northern California, the Redwood State & National Parks offer a similar viewing experience without the insane number of people. To make it even more amazing, entrance to the park is free (except for some nearby state parks), and there are plenty of small towns that will easily have accommodations.
No month at Redwoods National Park sees more than 100,000 visitors, with June being only its fourth-busiest month. Crater Lake and Lassen Volcanic parks are nearby and are also less crowded than some other (read: more popular) Californian parks.
July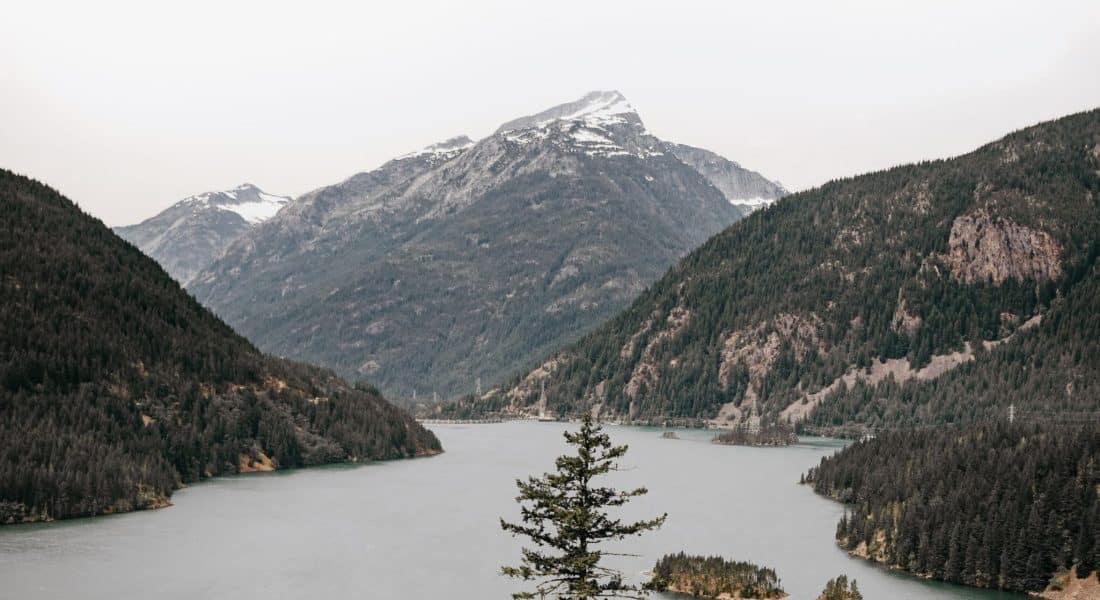 North Cascades National Park
The best time of year to visit the North Cascades National Park is from mid-June through mid-September, so the beginning of July seems like the perfect spot to put this park. Summer storms can get strong at times as believe it or not, snow sometimes is still hanging around on some trails until July.
Wildflowers along trails start to bloom in late July and August, and those months usually see longer days with relatively warmer weather. While July is this park's warmest, the highs usually only top out in the 50s and 60s during the day, and dip into the 30s at night.
This park is close enough that you can pair it with trips to Olympic and/or Rainier too. However, their peak seasons also happen to be in July, which means you'll see much more people at these parks than you will in the Cascades.
August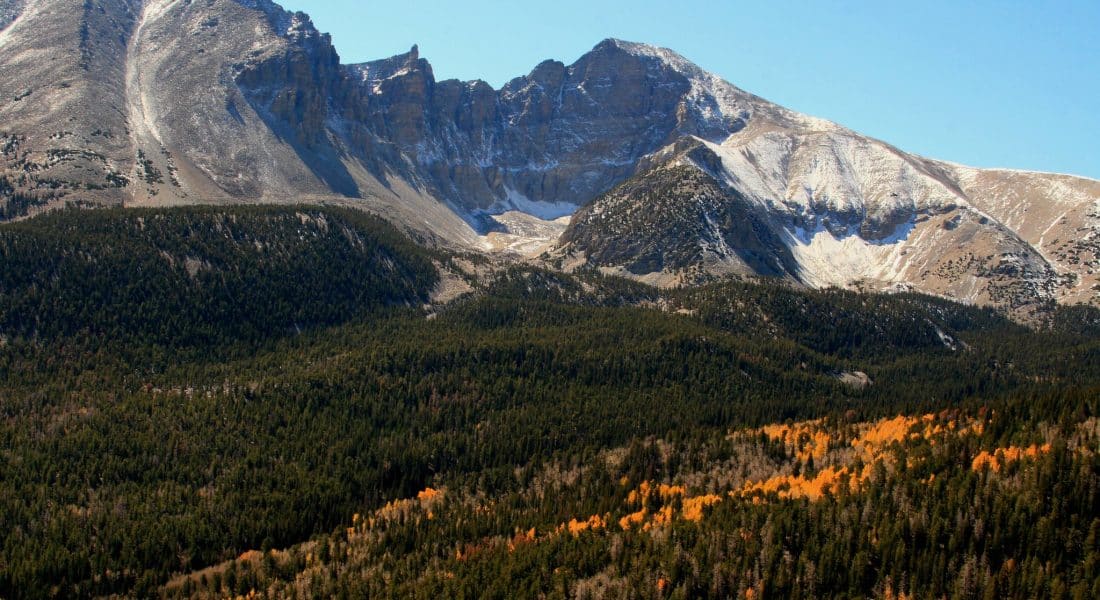 Great Basin National Park
We had to step outside of the norm to find the best park for August. August has scorching heat across much of the western US, as well as the tail end of the summer crowds. Great Basin National Park in Nevada is a hidden gem that is the 52nd most visited National Park in the US, making it a perfect place to escape the crowds.
August has relatively mild temperatures as well. Highs are only in the 80s and lows in the 50s.
Also, as of spring 2016, Great Basin has been designated an International Dark Sky Park. On a clear, moonless night in Great Basin National Park, thousands of stars, numerous planets, star clusters, meteors, man-made satellites, the Andromeda Galaxy, and the Milky Way can be seen with the naked eye.
For an extra special trip, visit the park during the Perseid Meteor Shower, which usually occurs around August 11-12. During this popular event, expect to see between 100-250 shooting stars per hour!
September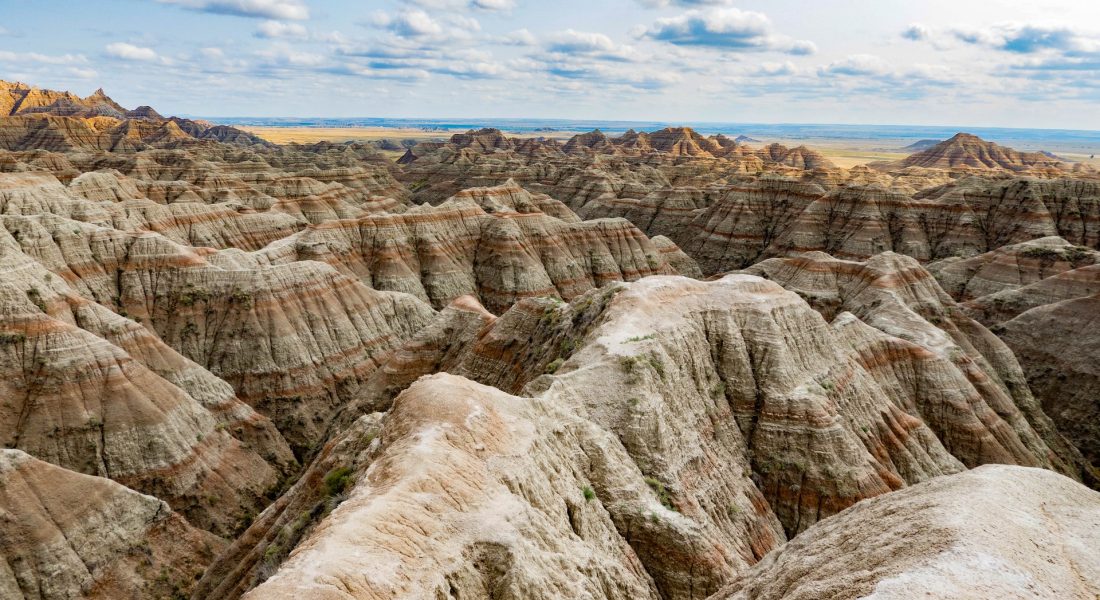 Badlands National Park & South Dakota
Badlands National Park may not seem like an obvious choice for September, but it's, in fact, just perfect. While still the fifth-busiest month in the park, the weather is still gorgeous this time of year, and you'll have no trouble traveling to see the other nearby parks like Devil's Tower, Mount Rushmore and the Wind Caves.
October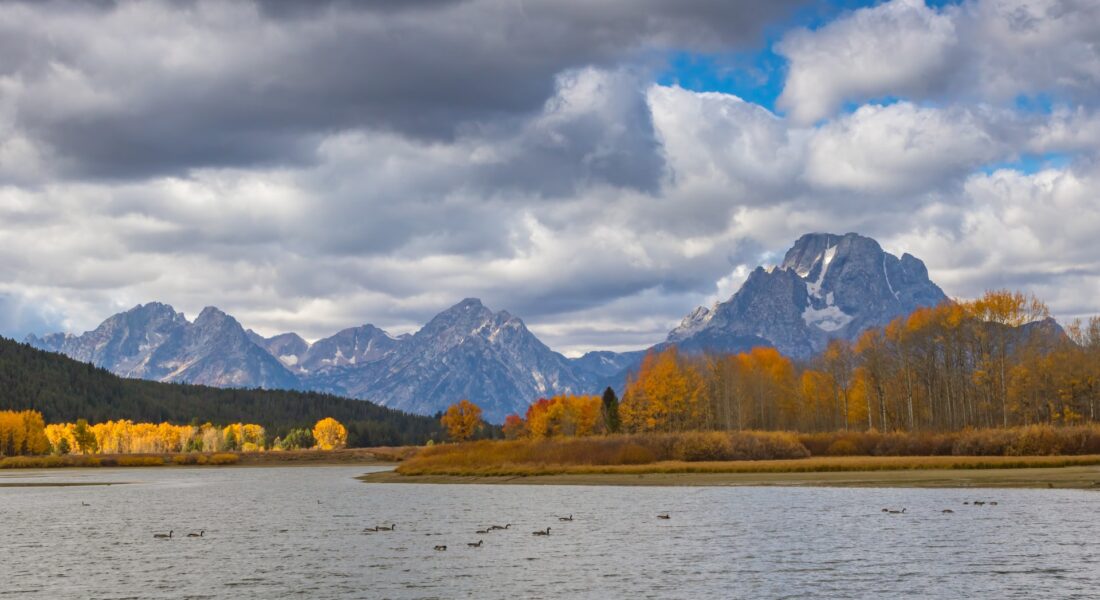 Yellowstone & Grand Teton National Parks
The biggest benefit to visiting Yellowstone and Grand Teton in October is the lack of crowds. While still busy, October only sees about a third of the visitors as it does in July, its busiest. October will see not only cheaper, and more accessible accommodations in the area, it also features the beginning of fall colors as the leaves begin to change.
You'll find that all the roads in the park remain open through October, except for Dunraven Pass, which closes in the middle of October. If you try to visit Yellowstone from November to April, you'll find plenty of road closures that will make getting around the park much more difficult, if not downright impossible.
We've already built a road trip itinerary that will have you visiting Yellowstone and Grand Teton in about 9 days.
November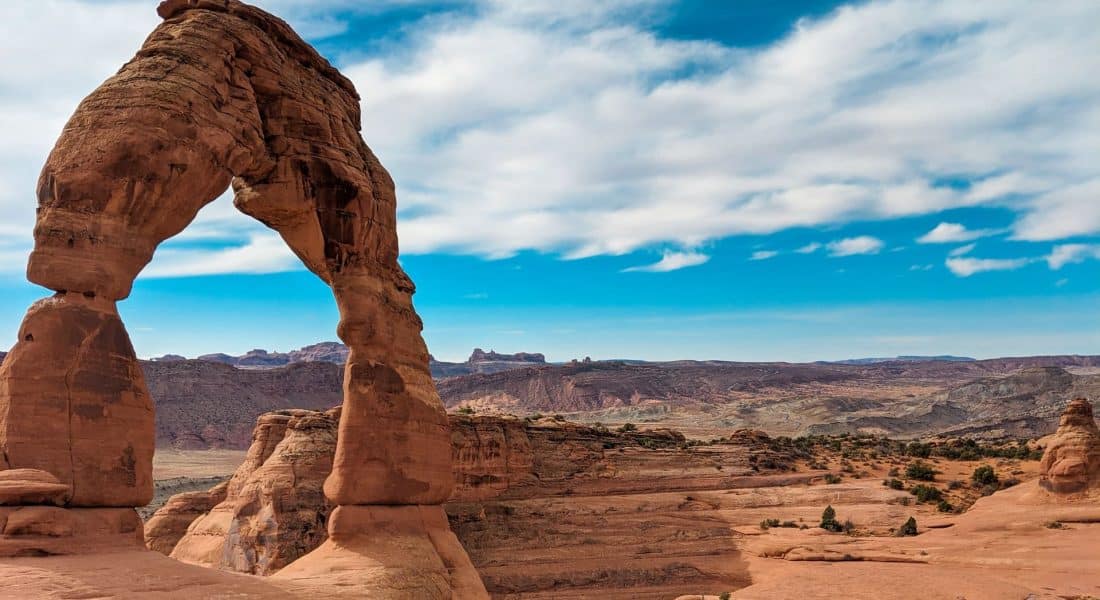 Arches National Park
November ushers in winter at Arches National Park, but that doesn't mean you can't visit this remarkable park. From November 1st to February 28th, the park's operating hours change from 24 hours a day to 9:00 AM – 4:00 PM. However, a benefit of visiting Arches outside of its busy season is that you don't have to worry about timed entries.
Starting in 2022, Arches implemented a timed entry system that requires a reservation to enter the park from April through October 2022. However, if you visit in November, the park does not have this requirement.
November in Arches has ideal hiking temperatures (daily highs in the 50s and 60s), and features the fourth-fewest visitors per month in the year.
December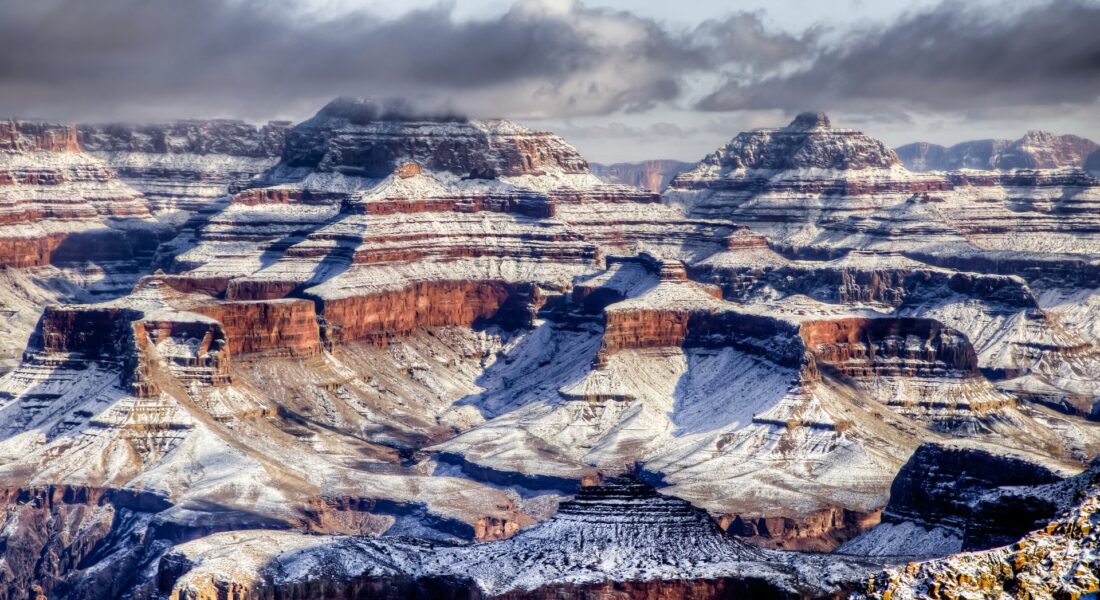 Grand Canyon National Park
The best National Park to visit in December is the Grand Canyon. Many people think that the snowy parks shut down in the winter, but only a few truly close, like Glacier or the Alaskan parks. The Grand Canyon, however, is a park that stays open, and December is a beautiful time to visit. While you can expect a good bit of snow—especially in the latter half of the month—the crowds are extremely sparse.
This designation applies only to the South Rim of the canyon. The North Rim is closed annually starting December, 1st due to weather conditions.