Sequoia vs Redwood National Parks: Which One Should You Visit?
The Redwood State and National Parks and Sequoia National Park are two of the most sought-after destinations for visitors during their summer vacations to our nation's beautiful National Parks. People want to see the biggest trees in the world, and who can blame them… they are amazing!
Both parks are known for their towering trees, breathtaking hikes, and abundant outdoor activities. However, deciding between the two can pose a significant challenge, as personal preferences and travel style can significantly influence the decision.
In my personal experience, when faced with a similar decision, I opted to visit the Redwoods. The reason for my choice was due to its comparative lack of crowds and its proximity to Crater Lake National Park, which was also part of our itinerary. Your preferences and scenarios may differ, so if you're wondering which of these two iconic National Parks you should visit next, I'll attempt to answer that for you next!
Coastal Redwoods vs. Giant Sequoias
Before we get into comparing the National Parks, I want to address something that I originally didn't know until I visited. Before I saw them for myself, I talked about them interchangeably. As I know now, that is incorrect. Yes, they are both absolutely enormous specimens, the Coastal Redwoods and Giant Sequoias are actually quite different.
They are related, but are actually different species of sky-scraping trees.
| | Coastal Redwoods | Giant Sequoias |
| --- | --- | --- |
| Tree Size | Taller (than sequoias) | Thicker (than redwoods) |
| Max Height | 378 ft (115m) | 311 ft (95 m) |
| Max Age | 2,000 years | 3,000 years |
| Location | Northern coastal regions of California. Lower elevation. | Sierra Nevada mountain range. Higher elevation. |
| Climate | Cool and Wet | Hot and Dry |
| Forest | Dense | Open Groves |
| Bark | Up to 12″ Thick | 3 feet Thick |
| Cones | Small 1″ | Large 3″ |
| Reproduction | Sprout or Seed | Seed Only |
The Basics
Here are some basics about each of the two National Parks we are comparing today.
| | Redwood National Park | Sequoia National Park |
| --- | --- | --- |
| Size | 138,999 acres | 404,064 acres |
| Age | Established 1968 | Established 1890 |
| Location | Pacific Coastline, northern CA | Sierra Nevada Mountains, central CA |
| Yearly Visitors | About 450,000 | About 1.2 million |
| Fees | Mostly Free | $35 per 7 day pass, per vehicle |
Getting There Compared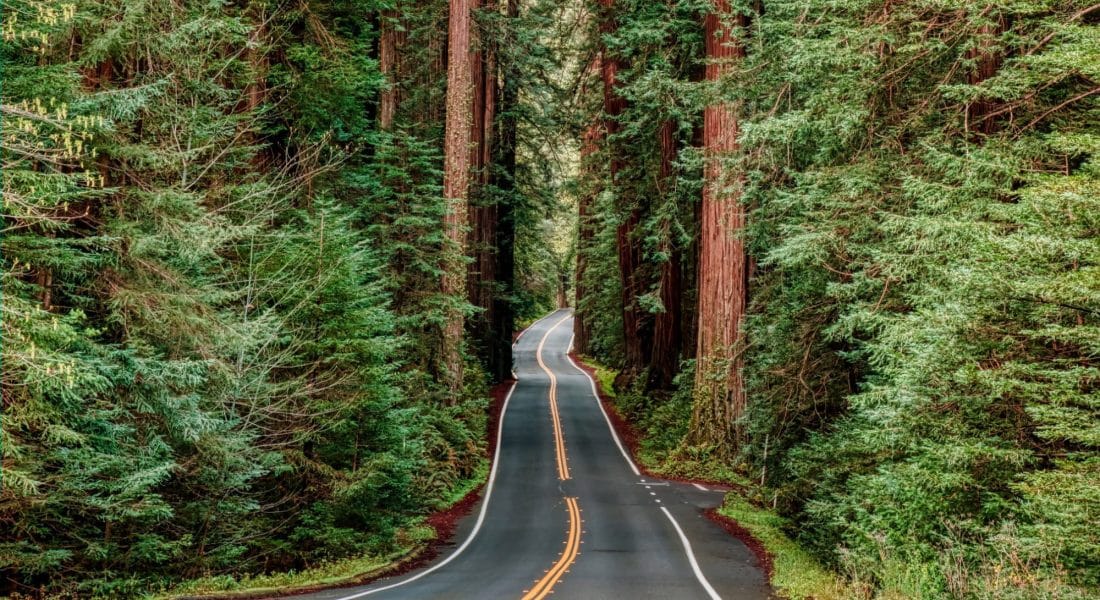 First thing's first: both the Redwoods and Sequoia National Parks are accessible by car. The Redwoods are a little farther away from any major city, but neither are super close regardless.
Redwood State and National Parks:

6 hours north of San Francisco
5.5 hours south of Portland

Sequoia National Park:

4.5 hours (373 miles) southeast of San Francisco
3.75 hours (204 miles) northeast of Los Angeles
While both parks are fairly easy to get to, the road conditions within the parks differ.
Redwood National Park has a network of winding roads, and while they can be a bit challenging to drive on, they are manageable for most drivers. While not all trails are easy here, since this is a coastal area, there are a lot of easy flat trails and paths inside the Redwoods.
On the other hand, Sequoia National Park has narrow and steep roads that wind through the Sierra Nevadas, that tend to be more difficult to navigate. It is also important to note that visitors with mobility issues may have a harder time getting around Sequoia National Park due to the elevation changes.
Winner: Redwoods
Amenities Compared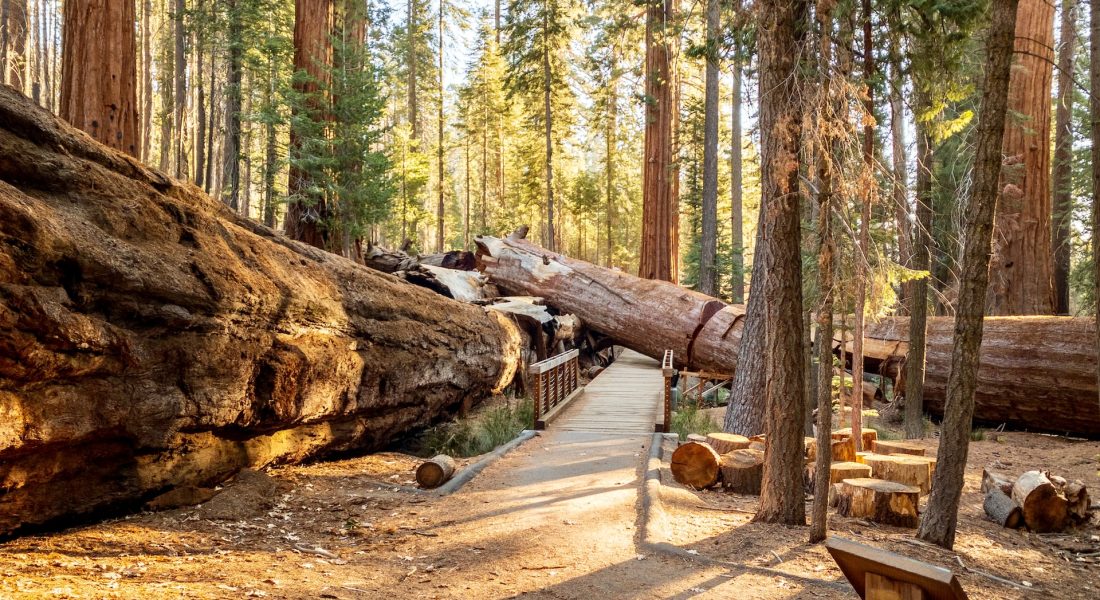 Accessibility is also an important consideration when choosing which park to visit. Both parks offer a range of amenities, such as nearby lodging, food, and restrooms. However, Sequoia National Park has a wider variety of amenities due to its larger size and popularity. The park has several lodges and cabins within its boundaries, and there are also many close restaurants and shops available for visitors.
The Redwoods, on the other hand, has fewer options when it comes to lodging and dining, but it still offers a range of options that are suitable for most visitors. The park also has several information centers and ranger stations where visitors can get information on the park's history, trails, and activities. However, when we visited the Redwoods, we stayed near Eureka, CA, and there were plenty of places in town to grab supplies, dinner or a drink (or two).
Winner: Sequoia
Weather Compared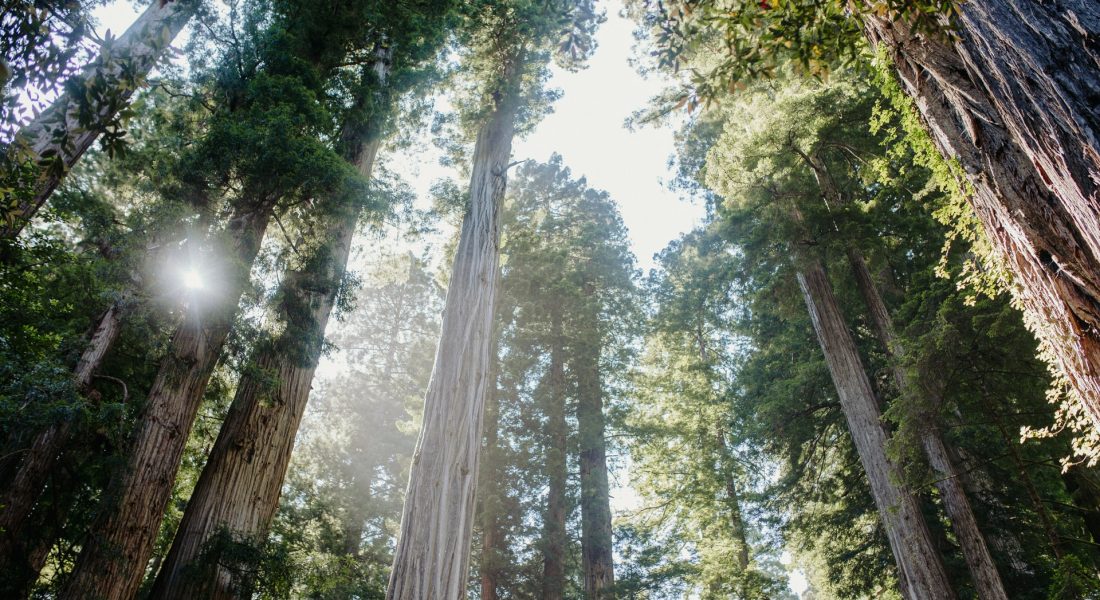 Weather is another important factor to consider when deciding between the two parks. Both parks have distinct weather patterns, and the best time to visit depends on personal preferences and activities.
The Redwoods National and State Parks are located in Northern California, and the weather is generally cool and wet year-round. The park is known for its foggy mornings and moderate temperatures during the day, which are controlled by the coastal weather coming off the Pacific Ocean. The park can experience heavy rainfall during the winter months, which can make hiking and outdoor activities more challenging.
Sequoia National Park, on the other hand, is located in Central California and has a more arid climate. The park experiences hot summers and cold, snowy winters, with the best time to visit being in the spring and fall when the weather is mild. This is due to its higher elevation, as it's located up in the Sierra Nevada mountains.
Winner: Redwoods
Crowds Compared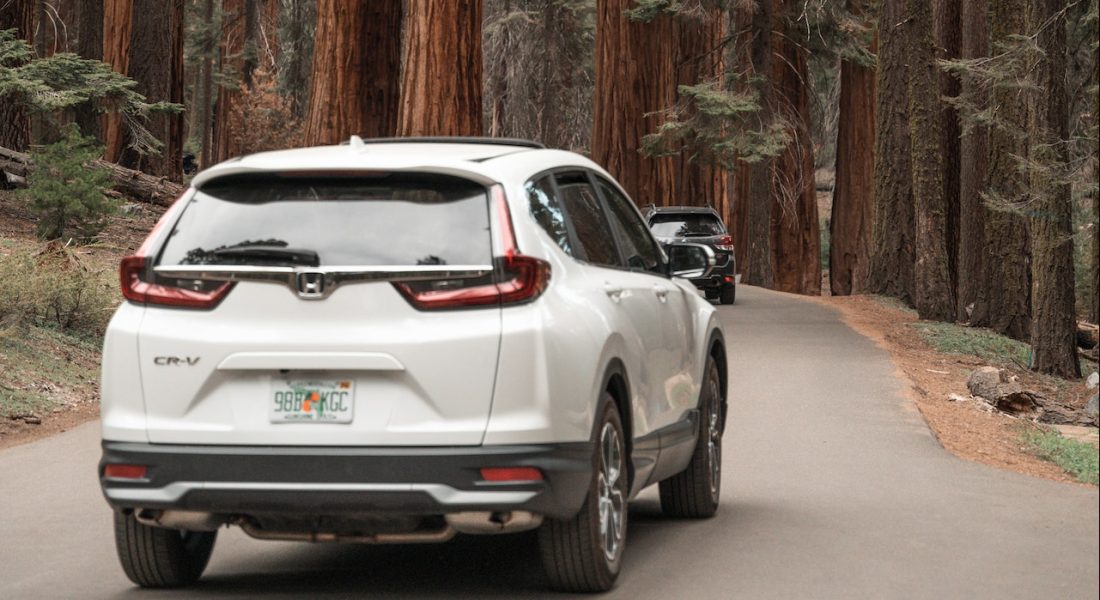 Crowds are another consideration to take into account when deciding between the two parks.
Sequoia National Park is one of the most popular national parks in California, and it attracts a high number of visitors each year. In fact, it's currently the 24th most visited park in the country. This means that the park can get crowded during peak season, making it more difficult to enjoy the park's natural beauty and outdoor activities. Sequoia is also popular due to the fact that it is easy to string together a trip that also includes nearby Yosemite and Kings Canyon parks.
The Redwoods, on the other hand, is a much less busy park (less than half the total visitors that Sequoia sees), and visitors can enjoy the park's beauty without feeling overwhelmed by crowds. I can confirm that since the Redwoods parks are spread out over 5 different areas, it's much easier to find solitude here, even in the heart of tourist season.
Winner: Redwoods
Attractions Compared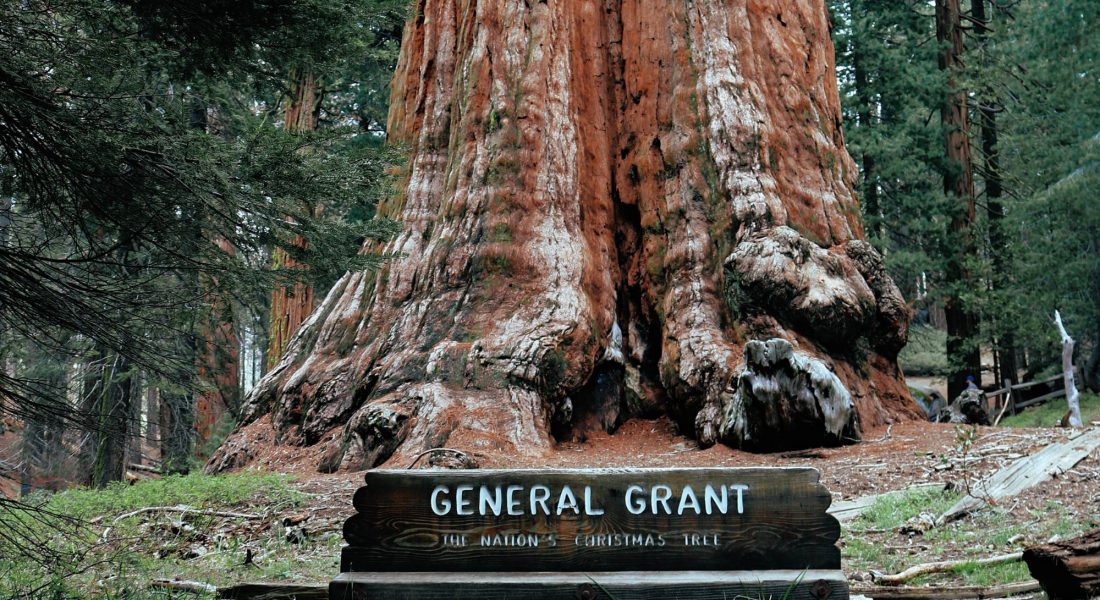 Finally, the must-see places in each park are worth considering when making a decision.
The Redwoods National and State Parks are home to some of the tallest trees in the world, including the famous Hyperion, which stands at over 379 feet tall. Some of the must-see trails within the park include the Tall Trees Grove, Lady Bird Johnson Grove, and Fern Canyon. Each of these locations offers visitors a unique experience, whether it be hiking through old-growth forests or exploring the canyon's lush vegetation.
Sequoia National Park is home to some of the largest trees in the world, including the General Sherman Tree, which is over 2,000 years old and stands at over 275 feet tall. The park is also known for its scenic hikes, including the Lakes Trail and the Moro Rock Trail. Visitors can also explore Crystal Cave, a stunning underground cave system with sparkling crystals and rock formations.
Winner: Close, but probably Sequoia
Final Decision?
Choosing between The Redwoods and Sequoia National Parks depends on personal preferences and travel style. Both parks offer unique experiences and opportunities for outdoor adventure. However, in my experience, The Redwoods was a great choice for a quieter and more peaceful outdoor adventure. With its towering trees, scenic hikes, and stunning vistas, The Redwoods is a must-visit destination for any nature lover.
That being said, if you're looking for a park with more amenities and larger crowds, Sequoia National Park might be a better fit. Regardless of which park you choose, make sure to do your research and plan accordingly to ensure the best possible experience.