Yosemite, Kings Canyon to Sequoia National Parks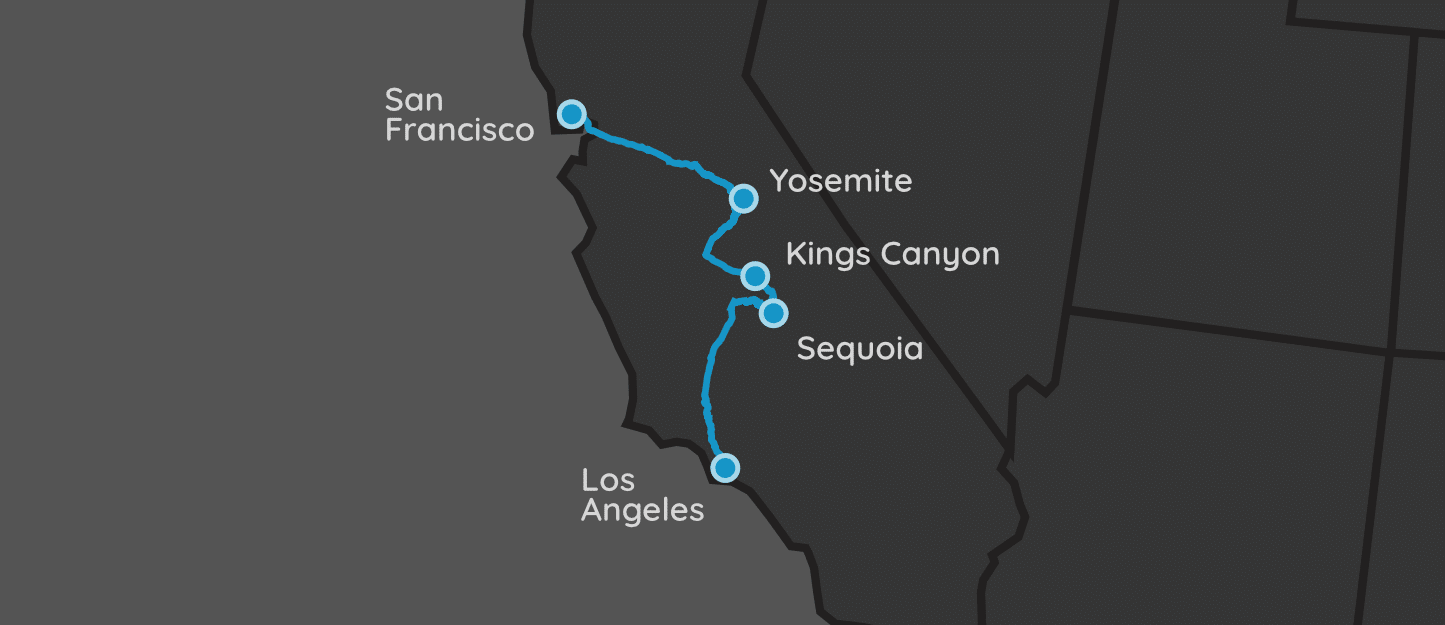 | | | | |
| --- | --- | --- | --- |
| Parks: 3 | Miles: 543 | Days: 9 | Hours: 10 |
This scenic drive through the heart of California will take you to three National Parks: Yosemite, Kings Canyon and Sequoia. In fact, Sequoia and Kings Canyon National Parks are right next to each other and actually share an entrance fee!
It takes about 12 hours to drive the whole trip, start-to-finish, and covers just under 600 miles (966 km). You end up visiting the historic cities of Modesto, Fresno, and Bakersfield in between flying into San Francisco and out of LA.
Itinerary Notes
Like with all of our road trips, you can easily reverse course, and fly into LA and out of San Francisco. I would suggest checking both directions to see which flights are cheapest. Believe it or not, there will certainly be a cheaper direction, and if the direction of the trip doesn't matter to you – this is always a great way to save some money.
We grabbed a rental SUV in San Francisco and dropped it off at LAX before our flight home. We always get the larger SUV (we are a family of 5) over the midsize. It only costs a couple of hundred dollars more, and the drive is much more comfortable in a vehicle that easily fits all of us and our luggage.
Arrival
Days 1-2
San Francisco, CA
To start this trip, we decided to fly into the San Francisco International Airport. This airport is accessible via direct flights through almost every carrier, and ticket prices weren't excessive.
We decided to spend the night in San Francisco because the trip to Yosemite was a 3-hour drive. If we were able to fly into the city earlier in the day, we could have swung the trek on the same day. Instead, we spent a night in a mid-priced hotel, and readied for our trip East the next morning.
Tip: If your flight gets in early enough, and you still want to spend the night, you really should check out the Golden Gate Bridge and/or the Fisherman's Wharf. Both are places that epitomizes the city, and you really can't go wrong with either.
Drive
Driving
The next location is 170 miles away (~3 hours).
The drive to Yosemite from San Francisco takes about 3 hours.
Along the way, you can stop about halfway in Modesto, CA for a bite to eat. As for attractions, the Goodwin Dam Recreational Area in Jamestown, CA offers easy and short trails for those that want to get out and stretch the legs a bit.
Destination
Days 2-4
Yosemite National Park
Yosemite, CA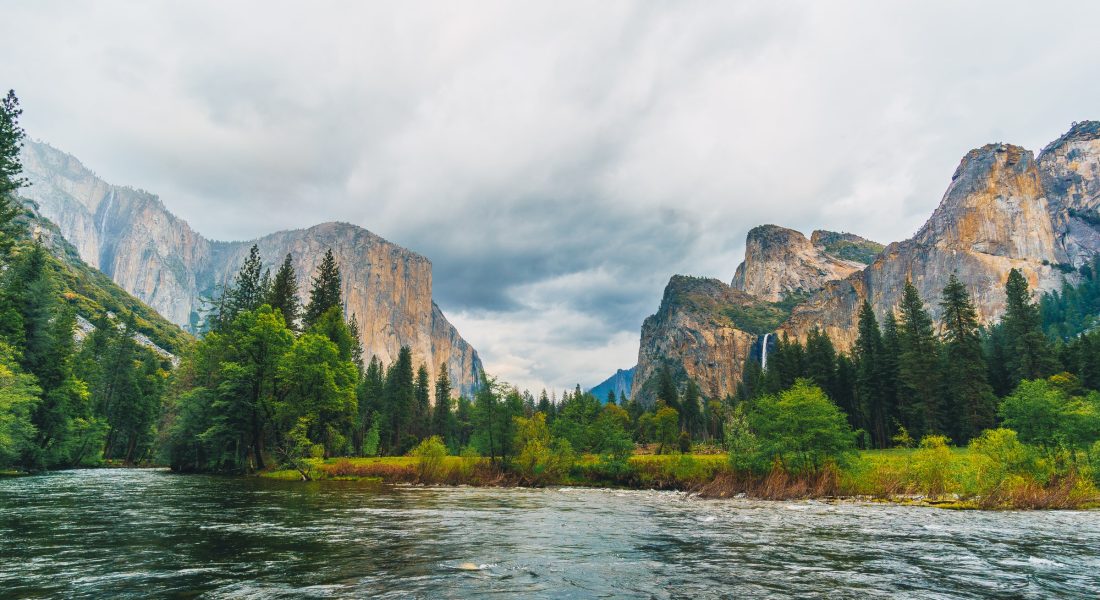 Yosemite National Park is best known for its majestic waterfalls, but within its nearly 1,200 square miles, you can find deep valleys, grand meadows and ancient giant sequoias.
Lodging
This park is a bit far from any urban areas, so for the best experience while here, stay within the park. You will beat the crowds into the park, be able to stay late, and generally spend less time driving around. Lodging options inside Yosemite National Park are managed by Yosemite Hospitality, and range from simple tent cabins at the High Sierra Camps to deluxe rooms at The Ahwahnee. Reservations are available 366 days in advance and are strongly recommended, especially from spring through fall and during holidays.
If you don't mind driving – or there is simply nothing available inside the park – staying in Yosemite West, CA or Fish Camp, CA may be a good alternative. There are a cluster of wonderful Airbnbs in the area, but they are about an hour or more away from the park's main entrance.
Attractions
El Capitan is the most recognizable feature in Yosemite, but there are plenty of other places to visit and trails to hike that will easily fill multiple days in the area.
The floor of Yosemite Valley offers amazing views of El Capitan, and it's plunging Bridalveil Falls. El Capitan is the feature that actually launched the National Park Service over a hundred years ago. There are multiple starting points of trails in this valley as well, including the popular Mist Trail.
Glacier Point is another popular vantage point of the valley via the Four-Mile Trail, which is just under 5 miles one-way.
Another recognizable feature at Yosemite is the Half Dome, which is further into the park, near the Yosemite Valley Visitors Center. This enormous granite dome is only accessible via technical climbers on a 15-mile round trip hike that spans multiple trails. This trail is not for the faint-of-heart and requires a permit from the park to hike.
Drive
Driving
The next location is 115 miles away (~2.5 hours).
The drive south to Kings Canyon National Park takes about 2.5 hours, and goes through the heart of Fresno, CA about halfway through.
Stop at the Mariposa Grove of Giant Sequoias in Fish Camp, CA to see some giant Sequoia trees. You will see plenty of them in a couple of days once you visit Sequoia National Park, but these threes are impressive none-the-less.
Destination
Days 4-5
Kings Canyon National Park
Pinehurst, CA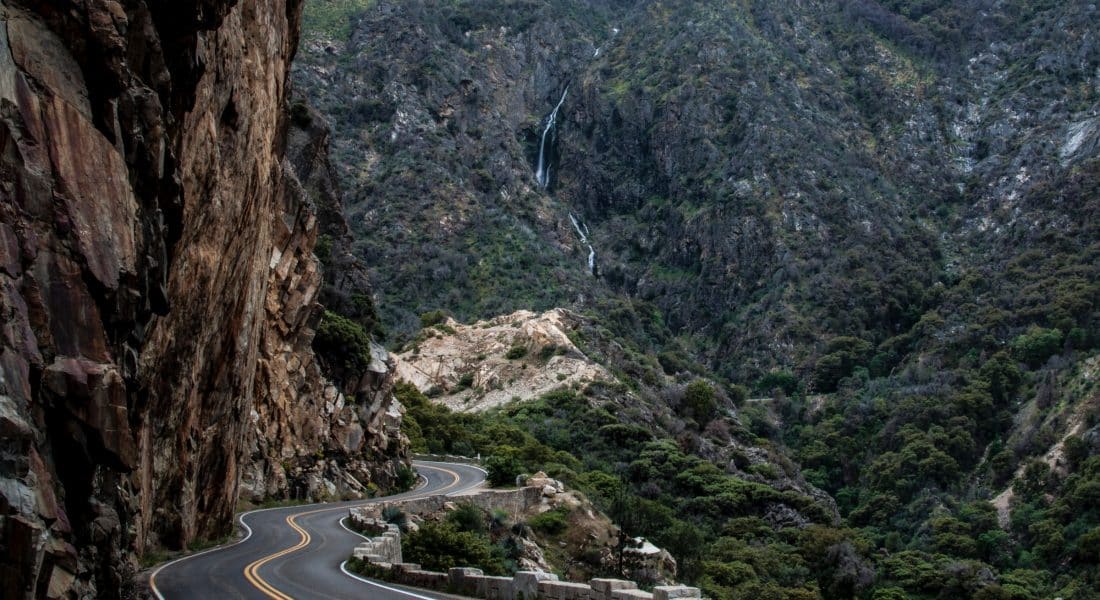 Kings Canyon is one of the lesser known National Parks in the area and often gets dwarfed by those visiting Yosemite and Sequoia. Thankfully, Sequoia and Kings Canyon are so close, that even the entrance fee covers both parks!
Lodging
Stay in Pinehurst or Miramonte, which both have an impressive amount of Airbnbs. If you are looking for lodging within the confines of the park, the Wuksachi and Montecito-Sequoia Lodges are beautiful, but fill up very quickly. There are others in the area as well, like the Cedar Grove Lodge and the Grant Grove Cabins, so there are plenty of options within the park if you find yourself not finding any availability.
Attractions
In my opinion, the best part of Kings Canyon National Park is the Generals Highway. We spent most of our days at Kings Canyon towards the top of the highway exploring. However, since that is the road we'll be using to travel down to Sequoia later on, we will leave the majority of that route for later.
The best entrance to Kings Canyon is the Big Stump Entrance, which is right next to Pinehurst. The 1,700 year old General Grant tree (second-largest by volume in the world) and Kings Canyon Visitor Center is also immediately following this entrance.
After entering, head north on route 180 and snake through the 35-mile long Kings Canyon Scenic Byway. Be sure to stop at the Canyon view, about one mile east of the Cedar Grove Village.
As for some great trails to hike, the General Grant Tree Trail, North Grove Loop, and Roaring River Falls Trails are can't miss easy trails for the whole family. If you are looking for more moderate trails, consider hiking the Mist Falls Trail (8 miles round trip), the trail up to Buena Vista Peak (4 miles round trip) and the Big Baldy Trail (4.4 miles round trip).
Drive
Driving
The next location is 52 miles away (~1.5 hours).
Even though they are close, they are probably too far away to stay in one place and easily visit all the best sights of both. They are connected via the Generals Highway, and it takes a little over 2 hours (63 miles) to get from one park to the other. We would suggest taking this route if you are switching lodges between Kings Canyon and Sequoia, as it has numerous stops and attractions that will probably take you the whole day to get though.
For my money, the two parks were just barely too far away from one another to stay in one place and visit both. Instead, we spent a couple nights at each park to enjoy the full experience!
As an alternative and slightly quicker route, you can take route 245 towards the city of Citro. It ends up being about a half-an-hour shorter, but you will miss out on the General Highway's amazing sights.
Destination
Days 5-8
Sequoia National Park
Three Rivers, CA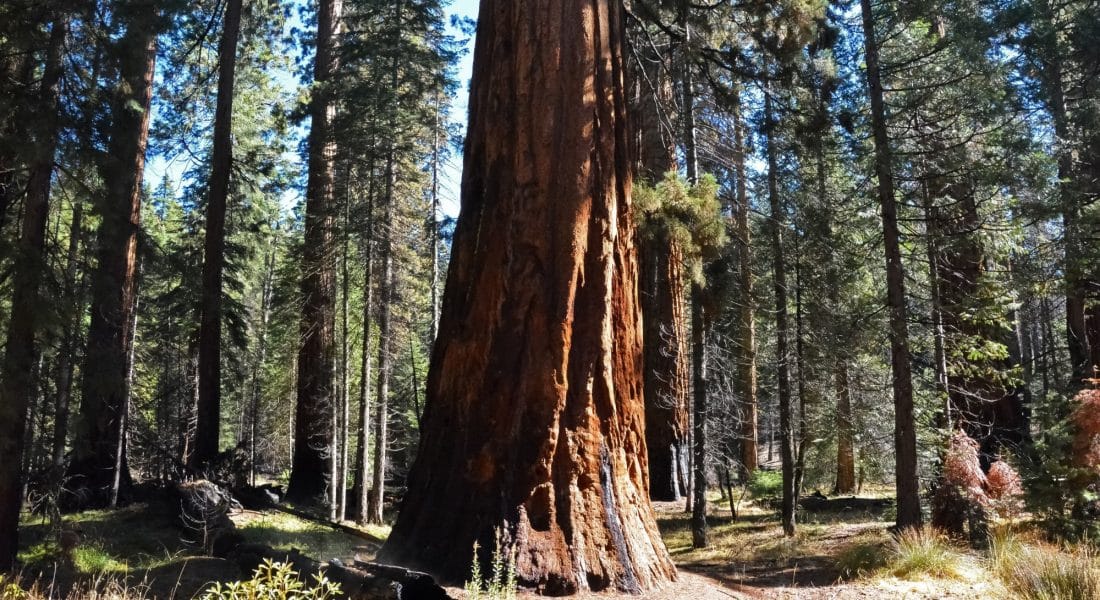 If you are following our itinerary, and visiting Sequoia National Park after Kings Canyon, you should have come down the General's Highway. Along that trip, you should stop at the General Sherman tree, which is the largest known tree on earth. We suggest you take all day traveling and making stops along General's Highway. Take the full day to do it, and head out the Ash Mountain Entrance to Three Rivers.
Lodging
We decided to stay in the town of Three Rivers, CA, which only about a 7 mile (11 km) or 13-minute drive to the entrance of Sequoia National Park through the Ash Mountain Entrance. There were plenty of Airbnb options in this area, but there are also a handful of hotels and motels in the same vicinity.
The Silver City Resort is within the park, but – again – it fills up fast, and unless you are looking many months into the future, you will have to find other accommodations.
If you still cannot find any space, consider Visalia, CA, which is about 40 minutes south from the park's entrance.
Attractions
Honestly, there was so much to see along General's Highway, that we spent the first day at Sequoia exploring the southern part of the route again. The Crystal Cave is one of the more than 200 natural caves in the park, but was well worth the $18-$5 (depending on age) admission price.
The Giant Forest Museum and Moro Rock are a couple more must-stops along the way.
As for hiking in Sequoia NP, the Big Trees Loop (1.2 miles round trip) near the Museum and the Cold Springs Nature Trail are two easy trails that the whole family can enjoy. The Marble Fork Trail (7.4 miles round trip) starts at the Potwisha Campground and winds up a strenuous trail to view the amazing Marble Falls.
Drive
Driving
The next location is 206 miles away (~4 hours).
The next day is a trip out of Sequoia National Park into Los Angeles. This is a 4-hour drive that bisects Bakersfield, CA about halfway down. Stretch your legs at The Park at River Walk and find some grub and beers at Lengthwise Brewing Company.
Departure
Day 9
Los Angeles, CA
Spend a night in LA before the flight out the next morning. LAX is a huge airport and is best to get there well before your flight starts boarding. We decided it was best to stay the night here, as to not have to take a red-eye flight back to the East Coast.
If you've ever taken a red-eye flight (one that flies all night), you'll know what I'm talking about. I don't usually get bad jet lag – unless I'm on a red-eye.