Devils Tower, Wind Cave, Mt. Rushmore to Badlands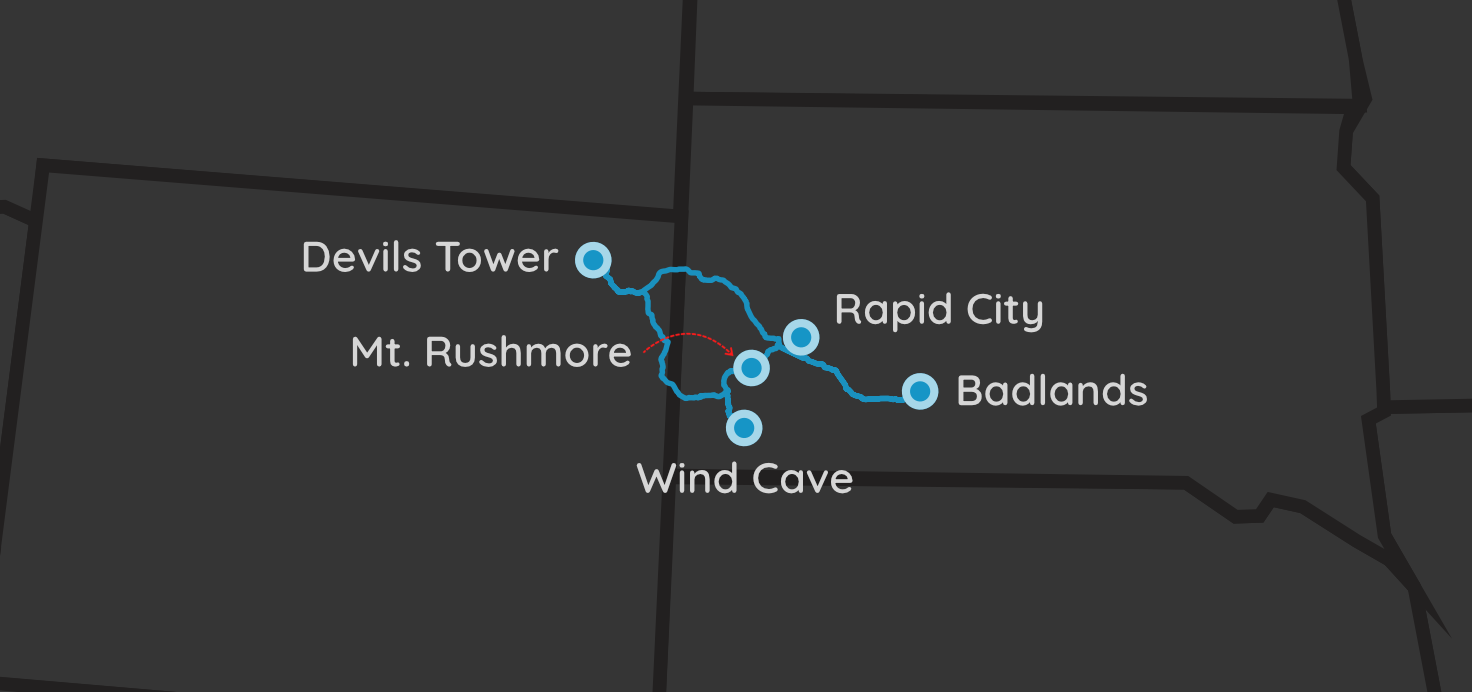 | | | | |
| --- | --- | --- | --- |
| Parks: 4 | Miles: 444 | Days: 7 | Hours: 7 |
In this trip, we are staying mostly within South Dakota, except for a small slice of travel into Wyoming. We visit South Dakota's only two National Parks, as well as two of the most recognizable National Monuments anywhere.
Itinerary Notes
Rapid City Regional Airport was not my first choice when looking into this trip. It seemed too small for my liking, and I wanted to find a larger airport to make my flight from PA more manageable. Well, there isn't any others. Denver International is the closest of the "large" airports, and it's 6 hours (300 miles) away from Rapid City.
As with all of our trips, schedule a rental car or SUV ahead of time with a rental company operating out of the airport. We always spend the extra couple of hundred dollars on a full-size SUV.
Also, this trip is easily reversed, heading to the Badlands NP first instead of Devils Tower.
An alternate way to schedule this trip would be to stay in Rapid City the whole time and make day trips out to each of the parks. Rapid City will have by far the most amenities and lodging options, so consider this if coordinating multiple night stays is not your favorite thing to do. One advantage of doing it this way, would be the fact that you can then visit the Theodore Roosevelt National Park. That park is only about 4 hours (240 miles) north of the city.
Arrival
Day 1
Rapid City, SD
Here we fly into Rapid City Regional Airport. It is the only airport that made sense for this trip. It is dead center to all the spots we hope to visit on this excursion.
Drive
Driving
The next location is 123 miles away (~2 hours).
Begin by heading directly to Devils Tower National Monument. It is only about 2 hours away, so it shouldn't be hard to get here immediately after your flight lands, and you pick up your rental.
Destination
Days 1-2
Devils Tower National Monument
Pine Haven, WY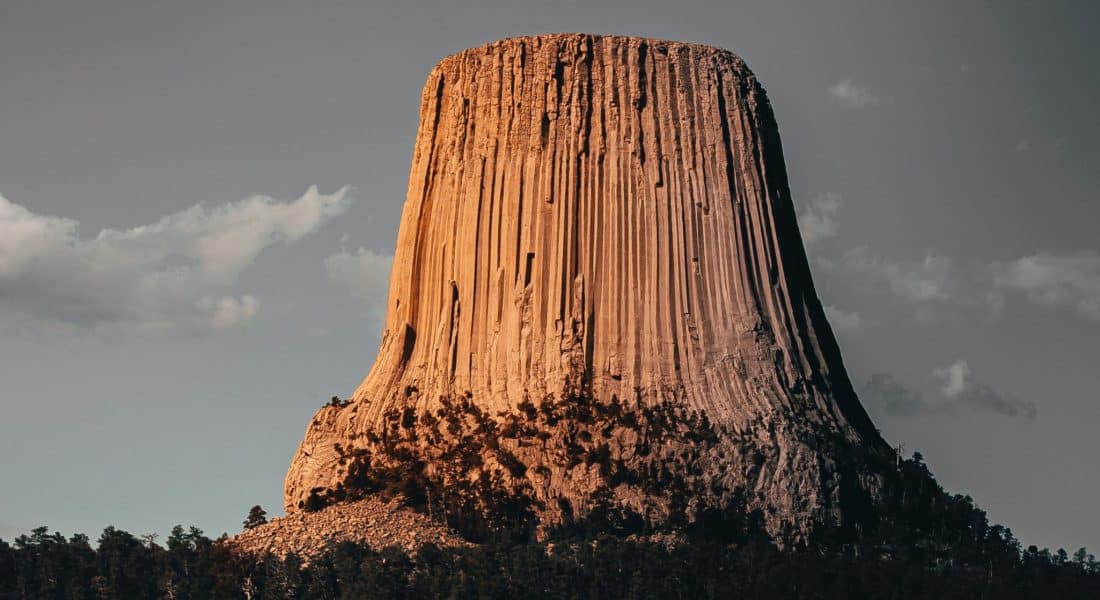 Devils Tower National Monument is an iconic sight to behold. The Tower is an astounding geologic feature of volcanic rock that protrudes out of the prairie surrounding the Black Hills. The Devils Tower was the first United States national monument, designated by President Theodore Roosevelt in 1906.
Lodging
We decided to stay a night in an Airbnb in Pine Haven, Wyoming. There are surrounding towns that offer equally easy access to the park, like Moorcroft and Carlile, both in Wyoming. If hotels are more your thing, the closest is in Sundance, WY, about a 30-minute drive to the park.
Attractions
Parking is limited at this park, and it can get quite busy in the summer months. Getting to the park early will help with both of these issues.
The easiest and quite possibly the busiest trail in the park is the 1.3 mile Tower Trail, starting at the visitors center. It is paved the whole way, and offers close up views of the tower. A less-traveled path with equally great views of the tower is the Red Beds Trail. This 2.8 mile loop offers spectacular views of the tower and surrounding river valley.
Drive
Driving
The next location is 130 miles away (~2.5 hours).
Towards the end Day 2, begin your trek south to Hot Springs, SD, home of Wind Cave National Park. This easy 2.5 hour drive will take you right past Jewel Cave National Monument. With over 170 miles of trails and guided cave tours, which happen on the hour. Reservations are recommended.
Destination
Days 3-5
Wind Cave National Park
Hot Springs, SD
Below the intact prairie of the National Park sits Wind Cave, one of the longest and most complex caves in the world.
Lodging
Between a few hotels and multiple Airbnb options, you should not have any trouble finding a spot to spend the next couple of nights in Hot Springs, SD.
Attractions
Obviously, the caves. The guided tours of the caves range from $7 to $45, depending on age and the cave you choose. The tours range from fairly easy to extremely strenuous, so do your research on each tour to find the one that fits your skill set best.
Outside the cave, there are numerous trails that offer sights of Wind Cave's most visible animal: the Bison. Two of the best to spot these magnificent animals, as well as antelopes, is the East Bison Flats Trail and the Rankin Ridge Trail. Both are fairly easy and will allow you to see for miles on a clear day.
We are spending 2 nights here, so one full day can be dedicated to our next stop: Mount Rushmore
Must See
Mount Rushmore National Memorial
Keystone, SD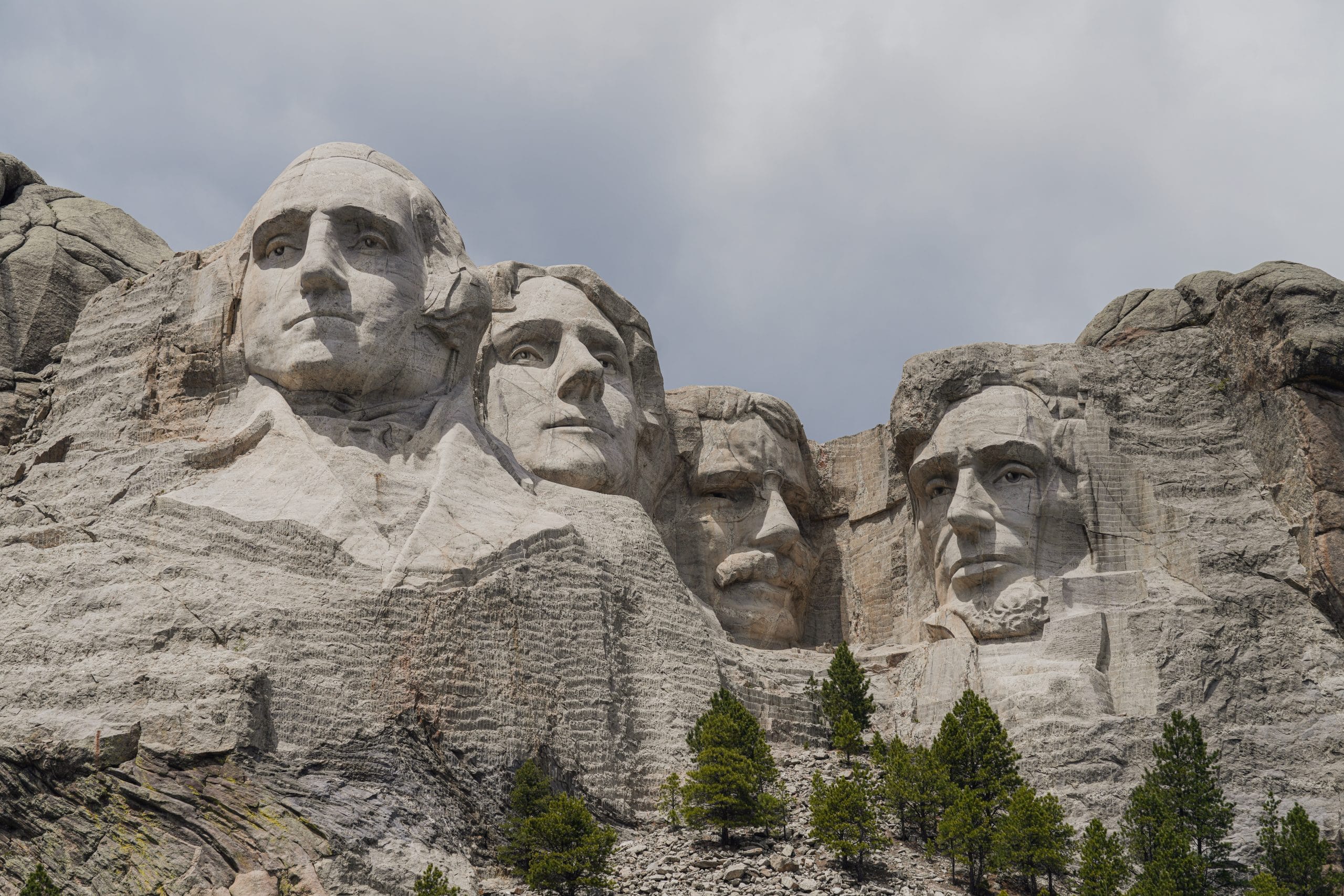 One hour away from where you're staying in Hot Springs is Mount Rushmore. You can hit this spot on your way to the Badlands NP on your last day, or take a full day and visit all the surrounding spots (what we recommend).
Lodging (if needed)
There are limited options close to the park, which is why we made it a "drive-thru" day, but if you'd like to stay, Hermosa, SD will offer you the options closest to the park. However, this is not something we'd suggest doing. There is one lodge (Cedar Pass Lodge) inside the park, where you can experience a sunrise or sunset over the badlands.
Attractions
There is a charge to park here due to the fact that private funds were used to create the parking lot.
The visitors center at Mount Rushmore offers the most obvious shot of the Presidents, but there are plenty of other places that a small hike can offer different or less-crowded views. The Presidential Loop Trail around the monument offers fantastic glimpses, as well as a drive down Iron Mountain Road.
Tip: If you didn't visit Jewel Cave National Monument on your way down, now is the time to do it. Only 13 miles from Custer, SD (a town you'll pass on your way to Mount Rushmore) is an underground cave that can be seen by guided tours that cost around $6 per person.
Drive
Driving
The next location is 125 miles away (~2 hours).
From here we are heading to Interior, SD, the town we're staying in while we visit the Badlands National Park.
Destination
Days 5-7
Badlands National Park
Interior, SD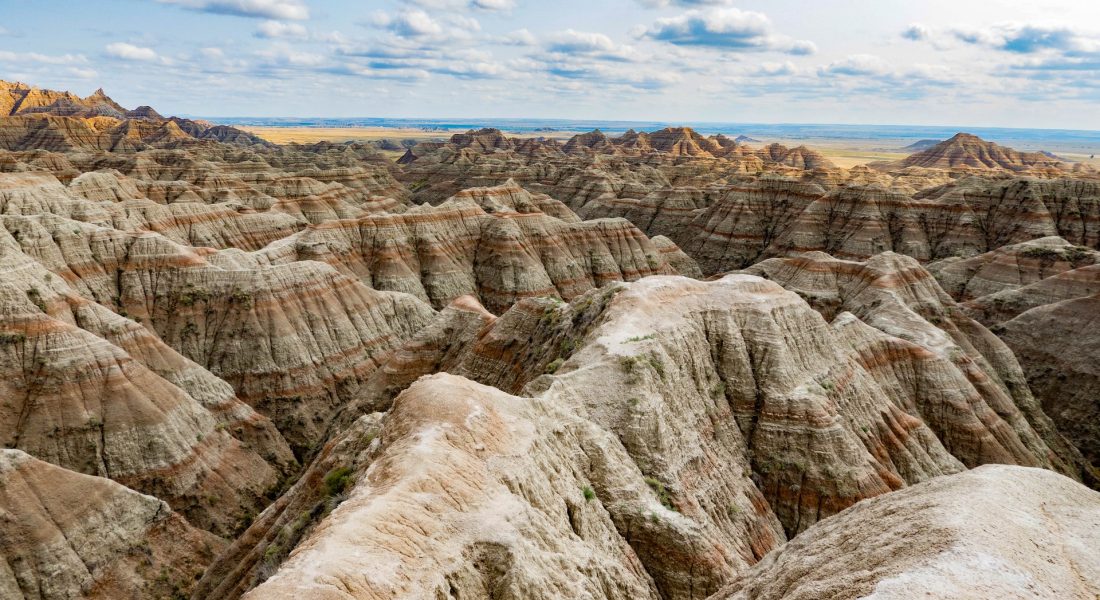 Badlands National Park offers sights that look to be out of science fiction books. These deposited, then eroded rock formations offer flowing colors and landscapes you likely have not seen before.
Lodging
Interior, SD is where we decided to stay in an Airbnb. There are no hotels that I could find in this town, but there are a lot of vacation rentals. If you have any trouble finding a place to stay here, look at Wall, SD instead. In this town, there are a few hotels as well.
Attractions
You are basically going to have one day (spread over two) to spend at the park. Begin by entering the Interior North Entrance. Take a drive along the Badlands Loop Road (23 miles), which is not really a loop. The end of the road will take you out of the park near Wall, SD.
Along the way, you can hike the Fossil Exhibit Trail, the Door Trail and Window Trail. The final two there start off easy, but begin to get more difficult as the pavement ends.
If you have extra time, you can drive down the 22-mile Sage Creek Rim Road. The badland formations are a little muted down here, but the wildlife is much more abundant.
Drive
Driving
The next location is 66 miles away (~1 hours).
Head back to Rapid City Regional Airport. It's a very short trip, so you should be able to fly out the same day you leave the Badlands.
Departure
Day 7
Rapid City, SD
There is no reason to spend the night here, seeing as it's only a one-hour drive from the Badlands.