Yellowstone to Grand Teton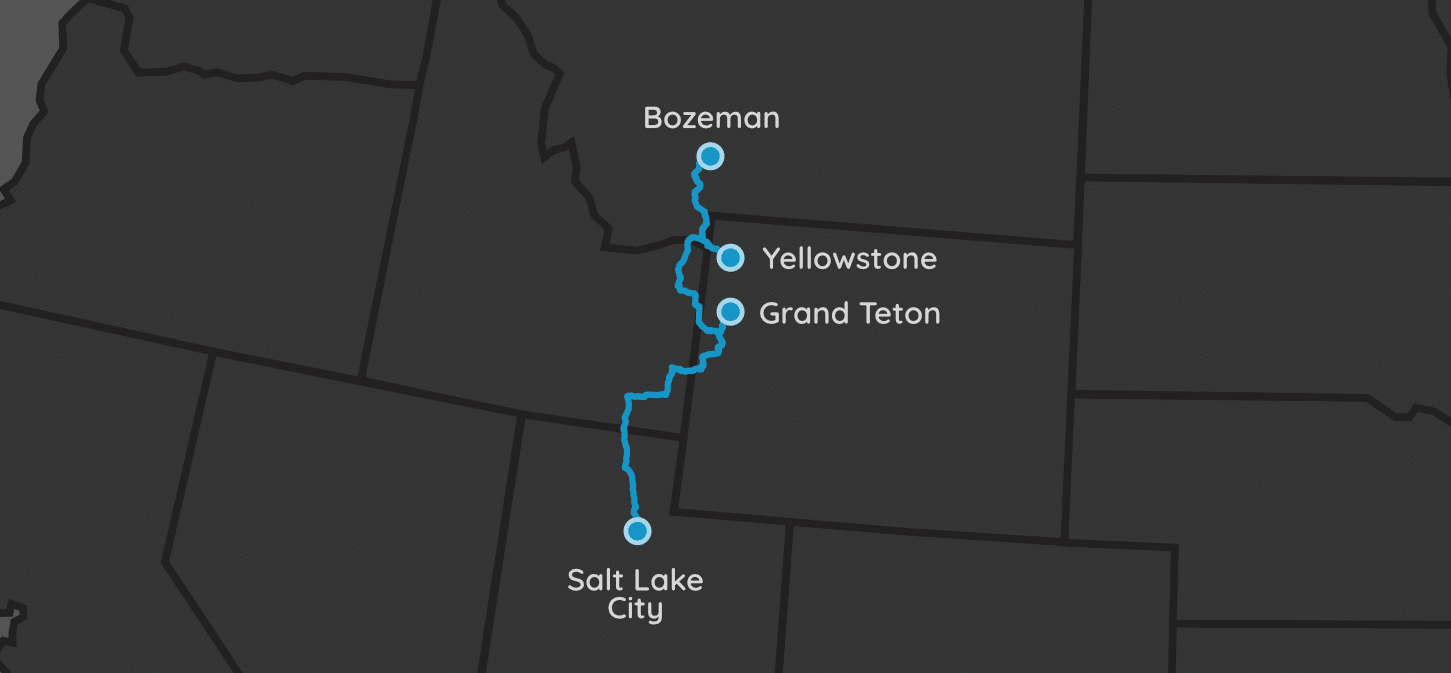 | | | | |
| --- | --- | --- | --- |
| Parks: 2 | Miles: 497 | Days: 9 | Hours: 8 |
In this road trip, we only visit two national parks, but they are two of the big ones. Yellowstone and Grand Teton are the 6th and 9th most visited parks in America, respectfully. Yellowstone's crown jewel is the Old Faithful Geyser, and is usually beyond crowded in the summer months.
Itinerary Notes
We decided to fly into the Bozeman, MT airport, breaking one of our long-standing rules of only flying into larger international airports. The ticket prices weren't bad at all, and I think it's because it is the most common airport to visit Yellowstone NP.
As with all trips we create, your best bet is to rent a full size SUV from a rental car company at Bozeman, and return it in Salt Lake City at the same rental company's kiosk inside that airport. The rental can sometimes cost more than you'd think, but driving almost 500 miles (805 km) in anything smaller may make it a little cramped – especially if you have kids.
This trip can also be revered. You can certainly start the tip in Salt Lake City, and drive north through Grand Teton, Yellowstone, then eventually Bozeman.
Arrival
Day 1
Bozeman, MT
We decided to fly into the Bozeman, Montana airport, breaking one of our long-standing rules of only flying into larger international airports. The ticket prices weren't bad, probably because there were a lot of flights in and out of here during the busy season at Yellowstone.
Grab your rental car, and let's get on the road!
Drive
Driving
The next location is 91 miles away (~2 hours).
Begin your driving heading south towards West Yellowstone, MT. Yellowstone NP has a couple entrances, with some being closed for the winter. If you are making this trip in the spring to fall seasons, then all entrances should be open to you.
This is a fairly short 2-hour drive, which you should be able to accomplish at any time, regardless of when your flight gets in at Bozeman.
Destination
Days 1-5
Yellowstone National Park
West Yellowstone, MT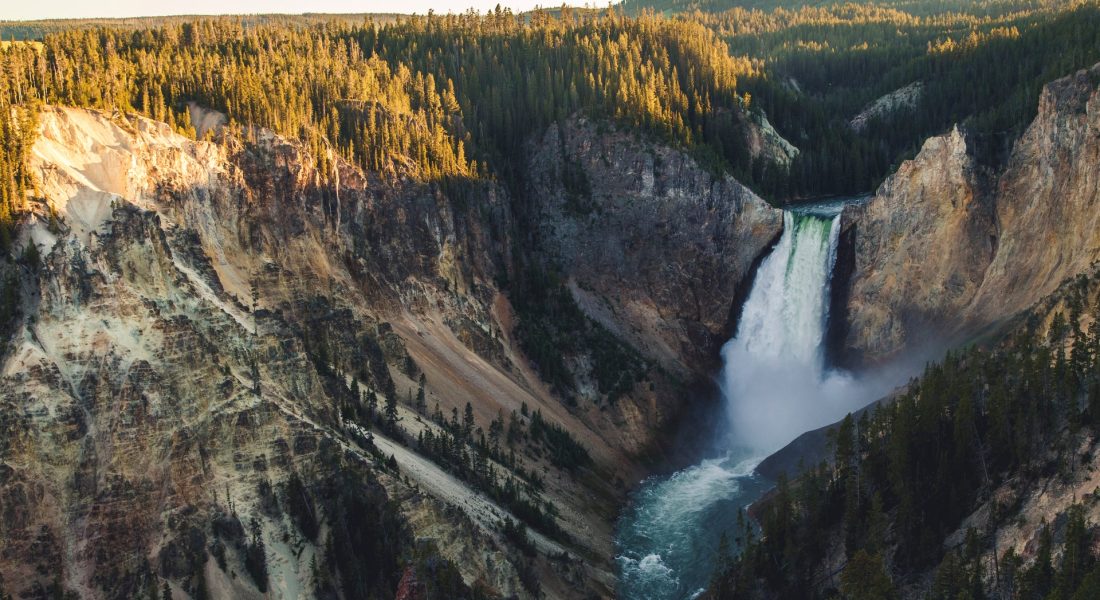 Yellowstone National Park hosts half of the world's geothermal features within its 2.2 million acres.
Lodging
Yellowstone National Park hosts around four million visits each year. More than half of these visits happen during June, July, and August. Coordinating your trip to be in May or September will make your visit much more enjoyable.
If you want to stay inside the park, you are recommended to reserve your stay 13-months in advance. Use the Xanterra site to book rooms at any of the many cabins or resorts within the park's boundary.
If you decide to stay outside the park, West Yellowstone, Gardiner and Carbella offer motels and various Airbnb options.
Attractions
Midday (10am-4pm) is when most of the crowds are out. If you are staying the night here rather than stopping on the way through, then keep these times in mind. Parking fills up early as well, so get there before 8am for the best experience.
Old Faithful Geyser erupts every 90 minutes, and shoots up to 8,400 gallons of hot water each time. Expect massive crowds here in the summer months, with the benches surrounding the geyser getting filled 30 minutes in advance.
Just north of Old Faithful are the boardwalks surrounding Midway Geyser Basis and Upper Geyser Basin. The Morning Glory Pool with its vibrant colors is a must-see location inside the Upper Basin.
Looking into the Grand Canyon of the Yellowstone you'll see the Yellowstone River, which cuts a 1,000 foot deep swatch through the rock. There are the Upper Falls and Lower Falls that you can hike to get amazing glimpses of both.
The best hike in the park goes to the Fairy Falls Trail, which is either a 1.5 or 7 mile round-trip easy walk that overlooks the Grand Prismatic Spring and it's falls.
Drive
Driving
The next location is 128 miles away (~2.5 hours).
The drive from Yellowstone to Jackson, WY will take about 2.5 hours. This is US highway 89/191/287, or better known as the John D. Rockefeller, Jr., Memorial Parkway.
Destination
Days 5-8
Grand Teton National Park
Jackson, WY
In Grant Teton National Park, sharp mountain ranges jut up from the landscape to dwarf everything surrounding it. This mountain range is the youngest in the Rockies, lending to the sharpness of the peaks.
Lodging
Jackson, Wyoming is less than 10 minutes outside the park's limits. It is a town with wonderful Airbnbs, hotels and restaurants. Victor, ID is slightly further away, but also has plenty of amenities.
If you'd prefer to stay inside the park, make your reservations 12 months in advance. There are about eight different cabins or lodges inside the park, with about the same number of campsites.
Attractions
Head to the Craig Thomas Visitors Center in Moose to start planning your trip. Drive north on Teton Park Road (24 miles) to get numerous views of the mountains. The Glacier View Turnout is a spot where you can view the Teton Glacier and towering Grand Teton.
The other scenic drives in the park include the Jenny Lake Road (8 miles round trip), and the Signal Mountain Summit Road (10 miles round trip).
The best hike in the park has to be the Jenny Lake Loop Trail that passes by Hidden Falls and Inspiration Point. The moderately-difficult trail begins at the Jenny Lake Visitor's Center, goes for about 7.5 miles and has an elevation change of 1,250 feet. At the top, it looks down on the blue waters of Jenny Lake.
Kayak or float down the Snake River and get unmatched views of the Teton Mountains. These activities range from cheap (kayak rentals) to pricey (guided tours on rafts). This may be a perfect chance to change up your trip a bit and do something a bit more adventurous than simply hiking.
Drive
Driving
The next location is 278 miles away (~4.5 hours).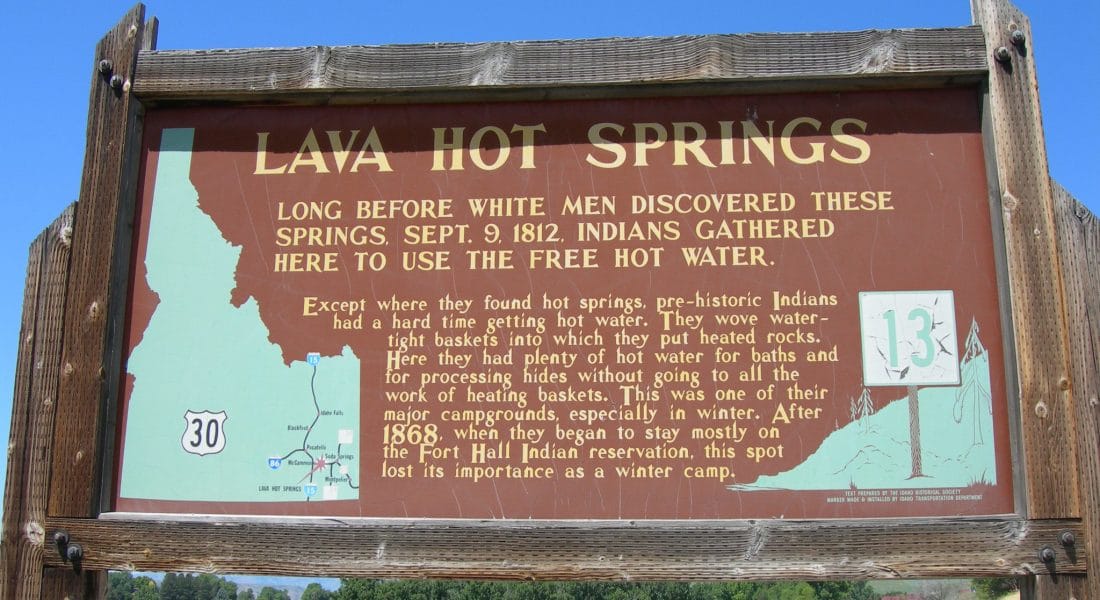 Drive south towards Salt Lake City, UT to begin your way home. This leg of the trip will take approximately 4.5 hours and a little less than 300 miles.
Along the way is Lava Hot Springs, ID, which has world-famous hot pools to take a dip in. The hot spring's temperatures range from approximately 102˚F to 112˚F degrees. If you need to take a break driving, we highly suggest this stop!
Departure
Days 8-9
Salt Lake City, UT
We end this trip flying out of the beautiful Salt Lake International Airport. If you were lucky enough to arrive at the airport the night before your flight, you may be able to squeeze in some urban exploration before falling asleep.