The Lumpy Ridge Loop in Rocky Mountain National Park
Lumpy Ridge Loop Trail (also known as the Twin Owls Loop) is one of the popular trails in the eastern half of the Rocky Mountain National Park in Colorado. The loop trail circles through a pine forest and around Lumpy Ridge, a large granite cliff sculpted a few billion years ago by wind and glaciers.
Rocky Mountain National Park is known for its breathtaking natural beauty, with over 300 miles of trails for hiking, backpacking, and sightseeing. The Lumpy Ridge Loop Trail is just one small part of this astonishing trail system, but one that you surely should not miss!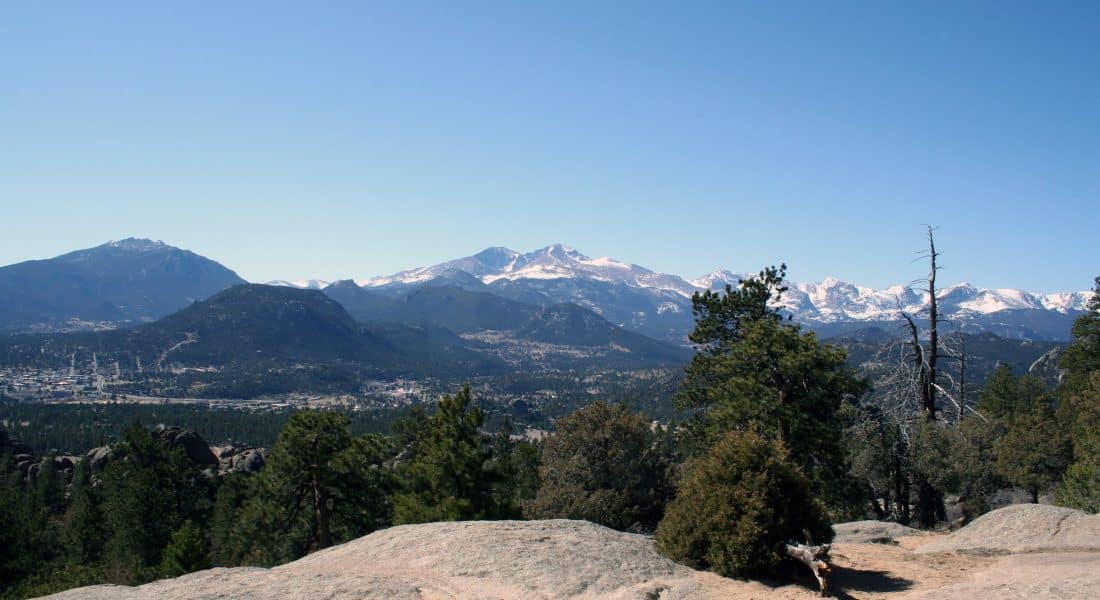 Getting to the Lumpy Ridge Loop Trailhead
Physical Address of the trailhead and parking lot: Lumpy Ridge Rd, Estes Park, CO 80517
GPS coordinates of the trailhead are 40.396428, -105.512899
The Lumpy Ridge Loop Trailhead is not located in the main section of the park behind the Beaver Meadows entrance. Instead, head north once from Estes Park on MacGregor Avenue. At a fork, take a right on Davis Gulch Road. Less than 2 miles later, you'll reach Lumpy Ridge Road on your left. The trailhead and paved parking lot will be about 1/2 mile down Lumpy Ridge Road.
Parking is limited to about 2-3 dozen vehicles, so it is best to arrive early to secure a spot if you're visiting on a summer weekend. Other than then, the parking lot should have plenty of room for you.
The trailhead has restrooms and garbage containers.
Fees
Rocky Mountain National Park charges a $30 a vehicle fee to enter, and lasts for 7 days. However, three are no fee collection booths at Lumpy Ridge. I have heard of rangers going by looking for permits, so it's best to purchase one either online or at an entrance point like Beaver Meadows.
There are no extra fees to visit or park at Lumpy Ridge, however. This section of the park is not under a timed entry requirement at any point during the season.
The Lumpy Ridge Loop Trail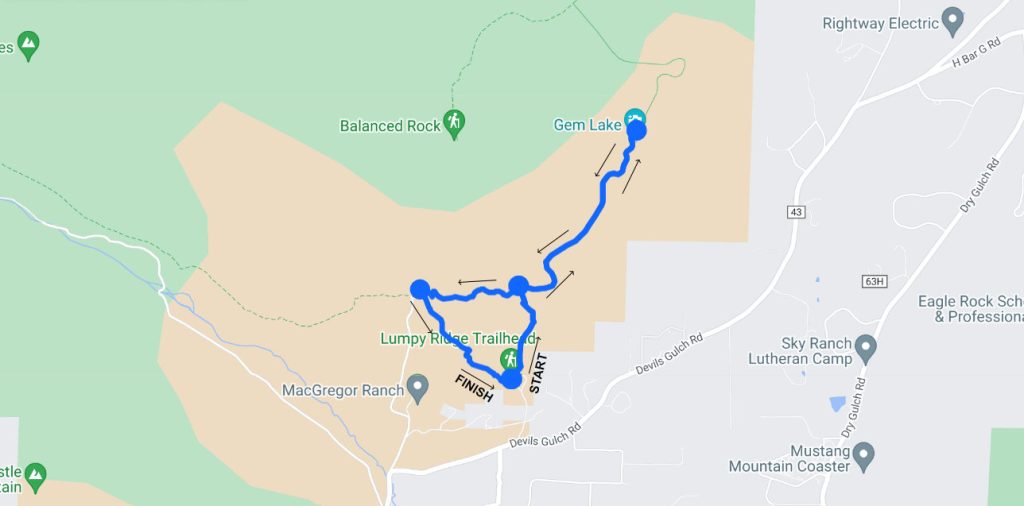 | | |
| --- | --- |
| Hiking Distance | 4 miles (6 km) |
| Hiking Duration | 2-3 hours |
| Route Type | Loop |
| Difficulty Level | Moderate |
| Elevation | 7,870 ft (at trailhead) |
| Elevation Climb | 1,122 feet (342 m) |
| Trail Type | Dirt |
| Wheelchair Accessible | No |
| Pets Allowed | Yes |
| Fees | Free, but Rocky Mountain NP has an entrance fee |
The Lumpy Ridge Loop Trail is about a 4-mile round trip hike that starts at the Lumpy Ridge Trailhead and offers stunning views of the park's most iconic peaks, including Longs Peak, MacGregor Mountain, and Mount Meeker. The trail begins near the back of the entrance road.
I like to take this trail counterclockwise. The views are basically the same, but Gem Lake gets crowded as the day wears on, so it's best to get that part of the loop done early.
The Lumpy Ridge Loop Trail is part out-and-back, and part loop. After departing from the trailhead, you'll reach a fork where you'd turn right towards Gem Lake.
Once reaching Gem Lake, which a beautiful but small alpine lake, you turn around and head back to where you came from. You eventually come across the same trail junction as before, however, now you follow the Black Canyon Trail for about half a mile before finishing up on a new part of the Lumpy Ridge Loop Trail. From there you'll loop back to the trailhead and parking lot.
The full trail has a moderate difficulty level, mostly due to an elevation gain of around 1,100 feet.
Other Nearby Trails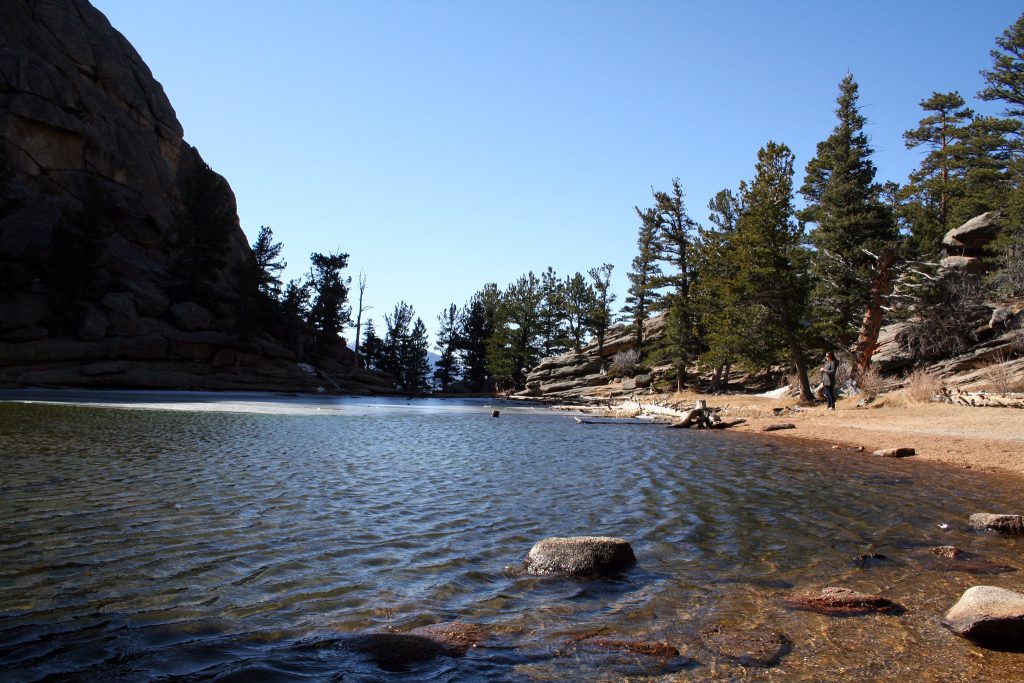 In addition to the Lumpy Ridge Loop Trail, there are several other trailheads that can be accessed from some part of the Lumpy Ridge Trail. This includes the Gem Lake Trail, the Balanced Rock Trail, and the Black Canyon Trail. The Black Canyon Trail terminates once it meets the Cow Creek Trail.
Each of these trails offers a unique perspective of the park, with different landscapes, elevations, and degrees of difficulty. Whether you are looking for a strenuous hike or a leisurely walk, there is a trail to suit everyone's needs.
Rocky Mountain National Park Weather
The weather in Rocky Mountain National Park can be highly variable, with temperatures ranging from well below freezing in the winter to hot and sunny in the summer. The park's high elevation means that snow can fall at any time of year, so it is always best to check weather conditions before starting your hike.
The summer months bring crowds of people, with Rocky Mountain National Park ranking as the 5th most visited. The weather is typically comfortable in the summer due to the elevation and the shade of the trees. Winter brings massive snowfalls and road closures. Trail Ridge Road, the most popular road through the park, is closed for the winter.
The Lumpy Ridge Loop Trail in particular is typically open year-round, but conditions can be challenging in the winter, with deep snow and slippery trail conditions. Winter hikers should be prepared with proper gear and be experienced in winter hiking.