Duck on a Rock Viewpoint in the Grand Canyon
The Duck on a Rock Overlook in the Grand Canyon National Park is a scenic viewpoint that offers views of the iconic natural rock formation. The Grand Canyon is one of the world's most recognizable landscapes, and the Duck on a Rock Overlook provides visitors with a unique perspective of this awe-inspiring place.
What is the Duck on a Rock?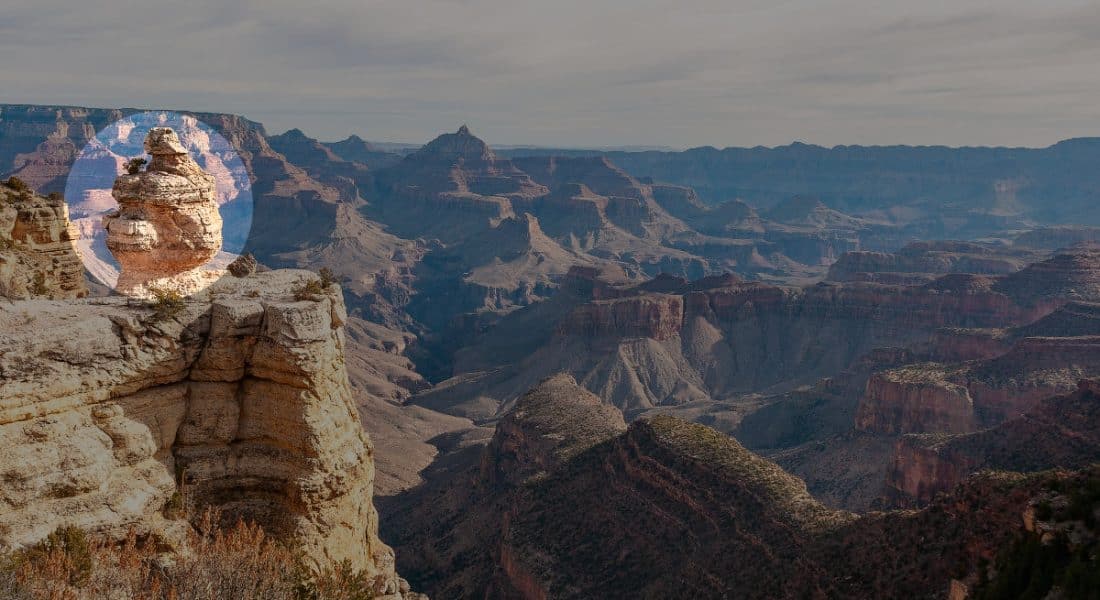 The Duck on a Rock is made of Kaibab Limestone, a type of sedimentary rock that was formed from the accumulation of marine debris and fossils over millions of years. This rock layer is particularly prominent in the Grand Canyon, and is home to many of the iconic formations and features that make the canyon so recognizable.
Erosion has done a number on this natural formation that is supposedly meant to resemble a duck standing on a rock high above the Grand Canyon. To me, it looks more like a fat turkey with a duck bill standing watch over the canyon… but what do I know?
Wherever your imagination makes takes you, it's still a fantastic spot to look out over the canyon to see the different layers of rock, from the Vishnu basement rock all the way up to the red a
Where is Duck on a Rock Viewpoint?
GPS Coordinates: 36.014216, -112.065778 (Google Maps Link)
The Duck on a Rock Overlook is located on the South Rim of the Grand Canyon, approximately 7 miles east of Grand Canyon Village along Desert View Drive (highway 64). The Duck on a Rock Viewpoint provides visitors with a panoramic view of the canyon and the surrounding landscape.
Getting to the viewpoint of the Duck on a Rock is easily accomplished if you have a car. Unfortunately, the same cannot be said of the free Grand Canyon Shuttle. The closest shuttle stop to the overlook is the Pipe Creek Vista, which is about 3 miles away.
There is ample parking at the overlook, so that should not be a concern for you.
Nearby Attractions
The Duck on a Rock Overlook should be nothing more than a quick stop to another place on the rim. Before the overlook is Pipe Vista Overlook, Yaki Point, Ooh Aah Point, the South Kaibab Trailhead, and Shoshone Point. Each of these also a fantastic view of the canyon from above. Of course, in the case of the South Kaibab Trail, you can trek into the canyon a few hundred feet to get an entirely different viewpoint. It's truly amazing how only 5 minutes of walking below the canyon's rim can change the perspective so drastically.
After the overlook is Grandview Point, Moran Point, the Tusayan Museum, and the famous Desert View Watchtower. For my money, all these stops are great, but the Desert View Watchtower is a must-see.