Hiking the Timber Gulch Trail in Oregon
There are a number of "gulch" trails throughout Oregon, but this might be my favorite. Hiking into Timber Gulch, within the Honeycomb Wilderness near Jordan Valley, Oregon was a wonderful experience. Located right next to the much more popular Leslie Gulch, the Timber Gulch is too often ignored. Expect to see nobody else on the path, even though it's not a terribly difficult trail.
Getting to Timber Gulch Trail
Located along Leslie Gulch Road (a dirt road), the Timber Gulch Trailhead is unmarked, and only has room for maybe 2-3 cars at its dirt pull-off parking area. This is not a popular trail, so you should be fine, even more so if you're coming during non-peak times (weekdays).
To find the trailhead & parking lot can be found via GPS by using the following GPS coordinates: 43.304795, -117.290538
2 hours away from Boise, 1.5 hours west of Musing, ID, and about 1 hour north of Jordan Valley, OR, Timber Gulch is located on the eastern side of Oregon, only about 20 miles away from the Idaho border. If you're coming from the east (Musing, Jordan Valley, Boise), you'll eventually reach Leslie Gulch Road via McBride Road.
Once here, reset your odometer, and the pullout will be 11.7 miles on your right. The trailhead will be unmarked. You will pass Upper Leslie Gulch and Juniper Gulch trailheads before reaching this destination. If you need restrooms, they will be on the left back at the previous Juniper Gulch sign.
Leslie Gulch Road comes to a dead end at Slocum Campground, only a few miles from Timber Gulch Trailhead.
Hiking the Timber Gulch Trail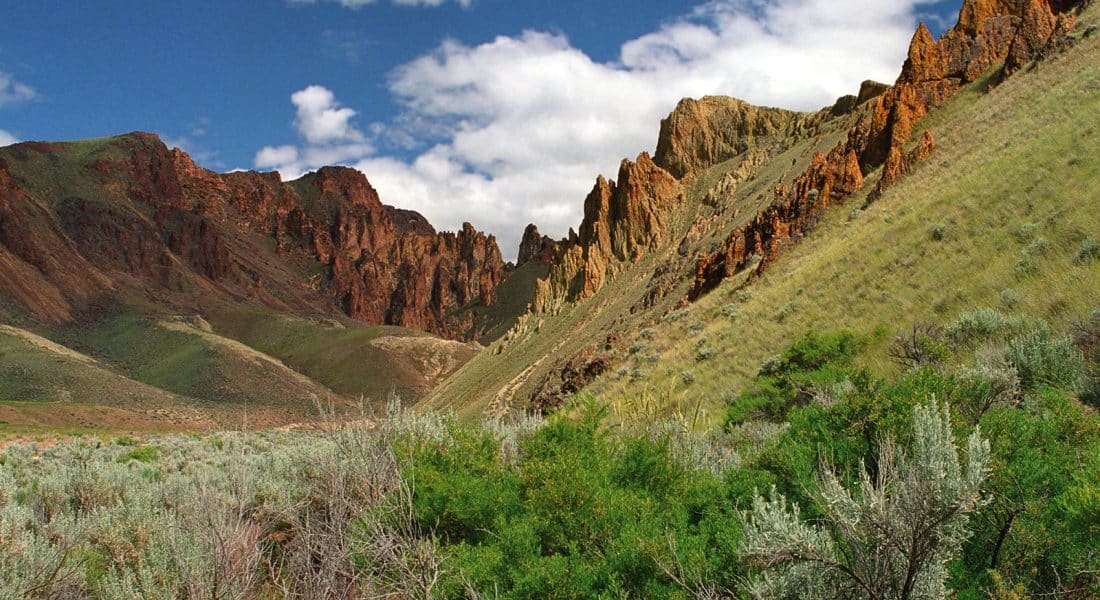 The Timber Gulch Trail is unmarked, and not well maintained, so much so that it looks like it may not be an official trail of the Honeycomb Wilderness. Regardless, expect a few spots of scratchy underbrush and occasionally the trail will disappear on you. The trail is not well-marked at the beginning, but eventually gets much easier to follow the further you get in. If you have a trail app like GAIA or ALLTRAILS, it would be a good idea to download the trail path to be prepared.
The trail descends from the parking pullout area and follows the dry wash valley for about a half-mile, before staying above it for the rest of the way.
Be prepared to climb over a few rocks on this trail. Some places list this trail as "difficult" for that reason alone, but I think it's not as bad as they make it sound. I saw a review of someone's 4-year old making the trek, and I have to agree that pretty much any able-bodied person can hike this trail.
You'll be right up against enormous rock walls and honeycombs almost right from the beginning of the hike. The Timber Gulch Trail eventually ends at a stunning amphitheater backed by a sheer 250-foot wall where you can scramble around the rocks.
| | |
| --- | --- |
| Trail Type | Out-and-Back |
| Hiking Distance | 1.3 miles |
| Elevation Gain | Approx. 400 feet |
| Difficulty Level | Moderate |
| Dogs Allowed | Yes |
| Max Elevation | 3,495 feet |
Once you get to the amphitheater, most people stop and turn around here. There is an optional Yellow Jacket Hike that continues on and connects to the Juniper Gulch Trail. This section of the trail is more difficult than Timber Gulch, and is around 6 miles in total length.
Weather Conditions at Timber Gulch
I think the best times to visit this trail would be late spring to early summer. By May, all the snow should be gone, and the trail should be somewhat dry. There is very little shade along the entire trail, so getting out here early before the heat of the day is essential. Regardless of the time you hike the Timber Gulch Trail, bring lots of water. The elevation and occasional wind here can make comfortable sounding weather a little worse than expected.
As an added bonus, the wildflowers will be in bloom during the spring, so the already spectacular views can get even better during these months.
What is a Gulch?
A "gulch" refers to a narrow and steep-sided ravine or valley that is typically formed by the erosion of water. Gulches are often found in dry and arid regions, where flash floods can quickly and dramatically carve out the landscape.
Other gulches can vary in size from small and shallow to deep and expansive, and they can be found in a variety of terrains, including mountains, canyons, and deserts. They are typically characterized by their steep sides and lack of vegetation, as the flowing water can erode away the soil and vegetation that would otherwise stabilize the banks.