Windstone Arch and Fire Cave at Valley of Fire State Park
For years, the Windstone Arch and Fire Cave inside Valley of Fire State Park have been popular spots for photographers and tourists alike. That all changed in May 2021 when the delicate arch fell. It hasn't been determined if it was a natural break or if it was caused by vandalism, but the remnants of it are still lying around.
Even if you still decide to visit to view the Fire Cave, the trip is still worth it in my opinion. The hike to the cave is extremely short yet impressive, and the cave is otherworldly. There shouldn't be a ton of people here either, considering the fact that the arch is no longer there.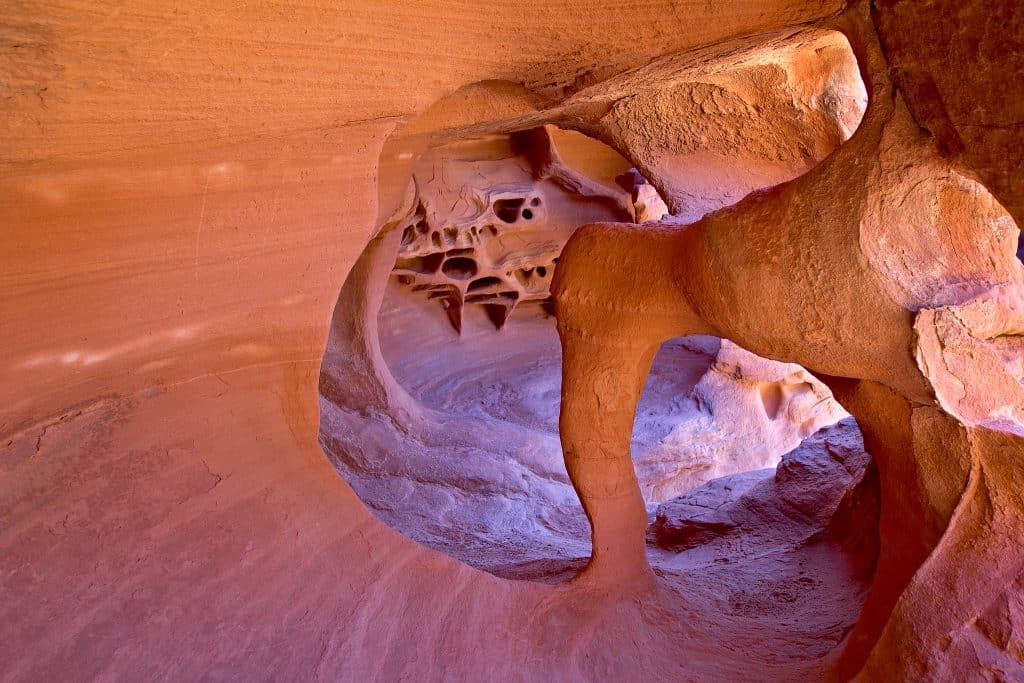 Getting to the Windstone Arch and Fire Cave
First, once you are in Valley of Fire State Park, Nevada, you'll most likely be on Valley of Fire Highway. Coming from the east, look for a small sign labeled "Scenic Drive" on your right, 8.1 miles from the intersection of Northshore Road/NV 169. If you happen to be coming from the west, the Scenic Drive will be 15 miles from Interstate 15 on your left.
Scenic Drive will be a dirt road that barely looks like one. Less than a tenth up the drive, you'll come across a small pull off big enough for maybe 6 cars on your right. You might even call this a widening of the road than any real pull off. The GPS coordinates of the pull off are 36.412021, -114.554256.
Even with directions, this next spot can be hard to find. The GPS coordinates of the arch and cave are 36.412495, -114.553992.
After parking, you'll see an outcropping of rocks about 80 feet away on the same side of the road as your vehicle. This is called Three Fins Arches, and not what we are here to look for. A smaller rock formation behind Three Fins is where you should go. The trail will be difficult to follow at times, and to be honest, it might not even be a real trail… just a scramble over rocks and desert.
The Windstone Arch and Fire Cave are only about 150 feet off the parking area. You'll have to poke around until you find it, since there are no signs designating the spot.