Finding the Famous DUMBO Manhattan Bridge View
The neighborhood in New York City known as DUMBO, which stands for Down Under the Manhattan Bridge Overpass, got its name in the late 20th century. The name was coined by a group of residents in an effort to rebrand and revitalize the neighborhood.
Originally an industrial district of NYC, the area was characterized by its proximity to the Manhattan Bridge, which looms overhead. However, in the 1970s and 1980s, artists and creative professionals began to move into the area due to the availability of spacious lofts and relatively affordable rent.
As the neighborhood started to undergo gentrification and attract more residents and businesses, the name "DUMBO" was chosen as part of a marketing campaign to make the area more appealing. The name "Down Under the Manhattan Bridge Overpass" was meant to convey the neighborhood's location beneath the bridge and highlight its unique character.
Since then, DUMBO Brooklyn has transformed into a trendy and sought-after neighborhood, known for its converted warehouses, art galleries, boutiques, tech companies, and stunning views of the Manhattan skyline. The name DUMBO has become synonymous with the area and is now recognized as an official neighborhood in Brooklyn, New York City.
Getting to the Dumbo Manhattan Bridge View
The famous Dumbo Manhattan Bridge View is really just an intersection that has become this larger than life spot to take a very creatively framed picture of the Manhattan Bridge with the Empire State Building off into the distance. The picturesque spot is at the intersection of Water Street and Washington Street.
Address: 40-58 Washington St, Brooklyn, NY 11201
GPS Coordinates: 40.703207, -73.989598
There is plenty of street parking available here, but even on a good day, every spot may be spoken for. There are a lot of parking garages available in the vicinity as well (55 Washington St Garage is only a block away), but expect to pay through the nose. Here, you get one hour for over $16.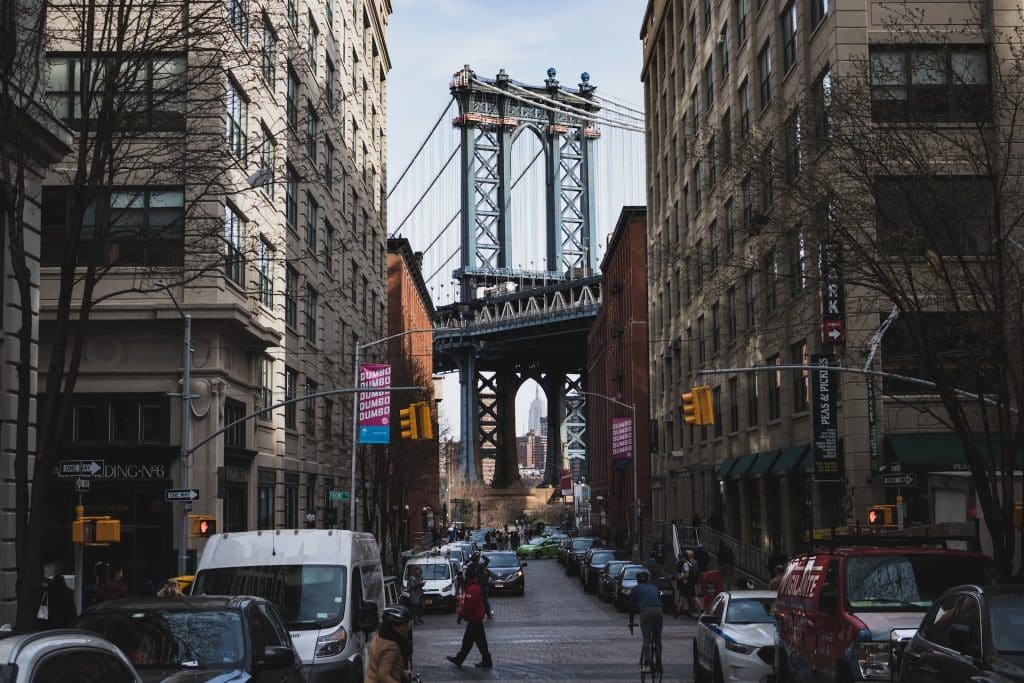 There are times this intersection isn't terribly busy, but it is New York after all… so be very careful when trying to snap your on version of this iconic photo.
Occasionally, you'll see the intersection of Washington and York Street (just south of here) confused with the "official" spot. While this intersection does have a very similar view, it is not the main spot for these photos.
Since this iconic view is literally in the middle of the street, I prefer to direct people to either Brooklyn Bridge Park, or John Street Park. Both of these locations are only a block closer to the bridge along the East River, and you know… an actual park. As an added bonus, you can see the Brooklyn Bridge from here too!