The Perfect Ski Trip Packing List
The perfect ski trip can be ruined if you don't bring all the items you need. If you've never taken a ski trip before, you may be looking for a checklist of items that you need to bring with you.
Flying to your destination introduces a whole extra layer of complexity to building your ski trip packing list. You'll need extra identification to get through security at the airport, and a way to transport your large gear like skis or a snowboard.
Forgetting any of the items can range from inconvenient to downright devastating. You can always buy drinks or sunscreen at your destination. However, forgetting your coat, pants or ski gear can ruin your ski vacation in an instant. Use our packing list below to ensure your ski trips go off without a problem!
Here is your checklist of ski essentials to take on your next trip – no matter if the ski resort is in your backyard, or many states away.
1. Travel Documents
To go skiing, you generally don't need any specific documents. However, depending on your situation, there may be a few documents you'll want to have with you.
If you didn't pre-purchase a lift ticket or season pass, you may need to do that before you head out. If you did buy a ticket before – like an Epic or IKON pass – you should most definitely take that with you.
Some ski resorts may require you to sign a waiver or release form before allowing you to participate in skiing activities, so it would be good to check that out beforehand.
Finally, it's a good idea to have a valid identification with you, such as a driver's license or passport, in case you need to prove your identity or age. These documents will absolutely be needed if you are flying to your destination.
Lift Tickets
Driver's License or Passport
Signed Waiver or Release Form
2. Warm and Waterproof Clothing
When skiing, it's important to dress in layers to stay warm and comfortable.
You'll need to pack warm and waterproof clothing, including a ski jacket and pants, a hat, gloves, and a neck gaiter. Thick insulated socks will aid in helping to keep your feet warm. There are specific ski socks out there, but I've found they are more of a marketing ploy, and that any insulated pair of socks work just as good.
Layering is key to staying warm on the mountain, so consider packing base layers, mid-layers, and an outer layer to wear depending on the weather conditions. The key is to wear enough ski clothing to keep your body warm, but not so much that you get overheated and begin to sweat.
Base layers are the clothes you wear closest to your skin. Look for moisture-wicking materials or thermal underwear.
Mid layers provide insulation and help keep you warm. Sweatshirts, fleece or soft-shell jackets are good choices for this layer.
Outer layers are the jackets and outerwear that protect you from the elements, such as wind and snow. A waterproof and breathable ski jacket and ski pants are essential. This layer is where you will find that the specialized ski clothes will perform better than generic coats or pants.
Base Layers

Thermal Underwear or Yoga Pants
Thick Insulated Socks

Middle Layers

Sweatshirts
Fleece
Soft Shell Jackets

Outer Layers

Waterproof Ski Jacket
Waterproof Ski Pants
Warm Hat
Neck Gaiter
Gloves or Mittens
3. Snowboard or Ski Gear
If you don't have your own ski or snowboard gear, you can usually rent it at the resort. However, if you do own your ski equipment, make sure to pack it. This includes your skis or snowboard, and any bindings, boots, and ski poles you have as well.
Reminder: You won't need winter boots or shoes for this trip outside of your normal footwear. Skis and snowboards have their own boots, so there is no need to run out and find waterproof boots.
If you are flying and bringing your own ski gear, you'll need to pay to check your equipment on the plane. Amazon sells padded roller bags made especially for packing your skis on a plane.
Ski

Skis
Ski Bindings
Ski Boots
Ski Poles

Snowboard

Snowboard
Snowboard Boots
4. Protective Gear
Consider packing protective gear, such as a helmet and goggles, to keep you safe on the mountain.
Helmets are optional on some mountains, but they shouldn't be. Not only do they protect the only head you have, they are cheap! They cost about $15 a day to rent, but only about double that to buy outright on Amazon. I would recommend buying one, even if you are just trying the sport out for the first time.
Goggles are essential ski gear as well. Most recreational skiers travel at speeds between 10 and 20 mph down the hill, and if there is any snow flying around in the air, your face will sting as the snowflakes hit you. Badly. Most goggles luckily have antifog and antiglare features, which are more important than you may think.
5. Sunscreen & Chapstick
It is possible to get sunburned while skiing. Although the air temperature may be cold, the sun's rays can still be strong and damaging, especially at high altitudes. The reflection of the sun's rays off the snow can also increase the intensity of the UV radiation, making it even easier to get sunburnt.
To protect yourself from sunburn while skiing, it's important to use sunscreen with a high SPF and to reapply it regularly.
Your lips will thank you as well if you apply chapstick often. The mix of cold wind and strong UV rays will burn your lips if you don't take precautions.
Sunscreen (SPF 50+)
Chapstick
6. Water & Snacks
It's essential to stay hydrated while skiing or snowboarding, so make sure to pack a water bottle or hydration pack. If you would rather not carry around a water bottle, then be sure to bring some cash or credit card to buy a drink or two while on the hill.
Moreover, pack some energy-rich snacks to fuel you up while on the mountain. Granola bars, trail mix or a bag of nuts will help keep you alert and energetic while hitting the slopes.
Water or Hydration Pack
Energy Rich Snacks
7. First-aid Kit
It's always a good idea to pack a basic first-aid kit in case of any minor injuries. A first-aid kit is much more essential if you intend to ski the backcountry, where there will likely be no one else around. Most commercial ski slopes will have workers skiing around that will be available in case of a medical emergency.
8. Phone and/or Camera
Don't forget to bring a camera to capture all the memories of your ski trip. Most people will simply have their phone with them for this purpose. The après ski (after party) will be where you appreciate having a camera the most!
Printable Ski Trip Packing List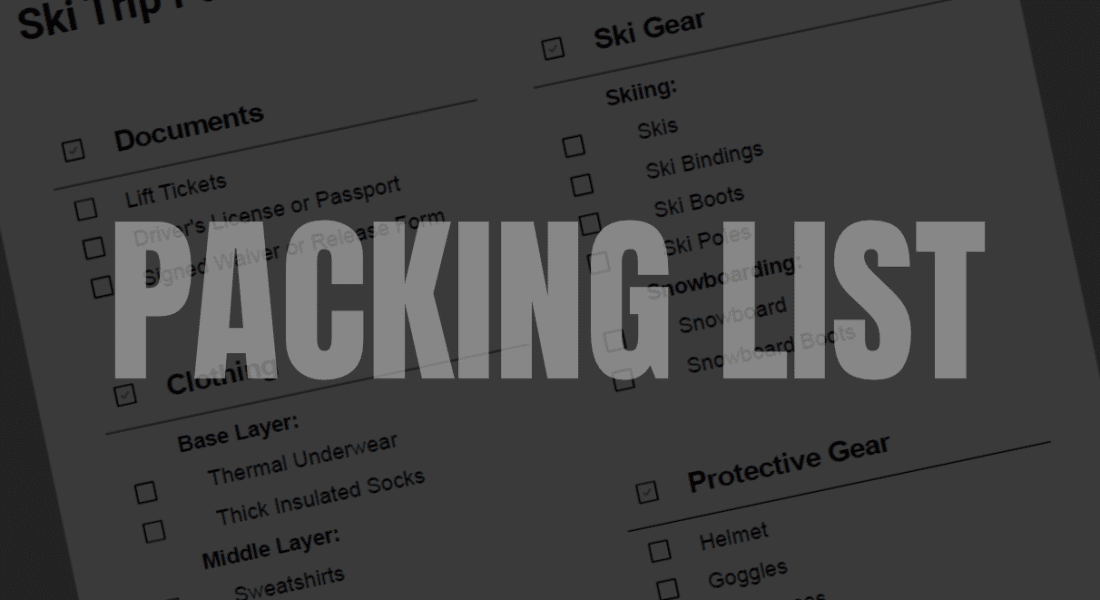 If you prefer to print your ski trip packing list, then save and print the document below. It has the complete list of what we discussed above, so you can be sure that you'll have everything you'll need for your next epic ski trip!