Current & Historic Mountain Collective Lift Pass Prices
The Mountain Collective was created by the Aspen Skiing Co. in 2012. It was created in 2012 to help independent operators compete against Vail Resorts' Epic Pass.
In the past we've compared Mountain Collective to all the other multi-resort passes like EPIC, INDY and IKON, which can be seen here.
Current Mountain Collective Pass Pricing
The Mountain Collective 2023-24 Ski Season Pricing:
Adult Pass: $570
Teen Pass: $460 (ages 13-18)
Child Pass: $155 (under 12)
Ticket sales start in March for the following ski season. Passes usually start off with early-bird pricing, then increase to their default price sometime around September. By late November or early December, all tickets are sold out.
Historical Mountain Collective Pass Pricing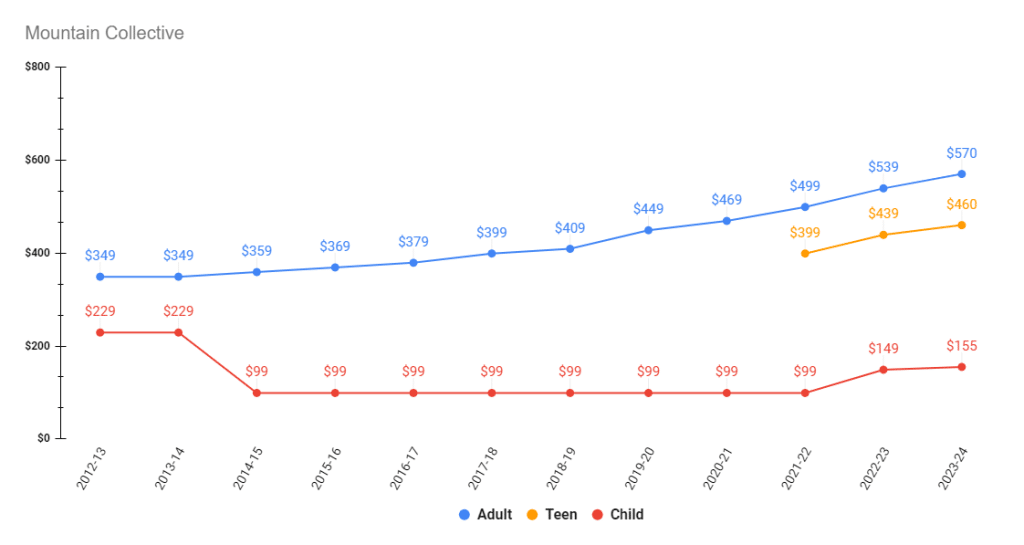 When the Mountain Collective pass was created in 2012, the adult pass was $349. It has since risen 54.4% to the price it is today. To be fair, the Collective has added many resorts to its lineup throughout the years, but people can really only ski so much a year as it is. In fact, most average skiers ski only 2.7 days a year!
The Collective started out keeping their rates the same the first two years. They then started increasing the yearly price by $10, then $20, then eventually $40. It is a very safe bet to expect a $20-$40 increase every year from here on out unless they change their lineup and/or offerings.
It also seems as though the Mountain Collective misjudged their child pass at first. They started off selling the child pass for $229 a year. After two years of that, they dropped it to $99, and kept it that way until the 2022-23 ski season. The child pass's price increased a whopping 50.5% in just one year!
Also, a Teen pass option was introduced during the 2021-22 season, and it received the same steep incline in price as the others did for 2022.
It should be mentioned that currently with your Mountain Collective pass, you also get up to 25% off select lodging options and 50% off additional lift tickets at participating resorts.
Yearly Mountain Collective Passes Sold
We have been trying to find this data, but since this company is not public, they do not obligated to share it with us.
Their business does appear to be thriving. They keep adding new resorts to their lineup, and their prices keep getting more expensive, year over year.
We've reached out for comment, and will update this article if we ever hear back.