Current & Historic IKON Lift Pass Prices
The IKON ski lift pass was created by the Alterra Mountain Company in 2018. It was created as a direct competitor to Vail's Epic pass.
In the past, we've compared EPIC to all the other multi-resort passes like Mountain Collective and IKON, which can be seen here.
Current IKON Pass Pricing
Here are the current prices for IKON passes for the 2023-24 ski season, which goes on sale March 16th, 2023.
Unlimited IKON
Benefits: No blackouts, unlimited days at 15 resorts, 7 days at 39 other locations.
Pricing: Adult $1,159; Teen (ages 13-22) $859; Child (ages 5-12) $369; 4 and Under $149. Current Ikon passholders can get a $100 discount on a renewal. Nurses, Military, and College ID holders can get a year-long pass for $829.
IKON Base Pass
Benefits: Unlimited access at 14 locations, Up to 5 days at 33 resorts. Most of those 33 resorts come with blackout dates.
Pricing: Adult $829; Teen (ages 13-22) $599; Child (ages 5-12) $299; 4 and Under $99. Current Ikon passholders can get a $50 discount on a renewal. Nurses, Military, and College ID holders can get a year-long pass for $589.
Upgrade Option: For $200 more, you can upgrade and receive access to 6 more resorts including Jackson Hole, Aspen and Alta.
IKON Session 4-Day (Can be 2, 3 or 4 days. Prices below are for the 4-day)
Benefits: Get 4 days total at any of their selected 39 resorts. You have blackout dates at almost all resorts to adhere to as well.
Pricing: Adult $439; Teen (ages 13-22) $369; Child (ages 5-12) $269; 4 and Under $269. There is no child discount when purchasing an adult ticket like their other passes. There is also no renewal discount. Nurses, Military, and College ID holders can get a 4 day pass for $369.
Options: IKON offers 3-day and 2-day options as well. The prices for each of these step down from the 4-day option anywhere between $50 and $80 per day.
Ticket sales start in March for the following ski season. Passes usually start off with early-bird pricing, then increase to their default price sometime around September. By late November or early December, all tickets are sold out.
You can view more of IKON's pricing details on their website.
Historical IKON Pass Pricing
The IKON pass was first introduced at the start of the 2018-19 ski season. We've tracked their pass's costs since then. The data in our charts below was culled from various news articles, press releases and IKON's own website.
Unlimited IKON Pass
There was some fluctuation in their pricing for IKON's second year, as they likely course corrected based on market demand and actual sales. However, in general, all IKON passes have increased in price by anywhere between $50-$80 for the adults to $10-$20 for children. Interesting to note, IKON's child ticket has seen price increases every year, but it still has not reached the amount it was originally priced at during its first year.
IKON's Adult pass price has increased 20% since inception, and the Teen pass's cost has increased 11.1% over the same timespan.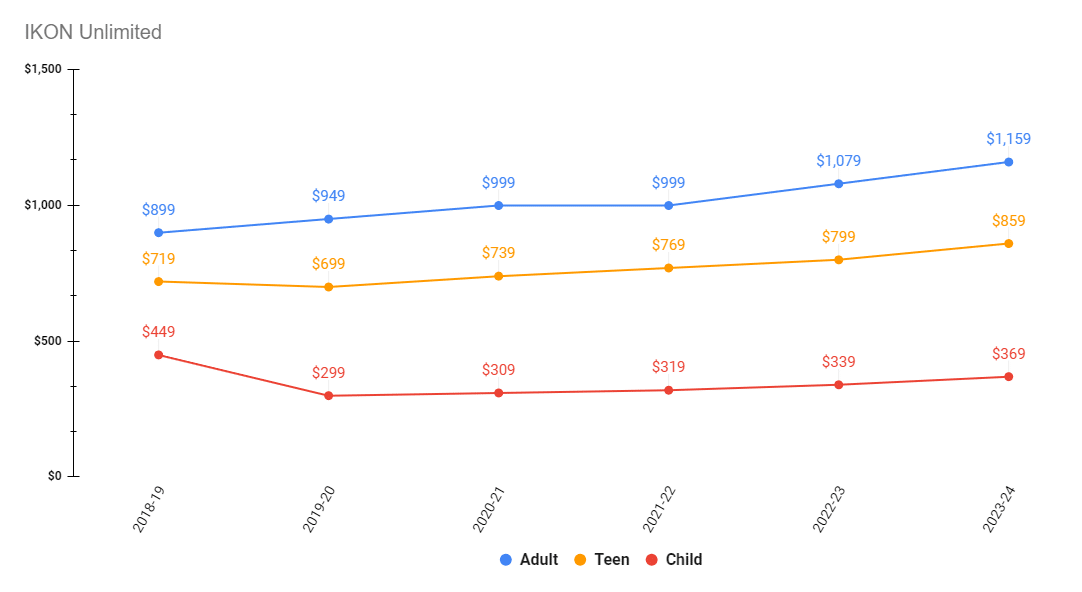 IKON Base Pass
The IKON base adult pass's price has increased 28.4% since it was created in 2018. The teen base pass saw its price increase by 18.8% over the same amount of time. The child pass saw a $40 dip between year one and two, then has steady increased since then to be back up to it's original price as of 2022.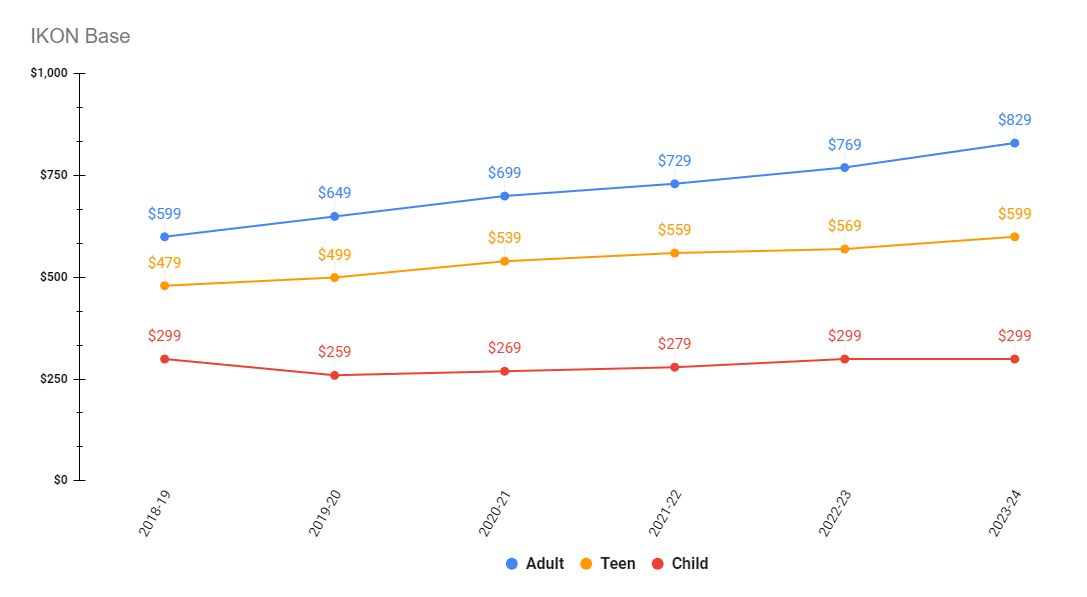 IKON Session 4-Day Pass
In 2020, IKON introduced session variable day passes. While you can buy 2-day and 3-day passes, we are only tracking the costs of the 4 day since 1) that is likely the most popular of these per-day options, and 2) it provides the greatest value for pass holders.
Since, as of 2022, these passes have only existed for 3 years, it's hard to project their long term pricing habits. However, all three have increased between 4% (child) and 7% (teen) over this timespan.
Total IKON Passes Sold, by Year
IKON does not publish their total number of passes sold like Epic does. First, IKON's owner Alterra is not a public company like Vail Resorts (owner of Epic) and doesn't have to release its numbers. Second, they are likely still much smaller than Epic, so publicizing numbers that are much smaller than their competitor probably isn't something they're rushing to do.
The only time we got a hint of sales was the first year where they exceeded their expectations. Alterra is a private company and doesn't release numbers, but sales appeared to have exceeded its pre-season projection of 250,000 Ikon passes. "It's exceeded what we thought it would do," says Chief Marketing Officer Erik Forsell. "We set out to positively disrupt the ski industry, and it's definitely done that."