Current & Historic EPIC Lift Pass Prices
Created in 2008, Epic passes are multi-resort multi-day ski lift passes that work with all Vail-owned destinations. Since 2008, the prices have changed quite a bit, and this page was set up to highlight what those changes look like. In the past we've compared EPIC to all the other multi-resort passes like Mountain Collective and IKON, which can be seen here.
Current EPIC Pass Pricing
Ticket sales start in March for the following ski season. Passes usually start off with early-bird pricing, then increase to their default price sometime around September. By late November or early December, all tickets are sold out.
Historical EPIC Pass Pricing
Starting with its introduction in 2008, we've plotted the price of Epic passes as they've changed year-over-year. Pricing almost always goes up, however, there have been two times the prices have decreased. One of these price decreases was due to COVID complications, where the whole industry took a hit in visitation.
The prices below are the early-bird pricing that is available for over half the time the passes are on sale. These early-bird prices are anywhere from 5-15% off from the final price.
We sourced all the data presented on this page from official press releases by Vail Resorts and various news articles reporting on the new passes as they were released each year.
Unlimited EPIC Pass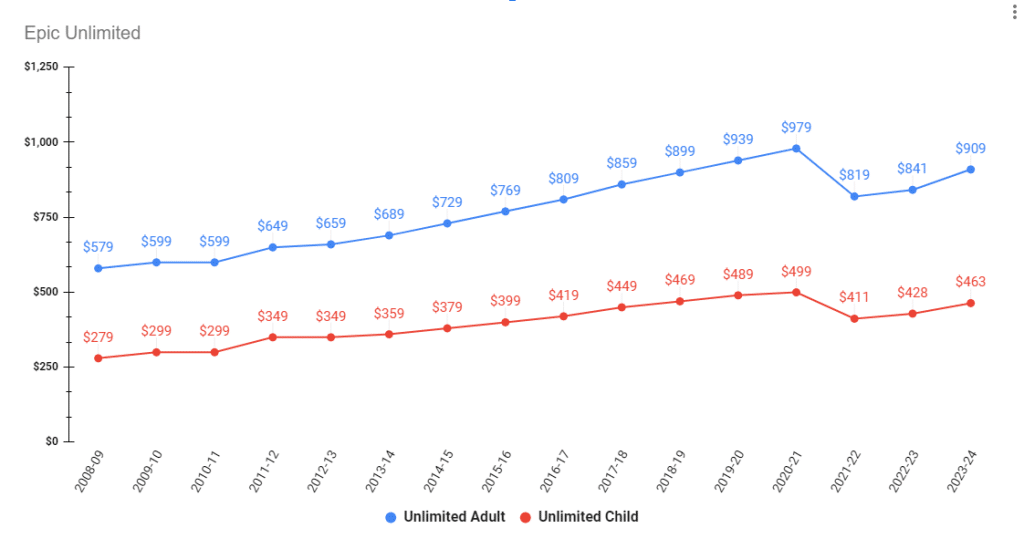 This ticket provides unlimited access to every resort under the Vail Resorts umbrella. It was the first multi-resort pass in the industry, and was first sold in 2008 for the 2008-09 ski season.
From 2008-09 (the first season it was available), until the 2022-23 season, the Adult Pass's price increased by 42.3%. The Child Pass increased by 53.4% over that same timespan.
Local EPIC Pass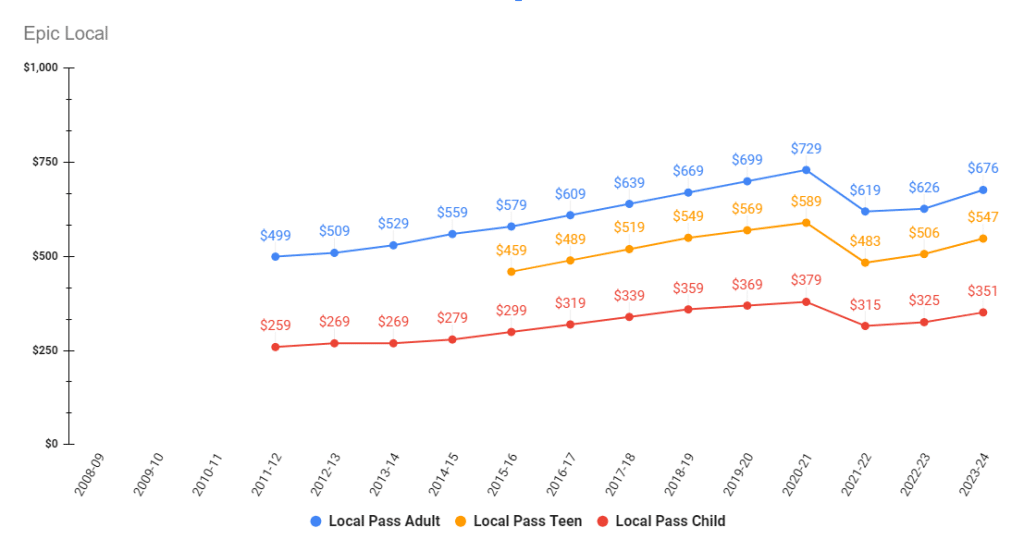 It appears that Epic Local passes were created prior to the 2011-12 ski season. Originally it only had Adult and Child passes, but in 2015 a Teen version was introduced.
From its introduction in 2011-12, until the 2022-23 season, the Adult Local Pass's price increased by 25.4%, aided mightily by the 20% price drop in 2021 due to COVID. The Child Local Pass increased by 25.5% over that same timespan. The teen local pass has increased only 12.7% in the years since being created.
Epic 7-day Pass (Unlimited)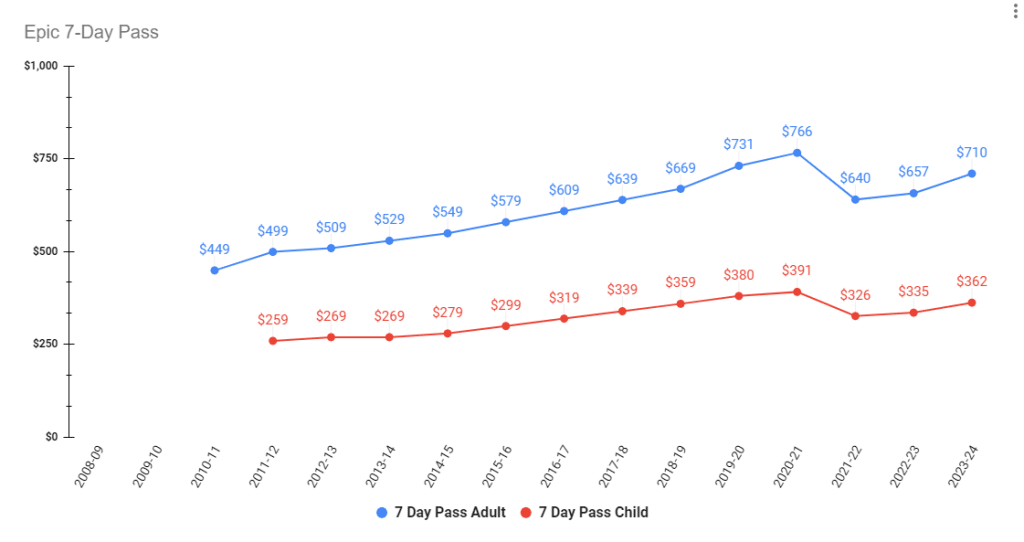 Vail also sells variable day Epic passes that are meant for the vacationer that is making a ski trip and plans to ski multiple days at one or more of their resorts. We've plotted the unrestricted 7-day pass price since they were first introduced for the 2010-11 ski season.
From 2010-11 (the first season it was available), until the 2022-23 season, an Adult 7-day Pass's price increased by 46.3%. The Child 7-day Pass increased by 29.3% over the virtually same timespan.
Total Epic Passes Sold, by Year
We have only been able to find published numbers for Epic passes sold starting for the 2015-16 ski season. Likely before that the numbers weren't quite as impressive, but also there was little to no competition in the mutli-resort, multi-day lift pass market. Mountain Collective was the only true competitor at the time, and its footprint was very small compared to what Vail had with Epic.
| Ski Season | Epic Passes Sold |
| --- | --- |
| 2015-16 | 500,000 |
| 2016-17 | 650,000 |
| 2017-18 | 750,000 |
| 2018-19 | 925,000 |
| 2019-20 | 1,200,000 |
| 2020-21 | 1,400,000 |
| 2021-22 | 2,100,000 |
| 2022-23 | 2,300,000 |