Salt Lake City Expert-Level Ski Trip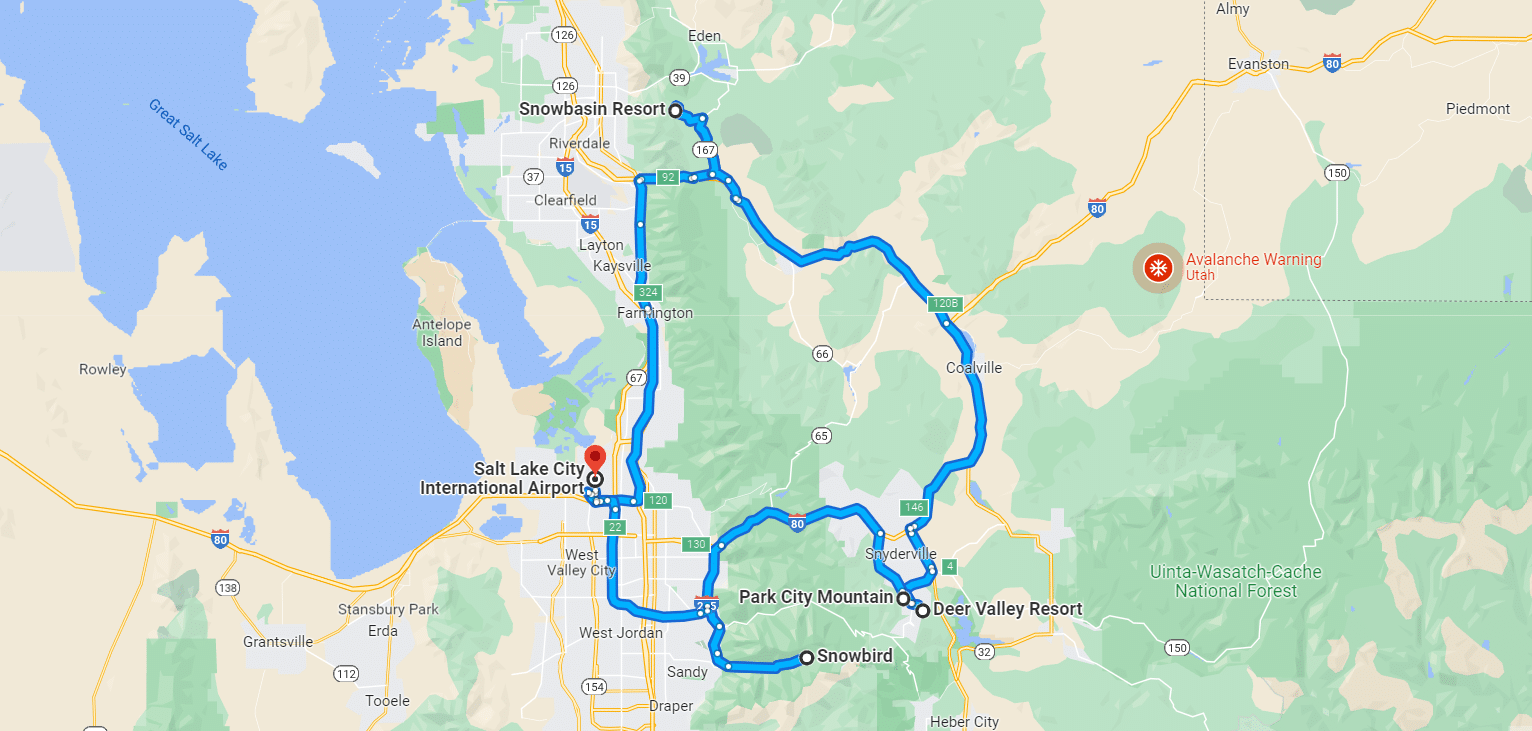 | | | | |
| --- | --- | --- | --- |
| Resorts: 4 | Miles: 190 | Days: 7 | Hours: 4 |
Time to Visit: December to April
For Skill Level: Intermediate to Expert
Salt Lake City, Utah has twelve ski resorts within a few hour's drive of downtown Salt Lake City. We chose the four most difficult Salt Lake City resorts, and developed a road trip itinerary around skiing all within a week's time. Salt Lake City skiing is something that every avid skier needs to experience at least once.
We chose these four ski resorts near Salt Lake City for their high difficulty level. This trip is for advanced skiers that are looking for a challenge. The trip starts out at Snowbasin Ski Resort, which is the closest to SLC. From there we head east to Park City to visit two more iconic resorts. Finally, we circle north to hit Snowbird Ski Resort, which in our opinion is the most difficult of the trip.
Alternative Ski Resorts
We also have a beginner-level Salt Lake City ski trip, in case you are more of a beginner or novice skier. The easy version of this trip visits Alta Ski Resort, Solitude Mountain Resort, Brighton Mountain and Powder Mountain. These four resorts are of about average difficulty when compared to all ski resorts in the US.
Itinerary Notes
Don't forget to schedule your rental car or SUV ahead of time! Just showing up at the rental company's kiosk at the airport and hoping they have what you need is a recipe for disaster. I always rent my rental vehicles the same time I book my flights.
Route & Week Breakdown
This is our rough idea for how to split up your seven days in Salt Lake City. We included some driving distances from one spot to the other to give you an idea for how far it is from one place to the next. However, how much you actually drive depends on where you decide to set up camp for the week.
| Day | Activity | Driving Distance |
| --- | --- | --- |
| #1 | Arrive in Salt Lake City | |
| #2 | Ski Snowbasin | 46 miles (1 hr) from SLC |
| #3 | Ski Deer Valley | 63 miles (1.25 hrs) from Ogden |
| #4 | Ski Park City | 3 miles from Deer Valley |
| #5 | Rest Day… maybe a day trip to Arches? | |
| #6 | Ski Snowbird | 40 miles (1 hr) from Park City |
| #7 | Depart Salt Lake City | 32 miles (.75 hr) from Snowbird |
Lodging
As for where to stay for the week, Park City is going to be the most convenient, but anywhere around SLC will work. I always gravitate towards renting a full home on either Airbnb or VRBO as opposed to a hotel or a resort stay. A resort stay may make more sense if you were planning to ski exclusively at one resort the whole week.
Lift Passes
Out of the four ski resorts we chose for this trip, 2 are associated with the EPIC pass (Park City & Snowbasin), while the other 2 are with IKON (Snowbird & Deer Valley). It's worth looking into possibly purchasing one of those if you plan on skiing one resort (or pass) more than the others.
IKON actually has three more ski resorts around the SLC area within their system. Solitude, Alta and Brighton all work with this national pass, and could be a way to save money by swapping out two of these resorts for Park City and/or Snowbasin.
National Park Adventures
We were hoping to be able to add in one of Utah's 5 National Parks to this trip, but the closest one is Arches, and it's about 4 hours (233 miles/375 km) away. If you are looking for a quick one-day trip away from skiing, this would be the park to do it at. It is certainly feasible to make it back and forth to Arches from SLC within just one day. Winter at Arches is a peaceful time, without the crowds or scorching heat that can plague most summertime visitors. However, ice, snow, and reduced park operations can present additional challenges for winter visitors.
Arrival
Day 1
Salt Lake City, UT
We begin this road trip by flying into the Salt Lake City airport. You shouldn't have any trouble finding flights into this fairly large airport.
After deplaning, pick up your rental car (you scheduled one ahead of time… right?). After that, head to where you're staying for the night. We think Park City is a great place to stay – plenty of restaurants and nightlife – but really any place around Salt Lake City will work just fine.
Skiing
Ski Days
We chose these four ski resorts based on our proprietary Difficulty Score. It is generated by looking at the number of easy-intermediate-expert slopes by acreage and the maximum vertical drop of the overall resort.
Our scoring compares each resort's metrics with all others in our database, gives each a Difficulty Score, then ranks them accordingly. Resorts with a lower score are easier than those with a higher one. However, a high score does not mean that the resort does not have any easy slopes, or vice versa. This is just an overall score given to the resort based on all its metrics grouped together.
Since this road trip is built for the expert-level skier, we picked the top 4 SLC ski resorts in our rankings.
Park City Mountain Resort is the largest ski resort in Utah with over 7,000 acres of skiable terrain.
Snowbird is the most difficult ski resort in Utah, clocking in with a difficulty score of over 80.
Snowbasin and Deer Valley ski resorts are both in the top 5 of largest and most diffcult ski slopes in Utah.
| Resort | Green | Blue | Black | Summit | Vertical | Acres | Difficulty Score |
| --- | --- | --- | --- | --- | --- | --- | --- |
| Snowbasin | 9% | 33% | 58% | 9,350 ft | 2,950 ft | 3,000 | 79% |
| Park City Mountain | 8% | 42% | 50% | 10,026 ft | 3,190 ft | 7,300 | 78% |
| Deer Valley | 27% | 31% | 42% | 9,570 ft | 3,000 ft | 2,026 | 68% |
| Snowbird | 27% | 38% | 35% | 11,000 ft | 3,240 ft | 2,500 | 67% |
Departure
Day 7
Salt Lake City, UT
After a long week of hitting the slopes, it's time to head home. Drop off your rental car at the airport and board your flight back to reality.