2-Day Scenic Road Trip Around Puerto Rico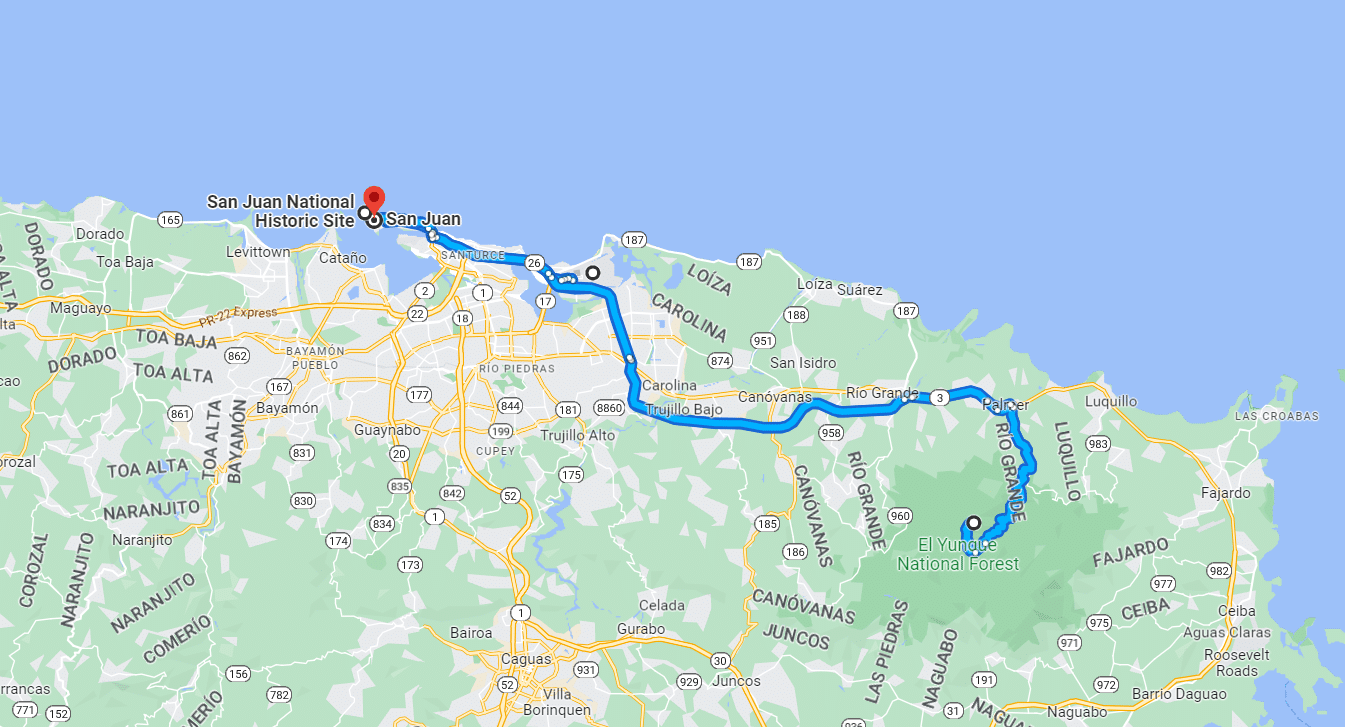 | | | | |
| --- | --- | --- | --- |
| Parks: 2 | Miles: 85 | Days: 2 | Hours: 3 |
Nestled in the idyllic tropical setting of the Caribbean, Puerto Rico, a United States territory, presents an excellent opportunity for a delightful beach vacation full of sun, sea, and sand. However, besides its stunning natural beauty, Puerto Rico boasts a rich heritage of history, culture, art, and architecture.
While you could easily spend all week in Puerto Rico, some of us simply want to spend either a quick weekend, or just a portion of our vacation on the island. A stop in Puerto Rico would be perfect if you find yourself also visiting the Virgin Islands National Park, which is only a quick 40-minute flight (to St. Thomas, code: STT) or 2-hour ferry ride away.
This itinerary is for 2 days of seeing the best that Puerto Rico has to offer. To get two full days of exploring in, we bookend this trip with a full travel day at the beginning and another at the end of the trip, bringing it to what is technically a 4-day trip. This itinerary is perfect for those that have never been to Puerto Rico before and are looking for an easy path to follow along with for their first time.
Itinerary Notes
We fly into and out of Luis Muñoz Marín International Airport (SJU) for this trip. Usually, the quickest and cheapest flights into San Juan are coming from any of the southern Florida airports, like Miami or Tampa. However, surprisingly, you can find cheap non-stop flights from a lot of eastern and southern cities across the US, including Charlotte, Austin, Houston, New Orleans and even (sometimes) Denver or Phoenix!
Most major airlines fly into San Juan as well, which includes American Airlines, Delta, JetBlue, Southwest, United, and Spirit.
Car Rentals
You can rent a car at the airport. While you could take a taxi or ride-sharing options around the island, having your own vehicle is a luxury you should splurge on.
Passports
United States citizens and permanent residents don't need a passport to travel to Puerto Rico. However, starting in May 2023 (if they actually keep the date this time), you'll need a Real ID to fly anywhere.
Arrival
Day 1
San Juan, Puerto Rico
The first day will consist of you traveling into San Juan via Luis Muñoz Marín International Airport. If you get in early enough, visit one of the remarkable beaches and relax. If it is late, get a good night's rest, and be refreshed for a long day of exploring tomorrow!
Destination
Days 1-4
San Juan, Puerto Rico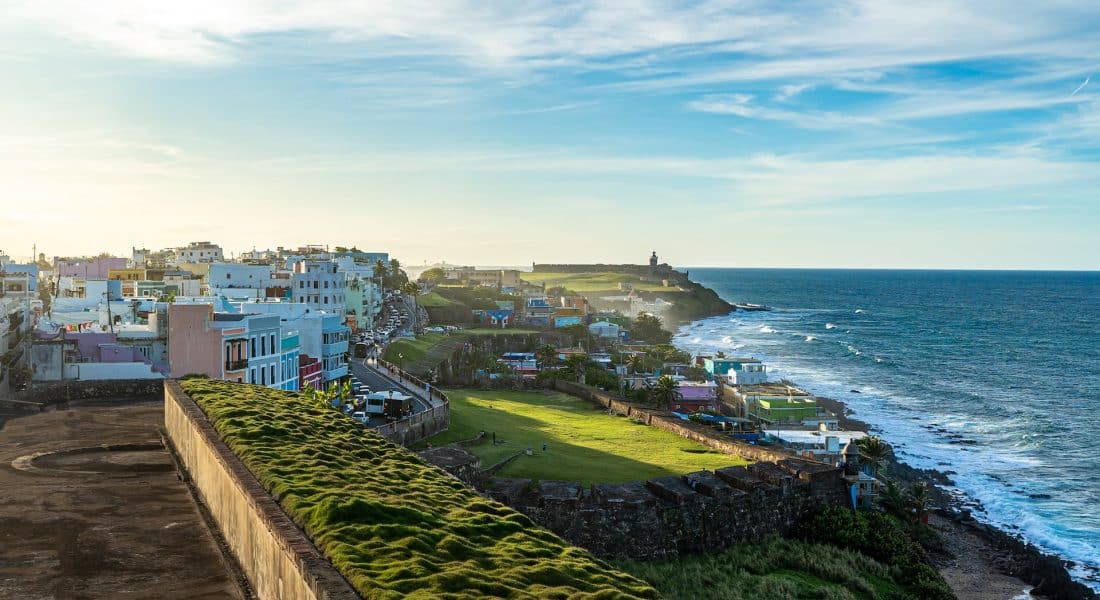 For this two-day trip to Puerto Rico, we will stay around the city of San Juan both nights. Staying in San Juan will give you the best Puerto Rican experience during the nights, while leaving you in a perfect spot to visit the surrounding areas during the day.
In my option, the suburb of El Palmar in Carolina is the best spot to find a hotel for this trip. To be honest, any hotel or AirBnb would work fine that is near San Juan, but this is my favorite place. El Palmar is near both Isla Verde Beaches, is not far from the airport, and is in a perfect spot to launch for our day travels.
If you are looking for a hotel that is familiar to you, there are various Hiltons, Marriotts, and Comfort Inn around town. However, if you want something a bit more authentic, staying in Coronado or Old San Juan (Hotel El Convento is amazing) would be great options as well. Old San Juan is wonderful and easy to explore on foot, where you'll come across the awe-inspiring city wall and forts. On the other side of the lagoon lies Condado, where you can find fine dining options and nightclubs (if you're interested in that).
Must See
San Juan National Historic Site
Old San Juan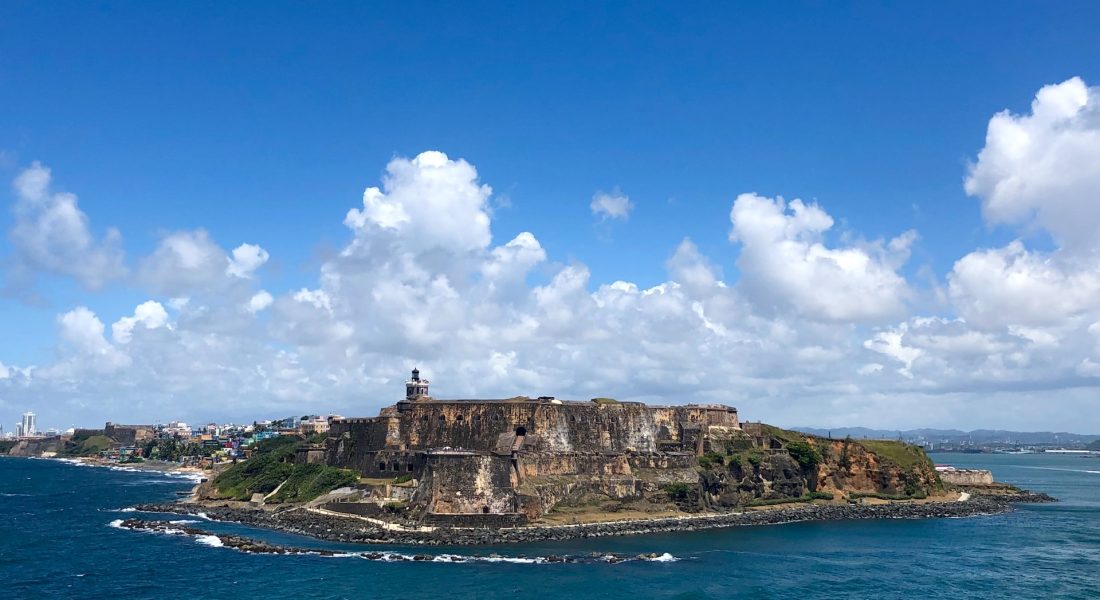 The first full day of exploration around Puerto Rico will be to your west, assuming you're staying in either Coronado or El Palmar. If you decided to stay in Old San Juan, then you're even closer!
Early Morning
Wake up early and find your way into Old San Juan, and technically as close to the San Juan Gate as you can get. From the site of this iconic gate, you'll follow the Paseo del Morro Historic Trail up the seashore towards the San Juan National Historic Site.
The San Juan National Historic Site is the only National Park-managed site in Puerto Rico. It comprises several fortifications built by the Spanish during the colonial era to protect the city and its harbor from attacks by sea. The site includes the Castillo San Felipe del Morro (also known as El Morro), Castillo San Cristóbal, and various defensive walls, bastions, and batteries. The San Juan National Historic Site is a significant cultural and historical attraction in Puerto Rico and provides visitors with a glimpse into the island's past.
Evening
Enjoy dinner and some nightlife in Old San Juan. Catching a sunset at one of the many beaches would be a fantastic way to wind down the day as well.
Must See
El Yunque National Forest
El Yunque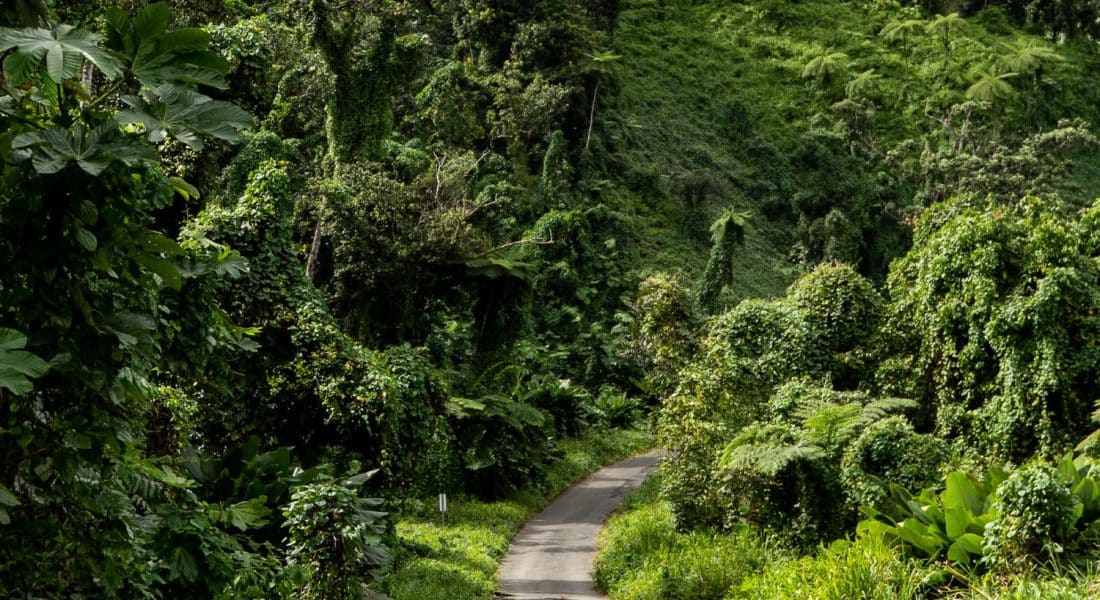 Day 2 of exploring Puerto Rico begins by heading the opposite way we did yesterday. This time, we're heading east towards the El Yunque National Forest, which is about 40 minutes east of San Juan.
The El Yunque National Forest is a 29,000 acre tropical rainforest, and is the only tropical rainforest in the United States National Forest System. We begin our day by stopping at the El Portal de El Yunque Visitor Center, located right at the front of the park's entrance south of the town of Palmer.
Head south into the forest on Road 191, you'll first pass the Yokahu Observation Tower, about 5 km in. A climb to the top offers amazing views of the mountains and surrounding rainforest.
About 12 km from the visitors center, I highly suggest you to stop and hike the easy Vereda Caimitillo Trail. While it still has some damage from Hurricane Maria in 2019, the part of the loop you can explore is amazing. Normally, it would be about a 1.1-mile loop, but at this time, it's closed about halfway in.
Alternatively you can hike to La Mina Falls, which the access road to it is less than a tenth of a mile further down Road 191 on your left. The La Mina Trail is the most popular in the park, and follows the La Mina River, a designated Wild and Scenic River. You'll pass through lush tropical trees, shrubs and flowers, eventually reaching the La Mina waterfall (Cascada La Mina). Cascada La Mina (La Mina Falls) is a waterfall that drops over 35 feet through huge rocks into a lovely pool where many hikers decide to take a swim.
Less than a kilometer south of the Caimitillo Trail is the Torre Mount Britton Trail & Tower. The paved trail to the tower is less than a mile long, but steep. The reward is ascending through the sierra palm trees and into the cloud forest that provides breathtaking views of the ocean and rainforest below.
Head back north out of the forest, and grab dinner at one of the many fantastic restaurants in Luquillo.
Departure
Day 4
San Juan, Puerto Rico
After a quick two days exploring the eastern side of Puerto Rico, it's time to head home. Fly home out of the same airport you arrived in.