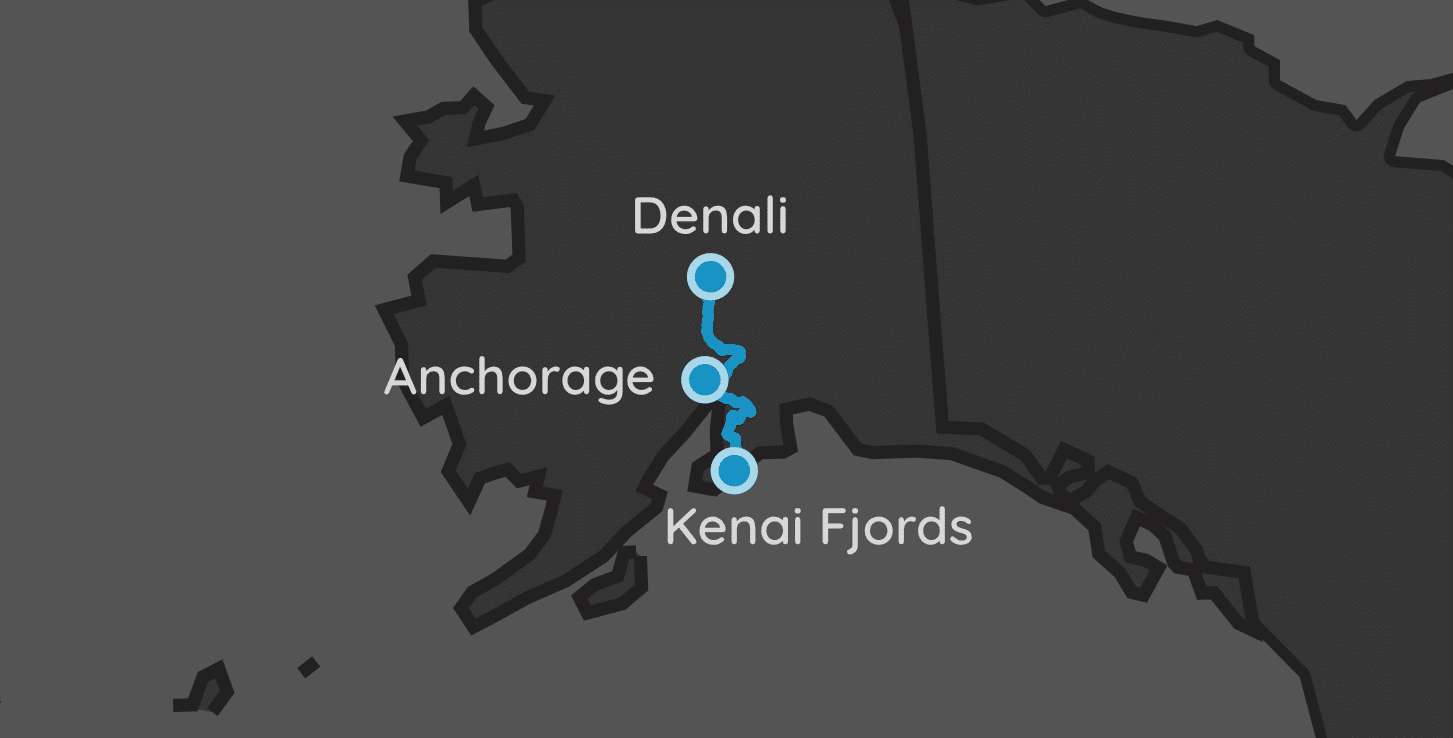 | | | | |
| --- | --- | --- | --- |
| Parks: 2 | Miles: 478 | Days: 8 | Hours: 9 |
Getting to Alaska is never easy. The flights are expensive, the weather unpredictable and the unknowns many. While we kept this trip as simple as possible to assuage some hesitancy, you will lose nothing in terms of experience.
Alaska actually has eight national parks, but the state does not have the complex intercity road system that we are all used to in the lower 48. Some are only accessible via boat or air, while others that might not seem too far away, are actually are.
We chose two parks that embody the Alaskan experience. Denali is the highest mountain in the United States, and the Kenai Fjords has over 40 glaciers in the Harding Icefields.
Itinerary Notes
Best Months: The best time to make this trip would be between mid-May to mid-September. This is when services throughout the parks are fully operational. Outside these months, the towns, and services basically shut down for the season due to a mix of weather and a drop-off of tourists.
Finding Flights: Your next challenge to conquer will be to find flights. Luckily, Anchorage is a major international airport. The problem however will probably be the prices and/or the length of the flight. For example, from a major hub like New York City (LaGuardia), the prices are reasonable, but it takes anywhere between 11 and 19 hours to get there. The smaller airports see not only an increase in prices, but also in the number of layovers required to get you up there.
Vehicle Rental: Lastly, you'll need to rent a vehicle at the airport to complete your trip. All the major rental companies operate out of there (Enterprise, Budget, Avis, Hertz, Dollar, Thrifty, National, Alamo, etc.), but their selection is probably quite sparse. This is absolutely one time you should schedule a vehicle reservation as early as you can.
Arrival
Day 1
Anchorage, Alaska
While this is completely up to you, it may be best to spend the night after you arrive in Anchorage. First, the flight likely took well over 10 hours, so you're probably exhausted. Second, the next stop is about 2.5 hours away. Third—and this is a big one—you'll want to take your time to explore during the drive.
Drive
Driving
The next location is 127 miles away (~2.5 hours).
Head south towards the town of Seward on US-1. Take your time to explore along the way. This road to Seward hugs Turnagain Arm, in which you will likely beluga whales with sheep up in the mountains.
About halfway to your destination, US-1 makes a right and continues towards Cooper Landing. This is not the way to Seward, but it should be a road you explore, either now on the drive down, or during one of your days down here.
Destination
Days 2-4
Kenai Fjords National Park
Seward, Alaska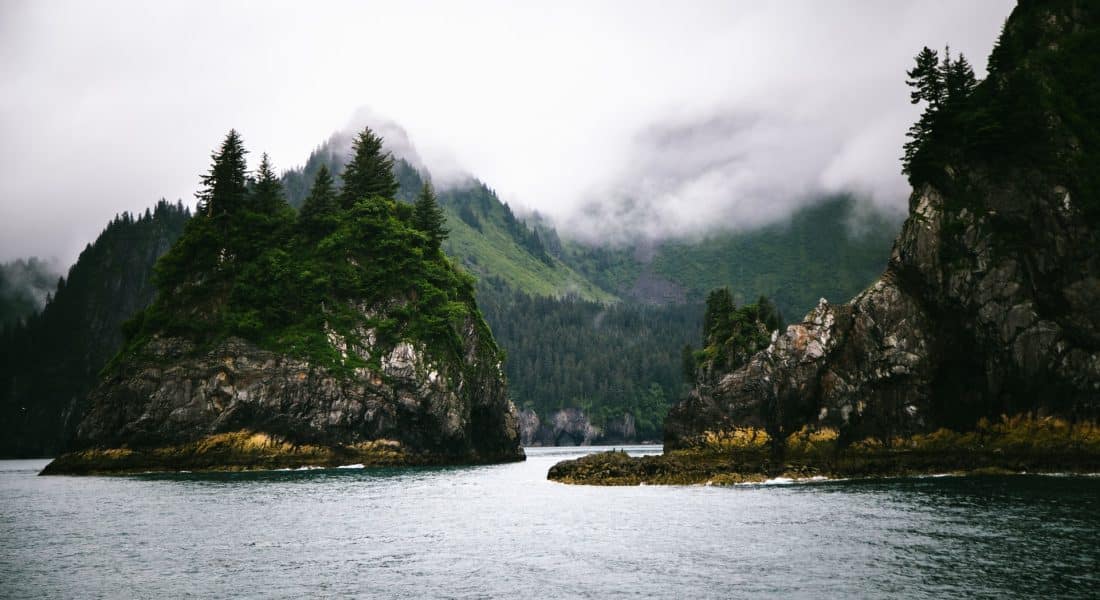 Jaw-droppingly beautiful, Kenai Fjords National Park plays host to some of the state's most spectacular fjords and glaciers.
Attractions
Hiking is a great way to experience this park and its many glaciers. Exit Glacier Nature Center has an easy 1-mile round trip trail to see the glacier, and it's retreat up the valley. Walk an extra mile via a more strenuous trail, and you can make your way to the toe of this glacier. Edge of the Glacier Trail is a 2.5 mile round trip steep climb up bedrock to the side of a glacier.
Some great tour operators also offer half- or full-day cruises that take you out to witness the Fjord's majesty. These boat tours are some of the best ways to view some of the more tan 400 miles of coastline inside this park. The coast is littered with ice, rocks, caves and sealife. Two popular cruise operators are Major Marine Tours and Kenai Fjords Trails.
Drive
Driving
The next location is 238 miles away (~4.5 hours).
After your stay in Seward comes to an end, we are going to go back north past Anchorage, and continue until we reach the town of Talkeetna. This leg of the trip is a bit longer, and should take you about 4.5 hours start-to-finish with no stops. But you should make stops…. lots of them. Explore everything you can and make a full day of it.
Be sure to make a stop in the scenic town of Girdwood, about 90 miles (145 km) from Seward. Here you can pan for gold, go for a hike, or ride the Alyeska Resort Aerial Tramway for a spectacular panoramic view.
Destination
Days 4-7
Denali National Park
Talkeetna, AK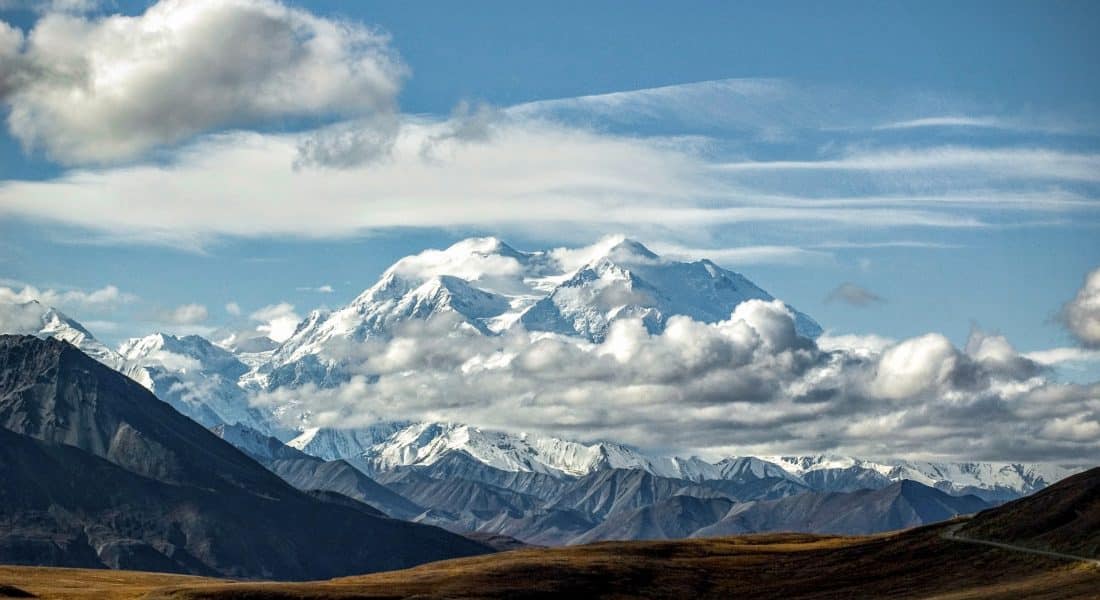 Getting to the park from Talkeetna is just a short drive north on George Parks Highway. Just before you reach the town of Healy is the entrance to Park Road and the park's main entrance. While there are three main visitors centers within the park, only the Denali Visitor Center at mile 1.5 Park Road processes entrance fees.
The 92-mile Denali Park Road is the only way into the park, and is only accessible to private vehicles up to mile 15. If you want to continue down the road, you must reserve shuttle or tour bus tickets ahead of time. While this may seem like an inconvenience, this road extension is quite rugged, with no shoulder and narrow passes, so it should be a relief to not have to drive it. Buses go all the way out to Kantishna at the end of the road, but that doesn't happen until June due to weather conditions. The bus ride should take around 4 hours.
Most of the maintained trails in Denali are short and difficult. The best hike in the park is the Eielson Alpine Trail that is just less than 2 miles round trip, but gains a whopping 1,010 in elevation. To get to the trailhead you'll need to take the bus out to the visitor's center by the same name.
The best family-friendly trail is the Savage River Loop, which clicks in at about an hour round-trip and is mostly level. You get fantastic views of the glacier-carved river valley, with mountain peaks all around.
Drive
Driving
The next location is 113 miles away (~2 hours).
When your trip is about to come to an end, leave Talkeetna, and head south back to Anchorage. This drive takes about 2 hours, and it was one you've already driven, so there isn't much need to do any exploring. Depending on your flight time, you may be able to just leave the morning of your flight, however to be safe, it might be better to just get a cheap hotel room in Anchorage.
Departure
Days 7-8
Anchorage, Alaska
It's finally time to head home.
After a lot of jet lag, especially if you are coming from the East Coast. The time difference is 5 hours, and you'll have 10+ hours of flying. You are going to be exhausted, but it will have been worth it.