Arches, Canyonlands, Capitol Reef, Bryce Canyon to Zion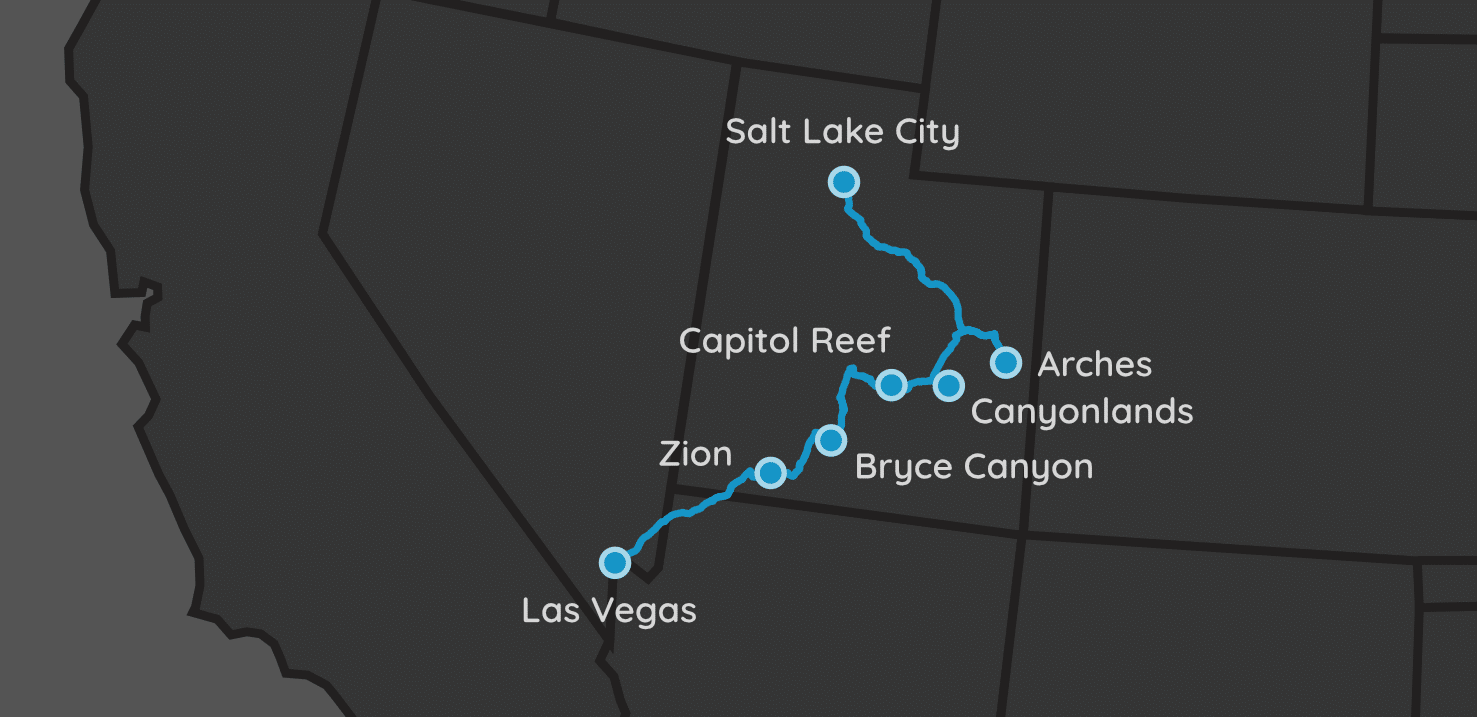 | | | | |
| --- | --- | --- | --- |
| Parks: 5 | Miles: 750 | Days: 10 | Hours: 12 |
This is the FULL UTAH road trip. With this route, you will visit all five National Parks located within Utah. We spend the nights near three of them, and explore the other two (Canyonlands and Bryce Canyon) along the way.
Itinerary Notes
We tried to keep this trip as reasonable as possible, but it was really hard not to add more to the itinerary. The Grand Canyon is only 4 hours south of Zion. The Hoover Dam is 45 minutes away from Vegas. Great Salt Lake, Grand Staircase-Escalante National Monument… the list of "must see" spots seem to be never ending.
I decided to fly into Salt Lake City because it seemed to make the most sense, and didn't force us to make a big circle trip back to Vegas. We could have chosen Denver and driven through the Rocky Mountains along I70, or flown into smaller regional airports like Provo or Grand Junction, but I simply like larger airports. They are easier to get in and out of, and flights can generally be cheaper if you're flexible on dates.
As with all our trips like this, we suggest renting an SUV at your incoming airport, and returning it at your departing airport. This trip can also easily be reversed, flying into Vegas and out of Salt Lake City.
Arrival
Day 1
Salt Lake City, UT
We begin this trip flying into the beautiful Salt Lake International Airport. If you were lucky enough to arrive at the airport before 2pm or so local time, you should have plenty of time to head straight to the next destination.
However, if you'd like to take it slow or your arriving flight is later in the day, there are worse cities than Salt Lake City to have to spend the night in.
Drive
Driving
The next location is 237 miles away (~4 hours).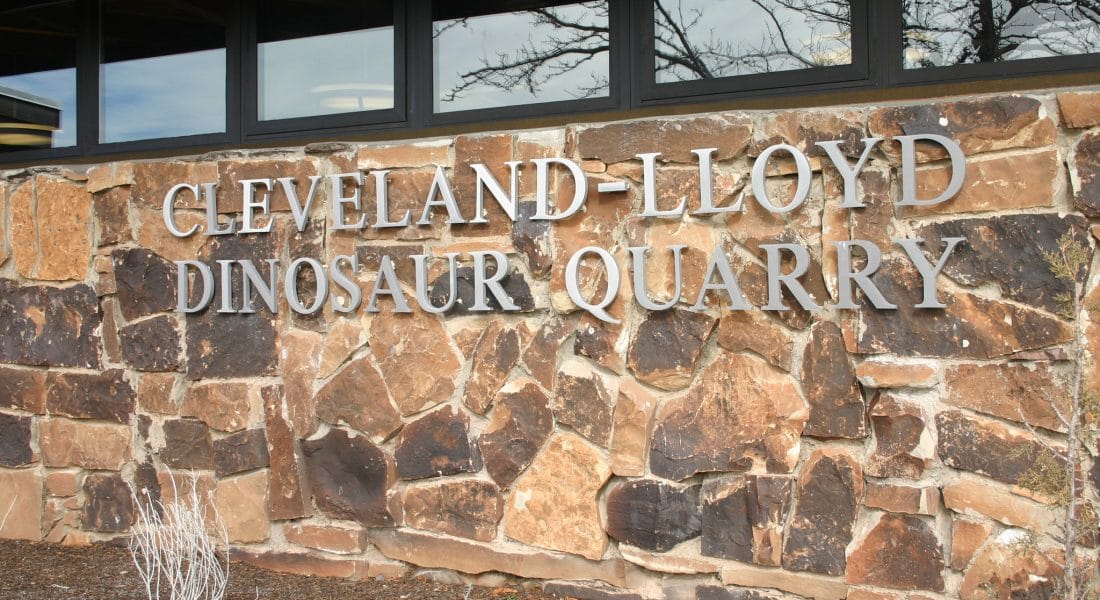 The drive to Moab, UT from Salt Lake City takes approximately 4 hours.
About halfway through your trip, you'll pass the Cleveland-Lloyd Dinosaur Quarry located inside the Jurassic National Monument. The quarry provides outstanding opportunities to walk to rock art sites, dinosaur excavations, scenic vistas, and intriguing geologic strata. Come prepared with close-toed hiking or running shoes.
Destination
Days 1-4
Arches National Park
Moab, UT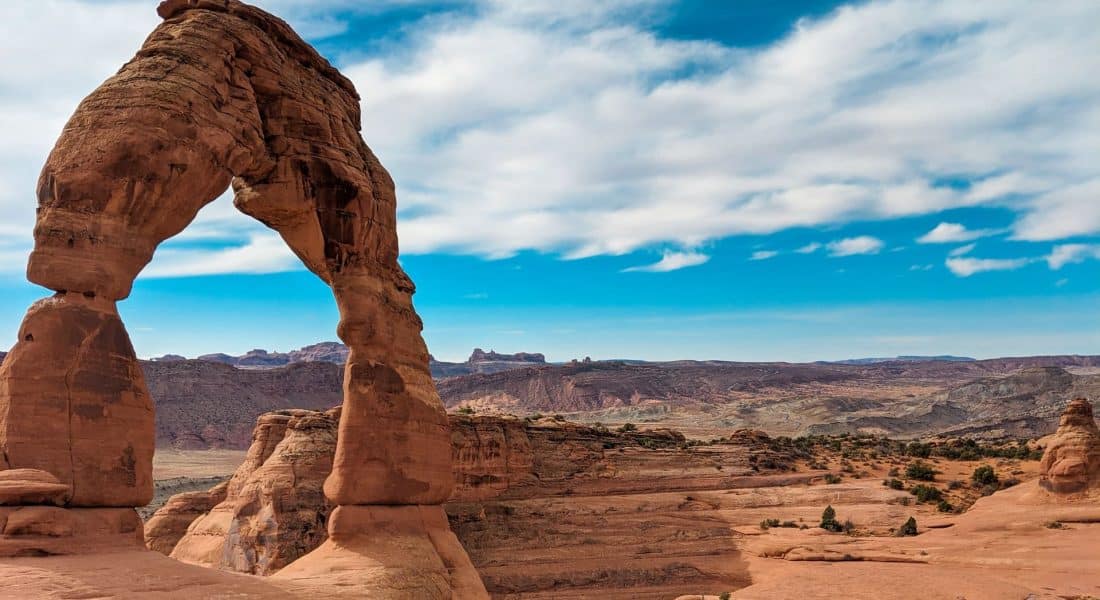 Arches National Park has over 2,000 natural stone arches and hundreds of soaring pinnacles, massive rock fins, and giant balanced rocks. The park is very busy between March and October. To avoid traffic, we recommend entering the park before 8 am or after 3 pm.
Lodging
There are no accommodations or food inside the park, however there is one campground near Devil's Garden. Lucky for us, the town of Moab, UT has everything you'll need and more. We just used Airbnb to find a place to stay, but there are plenty of other hotels and campsites there as well.
Attractions
Anytime you see a picture of Arches National Park (including on this page), chances are you are looking at the Delicate Arch. This iconic geologic feature is reached via a strenuous trail beginning at Wolfe Ranch. The trail takes about 2 hours and is 3 miles round trip. You can see the Delicate Arch from other vantage points in the park without the difficult hiking. Park Avenue has a great view of the arch after a short walk off the road.
Other must-see features in the park include Balanced Rock, accessible via a short and easy trail just off Park Avenue and the North and South Windows. These can be seen up close via the trail at the Windows area. Also, a full tour of Devil's Garden (7.2 miles round trip, moderate) leads to eight incredible arches.
Must See
Canyonlands National Park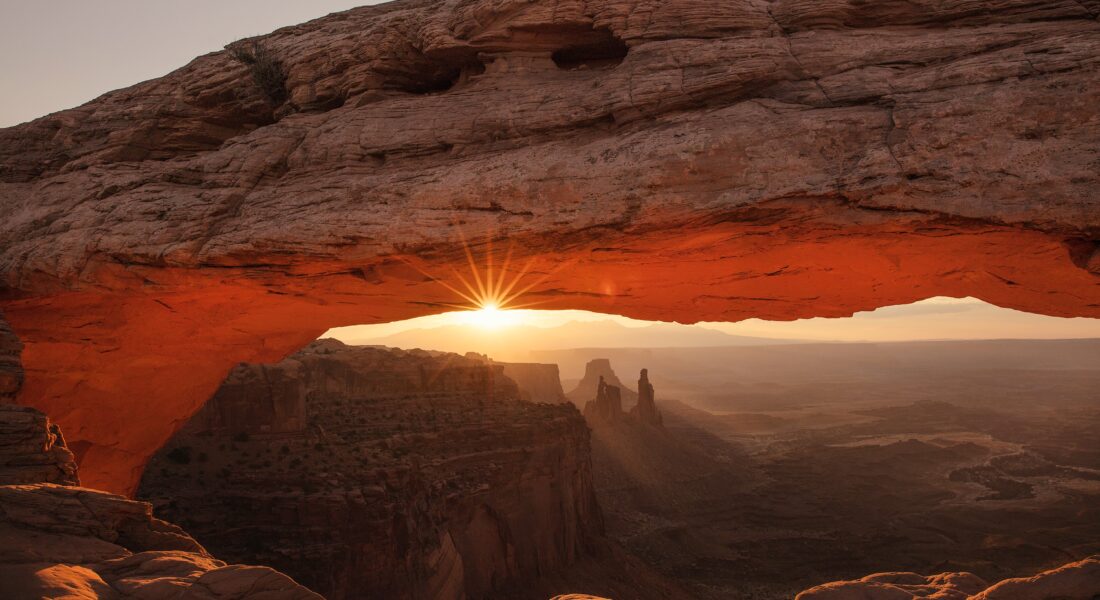 One of the days at Arches NP – or on your way to the next destination – take a ride down to Canyonlands National Park. It is only about 35 minutes or 30 miles (48 km) away if you're staying in Moab.
A one-day stop at Canyonlands needs to include visiting the Mesa Arch, which is only 1/2 mile round trip or 30-minute hike from the parking area. The parking area for the arch is located on the Grand View Point Road. This scenic road is a 12-mile long route that overlooks rock features such as Candlestick Tower, Buck Canyon and Orange Cliffs.
If you still haven't run out of time yet, check out the pictographs in Horseshoe Canyon. These prehistoric drawings are at the end of the 6.4 mile round trip Horseshoe Canyon Trail. It is a bit of a strenuous hike, so only attempt it if you're able.
Drive
Driving
The next location is 156 miles away (~2.5 hours).
This is a short trip to our next location: Torrey, UT. There aren't a lot of attractions along this drive. So we instead decided it'd be best to head straight to Capitol Reef and explore the afternoon after arriving.
Destination
Days 4-6
Capitol Reef National Park
Torrey, UT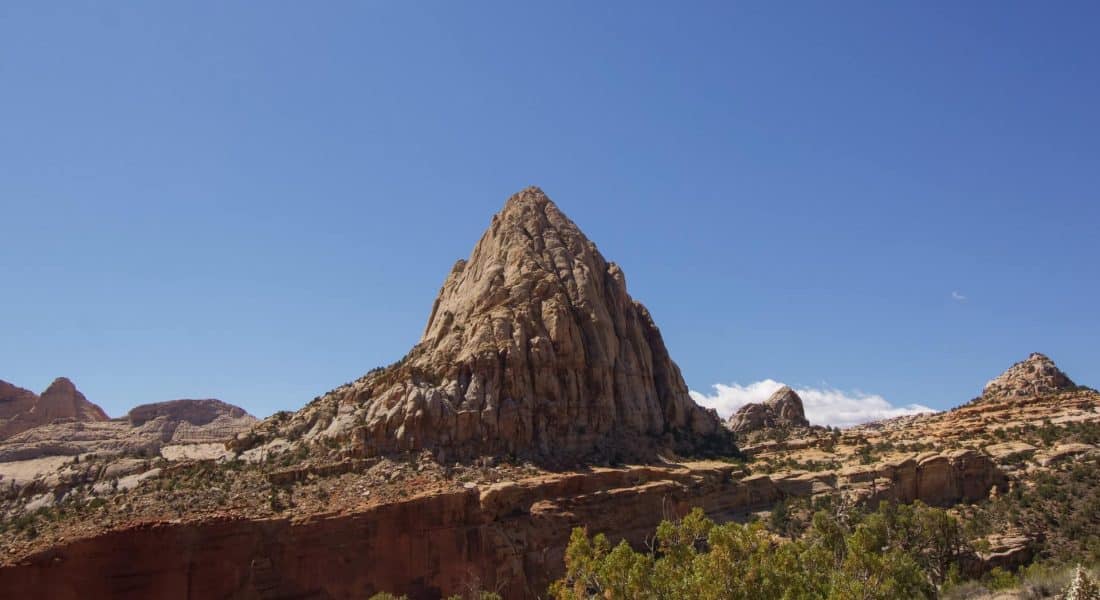 Capitol Reef National Park receives less attention (and visitors) than Utah's other national parks. However, it is still an amazing place in its own right.
Lodging
The small town of Torrey, UT is the most common place to stay when visiting the park. My personal preference is to use Airbnb to find a nice full house to stay at, but your stay here will likely be quick.
This stay could actually be as quick as it gets. I suggest you explore Capitol Reef the day you arrive from Arches, then spend the night, and continue on your way down towards Bryce Canyon. The only reason we are spending a night here is because it would be too long (and rushed) of a drive from Arches all the way to Zion. We want to stop and visit the parks between the two, and we can't do that unless we spend the night somewhere in the middle.
Attractions
Since we can explore this park until sun down, we can experience the sunset at Sunset Point. We recommend you plan your whole evening around making sure you're around this area at this time of the day.
However, if you have time before, drive along the paved Scenic Drive after entering the visitor's center along Highway 24. This scenic drive is about 20 miles round trip and should take you around 1.5 hours to complete.
Capitol Reef's Waterpocket Fold is the defining geologic feature of this majestic national park. The Burr Trail Road, stretching between Boulder and Notom-Bullfrog Road, offers the best viewpoint of this amazing feature.
The best hike in the park is the Grand Wash Trail, about 5 miles (8 km) from the visitor's center. This easy 4.5 mile round trip hike doesn't actually follow any official trail. This hike instead snakes through a dry riverbed with walls stretching 800 feet into the air and at times only 20 feet in width. Wildflower grow everywhere in the spring and is a beautiful sight to behold.
Drive
Driving
The next location is 192 miles away (~4 hours).
The day out of Torrey will see us head southwest towards Springdale, UT (home of Zion NP), with a detour at Bryce Canyon National Park. Skipping Bryce will save only about 20 minutes of driving. And you definitely should NOT skip Bryce Canyon!
Tip: Leave early. This will help you spend as much time in Bryce as possible.
Must See
Bryce Canyon National Park
Bryce, UT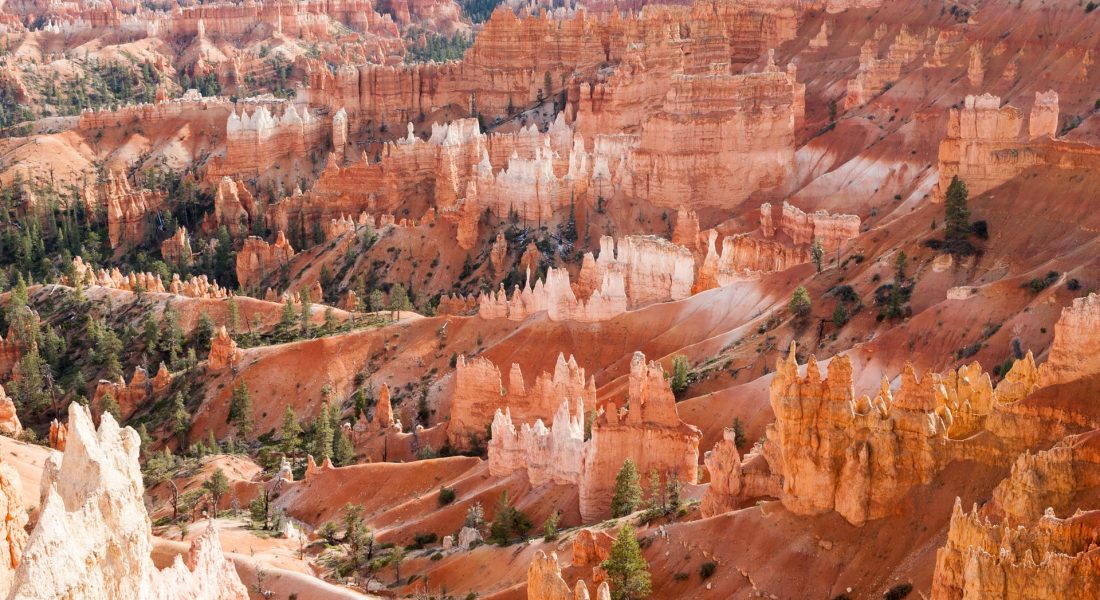 Spending one day at Bryce Canyon National Park seems like a sin. You can easily spend a couple days here.
Bryce Canyon is a fairyland of rock spires called "hoodoos". An array of pinks, reds, creams, oranges, and yellows paint the landscape differently each part of the day as shadows move across the canyon.
However, since we are spending only a part of one day here, we suggest getting here as soon as you can from your previous stop. Enter at the only visitor's center in the park on Route 63, and stop at Inspiration Point to see the maze of hoodoos below. Then take a hike along the popular Fairyland Loop Trail. You'll have numerous vantage points for pictures and amazing sights of the canyon on this trail, which – in my opinion – offers the best views of hoodoos in the park.
Continue driving into the canyon until you reach Sunset Point, where you can see for miles across Southern Utah. From there, take the Navajo Loop Trail into the canyon, then turn onto Queen's Garden Trail to get back up to where you began.
This should lead to a long day at Bryce, but this amazing park deserves it. After you're done here, continue on towards Zion, which is about 2.5 hours from the end of the scenic parkway in Bryce Canyon.
Destination
Days 6-9
Zion National Park
Springdale, UT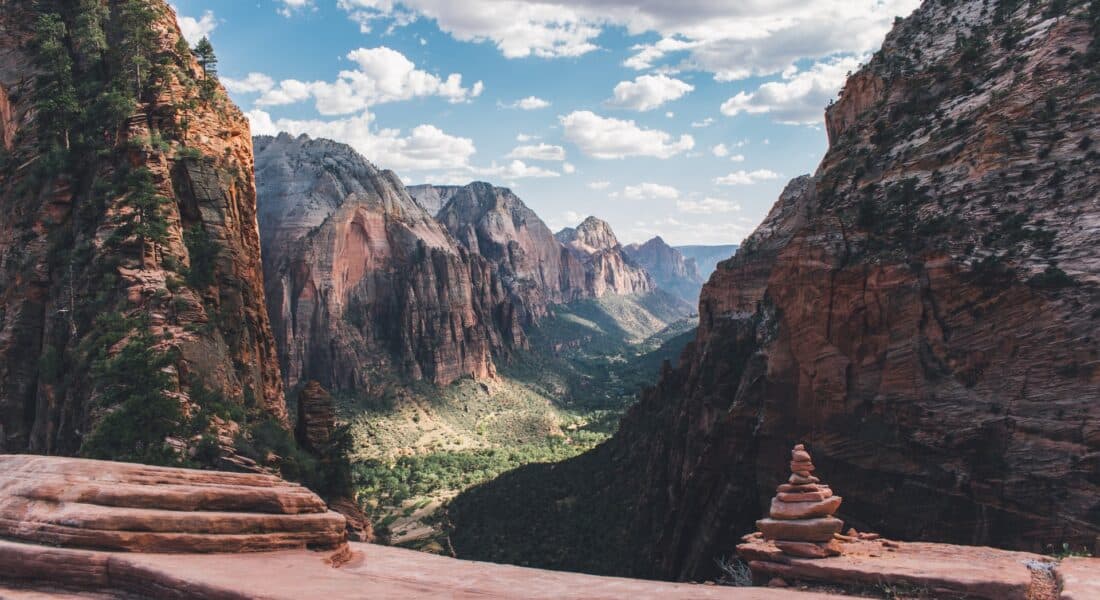 The Virgin River flows through 2,000 foot high monolith canyons, and you are right in the middle of it at Zion National Park. This park has everything Southwest parks are known for, all squeezed into one magnificent park. Canyons, arches, desert-like habitats, and more litter this have-to-see-it-to-believe-it park.
Lodging
We stayed at the Zion Lodge, which was located within walking distance to the entrance of the Park. This place was more like a resort, and made for a very enjoyable couple of days. It had a number of public pools, spacious bedrooms and even a grill on the patio, so we could have cooked some of our own meals.
There were also a lot of regular Hotels and other accommodations within Springdale, UT (the city that the entrance of the park is in). No matter where you stay in Springdale, getting to the park is easy with the park's shuttle bus system.
Attractions
Get into the park early. By early, I mean really early. This allows you to beat the majority of the crowds and the midday heat. We got to the shuttle pickup area about 20 minutes before the first bus was to arrive, and there were already plenty of people waiting. Going early into this park will make your trip much more enjoyable.
The two most popular trails at Zion are also the hardest.
The Narrows trail is a hike through the Virgin River (provided you have water hiking boots) and gets you some of the most beautiful scenery the park has to offer. This trail is located and at the very end of the park, and is preceded by the Riverside Walk trail, which is long, but fairly easy. We decided to skip the Narrows and instead just do the Riverside Walk, and we all really enjoyed it.
Angel's Landing is a 4 hour, 5.5 mile trip to the top of an overlook, and is not for the faint of heart or small children. Being one of the most iconic trails in the park, it does get busy, and it has steep drop-offs, a combination that has proven fatal in the past.
There are many other easier and less-traveled trails in this park as well – all accessible by the shuttle that runs the span of the park (cars aren't allowed in).
Take a short hike up to see the Court of the Patriarchs, or a 1-1.5 mile trip to see the Emerald Pools or the Watchmen. All of these trails require moderate effort, and are much less busy than Angel's Landing or The Narrows.
Drive
Driving
The next location is 165 miles away (~2.75 hours).
Leaving Zion was bittersweet, but it was time to begin our trek back home.
This leg of the trip is almost exclusively on Interstate 15, and at times will look like you're on a deserted planet. You'll pass the Lake Mead National Recreation Area, which would be a good spot to stretch the legs or use a restroom.
Departure
Days 9-10
Las Vegas, NV
We spent the night in Las Vegas, and woke up the next morning for an early flight out of town. Spending the night in Sin City was fun, but we were exhausted from the trip, and didn't really take in too much of the sights-and-sounds of the city.
The great thing about using Las Vegas to fly out of is that the flights are generally cheaper because the city wants to bring you in to gamble, and thus subsidize the costs a bit. It was still expensive for my family of five, but not prohibitively so.