Biscayne, Everglades & Big Cypress via Miami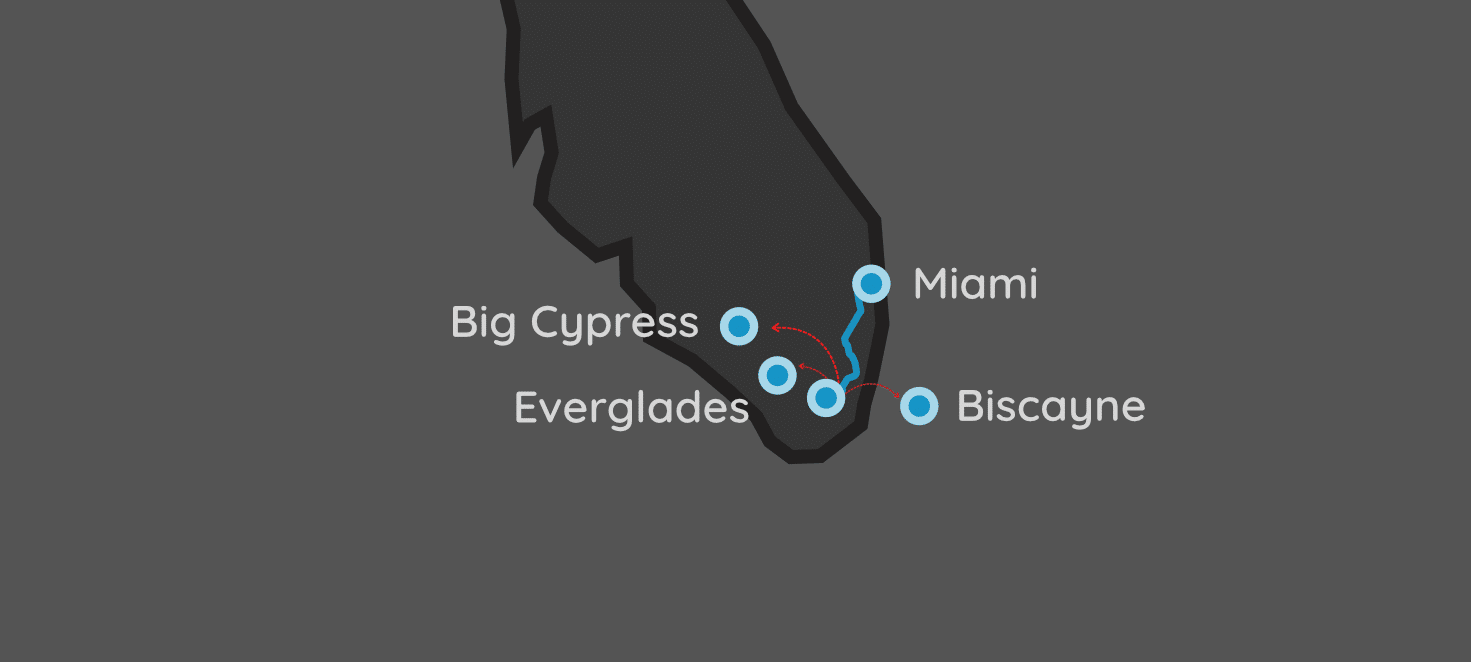 | | | | |
| --- | --- | --- | --- |
| Parks: 3 | Miles: 74 | Days: 7 | Hours: 2 |
We fly into and out of Miami for this trip. We stay in Homestead, which is only 40 minutes from the airport. From Homestead, we will visit two national parks and a national preserve. This trip spends a full 7 days in the southernmost tip of Florida.
Itinerary Notes
There is nothing really to reverse, direction wise, on this trip. You fly into Miami and set up a home base in Homestead for the week. From there, it is up to you when to visit each park.
You probably still need a rental for this trip, but if there was any trip you could get away with stringing multiple Uber rides together, this is it.
We did not add a visit to the Dry Tortugas National Park in this trip. It is one of the least-visited national parks in the system, and for good reason: it's really hard to get to. If you are insistent in visiting this park, you'll need to drive 2.5 hours to Key West, then hop a ferry ($135-$190 per person) to the park.
Arrival
Day 1
Miami, Florida
The Miami airport will be where we arrive and depart for this trip. The place we will be staying is less than an hour away, but if you want to steal a night from there and spend the night exploring Miami, no one will complain.
Drive
Driving
The next location is 37 miles away (~1 hours).
Head south to Homestead, FL. We suggest you skip the Ronald Reagan Turnpike and opt for the free US-836 to US-997 route. You add less than 10 minutes to your drive and get there for free.
Destination
Days 1-7
Homestead, Florida
Homestead will be your home base for all the parks we are going to be visiting in south Florida. There are a lot of hotels and Airbnbs in the area, so you shouldn't have any trouble finding a nice place to stay. Florida City and Leisure City are two nearby towns that will work just as good.
Must See
Biscayne National Park
9700 SW 328th St, Homestead, FL 33033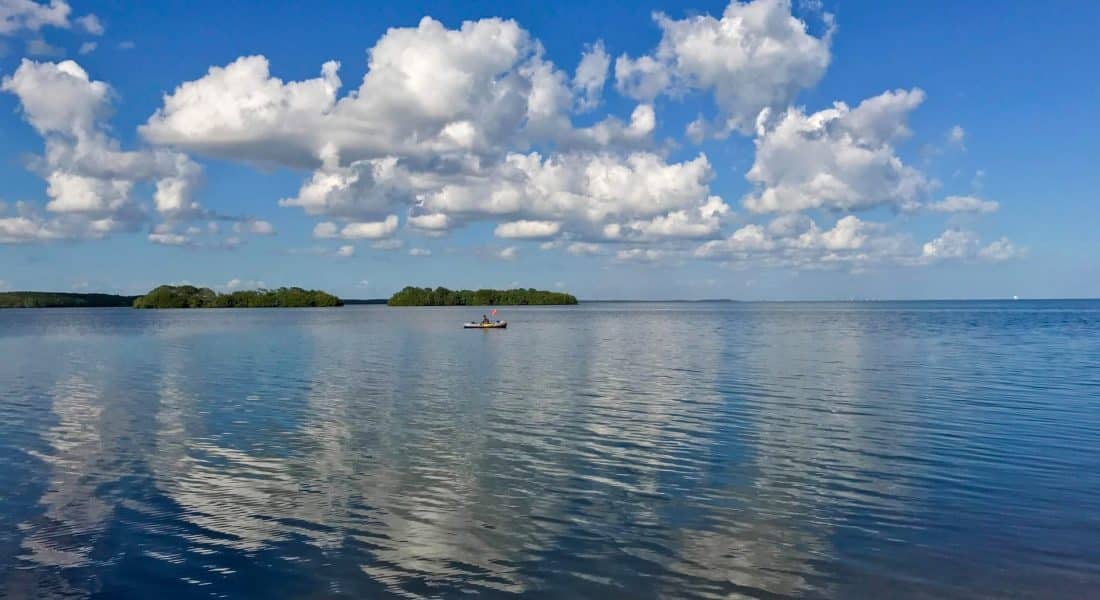 There are no roads to Biscayne National Park, and you'll need to grab a boat to visit it.
Biscayne's Dante Fascell Visitor Center is located in Homestead, right next to Homestead Bayfront Park. You can explore the area there and walk the boardwalk that goes out into the bay.
However, if you have aspirations to visit one of Biscayne's islands, then you'll need to grab a guided tour ticket from the Biscayne National Park Institute. The Institute offers everything from guided cruise tours, to snorkeling and scuba adventures. While the prices can get to be a lot if you have a family, it may be worth it to get into the clear blue water of the Biscayne Bay.
Snorkeling is the perfect way to experience Biscayne National Park. Half-day and full-day trips on power or sail boats are available throughout the year, weather permitting. When snorkeling, you get to visit everything from the various marine animals, ocean reef, mangroves, and shipwrecks. All tours come with a guide that will teach you everything you need to know about Biscayne Bay's waters!
Must See
Everglades National Park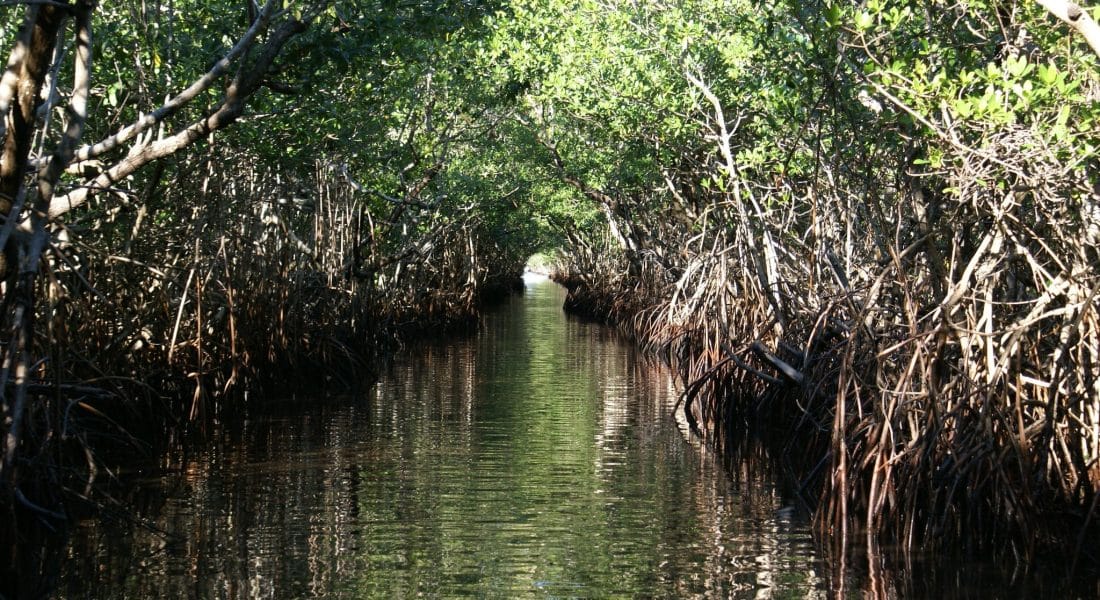 The Everlades is a vast network of marshes, islands, swamps, forests, and waterways that create this enormous national park. Unfortunately, rising sea levels due to climate change are already starting to submerge the lower parts of the Everglades.
Attractions
Since we are staying in Homestead, we'll first explore the southern portion of the park by entering the Ernest Coe Visitors Center. Follow Main Park Road all the way down to the Flamingo Visitors Center at the very tip of Florida. Explore a few of the trails along the way down, including the Long Pine Key Trail. Ranger-led tours are also frequent, and offer a great way to learn about the glades.
However, the best way to experience the Everglades is by getting on the water. Consider renting a kayak or canoe from the many rental agencies in the area. These places also offer guided tours, but you can also simply rent the kayak and go out on the water yourself.
The Northern part of the park is best explored when also visiting the Big Cypress National Preserve.
Must See
Big Cypress Swamp National Preserve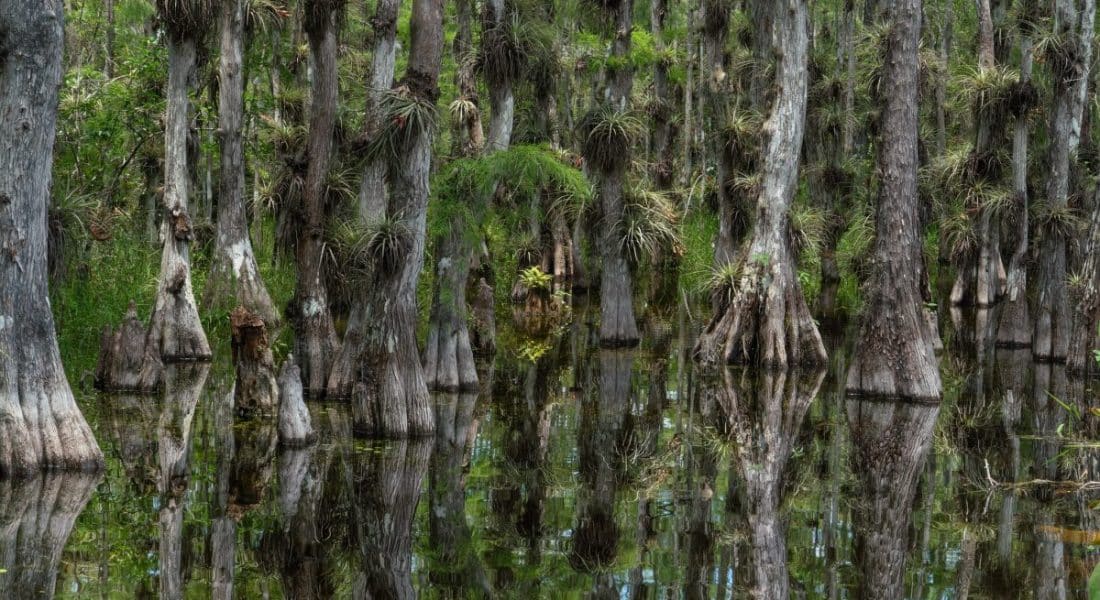 The Big Cypress Welcome Center in Ochopee, FL is about a 1.5 hour drive from Homestead.
One of the main attractions of the National Preserve is the Loop Road Scenic Drive. This 27 mile well-marked trail takes you through gator-infested swamps and dense forests of dwarf cypress trees.
As for hiking, the Florida Trail runs right through the preserve. There is a 6.5 mile offshoot hike that connects the Loop Road to US-41.
After a long day of hiking and exploring, check out Everglades City or the small town of Ochopee to grab something to eat.
Drive
Driving
The next location is 37 miles away (~1 hours).
When it's time to go home, head north to go back to Miami International Airport. You can make this drive the morning of your flight.
Departure
Day 7
Miami, Florida
Head back home via Miami International. This is a very large airport, so there is a good chance that you can find a direct flight back home. If not, there should be many airline options that get you back home in a timely manner.