Channel Islands, Joshua Tree to Death Valley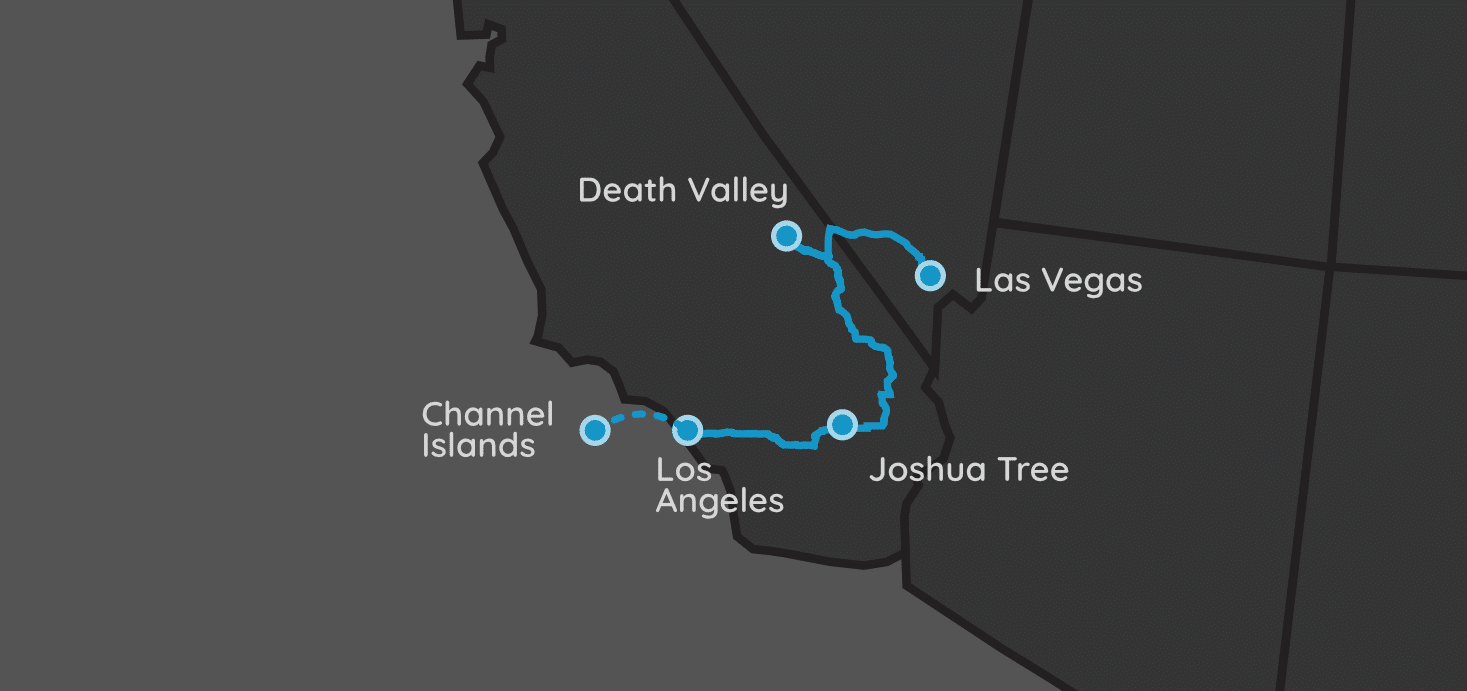 | | | | |
| --- | --- | --- | --- |
| Parks: 3 | Miles: 597 | Days: 8 | Hours: 10 |
This trip includes a day at the Channel Islands National Park, which is not an easy park to reach. A 1.5 hour boat ride to Santa Cruz Island – the largest of the Channel Islands – sets up a day of hiking, kayaking, snorkeling, or any combination of the three.
From there, the trip heads south to Joshua Tree National Park, before heading over to the lowest point in the US: Death Valley.
Itinerary Notes
This trip flies into Los Angeles, and we spend a night (or two) in the area. Your best bet is to fly in, then spend the next day at the Channel Islands before continuing on with your journey. We eventually fly home via Las Vegas, which is one of my favorite spots to fly out of. The Vegas chamber of commerce and surrounding business make flights in and out of here cheaper than usual, which is super important when we're spending as much as we are on this trip.
As with all of our trips, this trip can be reversed. However, I prefer to keep the complexity of the Channel Islands for when we are excited in the beginning, as opposed to at the end of a week-long trip if we were coming the opposite direction.
We always pick up our extended SUV at the local rental (reservations are a must!) at LAX before leaving the airport. Our family of five fits comfortably into a GMC Yukon XL or Ford Expedition. We could get away with the smaller Yukon or Chevy Tahoe, but the $200 it saves is simply not worth it for us.
Arrival
Day 1
Los Angeles, CA
Flying into LA should be easy for everyone, regardless of where you are coming in from. Because we will be visiting the Channel Islands NP tomorrow, finding a hotel near Ventura, CA would be best. However, Los Angeles is huge, so use whatever travel app you're most common with to find a hotel that works for your family best.
Drive
Driving
The next location is 68 miles away (~1.5 hours).
Head west towards Ventura, CA. This is the harbor that we will use to access the Channel Islands tomorrow. LA is known for its traffic, so beware that a 1.5 hour trip to Ventura may end up taking you quite a bit longer than that if you hit rush hour.
Destination
Days 1-3
Channel Islands National Park
Ventura, CA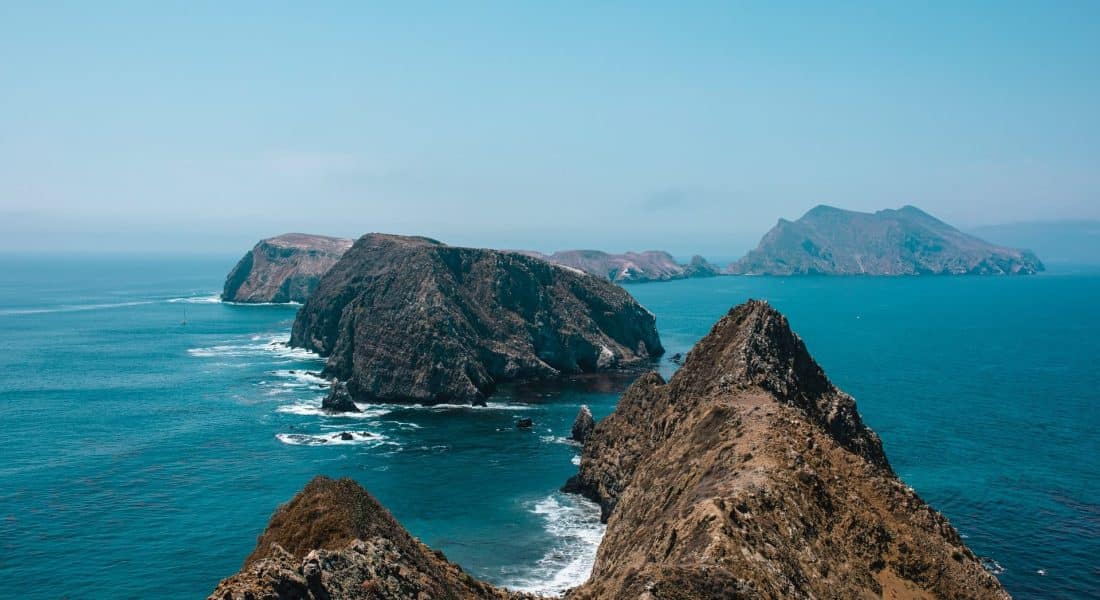 By staying in the Ventura area of the city, we give ourselves an easy trip over to the Channel Islands National Park Visitor Center.
There are five different islands in this park, but for our day trip, we are visiting the Santa Cruz Island. It is the largest of the islands, and has the most trails, amenities and activities to fill our day.
There are two ways to get to the islands: by boat or by air. We chose the boat ride, and the 90-minute trip via Island Packers Cruises is the most common and easiest route.
The boat ride took off from Ventura Harbor and docked in Scorpion Anchorage. These boats were easy to use for us, but I can see an older or disabled person may have some trouble climbing on and off the boats.
If kayaking is your thing, you can rent them from Island Packers Cruises as well. This is one thing I had wished with did in addition to the hikes.
The best hikes on Santa Cruz Island are the Cavern Point Loop (2 miles round trip) and the Scorpion Canyon Loop (4.5 miles round trip), both requiring moderate amounts of effort. If you are looking for easier hikes, the Water Canyon Beach Trail is only a 3 miles round trip excursion.
Drive
Driving
The next location is 131 miles away (~3 hours).
The next morning, we started on our drive towards Joshua Tree National Park. This is a relatively short drive, so finding things to do along the route could be advantageous unless you are in a hurry to try to get this trip done in less than 7 days.
Destination
Days 3-5
Joshua Tree National Park
Twentynine Palms, CA
Joshua Tree National Park is known for its spiky Joshua Trees that grow out in unpredictable and unusual angles. Huge boulder piles also litter the alien landscape, that sits between the boundaries of the Mojave and Colorado Deserts.
Lodging
There are no lodging options within Joshua Tree NP other than a few campgrounds. Most visitors stay along Route 62, either in Joshua Tree, CA or Twentynine Palms, CA, then commute in. Both of these towns are a perfect proximity to the park, and you'll likely travel between the two multiple times, no matter which city you end up staying in.
Attractions
Dehydration is the biggest obstacle at this park. Ensure you bring plenty of water (two gallons per person, per day), and have a full tank of gas in your car. There are no services inside the park, so you'll need to come prepared.
Most of the attractions are located along Park Boulevard, that snakes through the park and stretches between both cities listed above. Spend a full day driving this route, stopping along the way for a lunchtime picnic.
If you're making this a short trip, make sure you stop and hike one of the trails in the Hidden Valley, such as Skull Rock, Barker Dam, or Cap Rock. Finish the day off with a tour at the Oasis Visitor Center and a walk to the Oasis of Mara, a historic fan palm oasis with a large standing pool.
Those looking to fill additional days within the park can check out the ruins of Key Ranch. While there is a small fee to explore the area, these ruins showcase the life's work of a local homesteader that carved his own town out of the middle of the desert.
The southernmost park of the park is an area called Cottonwood Spring. This area features two moderate effort trails called the Mastodon Peak Loop (3 miles round trip) and the Lost Palms Oasis Trail (7.5 miles round trip). Exit through the visitor center there, and circle back up towards where your lodging is, making stops in Cochella, CA and Palm Springs, CA, with each having plenty of places to enjoy a meal, drinks, and/or community parks.
Drive
Driving
The next location is 261 miles away (~4.5 hours).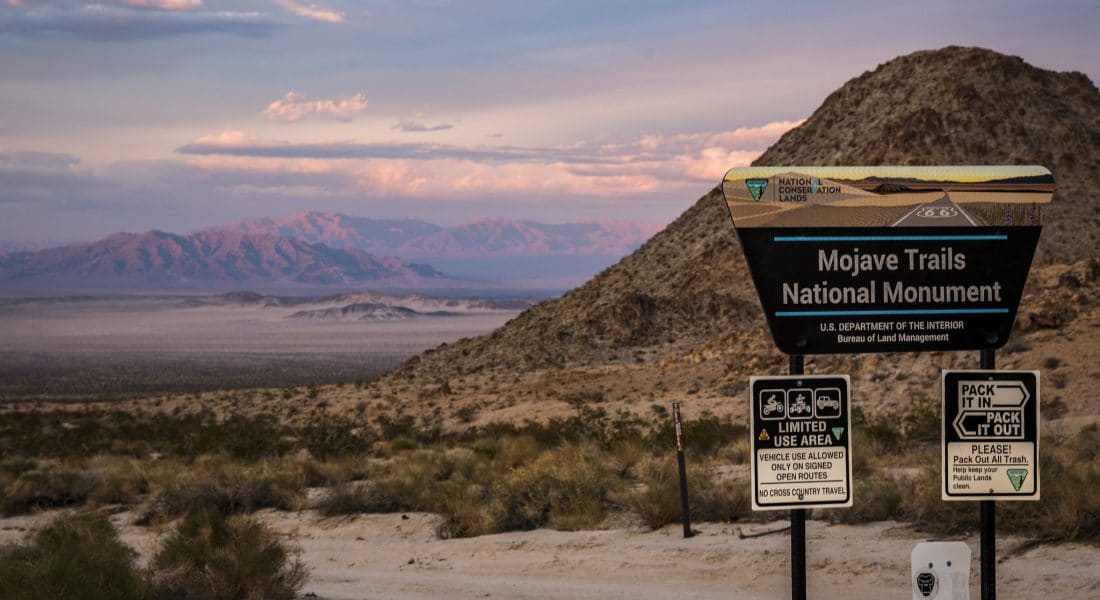 On this travel day, we are heading north towards Death Valley National Park.
While there are two equally long ways to get to the park, take the easternmost trip along Route 127. This direction is just as scenic, and will put you on the correct side of the park for where you'll be staying in Beatty, NV.
By taking this route, you will bisect the Mohave National Preserve. There are numerous trails to hike, and the Mitchell Caverns is a special treat for anyone to visit.
Destination
Days 5-7
Death Valley National Park
Beatty, NV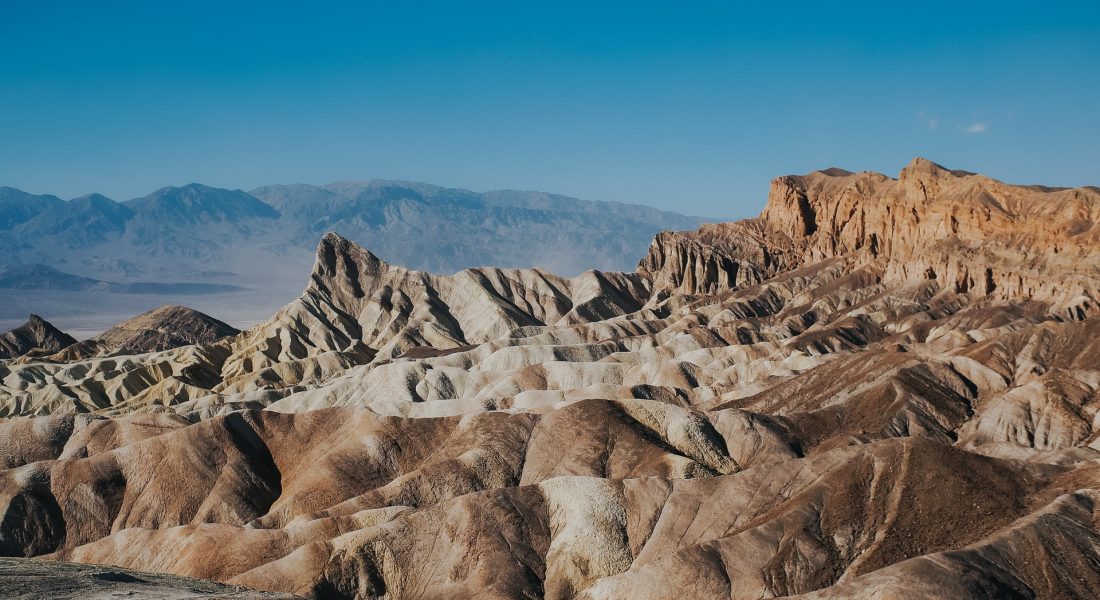 Death Valley National Park is known for its extreme temperatures and elevations. From the lowest point in the Badwater Basin to Telescope Peak, this park's complex geology offers a sight into eras of lost seas, volcanoes and fault lines.
Lodging
The park can easily be accessed from the west via the California towns of Lone Pine, Ridgecrest and Olancha. You can stay on the eastern side of the park in either Beatty, NV or Shoshone, CA. We decided to choose Beatty for a few reasons: we found accommodations (they can be tough to find during peak season), and it was a perfect spot to both visit the National Park and travel to Las Vegas for our way home.
Attractions
If you stay in Beatty, you'll enter the park via the Daylight Pass Road. This road offers stunning views that seem to change at every turn. Beatty is about a 45 minutes drive to the main Visitor's Center of the park in Furnace Creek.
From this point, access to many of the popular sights is easy. The lowest point in North America – Badwater Basin – is 17 miles south of the center. Zabriskie Point is 7 miles south of the center, and overlooks eroded badlands from a high vantage point. This is a must-see at either sunrise or sunset!
The one way loop known as the Artists Drive is another must see attraction. The amazing array of colors stemming from the oxidation of various metals on the volcanic rock is a one-of-a-kind sight. The landscape features multiple hues of colors including green, red, yellow, purple, and pink!
The best easy hike in the park is hands-down the one at Derwin Falls. This 2-mile round trip hike starts west of Panamint Springs on Route 190 and takes you past the waterfall and back in about one and a half hours.
Drive
Driving
The next location is 137 miles away (~2 hours).
The trip to Las Vegas, NV takes a little less than two hours, and takes you right past one of my favorite places in the area: Red Rock Canyon National Conservation Area.
Must See
Red Rock Canyon National Conservation Area
Las Vegas, NV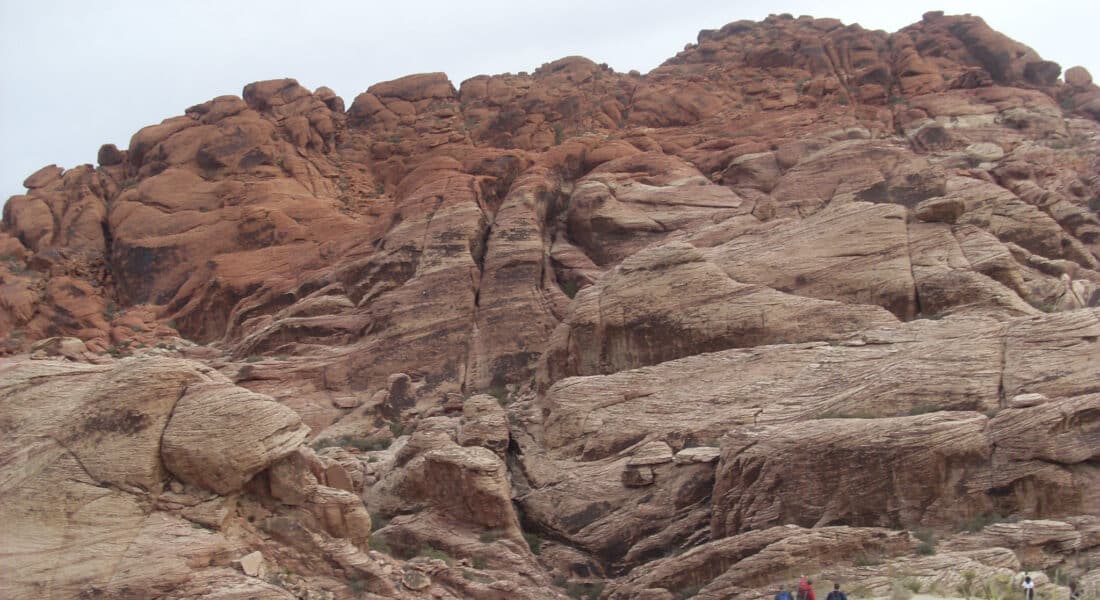 Inside the park is a 13-mile one-way paved scenic road that snakes throughout and offers numerous hiking and picturesque areas. While the park costs $15 per vehicle to enter, the sights are simply amazing and cannot be skipped.
The scenic drive is open every day of the year, with hours changing slightly according to the season. Check their website for current hours.
Departure
Days 7-8
Las Vegas, NV
As I mentioned above, flying in and out of Vegas is always preferred. The flights are usually cheaper, the hotels are top-notch and great transportation is everywhere.
Flying home is never easy after a long trip, so I would suggest staying away from the numerous red-eye flights. These are usually much cheaper, but you fly overnight, which really messes with your senses, and you'll likely get some major jet lag.