Congaree National Park & Hilton Head Beach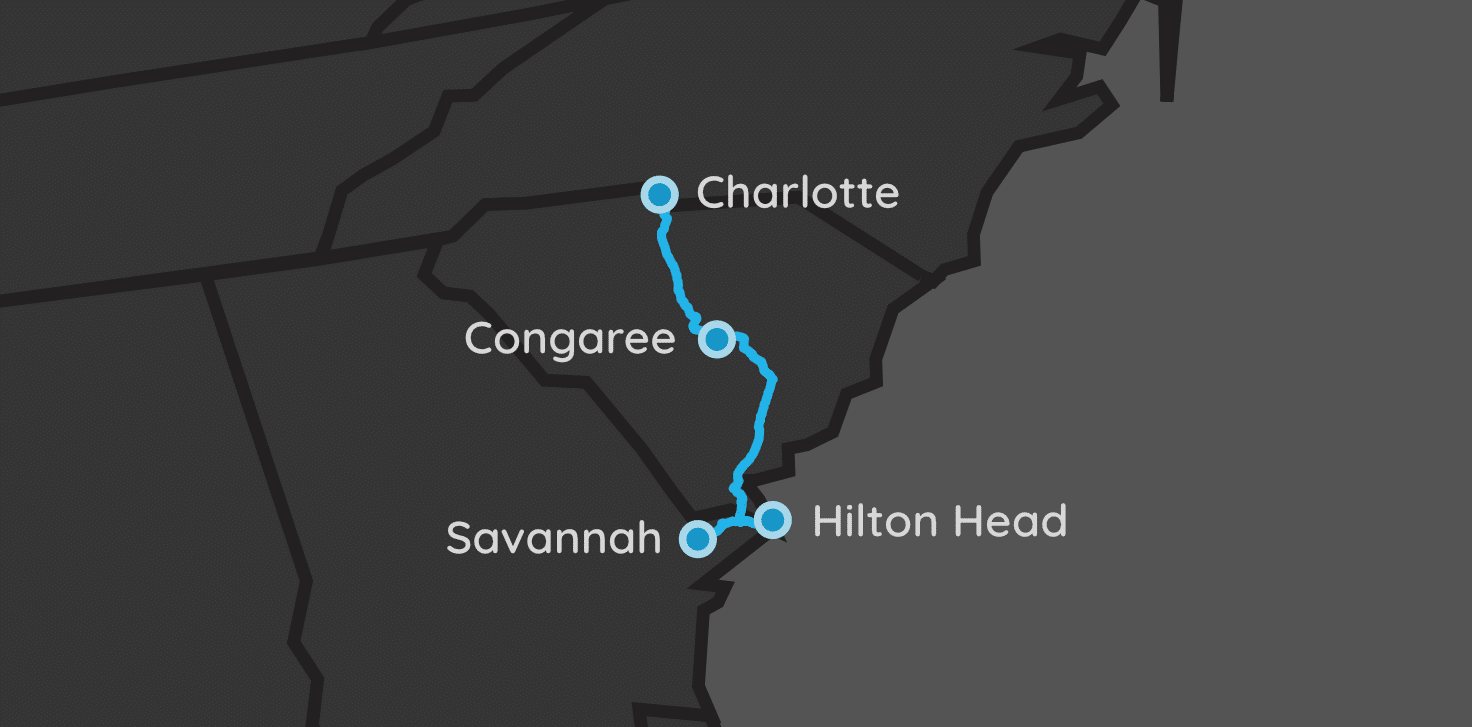 | | | | |
| --- | --- | --- | --- |
| Parks: 2 | Miles: 291 | Days: 7 | Hours: 5 |
There are precious few National Parks located in the southeastern US. Florida has three, but they are all at the very tip of the state. The Great Smoky Mountains are located across the North Carolina boarder in Tennessee. However, a little known and mostly forgotten national park is within South Carolina, and features the largest intact tract of old growth river swamp hardwood forest remaining. This is Congaree National Park, and it received official National Park status in 2003.
This road trip starts out by flying into Charlotte, NC, then driving south through Congaree, then to Hilton Head for some relaxation on the beach. While in Hilton Head, we stop over at the Savannah National Wildlife Refuse to take a peek at some alligators.
Itinerary Notes
You should have no trouble finding flights into Charlotte. As of 2022, it is the 11th largest airport in the US and is a major hub for American Airlines.
This road trip could be reversed, but I would suggest against it. First, you want to relax during the second half of your trip, and finishing up at Hilton Head allows for that. Also, going home is the least fun part of the trip, and the departure airport is less than 45 minutes away from the beach.
Lastly, schedule your rental car ahead of time. We always harp on this, but it really is important. Many times airport rental companies will run out of inventory, and will not have any cars available for people who just show up at the kiosk counter. Booking your rental car (or SUV… my preference) at the same time of your flights is the best option here.
Arrival
Day 1
Charlotte, NC
We begin this trip by flying into Charlotte. I chose this airport because it is one of the largest on the East Coast. However, there are closer ones that may fit your budget and/or home location better.
Columbia Metro is 22 miles away from Congaree NP, and Augusta Regional (GA) is 74 miles away. Both of these are considered a medium-sized airport.
Drive
Driving
The next location is 95 miles away (~1.5 hours).
The drive from the airport to Congaree, SC takes about an hour and a half. While a nice drive, there really isn't much to see along the way.
Destination
Days 1-3
Congaree National Park
Columbia, SC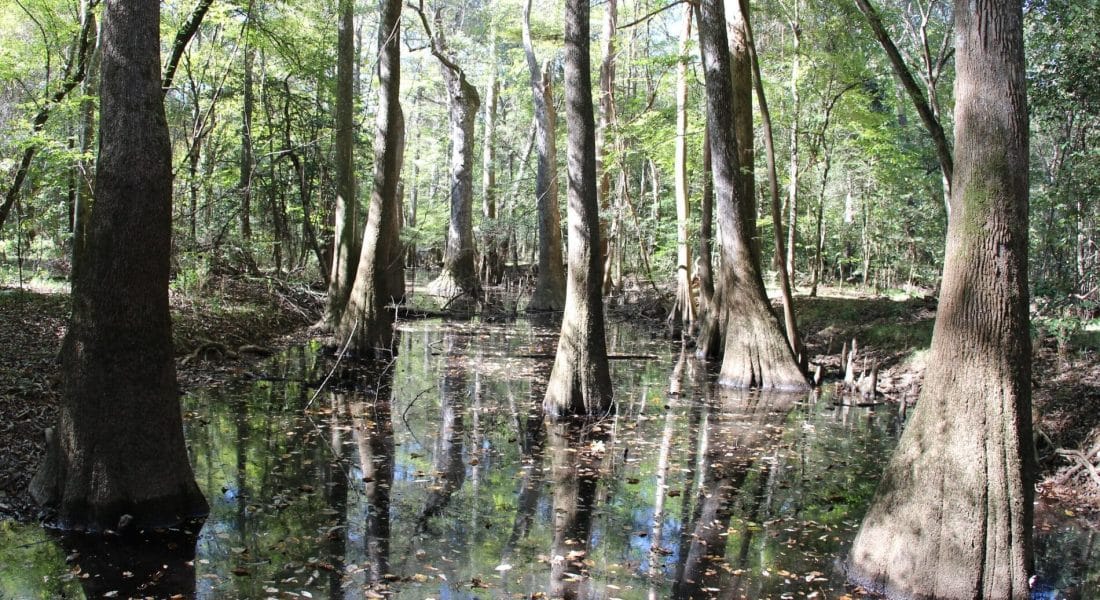 Congaree National Park features the largest intact tract of old growth river swamp hardwood forest remaining in the US. It is located in South Carolina and is one of the least-visited national parks in the country.
Lodging
There are a few Airbnb-type rentals closer to the park, so try to look for those if you can. St. Matthews and Hopkins are two close towns to the park. However, I'm going with Columbia as the city to stay in for this leg of the trip. There are plenty of hotels and vacation rentals available here, and you shouldn't have trouble finding a place, even at the last minute.
Attractions
Congaree's 22,000 acres holds over 20 miles of hiking trails.
The Boardwalk Loop (2.4 miles) offers the best and easiest view of the park. It is flat and paved and is wheelchair accessible. The Weston Lake Loop (4.4 miles round trip) passes by bald cypress knees (roots shooting up out of the water) along Cedar Creek.
The River Trail (10 miles round trip) takes you down to the Congaree River, and the Oakridge Trail (6.6 miles round trip) travels through large oak trees where you'll have a good chance at seeing wildlife.
Drive
Driving
The next location is 160 miles away (~2.75 hours).
After the second night in Columbia, get back on the road and head south. We're going to spend the rest of the vacation on the Atlantic beaches of Hilton Head Island.
Destination
Days 3-7
Hilton Head, SC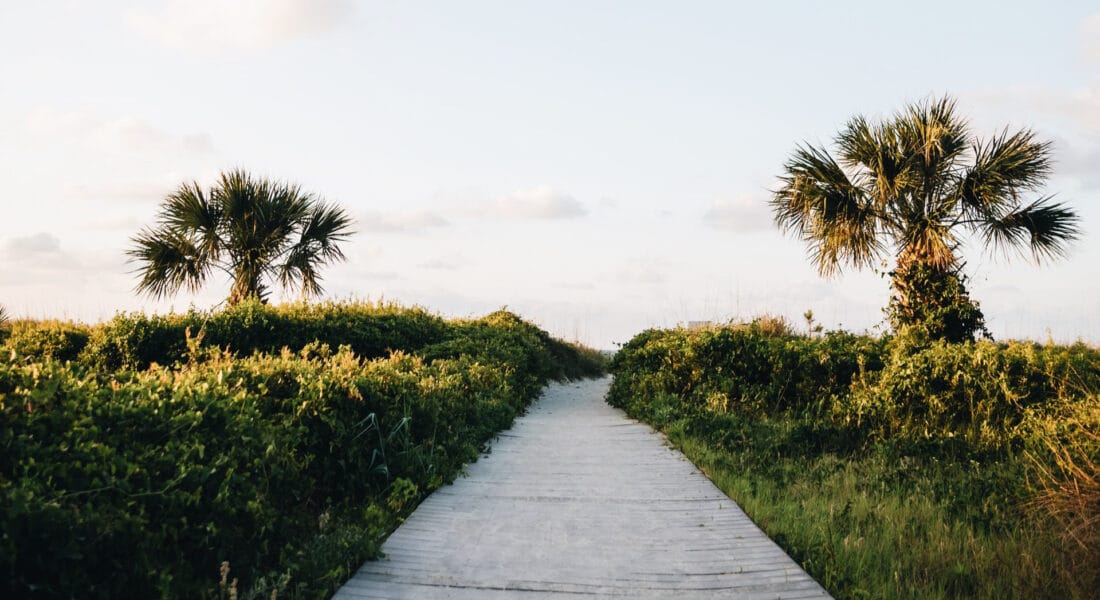 Hilton Head calls itself "America's Favorite Island", and features 12 miles (19 km) of pristine beaches along the South Carolina coast.
Lodging
Hilton Head Island is a popular vacation spot for those living on the East Coast. Because of this, you'll find plenty of accommodation options, from hotels to all-inclusive resorts, to Airbnbs. However, because of the popularity, you'll have to also contend with the crowds. Book your stays well ahead of time… preferably in January or February for a summer trip.
Attractions
Beaches are the reason you're coming to Hilton Head. However, there are plenty of other things to fill your time with if you need a break from the sand.
You can zip line among the treetops, kayak the rivers and bays, and take chartered fishing expeditions out into the Atlantic.
Must See
Savannah National Wildlife Refuge
Hardeeville, SC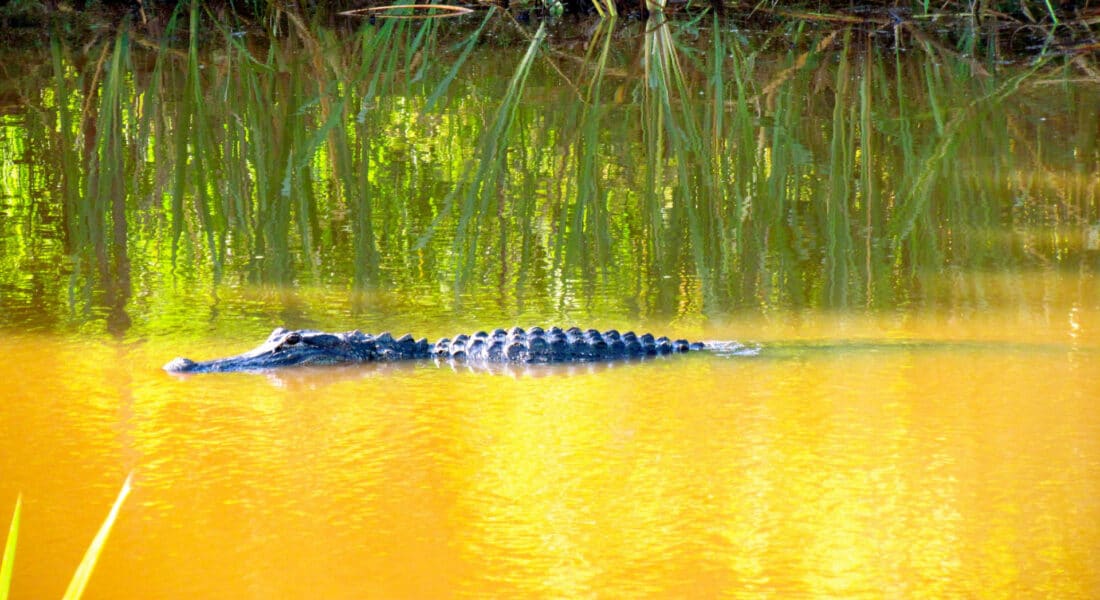 The Savannah National Wildlife Refuge is a 29,000-acre near Savannah, GA.
The best part is the park is the driving tour. It is a 4-mile loop around the wetlands with places to park and walk and see all kinds of wildlife, and is only open on holidays and weekends.
Trails are throughout the park. The visitor's center is currently closed due to COVID, but there are map signs outside that show the various trails available.
On the way back to Hilton Head, you can also check out Fort Pulaski National Monument, also in Savannah.
Drive
Driving
The next location is 40 miles away (~.75 hours).
This is an easy and uneventful trip that can easily be made the same day of your departing flight.
Departure
Day 7
Savannah, GA
Savannah may not be the largest airport, but it has plenty of airline options to get you back home.