Hawaii National Park Itinerary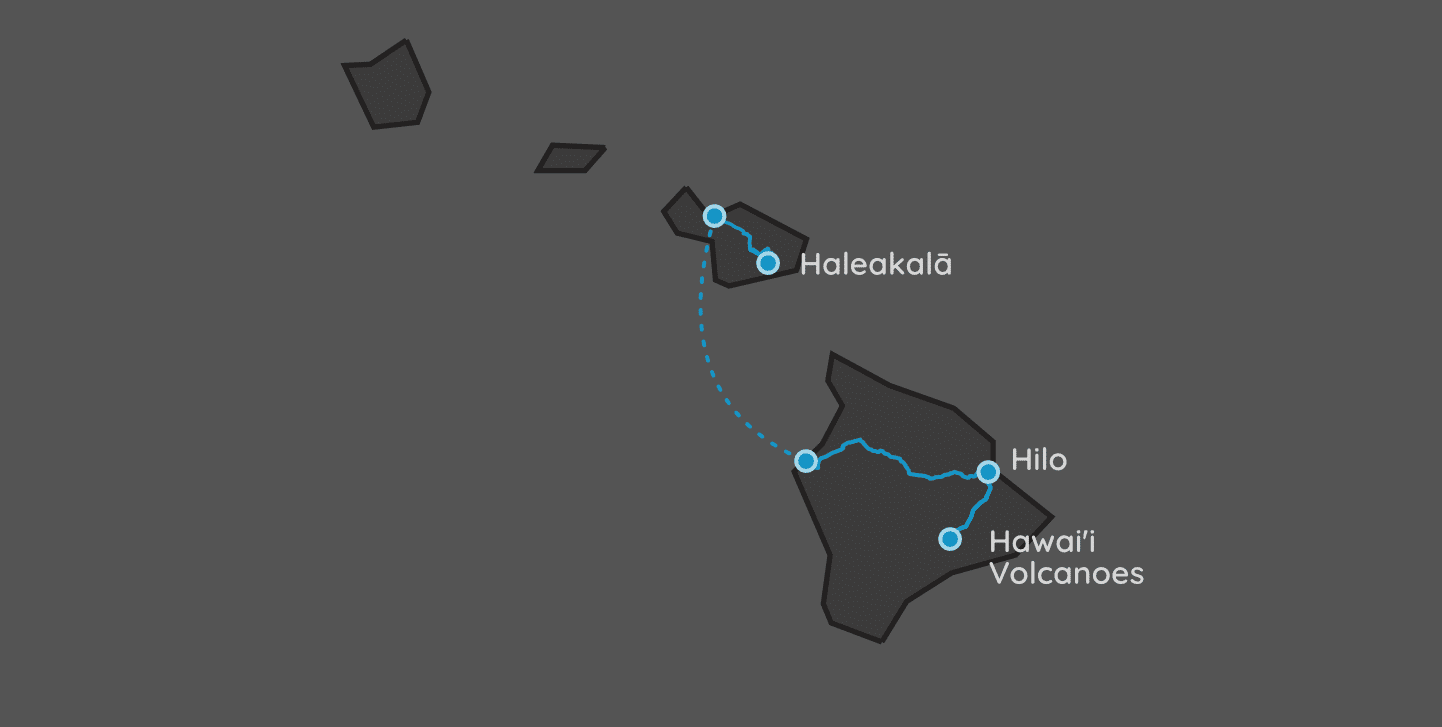 | | | | |
| --- | --- | --- | --- |
| Parks: 2 | Miles: 160 | Days: 8 | Hours: 4 |
Visiting Hawaii is a dream vacation for most. Located far away from the mainland US in the middle of the Pacific Ocean, these islands have it all. The pristine beaches, steaming and active volcanoes, lush rainforests, there is simply too much on these small islands in the middle of the Pacific to see all in one trip. In this trip, we center around the two Hawaii National Parks – Hawai'i Volcanoes and Haleakalā.
We spend 8 days (5 on one island, 3 on the other) exploring everything Hawaii has to offer. Each park can be visited in a day or two, which leaves plenty of other days to soak up the full Hawaiian experience.
Hawaii Itinerary Notes
The best months to visit Hawaii would be in the winter (December-April), or late summer (August & September). Winter is peak tourist season in Hawaii.
The two National Parks we're visiting in this Hawaii itinerary do not have public transportation, so you'll need to find your own way there. There are two main options:
Rent a Car – This is usually everyone's first thought-of option, and it's a good one. When you have a car, you can visit as much of the island as you want. The only problem is that you'll only be able to use it on the island you purchase it on, since there is no ferry service between the islands.
Ride Share (Uber/Lyft/Taxi) – This may end up being expensive if you plan on doing a lot of exploring, but consider it at least an option.
For our money, we feel it's best to rent a car on the big island, then Uber around on the next island of Maui.
Hawaii Island Hopping
You'll need to book an extra flight for this trip. Since Hawaii is a string of islands, and the two National Parks are not on the same tract of land, we need to schedule a flight from the Big Island of Hawaii to Maui. Hawaiian Airlines is the place to book these flights, and they are fairly cheap. The flight is pretty short too, with only about 30 minutes in the air.
While Hawaiian Airlines is the most notable airline, there are a few others. Mokulele and Southwest also service the islands. Two former carriers – Ohana and Makani Kai Air – have either been discontinued or merged into an existing airline.
Flight times around the islands are typically short and well under an hour. Some only take 10 minutes or so! They can cost anywhere from $30 one way, to a couple hundred dollars for a round trip flight.
The airport codes for all Hawaiian airports are as follows:
Honolulu Airport on Oahu – HNL
Kahului Airport on Maui – OGG
Kapalua Airport on Maui – JHM
Hana Airport on Maui – HNM
Lihue Airport on Kauai – LIH
Princeville Airport on Kauai – HPV
Kona Airport on Big Island – KOA
Hilo Airport on Big Island – ITO
Lanai Airport on Lanai – LNY
Molokai Airport on Molokai – MKK
There is no longer ferry service between the islands of Hawaii. There was once something called a Super Ferry that shuttled visitors around, but it was quickly discontinued due to environmental concerns. Because of this, you can only get around the Hawaiian islands by air.
The Other Islands & Parks
In this Hawaiian trip, we only visit two of the 137 islands (of which only 7 actually have people). If you are looking for other islands to visit during this Hawaiian itinerary, the island of O'ahu might be the next most intriguing.
O'ahu is home to the World War II Pearl Harbor National Memorial and the famous surfing beaches of the North Shore. Kauai has multiple forest reserves and Hanalei Bay, which is full of shops and eateries.
In the trip itinerary below, we only visit a couple of the several national parks inside Hawaii. A few other National Park Service sites in Hawaii include:
Kalaupapa National Historical Park (Moloka'i Island) – Home to the world's tallest sea cliffs.
Pu'uhonua O Honaunau National Historical Park (Big Island)
Kaloko-Honokōhau National Historical Park (Big Island)
Puʻukoholā Heiau National Historic Site (Big Island)
Ala Kahakai National Historic Trail (Big Island)
Honouliuli National Historic Site (Oahu Island) – Currently being built, not open to the public as of early 2023.
You could easily extend this 8-day trip to be a 10-day Hawaii itinerary by choosing to visit one of these additional islands or parks as well. However, we only visit the two largest and best Hawaii National Parks in this itinerary.
Arrival
Day 1
Hilo, Hawaii (Big Island)
The island of Hawai'i has two airports located in Kona and Hilo. The most visited part of the Hawai'i Volcanoes National Park is a 45-minute drive from Hilo and 2-2.5 hour drive from Kona.
Technically, you could fly into or out of either one, for this trip. We simply chose this direction because it created the most direct route. Hilo is the smaller of the two airports, so while it may be less busy than Kona, it will also have slightly less flights into it.
Drive
Driving
The next location is 30 miles away (~.5 hours).
While you could theoretically stay in Hilo, we thought it best to find a place closer to the National Park to stay. The drive down to the town of Volcano is only about 30 minutes.
If you are looking for a beach town to stay at instead, Keaau is your best bet. There are hundreds of Airbnb options in this beachside town, and it's only about 25 minutes from the park's main entrance.
Destination
Days 1-5
Hawaii Volcanoes National Park
Volcano, HI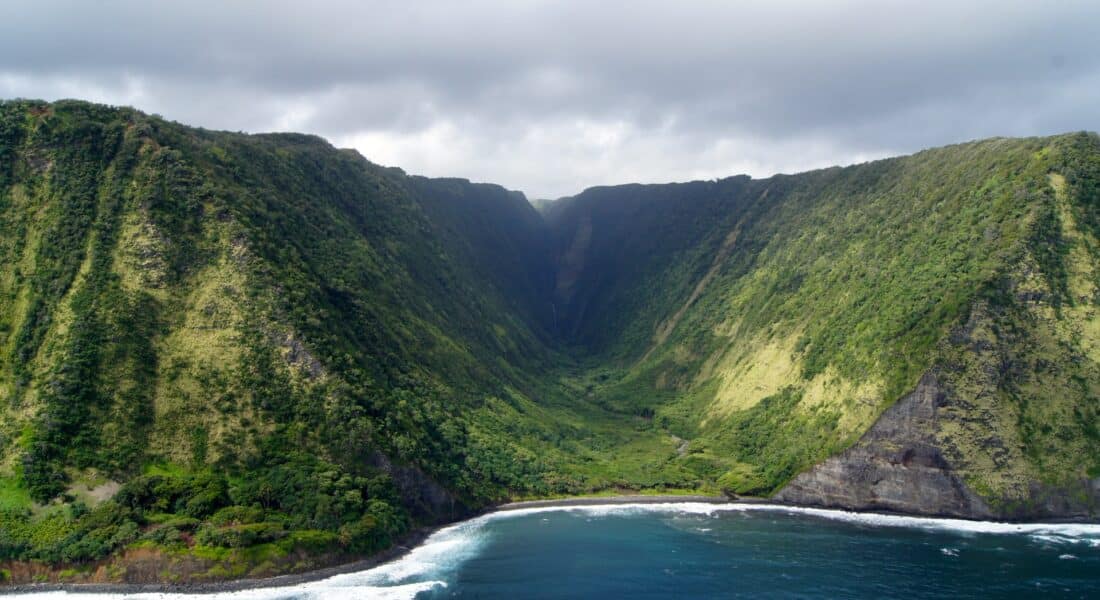 Transformed by the massive eruption of Mount Kilauea in 2018, Hawaii Volcanoes National Park testifies to the devastating and powerful forces that created these islands millions of years ago. The rivers of lava may have cooled off for now, but its rugged terrain holds erverything from volcanic deserts to lush rainforests.
One of the first things you'll see when you visit are the black sand beaches. Formed from the waves crashing into volcanic rock, these beaches are unlike anything else you'll probably see in your lifetime.
Lodging
The tiny town of Volcano, HI is the closest area to stay outside the park. It has plenty of vacation rentals around town, and even has a number of hotels and cottages to make your stay enjoyable. If you are looking for more of a beach town to stay in, consider Keaau, which is just south of the Hilo Airport. It has public access beaches and hundreds of vacation rentals on Airbnb and VRBO. There are only campgrounds located inside the park.
Attractions
Obviously, you'll want to summit the Kilauea Volcano and watch the rumbling volcano steam and spouted lava. This is best viewed at night. To access the summit, use the 11-mile Crater Rim Drive. This drive circles Kilauea Caldera and takes you past steam vents, sulfur springs and fault lines. The Kilauea Visitor Center should be your first stop, and it will get you prepared to explore the rim. The Thurston Lava Tube is another popular attraction at Kilauea, which is accessed by a short half-mile path from it's parking area.
There is also a Crater Rim Trail that can be hiked once at the summit as well. This 5 mile round-trip trail is easy and gives you the best views from atop the summit.
Mauna Loa occupies a lot of the southern part of the Big Island, and it remains snowcapped year-round. Visitors can drive up the 10-mile Mauna Loa Road, which takes you only about half-way up to the summit. If you want to reach the rest, you'll have to get out your hiking shoes.
Drive
Driving
The next location is 100 miles away (~2 hours).
Departure
Kona, Hawaii (Big Island)
Here we need to make the short flight over to the next island in our trip: Maui. Hawaiian Airlines offers quick and cheap flights to most of the islands. When we looked, they were around $30-$65 a person and only took about half an hour.
Arrival
Kahului, Hawaii (Island of Maui)
Drive
Driving
The next location is 13 miles away (~.5 hours).
Once landed in Kahului, take a taxi or Uber to your place in Makawao. It's only about a 13-mile ride from the airport.
Destination
Days 5-8
Haleakalā National Park
Makawao, HI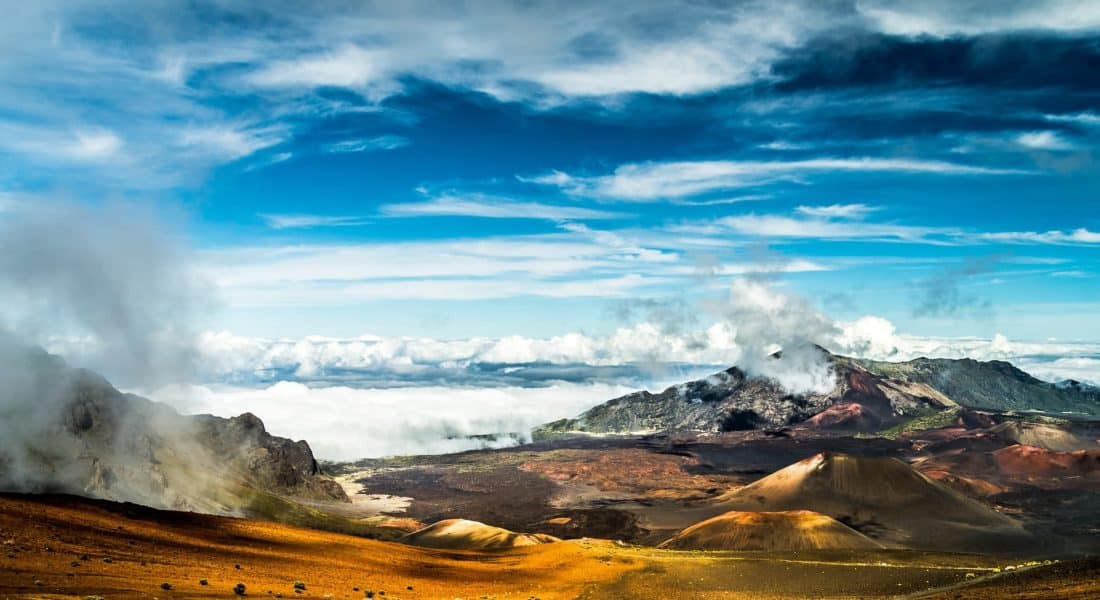 Haleakalā National Park surrounds a 10,023-foot volcano that has been dormant since 1790. The peak of the volcano is more than 30,000 feet above sea level, surpassed by only the peaks on the Big Island of Hawaii as the tallest on earth.
With 30 miles (48 km) of hiking trails, this park is most known for its sunrises atop the volcano. In fact, seeing sunrises here is so popular that the National Park Service had to implement a lottery system to cut down on the crowds.
Lodging
The most accommodations outside the park are in Makawao, Pa'ia and Kula. We liked the location of Makawao, and it had a ton of options on Airbnb. If you want a coastal town to stay in, Hana is probably your best bet.
Inside the park, there are a couple campgrounds available with your normal entrance fee.
Attractions
Seeing the sunrise from Haleakala Crater is something everyone should experience. Plan this in advance by reserving your spot on Recreation.gov for only $1.
After watching the sunrise, you can bike down the weaving summit road. However, if you want to do this, you'll need to supply your own bicycles.
The Pools of 'Ohe'o in 'Ohe'o Gulch are tucked inside a rainforest. Waterfalls drop into pools that unfortunately do not allow swimming, but they are a magical place to behold.
The best hike in the park is the Sliding Sands Loop. This hike is difficult, but the reward is worth it if you can manage. The trail descends into the crater floor of the volcano. This trail is around 12 miles round-trip and will take you basically the whole day to complete. You can make this trail shorter by turning around about 2 miles in. The trailhead for it is in Halematu'u near the summit.
We spend this entire leg of the trip on the eastern side of Maui. West Maui however has Pu'u Kukui, a volcanic 5,788-ft. island mountain peak towering over a lush nature preserve.
Drive
Driving
The next location is 13 miles away (~.5 hours).
Departure
Day 8
Kahului, Hawaii (Island of Maui)
It's time to go home. The Kahului Airport (OGG) is on the smaller side, so if you are having trouble finding a flight out back to the main land, then consider taking a shorter flight up to Honolulu International (HNL) first. It is the largest airport on the Hawaiian islands, and will give you the best chance at finding a flight on the days you're looking for.