Juneau to Glacier Bay Ferry Ride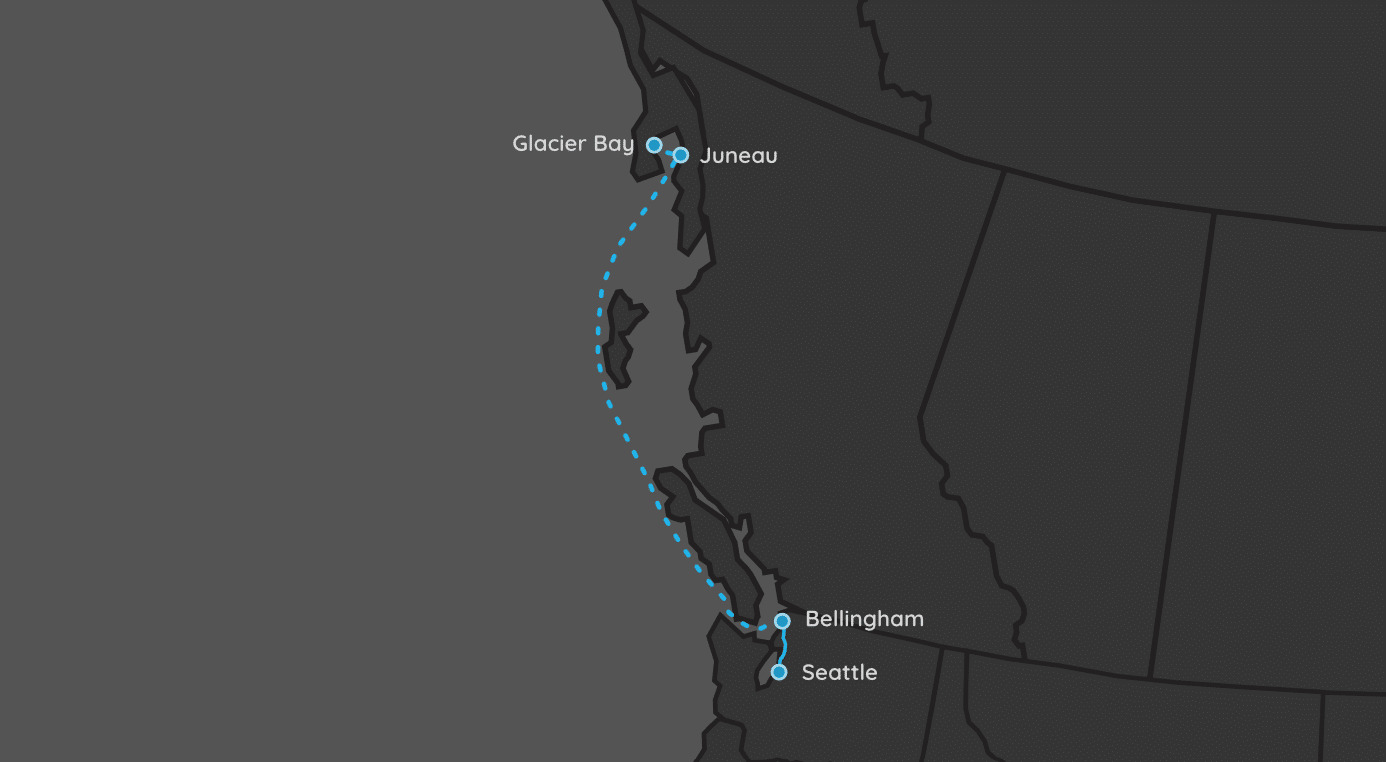 | | | | |
| --- | --- | --- | --- |
| Parks: 2 | Miles: 1,600 | Days: 11 | Hours: 80 |
Alaska is breathtaking, but many never get the chance to see it in their lifetimes. The National Parks of Alaska are some of the least-visited parks in the country, which is due to their extremely limited accessibility.
We circumvent this accessibility problem by using the Alaskan Marine Highway System, which is a network of ferry routes that dot the south and western Alaskan coastlines.
The Alaskan Marine Highway System, or AMHS, is a ferry that has stops all along the Alaskan coast as well as a stop in Bellingham, WA. The reason for this type of "highway" system is due to the fact that many spots in Alaska are only accessible by either boat or plane. We will be using a couple trips on AMHS ferries to visit some of the most beautiful Alaskan sights imaginable.
Booking the Alaskan Ferry
The AMHS departs from Bellingham, Washington just about every other Wednesday and Saturday. The ferry ride from Bellingham to Juneau will take about 3 days, so you'll need to book rooms on the ferry as well. Small 2-, 3-, and 4-bed rooms, complete with private bathrooms, range from $420-$810 per trip. The Ferry rides are about $500 per person (as of 2022).
Cabins are booked by trip, not by person or night and they are reserved quickly, so book as far in advance as possible. If you're looking for a more adventurous and affordable option, bring your sleeping bag, or even your tent, and camp out in one of two public spaces on board.
You do not need a car to use the ferry, you can simply book a ride on it without a car. You also will not need a passport since the ferry does not make any stops in Canada.
Itinerary Notes
For this trip, you won't need a rental vehicle. There will be taxi or public transportation options at each stop.
We decided to start off this trip with a flight into Seattle-Tacoma International Airport, but if you start there, you'll need to find a way to get up to Bellingham where the ferry departs. This is a 2-hour drive, so a taxi is pretty much not a choice. Amtrak has public trains and busses for anywhere between $10-$50 one-way, per person. The other option would be to fly into Bellingham Airport (BLI), but we didn't choose that option due to price. Flights from the East Coast to BLI were more than double that of the flight to SEA.
Arrival
Days 1-2
Seattle, WA
We fly into Seattle, but then need to head north to Bellingham, WA, which is where the ferry terminal is.
The ferry departs from the Bellingham Cruise Terminal, which is about a 2-hour drive north from the Sea-Tac Airport. There are a few options of how to make this trip:
Train (Amtrak)
Bus (Amtrak)
Flight into Bellingham Airport (BLI) – We did not choose this option because flight prices were more than double of that to Seattle. For over $500 a person, we were going to find a different way up to Bellingham.
Must See
Bellingham, WA
355 Harris Avenue, Bellingham, WA 98225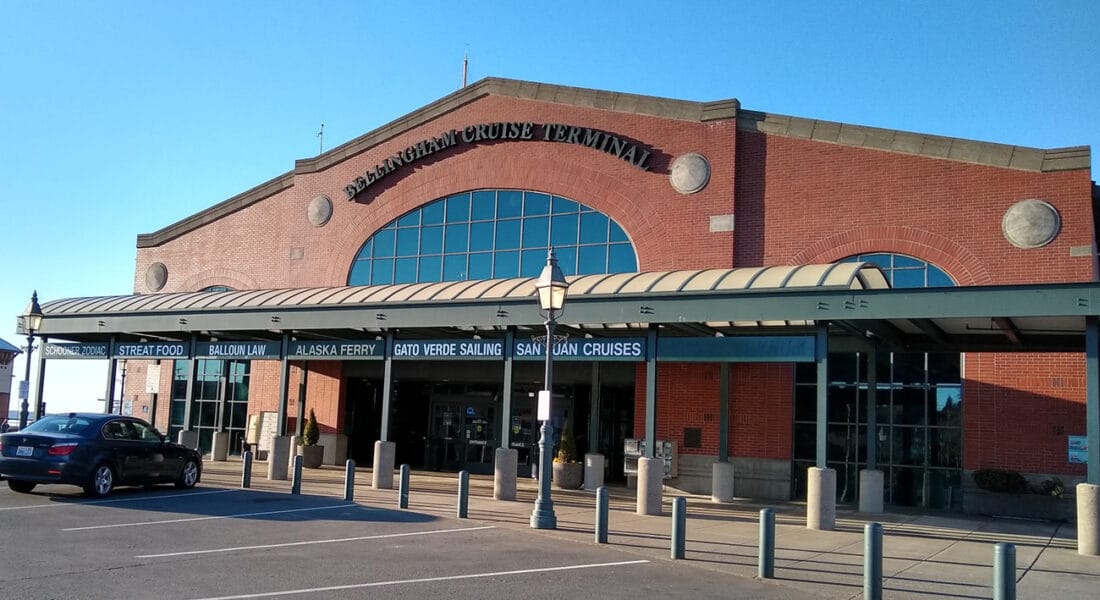 The Bellingham Cruise Terminal is where you will catch your ride up to Juneau. With direct ferry service from Bellingham to Ketchikan, AK, a passport is not required to travel between Alaska and the Lower 48 with this ferry.
Ferry
Ferry Ride
This ferry ride will take about 61 hours (~1,200 miles).
Keeping yourself occupied for the 61 hours (broken down with multiple stops) is easy — all vessels feature observation lounges and solariums that are perfect for optimal sightseeing. Some vessels also have theaters, card rooms, small video arcades and additional reading rooms.
The Ferry's Route
The ferry ride will take about 2.5 days. If you board the ship Kennicott, you will depart Bellingham at 6PM on a Wednesday, and arrive in Juneau at 7AM on Saturday.
The ferry's booking system has a few different ships to choose from, and they all have different arrival times. Pay attention to these as you book your ride.
The ferry makes stops along the way in Ketchikan, Wrangell and Petersburg, Alaska. The several-hour stop in Ketchikan is long enough that you could get off and explore locally on foot – just be sure you're back on the ship before it departs!
National Scenic Byway
Despite the fact that this route is over water, this is a National Scenic Byway!
Destination
Days 4-5
Juneau, AK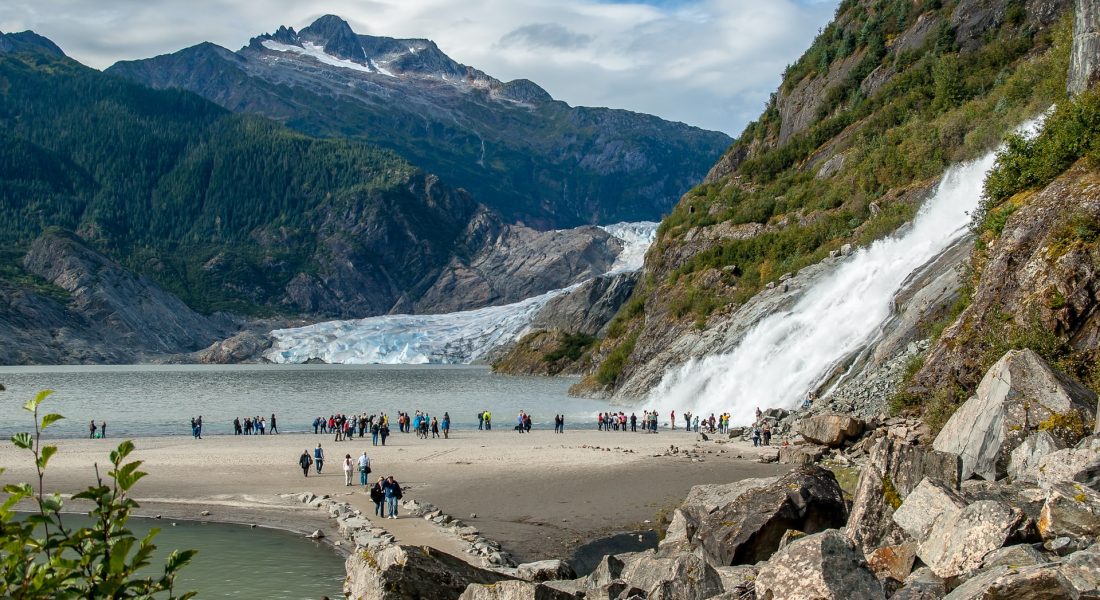 Juneau grew as gold mining came to the city in the late 1800s. Today, Juneau Alaska stands on one of the largest wilderness areas of the United States. There are plenty of shops, restaurants and outdoor events throughout the city to enjoy.
Visiting the Mendenhall Glacier
A trip to Juneau wouldn't be complete without a visit to Mendenhall Glacier. Managed by the US Forest Service, this glacier is one of the most accessible glaciers in North America. During summer months (May – September), the visitor center is open from 8:00am – 7:30pm daily. During the winter, (October – March) the visitor center is open from 10:00 a.m.- 4:00 p.m. on Fridays, Saturdays, and Sundays, excluding federal holidays. For more questions, call the visitor center at 907-789-0097.
There is a fee to enter the park. Day use passes sell for $5 per person, and you can buy season passes for $15. Children under 15 are free.
Hiking
Fees are not necessary for accessing the parking areas, or hiking Nugget Falls Trail, East Glacier Trail, Powerline Trail, Moraine Ecology Trail, the Trail of Time, and all the Dredge Lakes and West Glacier Trails.
The 2-mile Nugget Falls Trail is a great family-friendly trail that follows Mendenhall Lake and ends in a 377-foot waterfall pouring into a lake filled with icebergs and the glacier in the background.
The 4-mile West Glacier Trail also follows the lake, but brings you to the edge of Mendenhall Glacier itself. If you're looking for even more adventure at the glacier, there are plenty of tour opportunities with local outfitters from kayaking in Mendenhall Lake to hiking across the glacier to its ice caves. However, traveling on the glacier can be extremely dangerous and is not recommended without the accompaniment of a guide.
Ferry
Ferry Ride
This ferry ride will take about 6 hours (~80 miles).
The ferry ride from Juneau to Gustavus takes about six hours, and only departs once a day. These ferry rides are run every Monday and Thursday. The ferry ship LeConte will depart Juneau at 7AM and arrive in Gustavus just before 1PM the same day. Each person costs about $55 per ferry ride.
Destination
Days 5-9
Glacier Bay National Park
Gustavus, AK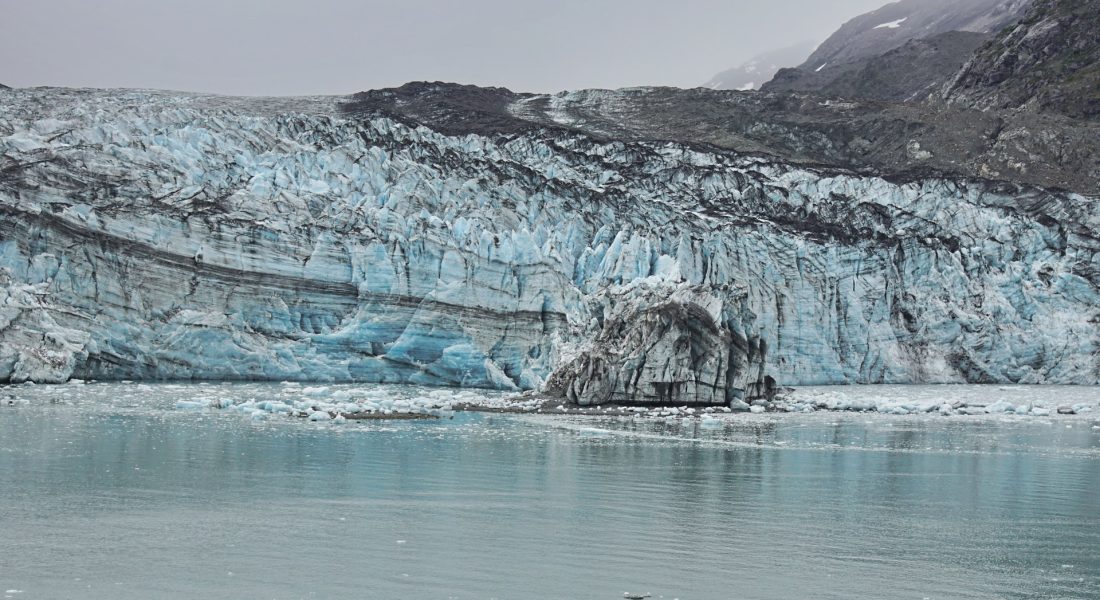 Gustavus, AK is the gateway town for Glacier Bay National Park. It is located about 10 miles from the visitor center to the park. Taxis are available to transport people to and from the park.
Lodging
Glacier Bay Lodge is the only place to stay inside the park other than the one free-use campground. Outside the park, there are very limited amounts of VRBO/Airbnb options. All of these options will have to be booked well ahead of time to ensure you have a place to stay.
Activities
First of all, it is important to note that Alaska is bear country. It is a good habit to always be carrying bear spray when hiking the Alaskan wilderness.
The 2.2-mile easy Nagoonberry Loop Trail is a great place to start while in Gustavus. This beautiful trail that is not yet inside the National Park winds through forests and meadows.
Inside the park, there are only about 10 miles of trails to hike. The easy Tlingit Trail (.5 miles round trip) takes you to the Huna Tribal House. From there, a small trail goes along the beach to the Bartlett Cove Campground.
The Forest Trail is a wheelchair accessible 1-mile trail that leads to two viewing decks overlooking a pond. Just past the boardwalk, a dirt trail loops down to the beach and campground before returning. Park Rangers lead daily hikes on this trail.
The Bartlett Lake Trail is the hardest trail in the park, and makes up the majority of the trail mileage. This 9.4 mile round trip hike climbs over a moraine to tour spruce forests on its way down to Bartlett Lake.
Glacier Bay NP has over 700 miles of shoreline, and kayaking is an enormously popular way to view as much as possible. Glacier Bay Kayaks offer rentals for self-guided tours, but there are plenty of other expert-led tours like those from Alaska Mountain Guides and Spirit Walker Expeditions.
Guided Tour
There is only one scheduled tour that's permitted inside Glacier bay National Park & Preserve. Advanced reservations are highly recommended. This is an 8-hour tour that is narrated by a National Park Service Ranger, who answers every question about the tour and what you're seeing.
The tour departs from Bartlett Cove around 7am, and returns around 3:30pm daily. Ticket prices range from about $250 per adult and $125 per child (ages 3-12). The ticket price for the full-day cruise includes lunch and beverages such as coffee, tea, water, and lemonade.
Ferry
Ferry Ride
This ferry ride will take about 6 hours (~80 miles).
After your couple days in Gustavus, we're going to take the same ferry rides in reverse.
The ferry ride from Gustavus to Juneau takes about six hours, and only departs once a day. These ferry rides are run every Monday and Thursday. The ferry ship LeConte will depart Gustavus at 1:30PM and arrive in Juneau just after 7PM the same day. Each person costs about $55 per ferry ride.
Departure
Days 10-11
Juneau, AK
Fly home via Juneau International Airport. This is a much better option than taking the ferry back down to Washington for another 2.5 days.