Pinnacles, Sequoia, Kings Canyon to Santa Monica Mountains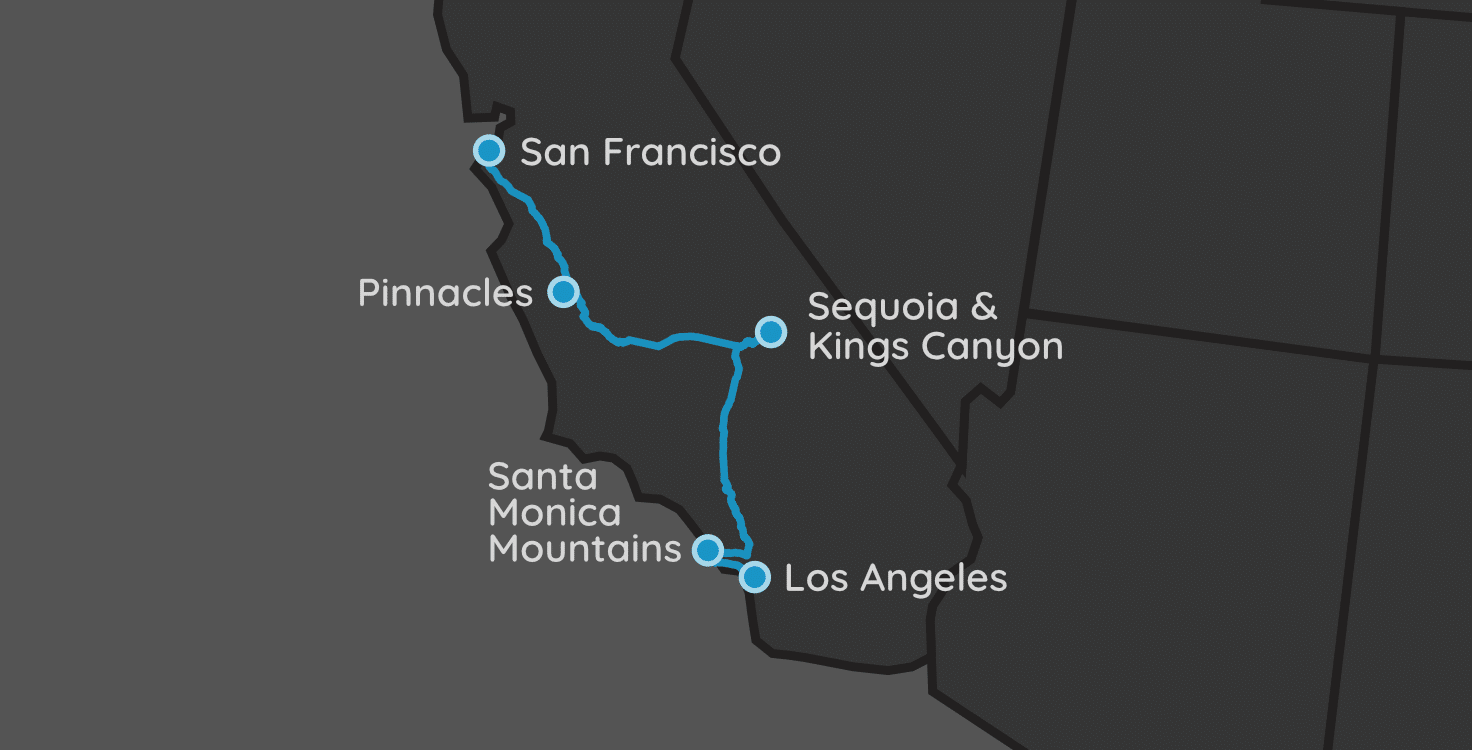 | | | | |
| --- | --- | --- | --- |
| Parks: 4 | Miles: 663 | Days: 8 | Hours: 13 |
This trip has it all. Canyons, caves, the largest trees you'll ever see, and majestic beaches. California has so much to build a trip around.
This road trip starts out in San Francisco, then winds its way through three national parks, before finishing up in the foothills of LA. Malibu is known for its famous citizens, but it also holds a National Recreation Area that is truly a place everyone should visit.
Itinerary Notes
This 663 mile (1,067 km) trek takes just under 13 hours to drive start-to-finish, not including any bathroom, gas, or sightseeing breaks.
We always pick up our extended SUV at the local rental (reservations are a must!) at the arriving airport before leaving it. Our family of five fits comfortably into a GMC Yukon XL or Ford Expedition. We could get away with the smaller Yukon or Chevy Tahoe, but the $200 it saves is simply not worth it for us.
As with almost all of our trips, this one can easily be reversed. Head to LA first, then work your way north until you reach San Francisco. The only problem with that direction would be the final leg from Pinnacles NP to San Fran is a bit loner, and may require you to spend the night in SF before departing.
Arrival
Day 1
San Francisco, CA
Your first order of business is to fly into San Francisco, CA. The airport is a top-10 airport in the US, so you should not have any trouble finding flights from where ever you live.
Unfortunately, our drive takes us south, so we will be missing the Golden Gate Bridge. However, if you want to spend an extra day in SF specifically to see this national treasure, no one will complain.
Drive
Driving
The next location is 111 miles away (~2 hours).
In this trip, we make this two-hour trip immediately after landing and picking up your rental car. There are a lot of things to see on this trip, and it's best to get moving immediately, in my opinion. The next stop is Pinnacles National Park.
I would recommend taking the more scenic route through Santa Cruz. The straight shot down US-101 would only be about 30 minutes and 20 miles faster than going through this city on the Pacific Coast.
Destination
Day 1
Pinnacles National Park
Paicines, CA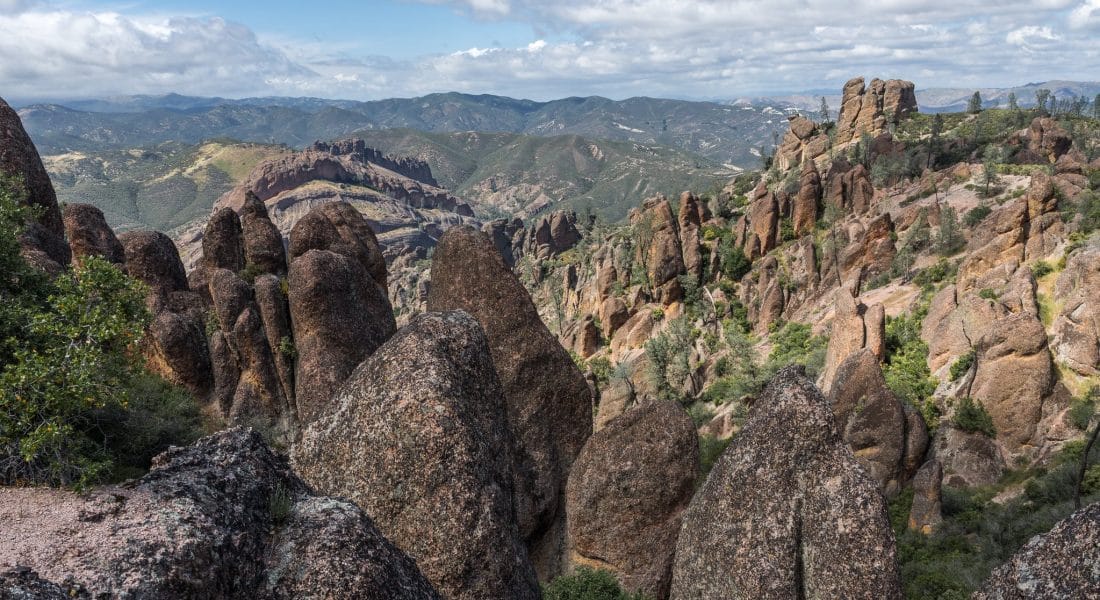 Pinnacles National Park is full of rock castles, canyons, caves and towering walls stemming from volcanic activity 23 million years ago. It was a National Monument until 2013, when President Obama redesignated it a National Park.
Lodging
We chose to stay in Paicines for our visit to Pinnacles. It had the best options of Airbnbs, and the closest hotel was 20 minutes further away in Hollister. When finding lodging, it's important to understand the differences between the east and west sides of the park. The eastern side is open 24 hours a day, while the west is open when the rangers center is. The eastern side also has the more popular trails and sights in it. There is no direct path through this park, so to go from one side to the other, it's an hour apart (50 miles/80 km).
Drive
Driving
The next location is 175 miles away (~3 hours).
Destination
Days 3-6
Sequoia National Park
Three Rivers, CA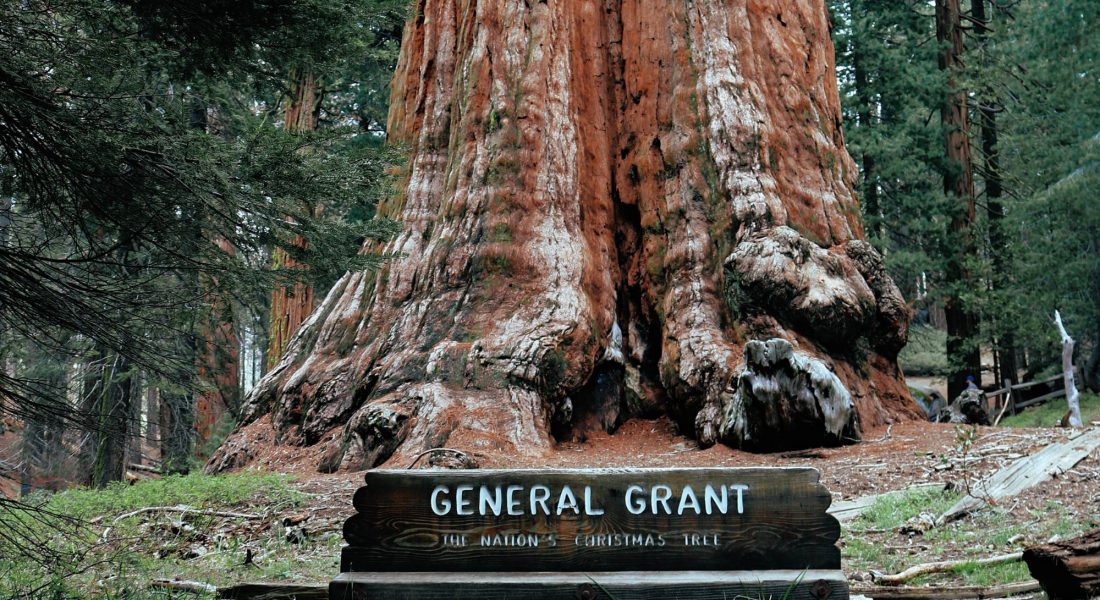 Sequoia National Park is home to some of the tallest and oldest trees on Earth. The park also has the tallest peak in the contiguous Unites States: Mount Whitney (14,494 ft)
Lodging
We decided to stay in the town of Three Rivers, CA, which only about a 7 mile (11 km) or 13-minute drive to the entrance of Sequoia through the Ash Mountain Entrance. There were plenty of Airbnb options in this area, but there are also a handful of hotels and motels in the same vicinity.
The Silver City Resort is within the park, but – again – it fills up fast, and unless you are looking many months into the future, you will have to find other accommodations.
If you still cannot find any space, consider Visalia, CA, which is about 40 minutes south from the park's entrance.
Attractions
Many of the most famous attractions within Sequoia NP are located on the General's Highway.  Leave the top of that highway for the car ride out to the next park in a couple of days, and instead focus on the southern parts of the park.
The Giant Forest Museum and Moro Rock are a couple more must-stops just inside this visitor's center.
As for hiking in Sequoia, the Big Trees Loop (1.2 miles round trip) near the Museum and the Cold Springs Nature Trail are two easy trails that the whole family can enjoy. The Marble Fork Trail (7.4 miles round trip) starts at the Potwisha Campground and winds up a strenuous trail to view the amazing Marble Falls.
Drive
Driving
The next location is 135 miles away (~3 hours).
Sequoia and Kings Canyon National Parks are connected and even share one entrance fee. This allows us to explore both parks via this one stop. Use the General's Highway to get from Sequoia to Kings Canyon. It takes a little over 2 hours (63 miles) to get from one park to the other. We  suggest spending a full day on this road and exploring its numerous stops and attractions.
The full drive up to Yosemite will take about 3 hours if you didn't stop anywhere, so keep this in mind when you are making stops at Kings Canyon.
Must See
Kings Canyon National Park
General's Highway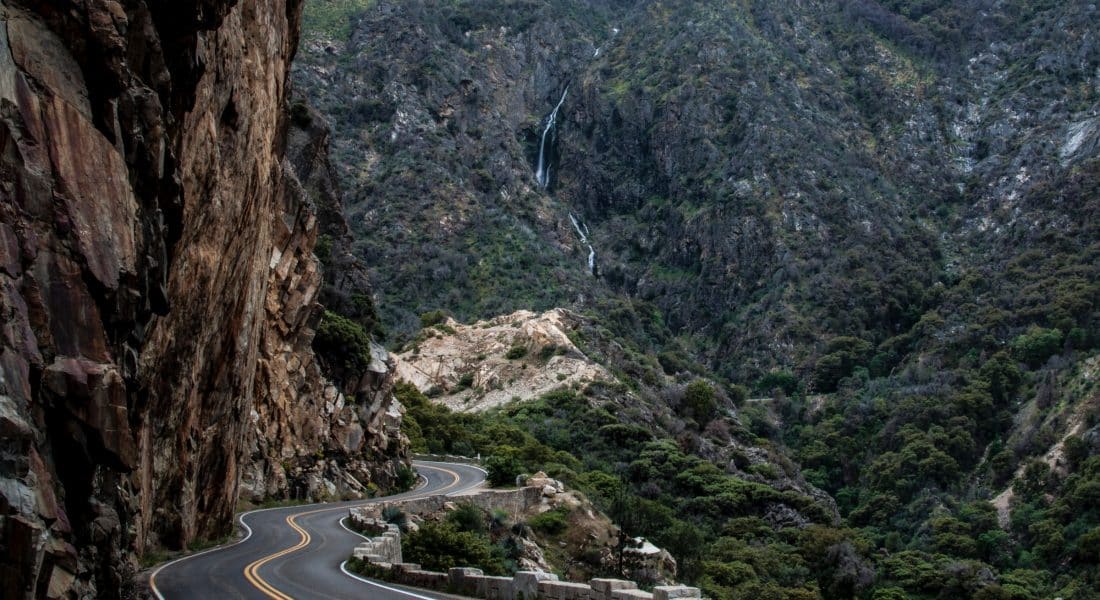 Honestly, driving the General's Highway will likely take your full day through the park. However, if you have extra time, enter the park again at the Cedar Grove Visitor Center and head north on route 180 and snake through the 35-mile long Kings Canyon Scenic Byway.
Drive
Driving
The next location is 212 miles away (~3.75 hours).
The drive from Three Rivers to Malibu will take about 4 hours. Almost dead-center, is the town of Bakersfield, CA, which might be the perfect place to stop and grab a bite to eat.
Destination
Days 6-7
Santa Monica Mountains National Recreation Area
Malibu, CA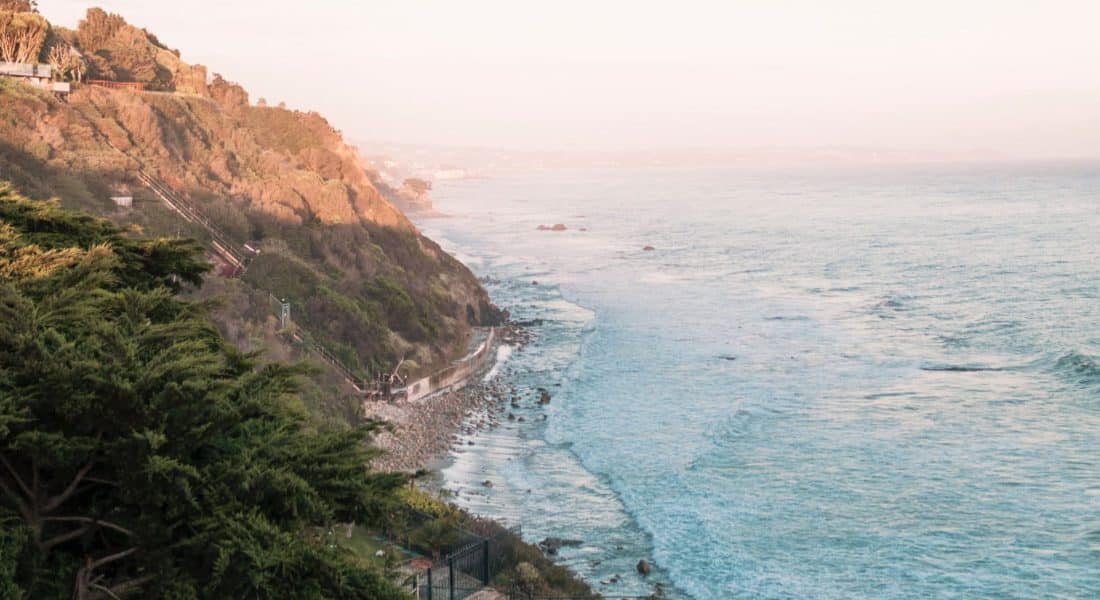 In this wilderness in the shadows of the country's second-largest city, there are over 500 miles of trails and legendary beaches. The Santa Monica Mountains National Recreation Area is located along the Pacific Coast of California, in the city of Malibu.
The best hike in the park is the Backbone Trail, which stretches  67 miles (108 km) through the best protected Mediterranean habitat in the world. There are a dozen official trail heads, and there is over 3,000 feet of elevation changes throughout it. Many sections of this trail are rated "easy".
Then are the beaches. California's beaches are unlike any found on the East coast of the US. These beaches jet from rocky, and sometimes steep hillsides, and feature some of the most amazing views. There are over twenty beaches along the stretch of US-1 in Malibu. El Matador State Beach is known to locals as their best-kept secret, so how can you go wrong with that?
Drive
Driving
The next location is 30 miles away (~1 hours).
This is one of those trips that you need to pay very close attention to timing. Rush hours should be avoided like the plague, and using a mapping service like Google Maps should help you estimate the time it will take to get into LAX.
The drive to the airport is only 20 miles, but it can take up to 1.5-2 hours if you're not careful about when you leave.
Departure
Day 8
Los Angeles, CA
Head home via America's second-busiest airport. LAX is huge, but it's not too hard to navigate, especially if you give yourself plenty of time.