Vancouver Island & Pacific Rim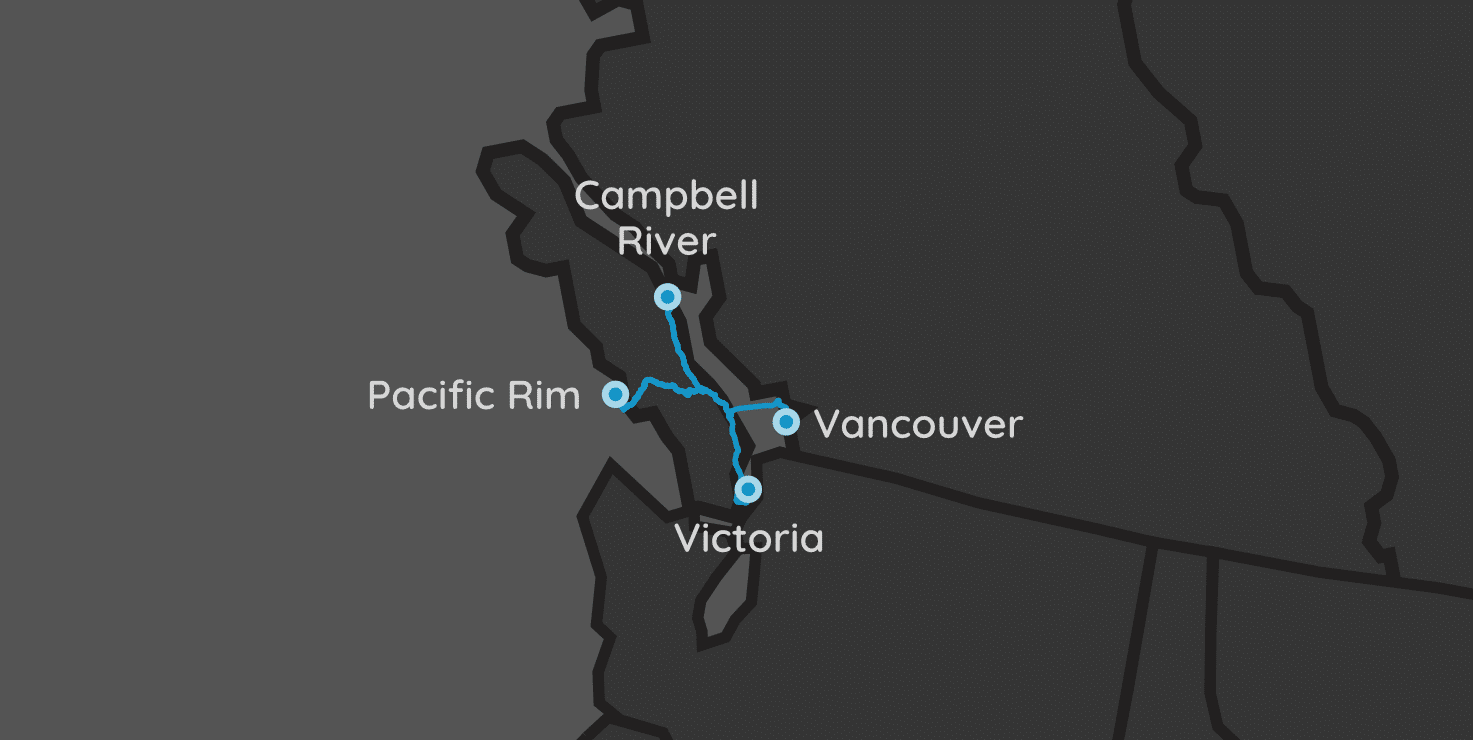 | | | | |
| --- | --- | --- | --- |
| Parks: 4 | Miles: 510 | Days: 9 | Hours: 12 |
This trip is 100% contained in the Canadian province of British Columbia. In fact, most of the trip – outside of the trip to Vancouver on the way home – is located on Vancouver Island.
We do not squeeze in a visit to Vancouver's other national park in this road trip. The reason is that Beaumont – Gulf Islands National Park Reserve is accessible only by ferry, and it would have extended our trip a bit too much for my liking. However, you can easily spend an extra day in Victoria and head north to the Swartz Bay ferry terminal for a day trip over to the islands.
Itinerary Notes
This trip can easily be revered with you beginning your week in Vancouver, and working your way over onto Vancouver Island, then leaving via Victoria.
This trip obviously is completely within Canada. If you are a Canadian citizen, then move along – there is nothing else to see here. However, if you are American (or honestly, from anywhere OTHER than Canada), then you'll need to abide by their rules for COVID.
Canada's will only allow foreigners to enter their country if your whole family is fully vaccinated. Starting August 9th, 2021, Canada reopened its borders with the US for non-essential traffic. You will of course also have to have a valid US passport to enter Canada.
Don't forget to schedule your rental car ahead of time! The Victoria and Vancouver airports have all the major rental car companies available (Thrift, Avis, Hertz, Enterprise, Budget, etc). It would be good to check with your auto insurance company as well to double-check the logistics of you driving a rental car in another country.
Last tip of the day: You may be thinking to yourself… "Why can't I just fly into Seattle and drive across the border?". Well, you can, but then you'd have to leave via Seattle as well. Rental car companies do not allow you to rent a car in one country and drop it off in another.
Arrival
Days 1-2
Victoria, BC
Being an American, I did not realize that Victoria was the capital city of British Columbia and had a decent sized airport as a result. Originally, when planning this trip out, we were using Vancouver's airport instead.
That said, if for some reason a flight into Victoria International Airport doesn't work for you (layovers, time, cost, etc), then Vancouver would be a decent backup arrival airport. This will however force you to use a ferry to get onto AND off the island.
We spend the night in Victoria, not only because we have a long day ahead of us, but also because Victoria is a beautiful, and historic city.
As mentioned above, you could also spend an extra day here, and visit the Beaumont – Gulf Islands National Park Reserve, which you'd need a 2-hour one-way ferry ride from Swartz Bay to reach.
Drive
Driving
The next location is 200 miles away (~4.5 hours).
After your stay in Victoria, BC, head north on Highway 19 towards the town of Parksville, BC.
Once in Parksville, you'll exit onto Highway 4, or the "Pacific Rim Highway", towards Long Beach, BC. This 65 mile (108 km) steep, twisting road takes at least 90 minutes to drive. The scenery along the route is beautiful, so allow ample time for frequent stops. The highway is also extremely busy during the summer, so expect heavy traffic if traveling between June and August.
Destination
Days 3-6
Pacific Rim National Park
Long Beach, BC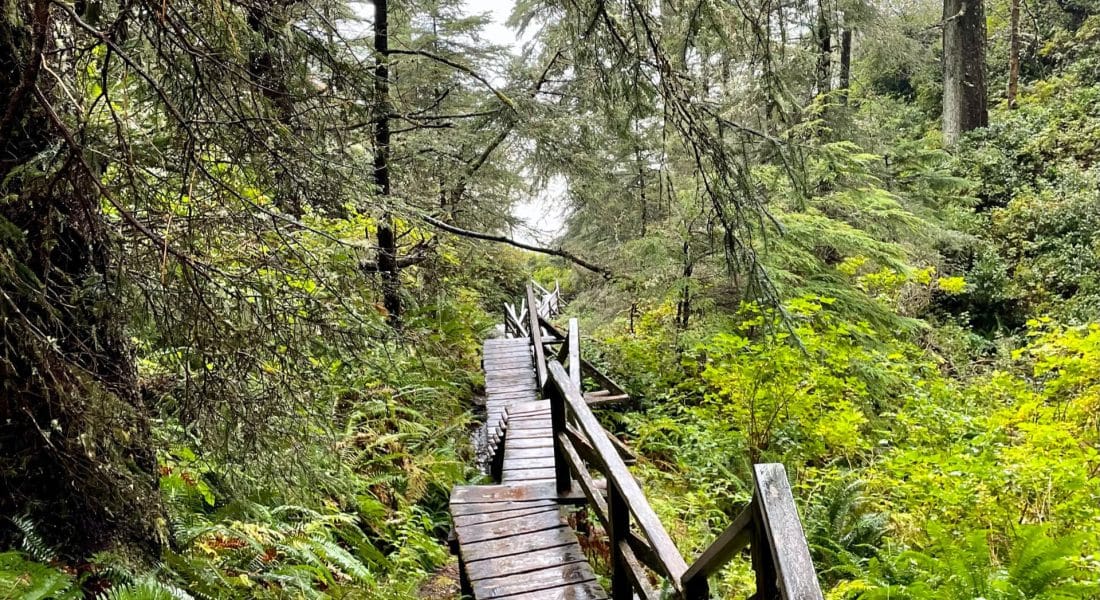 Drive
Driving
The next location is 160 miles away (~3 hours).
From Long Beach, head back out the Pacific Rim Parkway, and turn north towards Campbell River, BC once you reach Highway 19.
Destination
Days 6-8
Campbell River, BC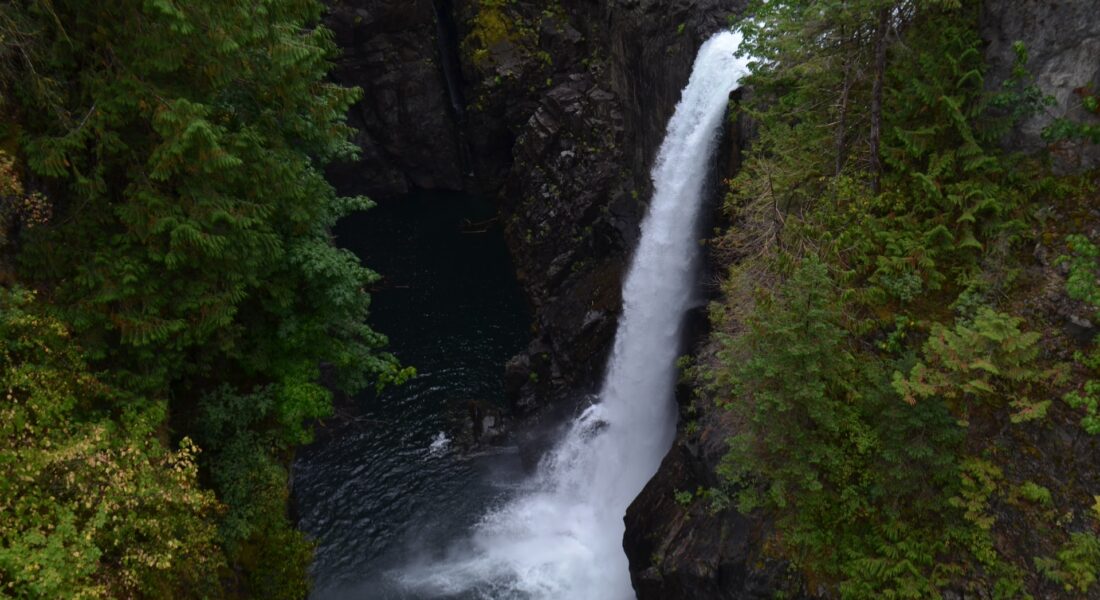 Lodging
There are plenty of hotel and Airbnb options all along Highways 19 and 19A. I would suggest you pick a place that matches what you want to do in the city. 19A runs along the eastern beaches of Campbell River, while the western side is closer to the hiking trails.
Attractions
Elk Falls Provincial Park and Protected Area (pictured)
Canyon View Trail
Ripple Rock Hike Trailhead
Strathcona Provincial Park

Tsuxwin Viewpoint
Alternative Location
As an alternative, take a look at Mount Washington, BC. There are dozens of Airbnbs here nestled in the woods. This is a ski town in the winter, but most ski resorts have awesome things to do in the summer as well. Trails and other activities are plentiful here.
Drive
Driving
The next location is 150 miles away (~4.5 hours).
This section of the trip crosses the Strait of Georgia back to the city of Vancouver via a ferry. Don't let this unknown scare you away from doing it. There will be plenty of other cars there you can follow, and their website has a ton of information.
Basically, you'll want to book your ticket ahead of time if possible from bcferries.com. There are at least 7 times during the day that are available, and you should arrive at the terminal 30 to 120 minutes prior to the scheduled departure.
After you exit the ferry, head to Stanley Park in downtown Vancouver if you have the time. It's a stop you definitely won't regret.
Must See
Stanley Park
Vancouver, BC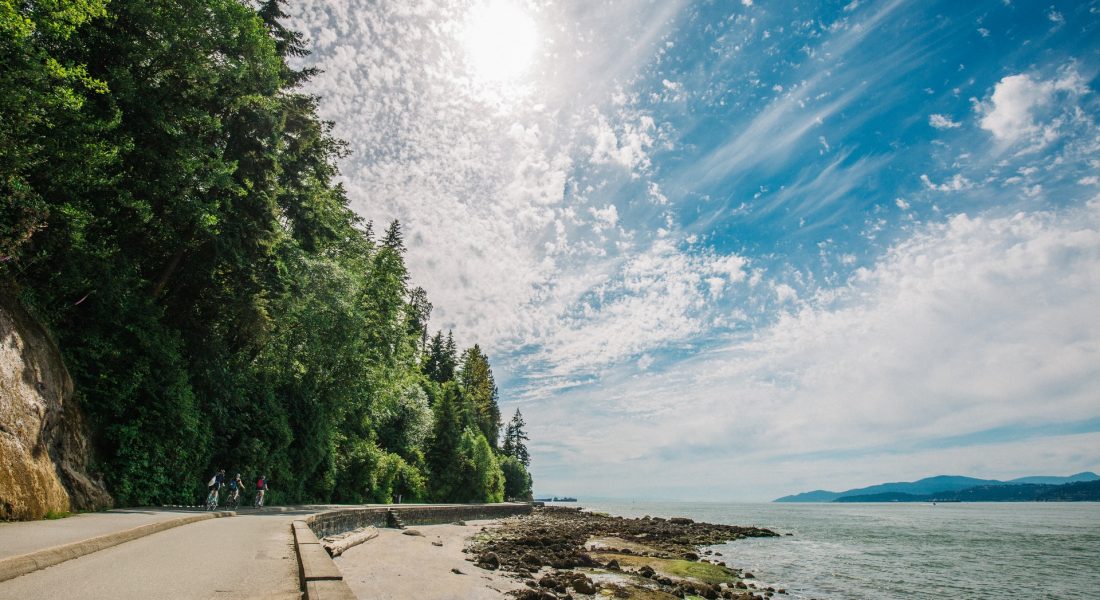 Stanley Park is a world renowned park and tourist attraction in Vancouver, Canada.
Staley Park has the world's longest uninterrupted waterfront path. The 17 mile (28 km) Seaside Greenway is an uninterrupted pathway that includes the Stanley Park Seawall. The path extends from the Vancouver Convention Centre to Spanish Banks Park.
Use this must-see city park in downtown Vancouver and stretch the legs and find some food (poutine!) at about the half-way mark into Seattle.
Departure
Days 8-9
Vancouver, BC
If crossing the Strait of Georgia between Vancouver Island and the mainland on a ferry is not something you want to try, then you can head back south and fly home out of Victoria instead.