Visit Joshua Tree National Park from LA or SD in One Day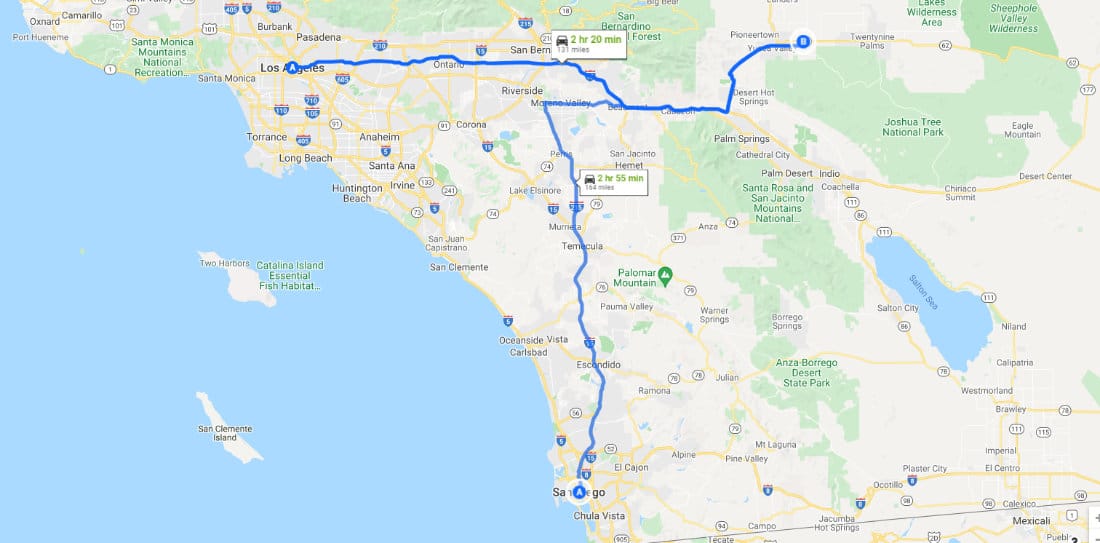 | | | | |
| --- | --- | --- | --- |
| Parks: 1 | Miles: 300 | Days: 1 | Hours: 5 |
If you are in Los Angeles or San Diego, and are considering a day trip out to Joshua Tree National Park, we have the best trip itinerary for you right here!
Total Drive Times
This trip is a bit different from our other One Day Trips, since the starting city is not fixed. Since LA and San Diego are both similar distances away from Joshua Tree, we figured we should combine them into one itinerary. Of course, you should use whatever starting point you happen to be in.
Driving from Los Angeles:
This is the shorter of the two options, but not by much.
From Los Angeles, you will take Interstate 10 east until you reach CA-62 near the town of Palm Springs, CA. This road will take you right to the park's entrance.
Driving one way will take 2.5 hours, or 131 miles (211 km). Driving from San Diego, to Joshua Tree, and back will double that to 5 hours, 262 miles (422 km).
Driving from San Diego:
From San Diego, the trip will take you north along Interstate 15, then east once you reach CA-60. Eventually you will need to head north on CA-62 until you reach the park's entrance.
Driving one way will take 3 hours, or 164 miles (264 km). Driving from San Diego, to Joshua Tree, and back will double that to 6 hours, 328 miles (528 km).
Peak Season Worries
Joshua Tree National Park is the 11th most visited park in the United States.
This park is most crowded between the months of November and May. This is because the summer months can bring high temperatures well into the 90's and 100's. The weather is gorgeous in the Spring and Fall. To view spring flowers, visit between February and May. Expect a coating of snow on the ground in the winter.
If you are visiting during one of the busy months, then you may experience traffic and delays. However, this park is close enough to LA and San Diego that you should be able to get here early and beat most of the slower crowds.
Should This be a Longer Trip Instead?
I don't think so.
This park is incredible, but it should be very easy to see everything of importance in just one day. This is further cemented by the fact that there are no services within the park. No lodging, no food, water, or gas options either.
A One-Day Itinerary: LA/SD to Joshua Tree, & Back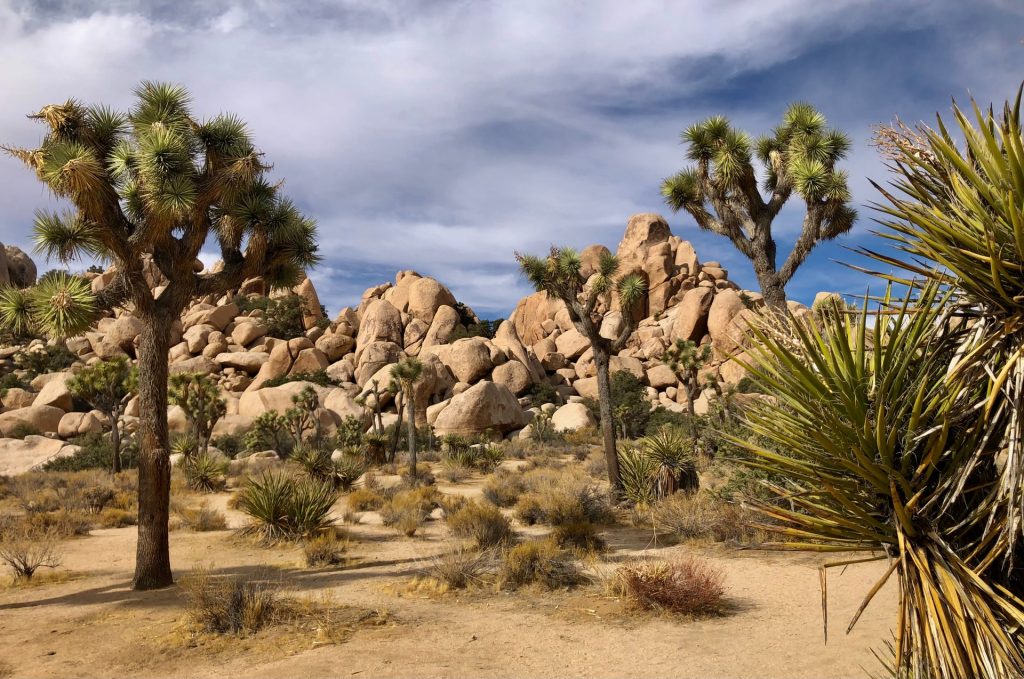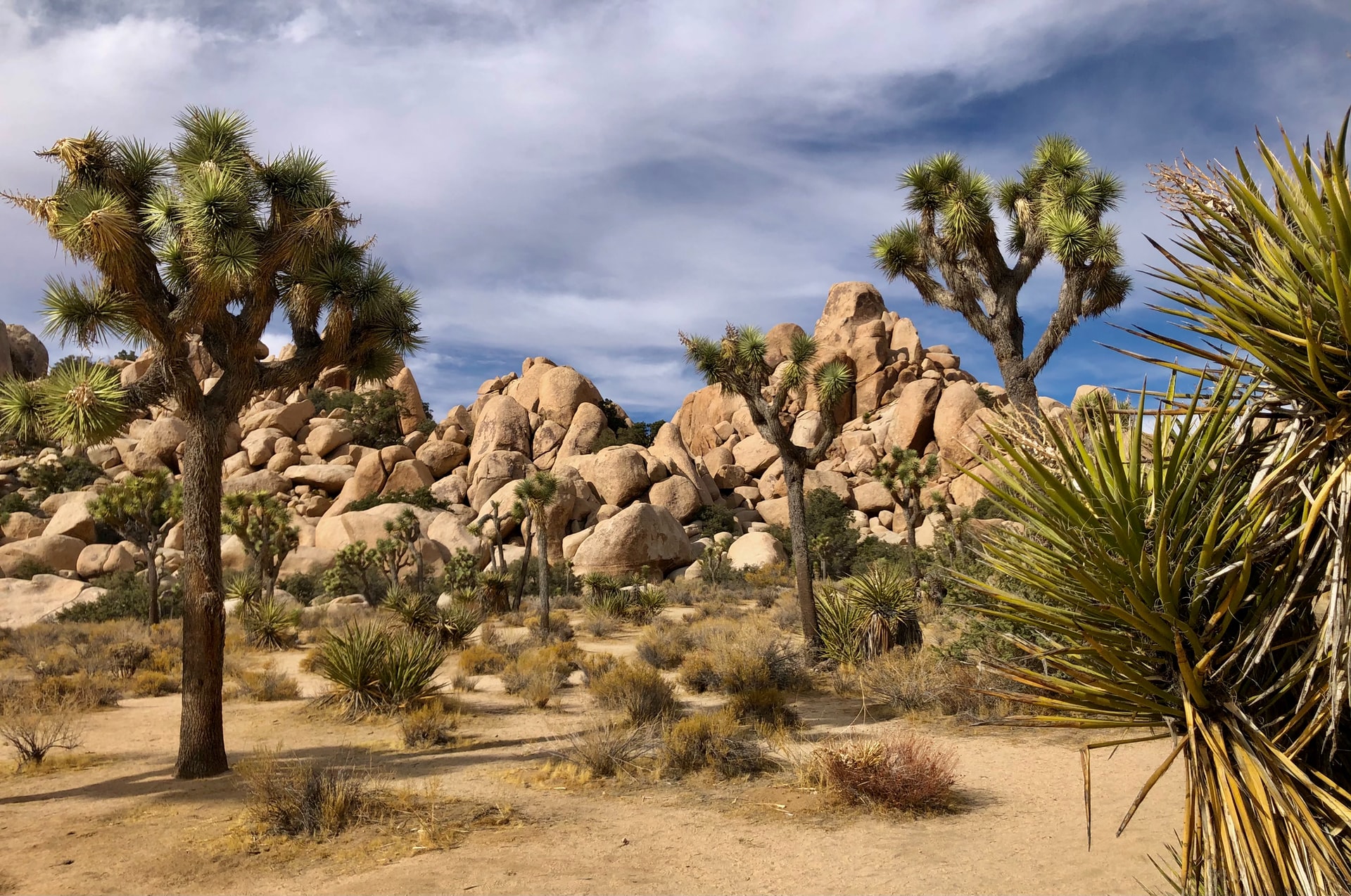 5:30 AM – Leave LA or San Diego
We are assuming the worst for this trip, and that you are visiting during peak tourist season. The goal with leaving so early is to beat the crowds into the park. However, if you are coming here off-season, then it is not nearly as important to arrive so early.
The drive from LA will take about 2.5 hours, and the drive from San Diego will be about 3.
8:30 AM – Visit Covington Flats
We are going to drive a scenic gravel road before entering the park's main entrance. Just before you reach the town of Joshua Tree, find La Contenta Road, and follow it south until you reach Covington Flat Road. This 11-mile drive leads to a sweeping overlook and one of the largest groves of Joshua trees.
10:00 AM – Enter Park Boulevard
After leaving Covington Flats, head back up to Highway 62 and turn right on Park Boulevard. Reenter the park at the West Entrance and stop at the Joshua Tree Visitor Center.
After leaving the Visitor's Center, we're going to drive the scenic loop on Park Boulevard.
Hidden Valley features rock outcroppings that are perfect for rock climbers of any skill. With more than 400 climbing formations, it is considered a world-class destination. Even if you don't climb, walking the trails here will simply amaze you.
The best trail here is the Barker Dam Trail, which is a 1.3 mile round trip easy hike. The Wall Street Mill Trail is another easy trail that is just over 2 miles round trip. Both trails offer views of wildlife and abandoned towns.
12:00 AM – Continue to Twentynine Palms
This scenic road through the park goes for 24 miles until splitting. Pinto Basin Road heads south towards Mecca, and park Boulevard continues north another 9 miles until exiting the park at Twentynine Palms.
Take the northern route and emerge at Twentynine Palms. We'll head back down after lunch.
1:00 PM – Lunch
There are numerous food options in Twentynine Palms. From BBQ to Sandwiches to Mexican, you will be sure to find something that sounds good to your taste buds. If trying local beer is your thing (like it is for me), then Joshua Tree Brewery is a great place to try some some craft brews.
2:00 PM – Head back into the Park
We are going to go back into Joshua Tree National Park via the Oasis Visitor Center, back the same way we just came out before lunch.
This will be our final drive of the day before heading back to wherever you came from.
The drive from Oasis Visitor Center to the southern Entrance Sign is 45 miles (72 km). Take your time along this drive, and stop at the various overlooks and trailheads.
3:30 PM – Stop at Cottonwood Visitor Center
Enjoy the easy Mastodon Peak Loop (3 miles round trip) or the harder Lost Palms Oasis Trail for dramatic desert views and Cottonwood Spring.
4:30 PM – Exit & Head Back
You'll exit the park via the southern entrance, and head towards the small town of Mecca. From here, it is about 2.5 hours back to Los Angeles and 3 hours back to San Diego.
7:30 PM – Arrive in LA or San Diego
You can finally get out of the car! It's been a long day, but you just visited Joshua National Park in a total of about 14 hours. You even got to spend around 8 hours in the park!