Comparing Vail vs. Aspen Ski Resorts
This is one article in a series of posts that compares one ski resort with another. Most times, the two ski resorts we compare are close to one another and are within the same difficulty range as one another. There is no sense in comparing a major resort in Colorado with one on the East Coast.
Today, we are comparing Vail and Aspen. The reasons that these resorts are often compared to one another are:
Both are located in the Rocky Mountains of Colorado.
They are both high-profile destination resorts.
They are the headliners in competing pass networks.
Both are iconic ski towns.
Vail Ski Resort
Vail Ski Resort is known for its size and reputation as one of the best in North America. It is owned by Vail Resorts, the company responsible for the EPIC Pass, and is often considered the flagship mountain of the company. With an extensive range of terrain and a first-class ski village, Vail is frequently touted as the ultimate Colorado skiing experience.
In addition to its exceptional skiing, Vail also features European-style villages with an abundance of restaurants, shops, and après-ski options. However, keep in mind that Vail is a popular destination, and as such, it can be crowded and expensive.
Aspen
There are actually four different ski resorts you can ski at in Aspen with a single lift ticket. They are Aspen Snowmass, Aspen Highlands, Aspen Mountain and Buttermilk Mountain. The three "Aspen" branded resorts are the largest and most difficult of the four, with Buttermilk catering to beginner and family-oriented skiing experiences.
Aspen is a popular (and one of the most expensive) destination for affluent skiers, and it has expanded into four independent ski resorts since Aspen Mountain was originally established in 1946. A lift ticket grants you access to all four resorts, totaling over 5,500 acres of skiable terrain. However, the resorts are spread out over 9 miles, so transportation is necessary. Aspen is known for its luxurious amenities, including fine dining, nightlife, and shopping, which attracts many high-profile individuals. Despite the high cost, the exceptional après-ski atmosphere draws large crowds of skiers annually.
Mountain Stats Comparison
| | | |
| --- | --- | --- |
| Ski Resort | Aspen Ski Resorts | Vail |
| Location | Snowmass Village, CO, 81615 | Vail, CO, 81657 |
| Pass | IKON,COLL | EPIC |
| Summit Elevation (ft) | 12,510 | 11,570 |
| Base Elevation (ft) | 8,104 | 8,120 |
| Vertical Drop (ft) | 4,406 | 3,450 |
| Lifts | 40 | 32 |
| Trails | 335 | 195 |
| Skiable Acres | 5,303 | 5,317 |
| Green % | 50% | 18% |
| Blue % | 23% | 29% |
| Black % | 32% | 53% |
| Difficulty Score | 73.8% | 79.3% |
| Annual Snowfall (in) | 300 | 354 |
Location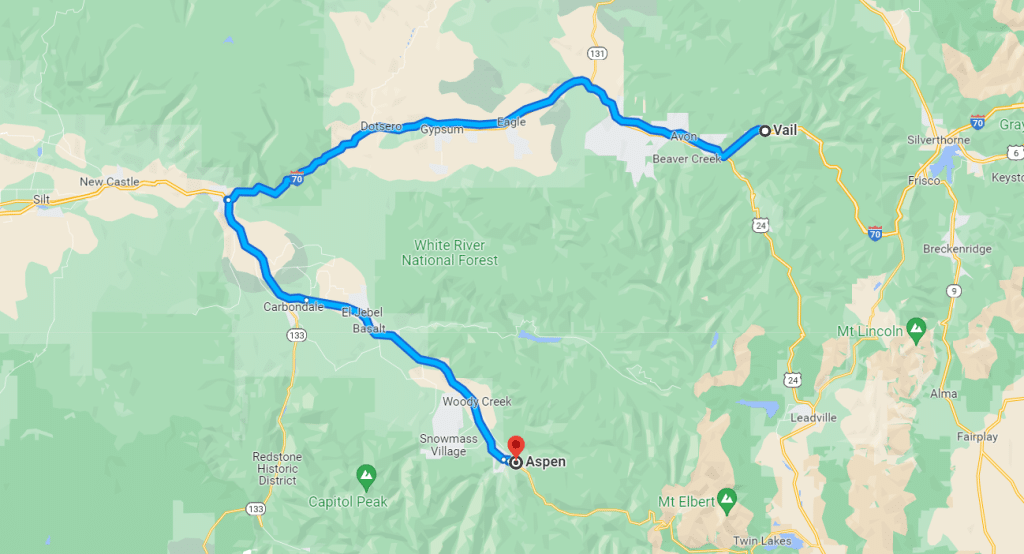 Aspen is 100 miles, or around 2 hours away from Vail.
To visit Vail, you can either come via Denver, or fly directly into town via Eagle County Regional Airport (EGE). You at least have options if the EGE flight starts to get pricey.
However, to visit Aspen, you just about have to use the Aspen/Pitkin County Airport (ASE). Denver International is over 4 hours away. The fact that ASE is a smaller airport, and pretty much your only option, is only the beginning of what makes Aspen one of the most expensive places to ski in the country.
Aspen is located in the Elk Mountains Range. While Vail is located in the Sawatch Mountain Range. Both ski resorts are on the western side of the Rocky Mountains.
Terrain Comparison
It's a little unfair to compare Vail and Aspen by just the numbers. Vail is only one resort (albeit a large one), but Aspen has four resorts that are all accessible via one pass. This means that, technically, we need to look at the stats for all 4 resorts as if it was just one destination.
When looking at elevation, we took the max elevations of Aspen, which all happened to come from Aspen Snowmass. Snowmass has a similar base elevation as Vail, but its summit is about 1,000 feet higher. This in turn gives Snowmass a 1,000 ft steeper vertical drop as well.
Surprisingly, when you look at the total acreage between Vail vs. a combined Aspen number, they are virtually the same. Vail comes out on top, just barely, by having only maybe a dozen acres more than Aspen's 4 combined.
Where Aspen combined really wins is the sheer number of trails and lifts. The combined Aspen resorts have more lifts than Vail, and has nearly 70% more groomed runs!
The difficulty level between the two luxury ski resorts is virtually identical. Buttermilk at Aspen drags the overall average down a bit (since it is so beginner-friendly). They both have a small amount of beginner runs, and over 50% of their trails are expert level or above (when removing Buttermilk from the equation).
Amenities Comparison
Both resorts are surrounded by large après-ski towns that will have just about anything you want during your trip.
Aspen has become the ultimate ski destination for affluent individuals, all centered around its four distinct ski areas. The four slopes areas are connected by a shuttle system, and are situated around one of the most exceptional ski towns in the world. With infinite dining and nightlife choices, Aspen is genuinely the king of après-ski! Additionally, Aspen is one of the few ski resorts in Colorado where visitors are not likely to experience altitude sickness. However, despite the allure and fame that attracts many celebrities to this location, Aspen comes at a high cost, particularly if one desires to stay near the slopes.
The three main villages at Vail are Golden Peak, Vail Village and Lionshead. Altogether, they stretch across 7 miles right along I70, all of which are served by a free bus system. Vail Village is at the heart of the resort, and is where most of the shops, restaurants, and bars are located. The majority of lodging here are mostly high-end options with ski in ski out or walk access to the lifts.