Exploring the Peak to Peak Scenic Byway in the Rockies
The Peak to Peak Scenic Byway is a 55-mile (88 km) road located in the central part of Colorado, running through the stunning Rocky Mountains. It was established well over 100 years ago, and is Colorado's first scenic byway. In fact, it was originally part of a link between Longs Peak and Pikes Peak, thus its name.
This extremely picturesque route connects the towns of Estes Park (the entrance to the Rocky Mountain National Park) in the north and Black Hawk and Central City in the south.
Along the way, travelers are treated to breathtaking views of towering mountain peaks and dense forests as the byway also passes through the Arapaho and Roosevelt National Forests and Golden Gate Canyon State Park. The drive also encompasses several historic sites, such as the mining towns of Central City and Black Hawk, offering a glimpse into Colorado's rich mining history and Victorian-era architecture. The byway is accessible year-round, but winter conditions may require extra caution. Wildlife sightings are common, with opportunities to spot elk, mule deer, black bears, and bighorn sheep.
The Peak to Peak Scenic Byway is a popular destination for tourists and photographers seeking captivating mountain vistas and natural beauty in Colorado's Rocky Mountains. This route becomes especially popular when the Trail Ridge Road closes inside the National Park during the winter.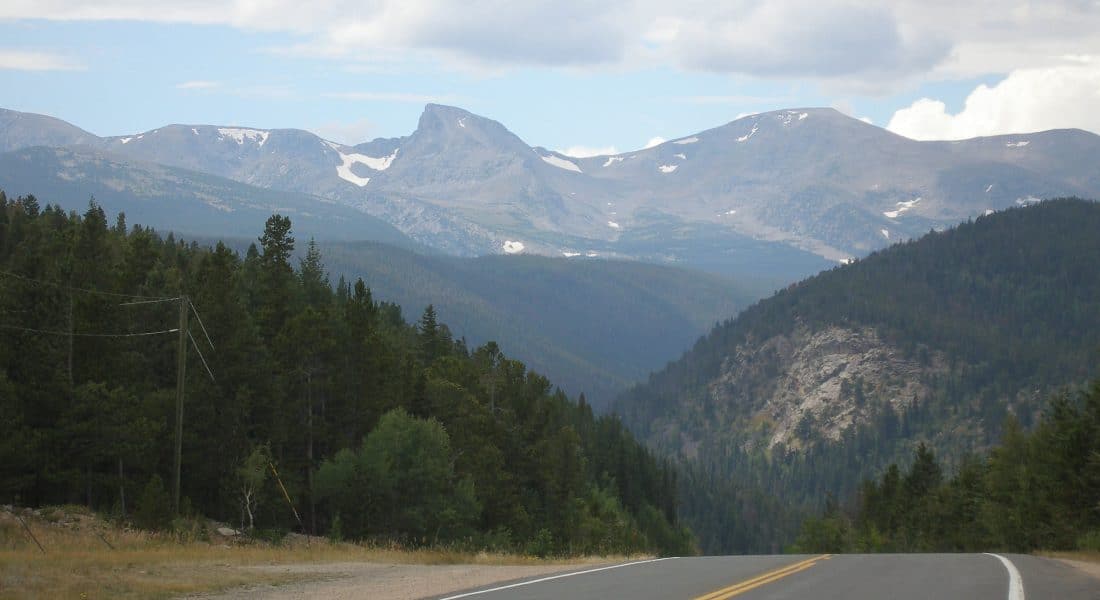 The Peak to Peak Scenic Byway Route
Below is the Peak to Peak Scenic Byway map. It starts in Estes Park and ends in Black Hawk, anywhere from 55 to 62 miles away, depending on whether you continue on to Central City or not. It takes about 2 hours to drive the complete scenic byway.
Estes Park is where most people start the trip along the Peak to Peak Highway. It is one of the busiest towns in Colorado once the summer vacation season starts, as it is the entrance hub for the Rocky Mountain National Park. From here, begin by heading southeast along Highway 7 (aka South St. Vrain)towards the towns of Allenspark. After about 20 miles on Highway 7, you'll turn left on Highway 72 East, heading towards the towns of Ward and Nederland. Once in Nederland, your final turn will be to catch Highway 119 for the remaining 20 miles until you reach the historic mining towns of Black Hawk and Central City.
When I drove this scenic byway in early 2019, I wasn't able to make it all the way up to Estes Park to start. I landed at Denver International Airport, and promptly headed northeast towards Boulder.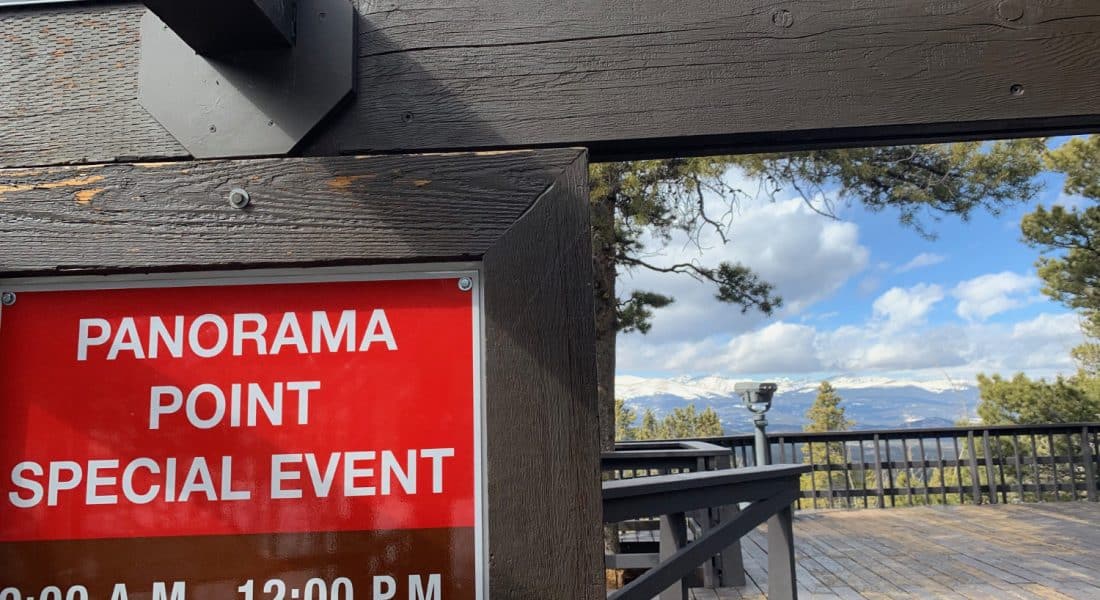 I entered the byway near Nederland, and headed south until reaching my first stop: Golden Gate Canyon State Park, or more specifically, Panorma Point. It was a wonderfully high view, with snow-covered peaks off into the distance.
After exiting the state park, I got back on 119 and headed south towards the old mining town of Black Hawk. Before reaching town, there is a great trailhead and viewpoint called the Maryland Mountain Hidden Treasure Trail. I made a quick stop and hiked a few hundred feet across the foot bridge and into the forest. The full trail is quite challenging, accounting for almost 6 miles and over 1000 ft of elevation change round trip. The newly renovated view point right off Highway 119 was fantastic, though.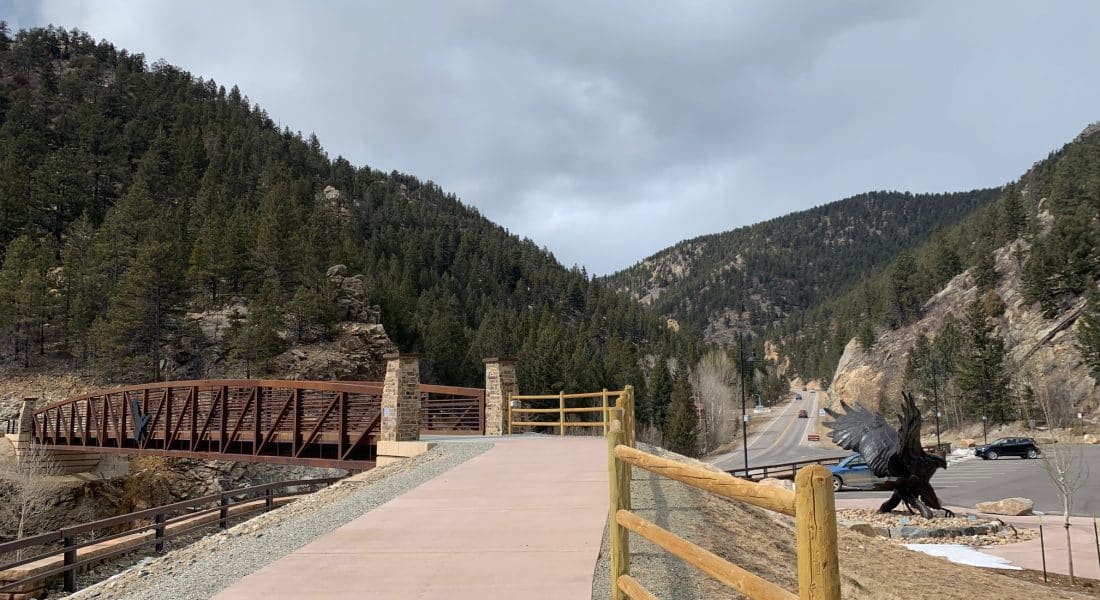 Just a few miles past the trailhead, you enter Black Hawk. It is a quaint town that you aren't in for very long before turning right towards Central City on Gregory Street. Some maps show that the byway ends at Central City, while others insist it ends at Black Hawk, and is only tangentially connected to Central City due to the two towns' proximity. Regardless, Central City reminds me of exactly what an old west mining town should look like.
| | |
| --- | --- |
| Estes Park, CO | The main hub city for Rock Mountain National Park. This town has just about everything you'll need and is a great town by itself to visit. |
| Allenspark, CO | A little off the scenic byway also sits Wild Basin, a southern entrance to RMNP. Great trails and closeup views of Longs Peak, but a timed entry permit is required during the summer. |
| Ward, CO | A great spot for short and easy hikes to stretch your legs is at the Brainard Lake Recreation Area. The Long Lake and Mitchel Lake trailheads are two of the most popular. |
| Nederland, CO | This bustling alpine town has numerous cafés and shops. |
| Golden Gate Canyon State Park | A fee is required if you stop, but you can drive through the park for free. My favorite spot here is Panorma Point. |
| Black Hawk, CO | Is now full of Casinos, but was once a core mining town for Colorado's gold rush back in the 1850s. |
| Central City, CO | Also an old mining town founded during Pike's Peak Gold Rush back in 1859. Has the quintessential old west mining town feel. |
Stops Along The Way