Visit the Historic Hanapepe Swinging Bridge in Kauai
The Hanapepe Swinging Bridge is located in the village of Hanapepe on the island of Kauai, Hawaii. It is a historic pedestrian bridge that was originally built in 1911, and it served (still does) as a way for residents to cross the Hanapepe River.
The bridge is known for its unique construction, featuring wooden planks and ropes that give it a distinctive swinging motion when walking across it. Over the years, the bridge has undergone repairs and renovations to ensure its structural integrity, while at the same time of preserving its historical significance.
Getting to the Hanapepe Swinging Bridge
Address: 3857 Iona Rd, Hanapepe, HI 96716
GPS: 21.911412, -159.586957
Getting to the Hanapepe Swinging Bridge is easy… assuming you're already on the island of Kauai. The bridge connects the town of Eleele to the south and Hanapepe to the north. The place to start would be on the Eleele side, just off the main state route 50. There is ample parking for the short walk, probably 10 cars or so in the parking lot right next to the walkway to the bridge, and a few more spots on the street. Use of the bridge is free, as is the associated parking lot.
Once you cross the bridge, it's advised that you turn around and come back. The Hanapepe side has a few shops, but it mostly exits in a residential community.
Tips When Visiting the Hanapepe Swinging Bridge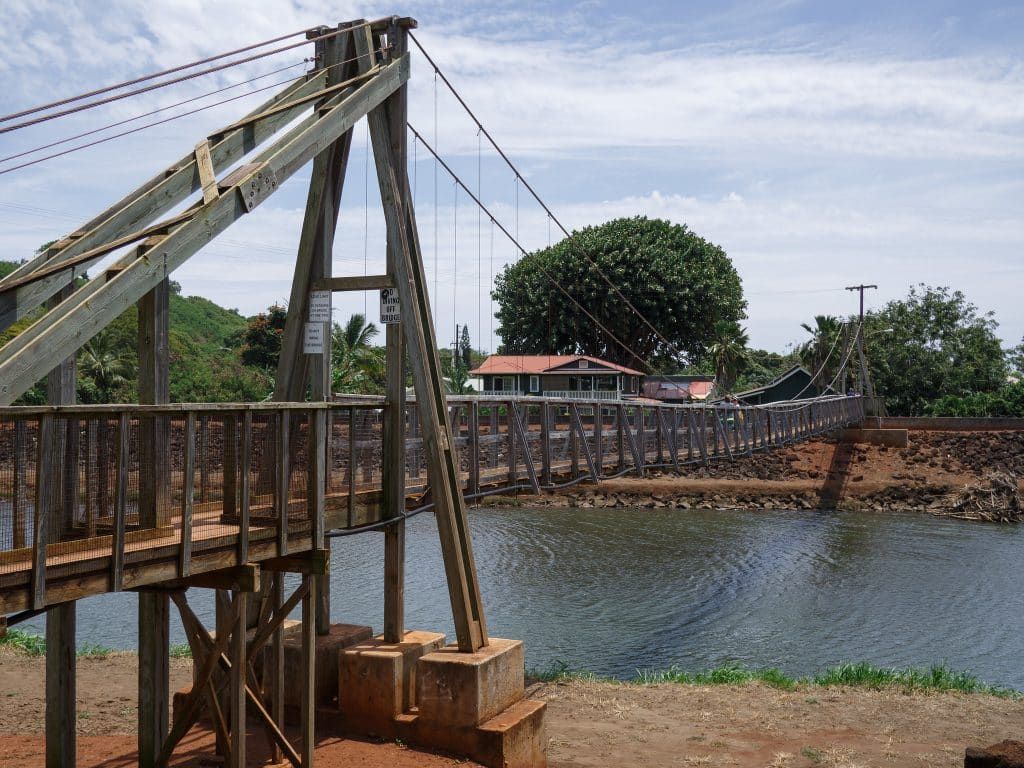 If you plan to visit the bridge, there are a few tips you should keep in mind:
Fridays are the busiest time on the bridge, but not overly so. The bridge is home to the Friday Night Art Walk, every Friday from 6-9pm. In fact, I'd highly advise you to visit on a Friday.
It is a long and narrow swinging bridge, which is 3 foot wide and has wooden railings with protective mesh for safe crossing. However, it does swing… so those that get motion sickness may not want to walk across it.
The bridge has a limit of 15 people at a time.
If there are people coming from the other end, you'll have to wait for them to pass, because of the limited width of the bridge.
On the Hanapepe side, there is a small museum with historical facts about the bridge and town.
While the bridge is safe, it has not been expertly maintained. There are a few worn boards along the walk, but nothing you can't simply step over.