Hiking to Reflection Canyon at Glen Canyon NRA
Located in a very remote section of Glen Canyon Recreation Area, the Reflection Canyon hike is extremely challenging, but also rewarding once finished. The drive to the remote trailhead can actually take almost as long as the hike itself, and that lasts anywhere from 6-8 hours. It is challenging to say the least.
Reflection Canyon is an extension of Lake Powell. This particular spot was publicized in 2006 when National Geographic published photos of this little-known canyon. Because of that publicity, this hike has gotten more popular, but due to the difficulty getting there, still remains secluded.
Getting to the Reflection Canyon Trailhead
Address to the Reflection Canyon Trailhead: BLM200 Road, Utah
GPS coordinates of the trailhead: 37.252146, -110.973501
The trailhead is located about 50 miles down Hole-in-the-Rock Trail Road, or BLM 200 from its junction with Highway UT-12 in Escalante. If coming from this direction, I highly suggest stopping at the Escalante Visitor Center, which provides trail maps and information about the land you'll be traveling over.
The Hole in the Rock Road is extremely winding and small, and travels through the heart of Grand Escalante Staircase National Monument. Along the way, you'll pass the trailheads for various slot canyons, including the beautiful Zebra Slot Canyon. The 50 miles on this road should take you around 2.5 hours to drive due to the rough road conditions. There are a few other roads that you can use to meet Hole-in-the-Rock Trail Road, but the way I described is the easiest if coming from the north. If coming from the south near Page, AZ, it'll take you even longer… usually around 6 hours.
Do not take these back roads lightly. You really should have a high clearance 4WD truck or SUV on this road. Smaller cars or sedans might be able to make it, but are definitely not recommended.
The last 5 miles of Hole-in-the-Rock Road is when you enter Glen Canyon territory.
There is a small parking area at the trailhead. While there is no fee to park here, since you're inside Glen Canyon for the entirety of the hike, you should have a fee permit from them.
Reflection Canyon Trail & Overlook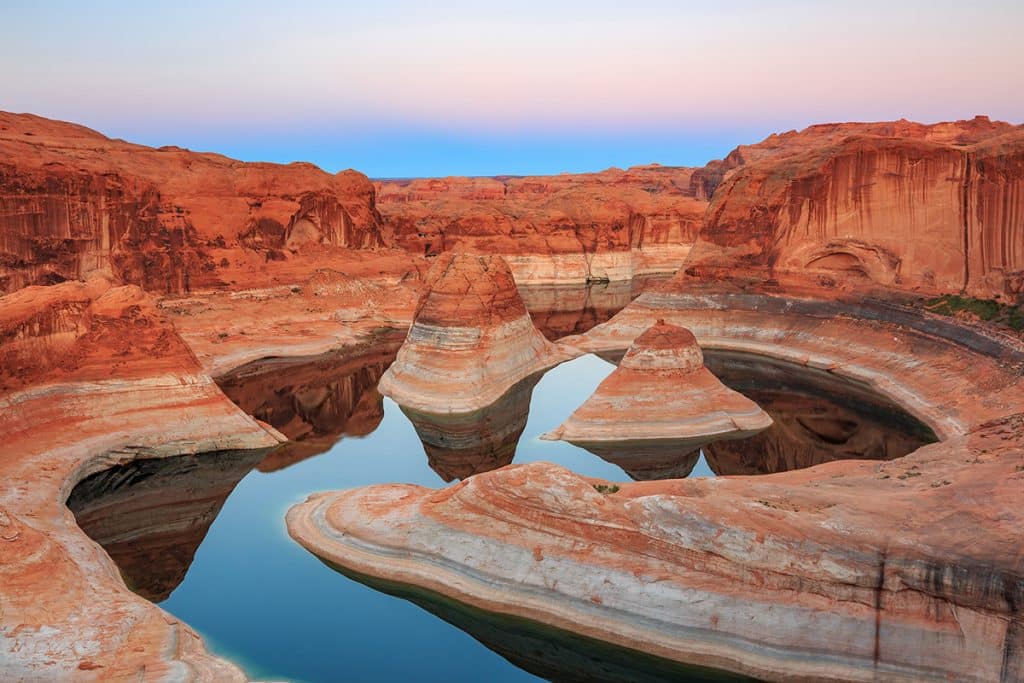 | | |
| --- | --- |
| Hiking Distance | 15-20 miles (24.5-32 km) |
| Hiking Duration | 6-8 hours |
| Route Type | Out and Back |
| Difficulty Level | Difficult |
| Trailhead Elevation | 4,478 feet (1,365 m) |
| Total Elevation Climb | 1,564 feet (477 m) |
| Trail Type | Dirt |
| Wheelchair Accessible | No |
| Pets Allowed | Yes, on a leash. |
| Fees | Free to park, but Glen Canyon NRA Permit Needed |
This trail is secluded, often empty, but not an easy one to hike. I'd probably consider it moderate for an experienced hiker, but a very challenging hike for an inexperienced one. While the net elevation gain is minimal, there is a lot of up and down with the trail traversing around cliffs, through canyons and hills.
Most of the trail is a rock and dirt path, with not much else to look at apart from Navajo Mountain until the very end. The reward comes at the end when finally reach Reflection Canyon. This is why many people camp at the end, as it allows you to spend more time at the Canyon's edge. Be careful with what you bring if you intend to camp. Backpacking Reflection Canyon is grueling, so only carry what you need.
The trail is poorly marked in numerous spots, and is easy to lose if you're not paying attention. Due to a few different paths and loops, this trail can last for anywhere between 15 and 20 miles, round trip. I highly recommend downloading a trail app, like AllTrails or Gaia, to help you stay on track. If you happen to get off track, you'll likely extend your hike by at least a mile or two, and probably end up in a maze of slot canyons.
The Reflection Canyon hike is an all day hike. It takes around 2 to 4 hours to reach the canyon and another 3 to 4 hours to get back. All told, this hike takes anywhere from 6 to 8 hours to make the round trip. That's why it's best to start the hike as early in the day as you can. And don't forget to bring plenty of water, at least 5 to 6 liters per person. The trail can get hot and windy with no shade, so be prepared.
The trail is mostly flat except for the last 2-3 miles where you descend towards the canyon. The slick rock on this part of the trail can get a bit treacherous if they're wet.
Once you reach Reflection Canyon, you've made it to the end of the trail. The photo opportunities are astonishing for this surreal natural wonder. Unfortunately, the water level in the canyon has been low recently, but it's still a breathtaking sight to see.
Weather on the Trail
The best times to visit Reflection Canyon are March through November. By early spring, the snow and ice have mostly disappeared, allowing for better traction on the rocky terrain. However, summer can bring deadly high temperatures.
Fall and Spring have the mildest temperatures and the crowds are almost always sparse, so that's when I prefer to visit. The canyon's overlook spot can get windy with the way the air travels through it. Be careful when standing near a ledge.. the wind gusts can get strong at times!