Minnesota's Surreal Black Sand Beach on Lake Superior
This uniquely colored beach was blackened by the dumping of taconite tailings into Lake Superior by Reserve Mining between 1955 and 1980. Shortly after, Northshore Mining took over the operation and stopped the practice, allowing time and nature to restore the beach's health, but still retaining its black color. The beach has a gently sloping shoreline juxtaposed against rugged rock outcroppings.
In 2014, the city of Silver Bay and the Minnesota Department of Natural Resources, entered into a lease agreement with Northshore Mining for 31.6 acres of property along Lake Superior's North Shore to create public beaches. The beach, known as Black Beach, opened in 2015, and has become a hotspot for tourists passing through the area. It has been a draw for many artists, photographers, and geologists throughout the years, even before it reopened as a public beach.
Getting to Black Sands Beach
Parking Area Physical Address: Water Plant Rd, Silver Bay, MN 55614
GPS Coordinates: 47.293702, -91.247972
Black Sands Beach is located in northeast Minnesota in the town of Silver Bay. It is right on the North Shore of Lake Superior.
The entrance to Black Beach is along Highway 61 – also known as Voyageur Highway. Within the city limits of Silver Bay, Mensing Drive turns off of 61 towards the shoreline. There is a sign at the end of the road for Silver Bay Business Park. Head down Mensing for a few hundred feet, then turn right on West Lakeview Drive. The beach will be in front of you once you come to the "T" at East Lakeview Drive.
Silver Lake is a rural town. Duluth, MN is the closest large town, and its over an hour away. Voyageurs National Park is also in northeast Minnesota, but is about 3 hours north of Black Beach.
Why is the Sand Black?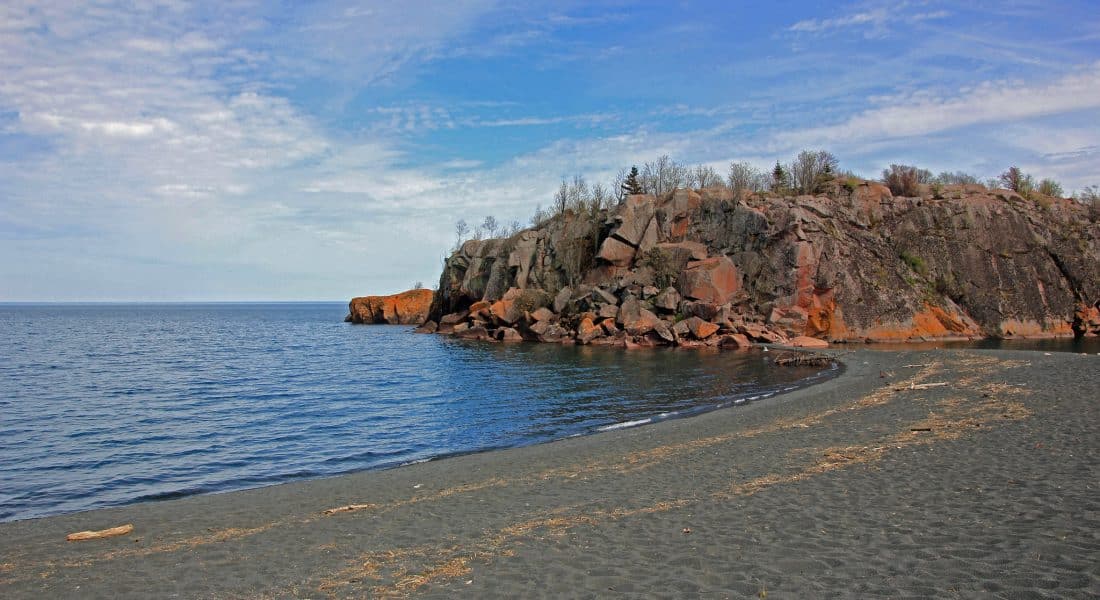 Black sand beaches are typically formed when volcanic activity occurs in the vicinity. When volcanoes erupt, they release molten lava, which cools and solidifies upon contact with the surrounding environment. The lava is rich in minerals and contains a high concentration of iron, magnesium, and other heavy elements. Over time, these solidified lava rocks are broken down by natural processes such as erosion, weathering, and wave action, resulting in the formation of black sand particles.
However, Black Sands Beach in Minnesota – the only one of its kind in the state – was caused by taconite tailings. The only other black sand beach in the continental US is near San Francisco in the Marin Headlands portion of the Golden Gate National Recreational Area.
Taconite tailings are waste materials that result from the extraction and processing of taconite, a low-grade iron ore. Taconite is a sedimentary rock found in abundance in the Iron Range region of Minnesota, as well as in other parts of the world.
To extract iron from taconite, the rock is crushed into a fine powder and then concentrated using a process called beneficiation. This involves separating the iron-rich particles from the non-iron minerals through various techniques, such as magnetic separation and flotation. The resulting concentrated material, known as taconite concentrate, is then further processed into iron pellets or other usable forms.
During the beneficiation process, a significant amount of waste material is generated, which is referred to as taconite tailings. These tailings consist of the non-iron minerals, rock fragments, and other impurities that were separated from the taconite. They typically have a fine-grained texture and can vary in color, ranging from reddish-brown to gray.
Exploring the Black Sands Beach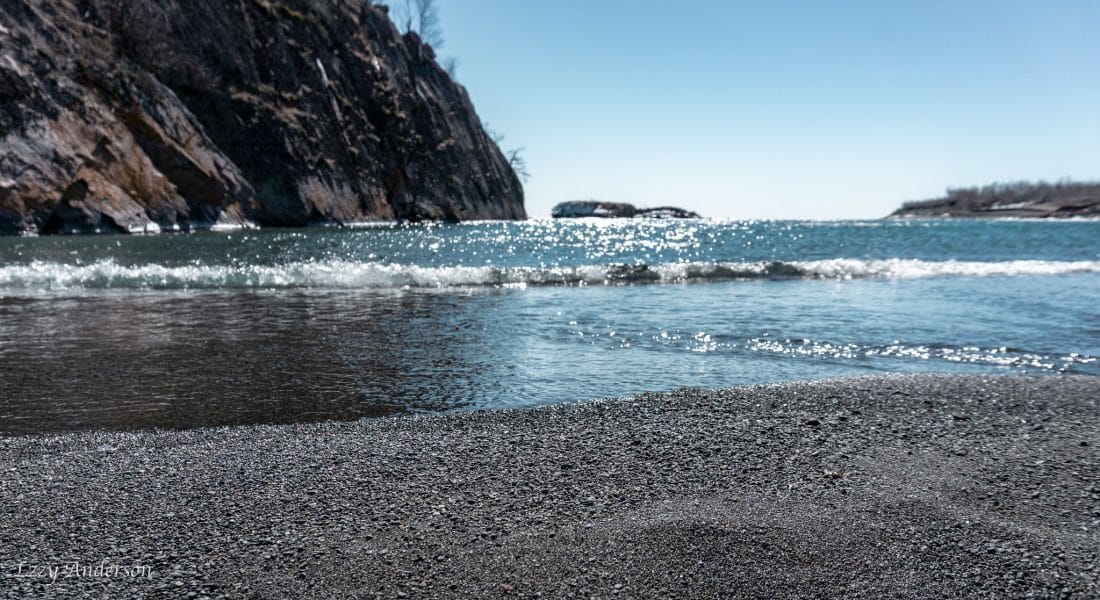 In the summer, the wide beach is easily visited by a short trail from the dirt parking lot. It is not wheelchair accessible, but the path from the parking area to the beach is easy and short.
The water is usually cold, but you're allowed to swim in it if it suits you. Even during the hottest days of the summer, the water stays fairly cold.
This is northern Minnesota, so expect heavy snow in the winter, but the park is still open to view the neat contrasting black sand and white snow. It makes for a great picture!
Other Nearby Parks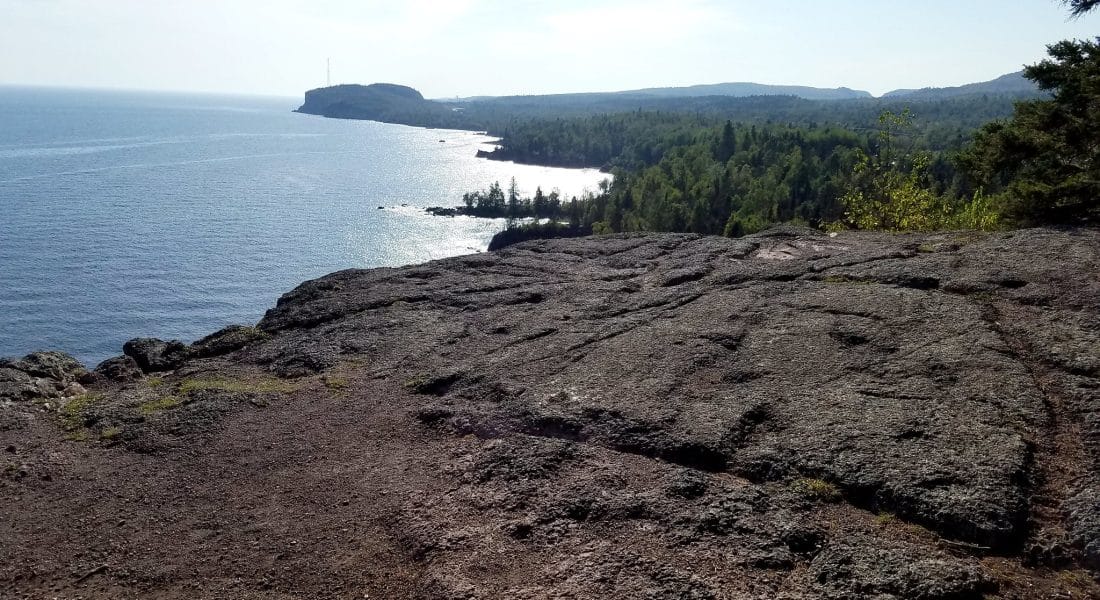 5 miles north of Black Sands Beach is Tettegouche State Park, which is home to the second-tallest waterfall in Minnesota. Cascade Falls, Two Step Falls, and High Falls can be reached from a parking area near the park's campground. Illgen Falls, also located in the park, can be reached from a viewing area just a short drive into the park.
Palisade Head is a popular trail inside Tettegouche State Park, and is only a few minutes from Black Sands. This easy, 1-mile hike takes you to a fantastic viewpoint overlooking Lake Superior.
Split Rock Lighthouse State Park is 10 miles south of Black Sands Beach, and is known for its historic lighthouse. Tour the 1920s era lighthouse and view the exhibits and educational films about the lighthouse and surrounding area.
Finland State Forest and Superior National Forest are both just north of Black Sands as well. They both have numerous hiking trails, but Leveaux Mountain Trail is the best Superior NF hike that is relatively close by.