The Vancouver Olympic Ski Resort Trip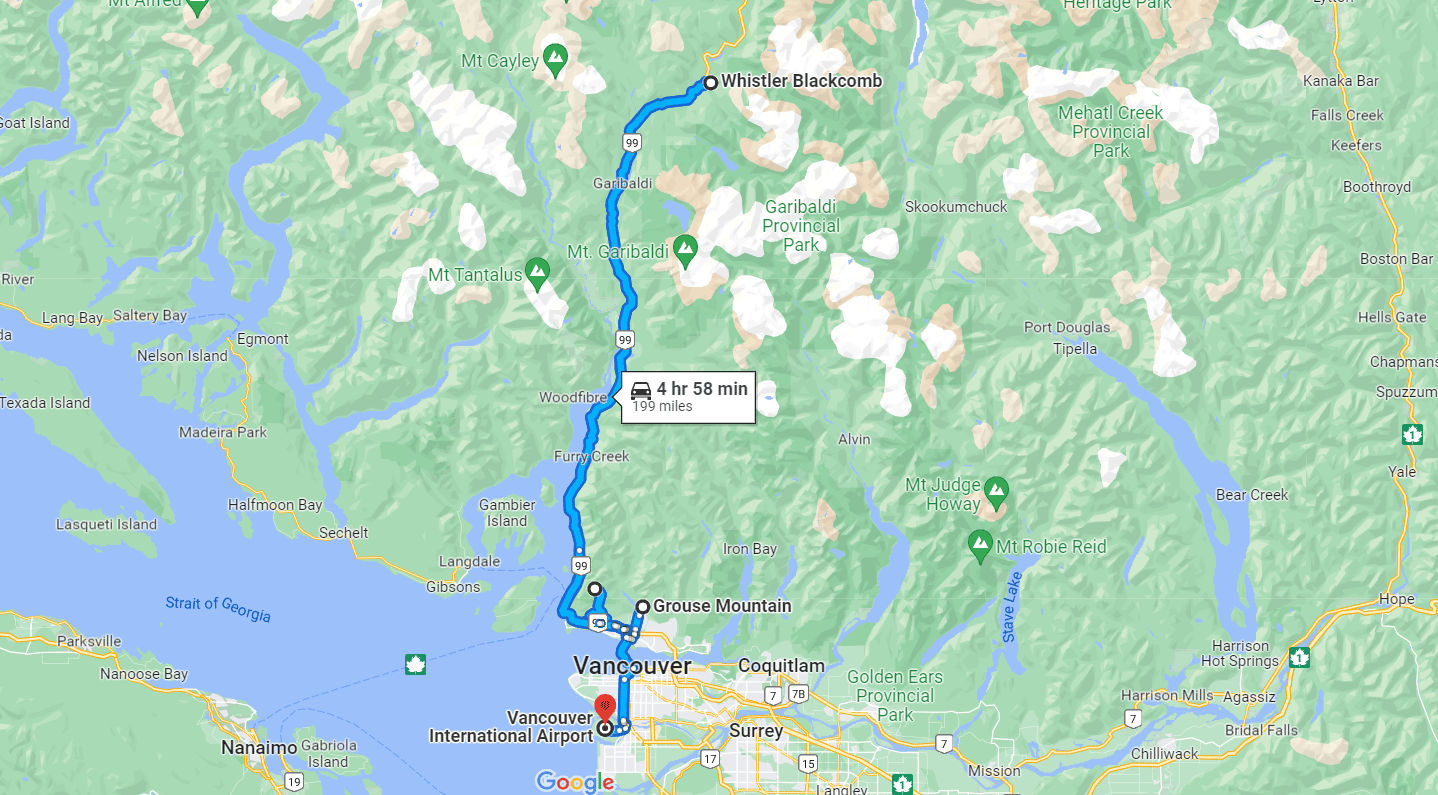 | | | | |
| --- | --- | --- | --- |
| Resorts: 3 | Miles: 200 | Days: 6 | Hours: 5 |
Best Time: December to April
For Skill Level: Expert
British Columbia has the second most ski resorts/areas in Canada behind Quebec. Earlier this year, we ranked British Columbia the best Canadian province for expert skiers. In this ski trip, we visit three of the best ski resorts on the western side of the province.
Vancouver held the 2010 Winter Olympics, and Cypress Mountain Ski Resort held its freestyle skiing and snowboarding events. Whistler Blackcomb Ski Resort hosted the game's downhill skiing such the Slaloms, Super G, and Super Combined events. Both of these Olympic ski resorts and their extensive terrain parks with world class skiing will be visited during this trip.
Alternative Ski Resorts
While I chose the best three to visit while in Vancouver, you may have a few other nearby ski resorts you want to visit instead. There are a handful of other ski resorts near Vancouver, including Mount Seymour, which is located about a 30-minute drive from downtown Vancouver, this resort is known for its family-friendly atmosphere and wide range of terrain. Sasquatch Mountain Resort is another nearby ski slope, which is located about two hours east of Vancouver, this resort is known for its challenging terrain and stunning views of the surrounding mountains.
No matter which place you ultimately decide to visit, Vancouver ski resorts offer some of the most breathtaking views of the coastal mountains of British Columbia. You really can't go wrong with any of these awesome ski resorts!
Other Amenities
Cypress and Grouse Mountain ski resorts offer night skiing, but Whistler does not. This is important because we plan on spending a full day at each ski resort. Not all resorts have lodging onsite, but that is OK because the one that doesn't, is near downtown Vancouver, which will have more lodging options than you can shake your ski pole at.
These ski resorts also have large terrain parks if they are your type of thing. They were built a decade ago for the Vancouver Olympics, and now you can ski on the same half pipes and terrain parks that the Olympians did all those years ago.
Itinerary Notes
Passports
This trip obviously is completely within Canada. If you are a Canadian citizen, then move along – there is nothing else to be concerned about here. However, if you are American, you will of course also have to have a valid US passport to enter Canada.
Vehicle Rental
The Vancouver airport has all major car rental companies available (Thrift, Avis, Hertz, Enterprise, Budget, etc). It would be good to check with your auto insurance company as well to double-check the logistics of you driving a rental car in another country.
We suggest that you schedule this vehicle as far in advance as you can. Do NOT expect to just show up at the rental kiosk in Vancouver and be able to find a vehicle. Lately, these rental counters typically have zero inventory for unscheduled rentals.
As mentioned, you're going to need a 4WD vehicle. Expect snow-covered roads—especially leading into, and out of—the ski resorts as they are very high up and get massive amounts of snow during winter.
Arrival
Day 1
Vancouver, BC
Fly into Vancouver, BC. This is one of the largest airports in Canada, and is serviced by all major airlines. The airport in right in the heart of the city along the Strait of Georgia.
Drive
Driving
The next location is 20 miles away (~.75 hours).
If your flight into Vancouver is not too late (or even if it is), you'll probably want to make the hour trip up to Grouse Mountain Resort right away. This allows you to hit the slopes early immediately instead of making the trip early in the morning.
Destination
Days 1-3
Grouse Mountain
North Vancouver, BC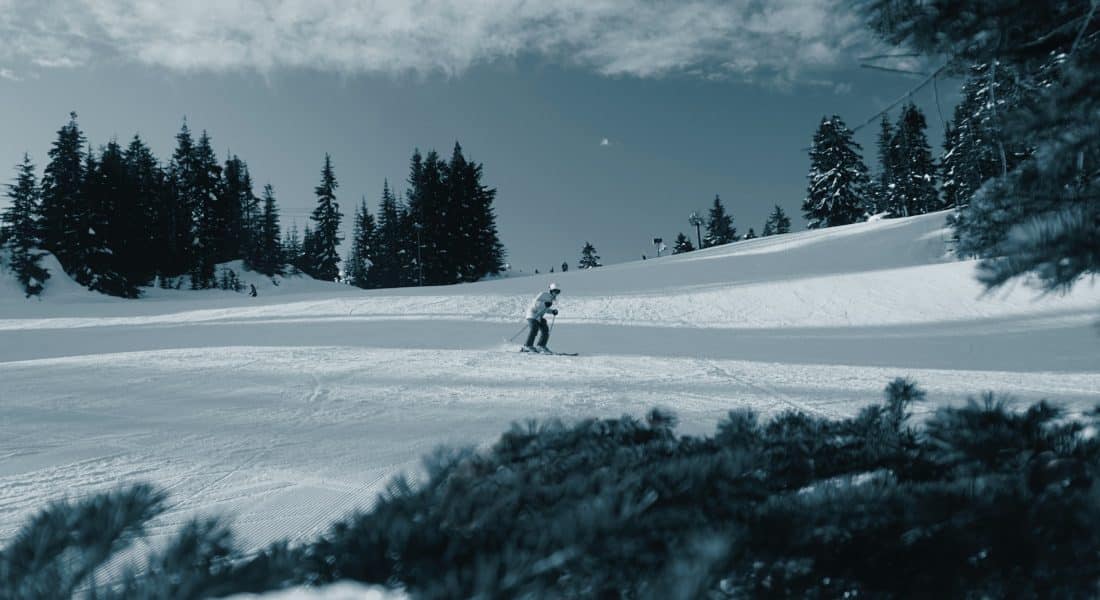 Lodging Options
Grouse Mountain Ski Resort does not have any ski-in, ski-out options, so staying in an outside venue is your only option.
Regardless, your first and second night's stay should probably be between the first two ski resorts we'll be visiting: Cypress and Grouse Mountains. In the North or West Vancouver suburbs, you'll find countless Airbnb and hotel options.
The Mountain
This will be the easiest of all slopes you'll visit on this trip. It's Difficulty Score (our own metric) puts it about average. It still has a 1,200 ft vertical drop and about 92% of its ~200 skiable acres are rated for intermediate and expert skiers.
Drive
Driving
The next location is 17 miles away (~.5 hours).
Cypress Mountain Resort is only 30 minutes away from Grouse Mountain, so you'll be able to use the same lodging option for the second day of skiing as well.
Destination
Days 3-4
Cypress Mountain
North Vancouver, BC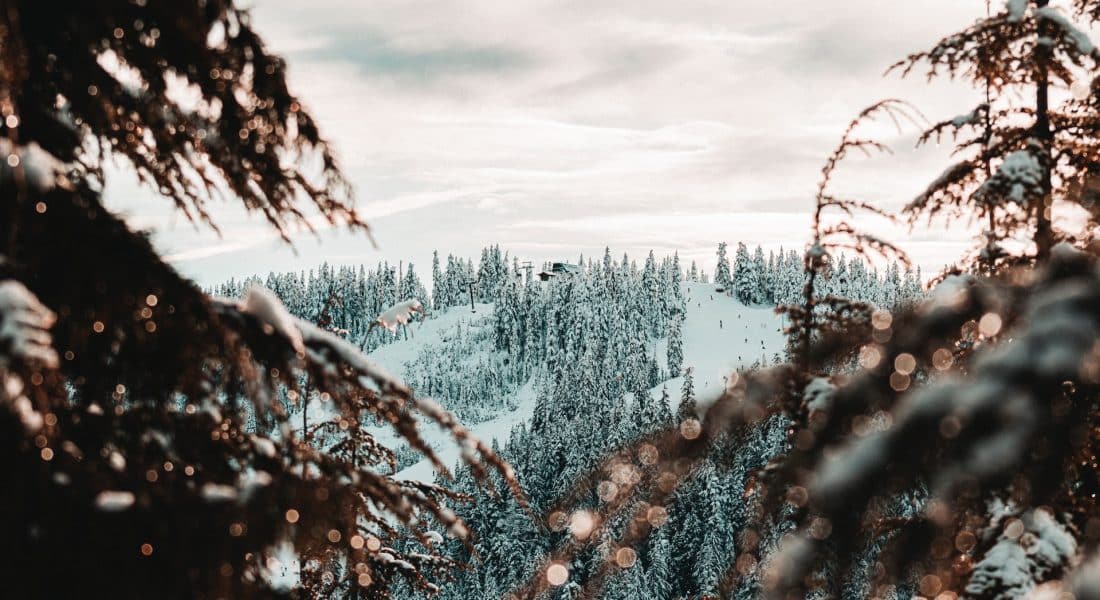 Cypress Mountain Resort was the site of the freestyle skiing and snowboarding for the 2010 Winter Olympics. Expect some difficult terrain, but it'll be fun. This mountain has about 800 feet on Grouse's vertical drop, and about 3x the number of trails.
If you are looking for a nearby ski resort to visit instead of Cypress, Mt Seymour Resort is only about 47 minutes east of Cypress.
Drive
Driving
The next location is 80 miles away (~1.5 hours).
The trip from Cypress Mountain to Whistler Blackcomb takes about 1.5 hours. In this trip's itinerary, we provide an extra day in Whistler because of it.
Destination
Days 4-6
Whistler Blackcomb
Whistler, BC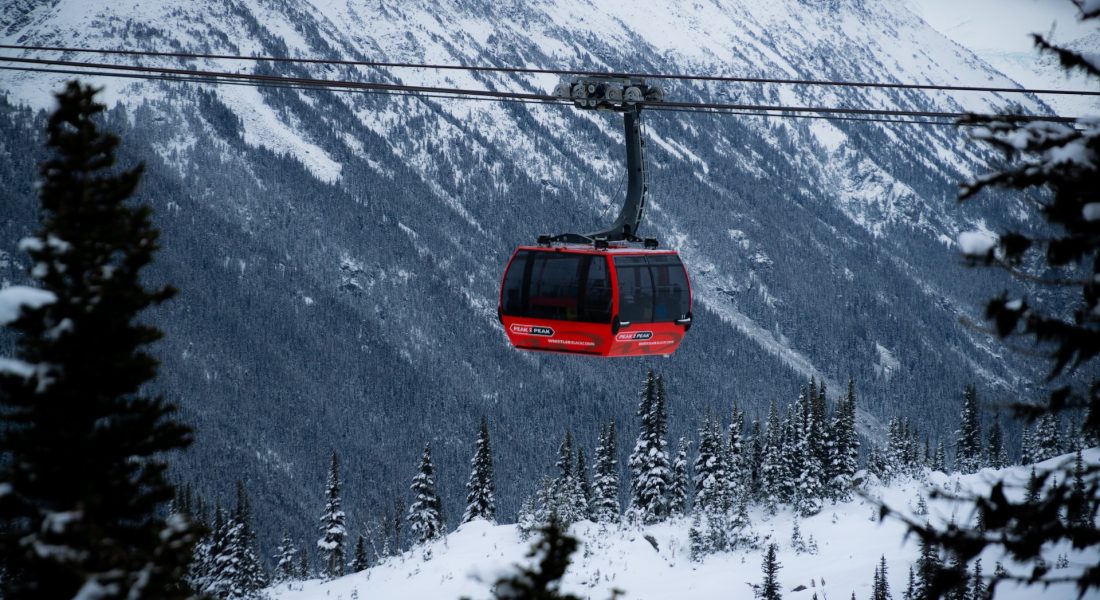 Whistler Blackcomb was another site used during the 2010 Winter Olympics. This resort is also one of the most difficult ski areas in North America according to our calculations. Whistler has is arguably the best terrain in North America with over 5,000 feet of vertical drop spread over more than 8,000 skiable acres.
Whistler Blackcomb is also the largest ski resort in Canada, with over 8,000 square miles of skiable terrain.
The Whistler slopes are on the northern face of Whistler Mountain, and Blackcomb's sit on the north face of Phalanx Mountain, below Blackcomb Peak. While these are two different mountains, all you need is one lift ticket to access both.
If you have a free half day, we highly suggest taking the Peak 2 Peak Gondola, which is the world's highest lift of its kind.
Drive
Driving
The next location is 85 miles away (~2.25 hours).
In a little over 2 hours, you'll be back in Vancouver for your flight home. If you have a flight out in the early morning, it may be best to spend an extra night in a hotel.
Departure
Day 6
Vancouver, BC
When it's time to head home, drop your rental car off at Vancouver International Airport, and board your plane. It's likely been a ski trip for the ages, and one that you'll remember for a very, very long time.