What is the Best Canadian Province for Skiing?
We at Parks & Trips love data. If you could see the spreadsheets of data we have on everything from airports, to local and national parks to ski resorts, you'd be astounded. But we don't collect it just so it can gather dust. We like to find interesting tidbits of information that is simply not found on other sites.
Which leads us to this article.
We wanted to crunch our ski data – full of information on over 200 Canadian ski resorts – to find out which states are the best for skiing.
Read More: Which US State is best for skiing?
What we quickly found out was that "the best" can have many permutations. Are you looking for the best state for beginner skiers? What about the best for expert-level skiers? Does the best state simply have the most resorts? What about acreage?
Clearly, there wasn't going to be just one answer to this question.
The Best Province for Expert Skiers: British Columbia
Making a decision on the best province for expert skiers wasn't a difficult one. British Columbia has the most difficult ski resort in the country (Revelstroke) and is tops in just about every other important skiing metric. It's average summit elevation is over 1,400 ft (427 m) than its closest competitor, and its average vertical drop is more than double that of Alberta's.
The Best Province for Volume: Quebec
Quebec has a surprising amount of ski resorts for having over 90% of its land area in the flat Canadian Shield area. The southeastern side of the province is within the Appalachian Mountain range. The average Difficulty Score of a Quebec ski resort is below the North American average, but they more than make up for it in volume. It's 73 ski areas dwarf that of it's next closest province, British Columbia, at 38.
The Best Province for a National Park + Ski Trip: Alberta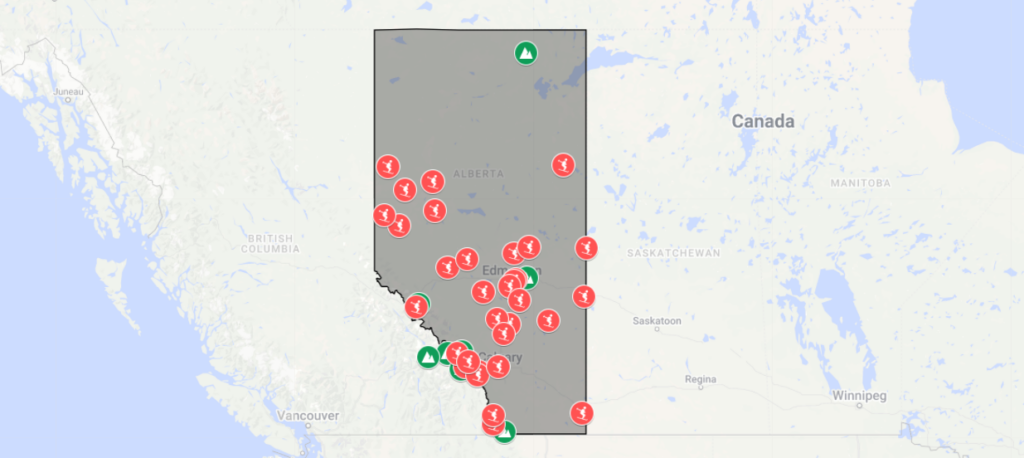 Alberta is home to two of Canada's most popular national parks. Banff is the most visited park in the country, and Jasper is the second. Other nearby parks are also extremely popular: Yoho is 7th, and Kootenay is 8th. We designed a road trip that visited most of these parks that took 9 days to complete.
Alberta also has almost 30 ski resorts within its boundaries, many of which are clustered around its numerous mountainous national parks. Five of Alberta's top seven ranks ski resorts are all within an hours' drive of Banff NP. Three of which are a part of the IKON multi-resort pass!
The Best Region: Canadian Rockies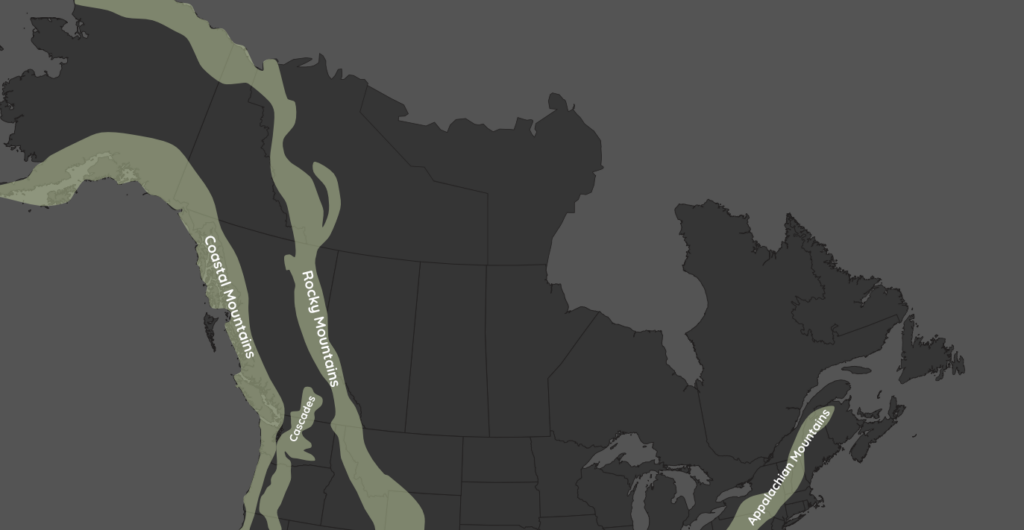 Just like the article we did on the US states, the Rocky Mountain region of the country is unequaled in terms of it's skiing opportunities. The Canadian Rockies contain some of the steepest mountains in the country, owning to some of the most iconic slopes in the country like Revelstroke, Whistler Blackcomb and Banff Sunshine.
The Best City for Skiing: Vancouver
The site of the 2010 Winter Olympics should not come as a surprise as the best Canadian city to ski at. Most of the skiing events for the Olympics was held at what is now named Whistler Blackcomb, about an hour and a half away (75 miles / 121 km). However, around the city, there are at least five other fantastic slopes, including Cypress Mountain and Mount Washington.
Average Ski Statistics for all Provinces
Table Notes: DS = Difficulty Score. This is our proprietary scoring algorithm that scores each ski area against its peers in metrics like vertical drop, expert-level trails, and total acreage.
| Province | Max DS | Avg DS | Avg Summit | Avg Vertical | Avg Acres | Count |
| --- | --- | --- | --- | --- | --- | --- |
| Alberta | 82% | 36% | 1,168 m | 275 m | 585 | 28 |
| Quebec | 64% | 39% | 431 m | 226 m | 124 | 73 |
| New Brunswick | 59% | 43% | 359 m | 200 m | 53 | 4 |
| Newfoundland and Labrador | 54% | 28% | 390 m | 211 m | 97 | 5 |
| Ontario | 47% | 28% | 324 m | 102 m | 57 | 35 |
| Nova Scotia | 46% | 34% | 247 m | 219 m | 82 | 4 |
| Saskatchewan | 43% | 29% | 410 m | 89 m | 33 | 5 |
| Manitoba | 38% | 25% | 417 m | 78 m | 52 | 8 |
| Yukon | 32% | 32% | 977 m | 278 m | 121 | 2 |
| Prince Edward Island | 31% | 31% | 96 m | 76 m | 40 | 1 |
| British Columbia | 100% | 50% | 1,617 m | 561 m | 1,322 | 38 |