Acadia, Kennebunkport to Boston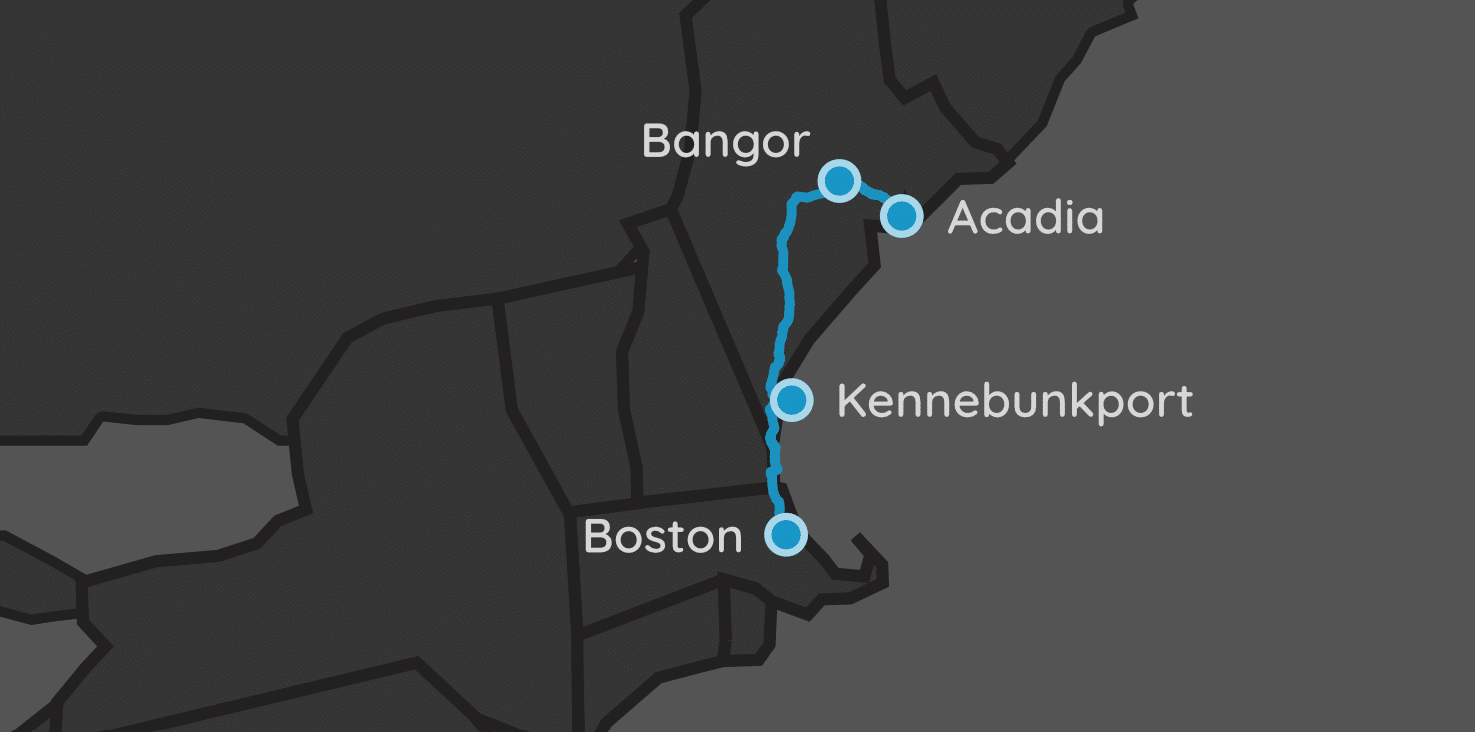 | | | | |
| --- | --- | --- | --- |
| Parks: 1 | Miles: 339 | Days: 7 | Hours: 7 |
This trip is all about reaching the most northeastern part of America to visit Acadia National Park. The only national park in New England, Acadia is well entrenched as one of the most visited parks in the country due to its proximity to major cities like Boston and New York City.
In this trip, we get a great mix of remote (the National Park), small town (Kennepunkport, ME) and big city (Boston, MA). Acadia takes about 3-4 days to fully experience, and we fill the rest with a scenic drive down the Atlantic coast before flying home via Boston.
Itinerary Notes
We really wanted to find a way to incorporate a Canadian National Park in this trip, but the math simply didn't work out. The root of the problem here is that you can't rent a vehicle in one country, and drop it off in another. You CAN however drive through the US and Canada without issue – at least according to the rental company.
The closest Canadian NP is Fundy National Park in the New Brunswick province. It's unfortunately about 4 hours (235 miles/378 km) north of Bangor, Maine. This would have extended the drive time by over 8 hours accounting for the up-and-back trip. If you have extra days, and the interest to do visit one of Canada's must-see parks, then this would be it.
As with almost all our other trips, this one can be reversed easily. However, I always prefer to leave via the largest airport. If airlines start having troubles, you want to make sure there are plenty of other options to get you home. Bangor's airport is a smaller regional one by comparison to Boston's Logan International.
Arrival
Day 1
Bangor, Maine
Begin this trip by flying into the closest airport to Acadia National Park. Bangor International is a medium-sized international airport that has flights from major airlines like Delta, United, and American.
One landed, head to the rental station and pick up your car or truck. You'll be staying in Bar Harbor tonight, but luckily it's only about an hour away!
Drive
Driving
The next location is 47 miles away (~1 hours).
After landing in Bangor and picking up the rental car, head to Bar Harbor, ME.
Destination
Days 1-4
Acadia National Park
Bar Harbor, ME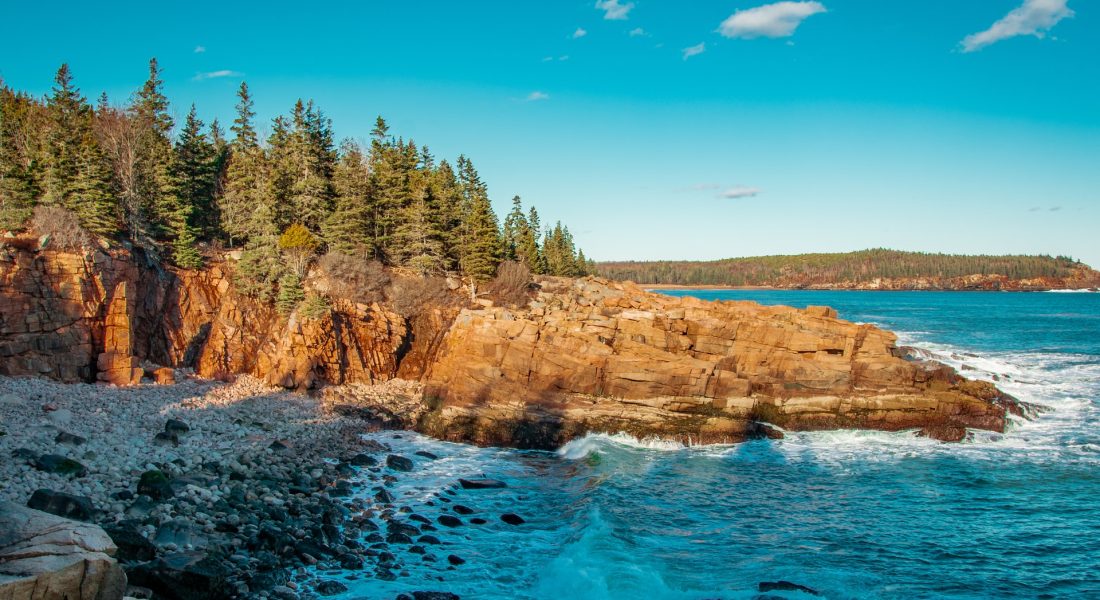 Towering above the rocky beaches of the northeast, Acadia National Park is known for its rugged terrain, mountains, lakes, ponds and trails.
Lodging
There is no actual lodging inside the park, but there are a handful of campgrounds.
Bar Harbor is the closest and best place to stay when visiting Acadia. However, if you aren't planning this trip well ahead of time, be prepared for either sold out rooms, or limited choices. Airbnb is our choice for places like this, and it has plenty of options in Bar Harbor.
A bit further away, Ellsworth, ME also has plenty of lodging options, and are usually less busy due to their distance from the park (about 20 miles).
Drive
Driving
The next location is 200 miles away (~3.5 hours).
On your last day in Acadia, head south towards Kennebunkport, ME, which will take you about 3.5 hours.
You could of course just stay in Acadia for the whole week, and fly home back out of Bangor, but that wouldn't be as much fun, would it?
Destination
Days 4-6
Kennebunkport, ME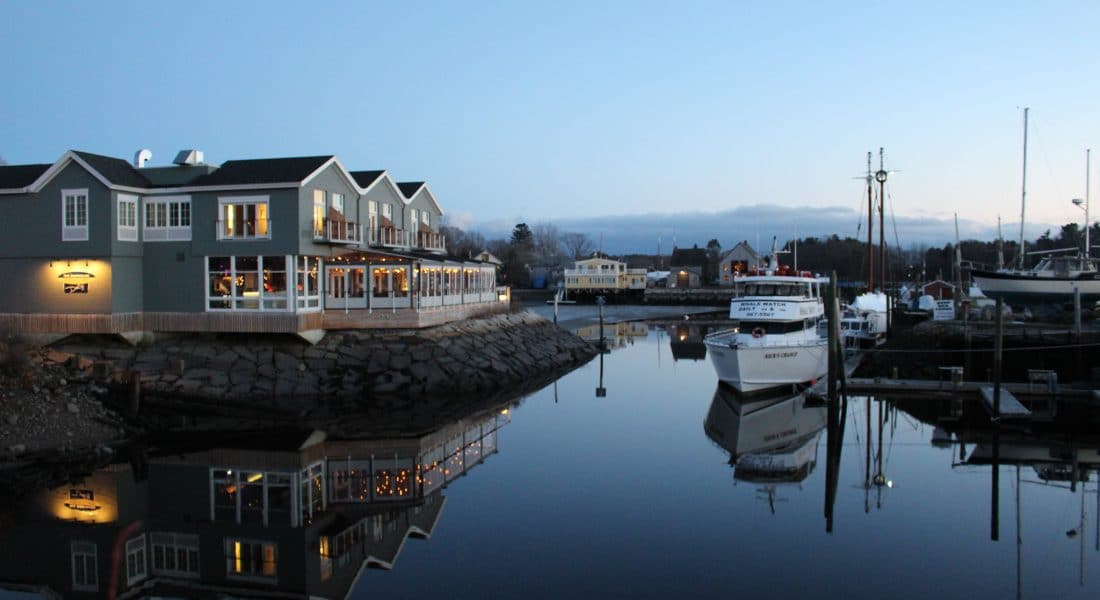 Kennebunkport is a quaint vacation town in southern Maine, right on the Atlantic coast. It is most known for being the site of President Bush's vacation home. This port town is also known for its lobsters. You can get lobster on anything, and just about every restaurant has their own spin on the Lobster Roll.
The Kennebunkport Visitors Bureau offers many lodging choices as well as things to do in and around the city.
Grab a kayak at the Marina, go swimming at the 3 miles of sand at Goose Rocks Beach, or go hiking at Smith Preserve, which has over 10 miles of forested trails throughout its 3,000 acres.
Drive
Driving
The next location is 92 miles away (~2.25 hours).
On the last day in Kennebunkport, head south towards Boston. About half way, you should take a short detour and drive down Coastal Byway in New Hampshire instead of staying on I95. The drive is less than 19 miles, and has loads of great options to stretch your legs and grab a bite to eat.
Must See
New Hampshire Coastal Byway
Portsmouth, NH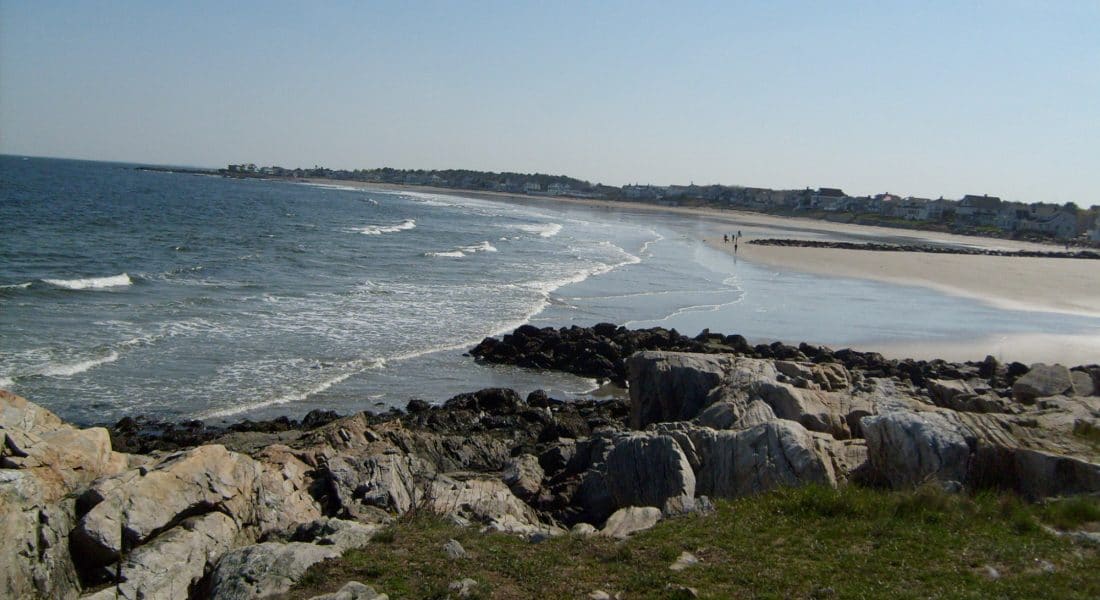 This 18.5 mile Coastal Byway runs along New Hampshire's only coastline. It starts in historic Portsmouth, and ends in Seabrook, both at either end of New Hampshire's border. The byway offers excellent views of the Atlantic Ocean, its sandy beaches, and showcases dozens of historic properties and scenic areas.
Hampton Beach is along the byway as well, which is famously known as a resort town for America's rich. However, you can still take advantage of its sandy beaches and lively entertainment on your way through.
Departure
Days 6-7
Boston, MA
While in Boston, check out The Freedom Trail. It is a 3-mile walk through the city and past some of its most historic sites. Begin by picking up brochures on the attractions at the Visitor Center in the Boston Commons.
When it's time to fly home, Head to Boston Logan International and drop off the rental car before going into the terminal.