Dinosaur Diamond Prehistoric Highway Road Trip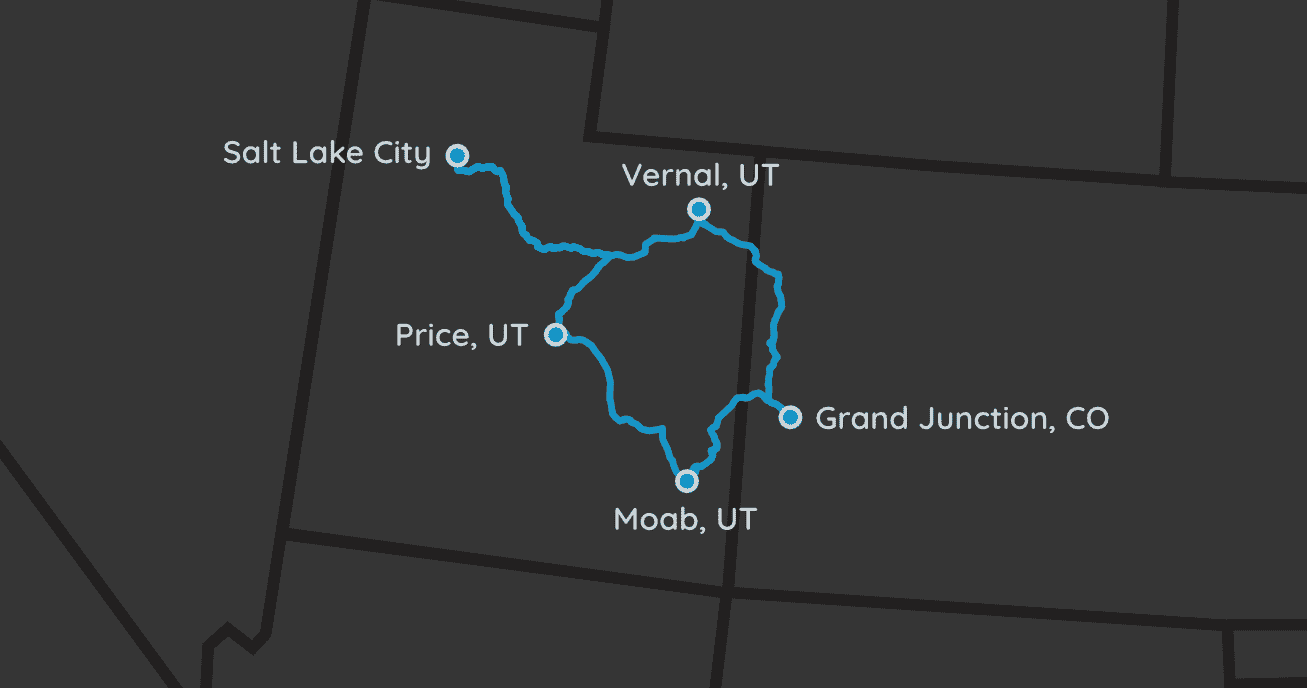 | | | | |
| --- | --- | --- | --- |
| Parks: 8 | Miles: 700 | Days: 8 | Hours: 12.5 |
The Dinosaur Diamond Prehistoric Highway stretches 512 miles through Utah and Colorado, and is the best road trip for those with kids (or adults!) that love learning about dinosaurs. Paleontologists, who've been coming here for over 100 years, continue to make new discoveries at active quarries along the route, unearthing fossils and bones embedded for more than 150 million years.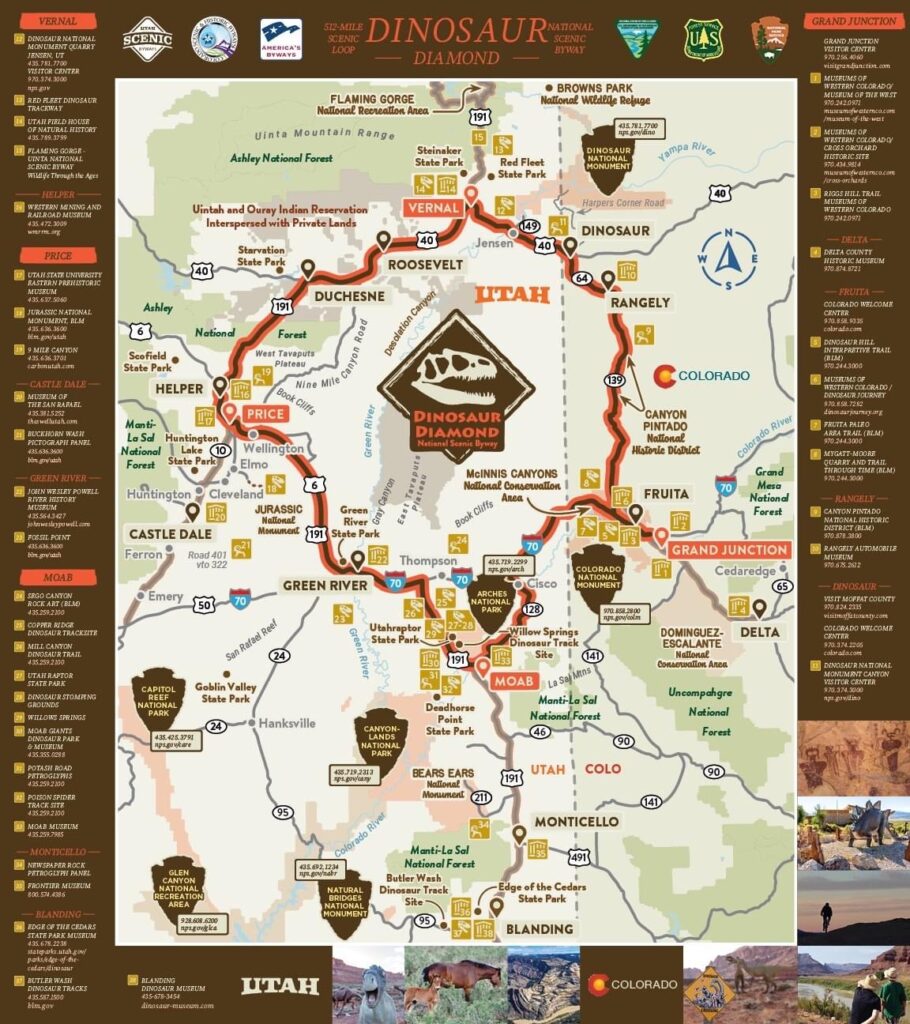 Itinerary Notes
This trip is best traveled during the Fall, as temperatures will be down from their scorching summer highs. The Utah deserts regularly reach over 100F, which makes hikes or traveling difficult for many.
You'll want to schedule a rental car ahead of time at whatever airport you come in via. We always end up renting a large SUV, so we can fit all our luggage and family members inside comfortably. Yes, these larger vehicles chew up more gas than your smaller car, but if you're going to be in it for over 700 miles, comfort will come at some cost.
Arrival
Days 1-1
Salt Lake City, UT
Salt Lake City International Airport is the closest major airport to catch the Dinosaur Diamond Scenic Highway.
Much further away starting points would be Denver International (4.5 hours from Grand Junction, CO), or Harry Reid International in Las Vegas (6 hours from Green River, UT).
Drive
Driving
The next location is 114 miles away (~1.5 hours).
Drive from Salt Lake City to Duchesne, UT on US-40 East. The drive will take you through the Ashley National Forest and past Starvation State Park.
Destination
Days 1-2
Duchesne, UT
Your first night will be in Duchesne, UT. There are a good bit of Airbnb rentals and hotels in town, but if you are having trouble finding suitable options there, Fruitland, UT may have something instead. You would have passed it on US-40 on the way down.
There isn't much to do in Duchesne, but that's OK… we have a long day ahead!
Drive
Driving
The next location is 118 miles away (~2 hours).
After waking up in Duchesne, head south towards Helper and Price, UT. The next night should be spent in Green River, UT, which is about 2 hours away from your starting point. However, during this drive, there are a handful of places you should stop and visit:
 Western Mining and Railroad Museum – Helper, UT
Nine Mile Canyon – Helper, UT
Price Canyon National Recreation Area – Price, UT
Utah State University Eastern Prehistoric Museum – Price,UT
Jurassic National Monument – Price, UT
Must See
Cleveland-Lloyd Dinosaur Quarry at Jurassic National Monument
Price, UT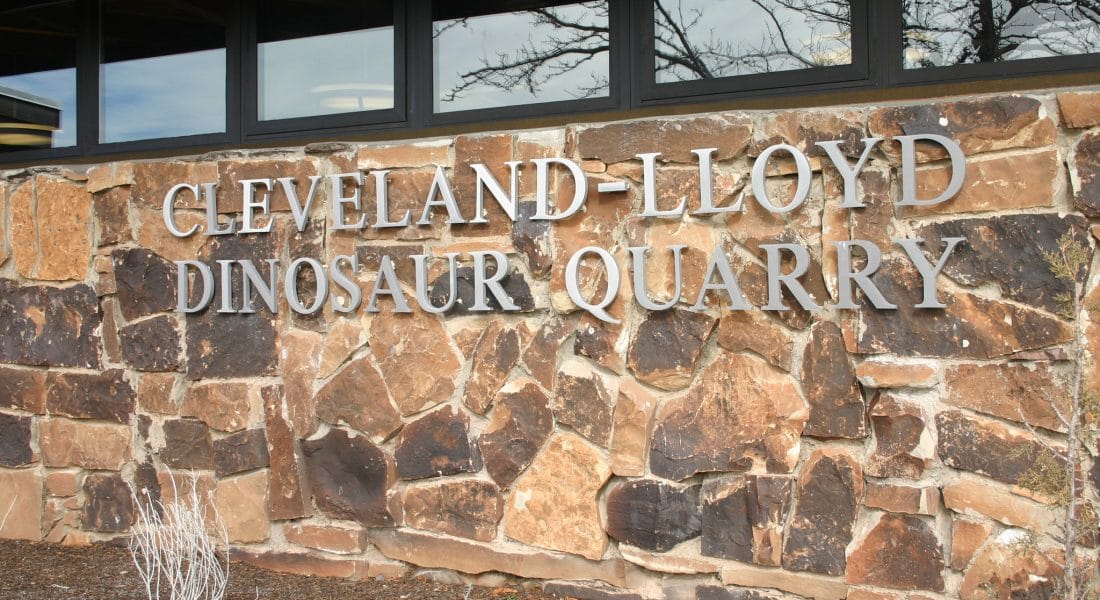 The Cleveland-Lloyd Dinosaur Quarry is located inside the Jurassic National Monument. The quarry provides outstanding opportunities to walk to rock art sites, experience real dinosaur fossil excavations, look out over scenic vistas, and visit intriguing geologic strata. Come prepared with close-toed hiking or running shoes.
Destination
Days 2-3
Green River, UT
Green River, UT is right in the heart of the Dinosaur fossil beds. If you get into town early enough, you can check of Fossil Point just south of town. It takes about 24 minutes to drive the 13 miles (21 km) to the BLM-managed historic site.
Fossil Point has dinosaur bones that date as far back as the Jurassic Era, or 145 million years ago. The road to Fossil Point is accessible by most cars except after storms when the road turns to sticky mud.
Lodging
Green River has a lot of hotels, which may be best since you're only here one night. However, there are also a good bit of Airbnb or VRBO vacation rentals available in the area as well.
Drive
Driving
The next location is 52 miles away (~1 hours).
After leaving Green River, UT, continue on to Moab, where we will be spending the next few days. If you are making this trip during the summer, and if you haven't already, try to get a reservation to visit Arches National Park.
Along the way, you should hit at least a few of these Dino-themed stops. The drive to Moab will take less than an hour, so focus on these stops for the full day down there.
Sego Canyon Rock Art – Moab, UT
Copper Ridge Dinosaur Tracksite – Moab, UT
Mill Canyon Dinosaur Trail – Moab, UT
Utahraptor State Park – Moab, UT
Dinosaur Stomping Grounds – Moab, UT
Moab Giants Dinosaur Park & Museum – Moab, UT
Potash Road Petroglyphs – Moab, UT
Poison Spider Track Site – Moab, UT
Moab Museum – Moab, UT
Destination
Days 3-5
Arches National Park
Moab, UT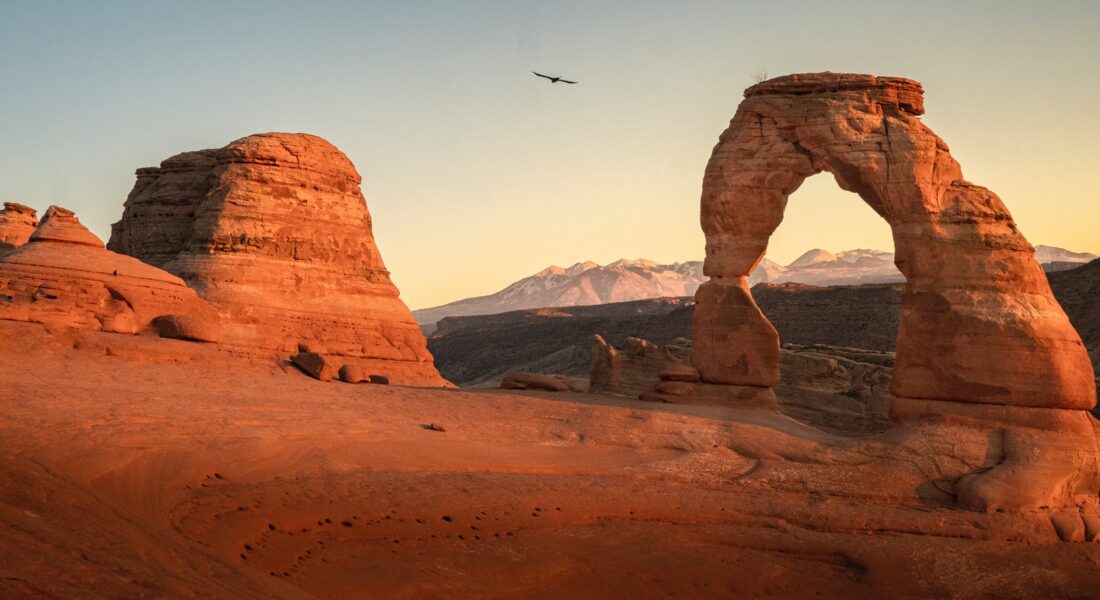 Arches National Park has over 2,000 natural stone arches and hundreds of soaring pinnacles, massive rock fins, and giant balanced rocks. The park is very busy between March and October. To avoid traffic, we recommend entering the park before 8 am or after 3 pm.
Lodging
There are no accommodations or food inside the park, however there is one campground near Devil's Garden. Lucky for us, the town of Moab, UT has everything you'll need and more. We just used Airbnb to find a place to stay, but there are plenty of other hotels and campsites there as well.
Attractions
Anytime you see a picture of Arches National Park (including on this page), chances are you are looking at the Delicate Arch. This iconic geologic feature is reached via a strenuous trail beginning at Wolfe Ranch. The trail takes about 2 hours and is 3 miles round trip. You can see the Delicate Arch from other vantage points in the park without the difficult hiking. Park Avenue has a great view of the arch after a short walk off the road.
Other must-see features in the park include Balanced Rock, accessible via a short and easy trail just off Park Avenue and the North and South Windows. These can be seen up close via the trail at the Windows area. Also, a full tour of Devil's Garden (7.2 miles round trip, moderate) leads to eight incredible arches.
Must See
Canyonlands National Park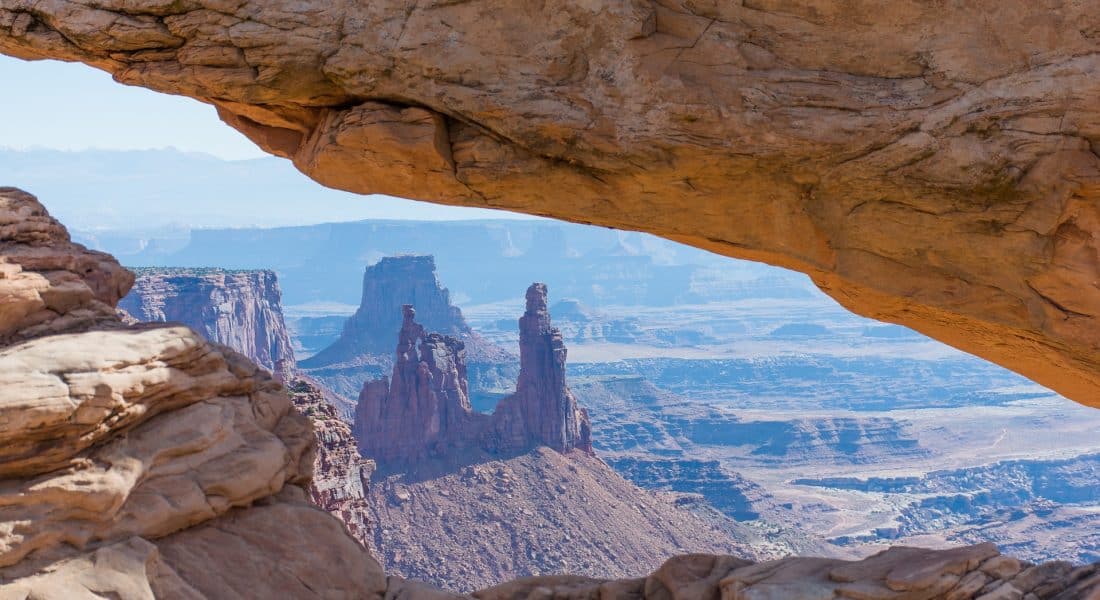 One of the days at Arches NP – or on your way to the next destination – take a ride down to Canyonlands National Park. It is only about 35 minutes or 30 miles (48 km) away if you're staying in Moab.
A one-day stop at Canyonlands needs to include visiting the Mesa Arch, which is only 1/2 mile round trip or 30-minute hike from the parking area. The parking area for the arch is located on the Grand View Point Road. This scenic road is a 12-mile long route that overlooks rock features such as Candlestick Tower, Buck Canyon and Orange Cliffs.
If you still haven't run out of time yet, check out the pictographs in Horseshoe Canyon. These prehistoric drawings are at the end of the 6.4 mile round trip Horseshoe Canyon Trail. It is a bit of a strenuous hike, so only attempt it if you're able.
Drive
Driving
The next location is 113 miles away (~1.75 hours).
The drive from Moab to Grand Junction, CO will take just under two hours. Along the way the best place to stop and stretch the legs would be McInnis Canyons National Conservation Area near Fruita, CO.
McInnis Canyon has over 75,000 acres of wilderness with trails, natural canyons & stone arches, plus river boating. However, the best place to visit during the drive is the 4.1-mile easy out-and-back McDonald Creek Trail that takes you down to the Colorado River.
Destination
Days 5-6
Grand Junction, CO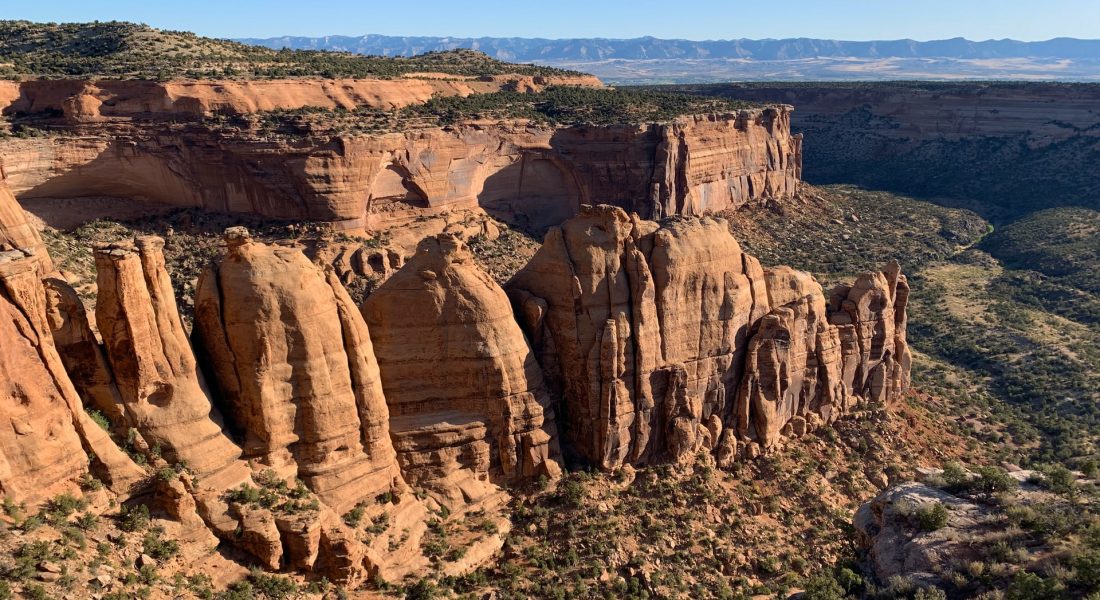 Grand Junction is in Colorado's Western Slope region and is known as the hub of Colorado's wine country. It is also the town that the amazing Colorado National Monument is closest to. This national monument is a must-see while staying here, and in fact is one of the 12 places we think should actually be redesignated a National Park!
Managed by the National Park Service, the Colorado National Monument is 30 minutes from Grand Junction, CO. The park boasts canyons as deep as 500 feet and rock monoliths as tall as 450 feet. Rim Rock Drive is a perfect scenic byway that cuts directly through the park.
Lodging
Grand Junction is a vacation town, so you'll have no trouble finding a hotel or vacation rental in this town. As a nightcap, check out one (or more) of the local wineries or breweries that dot the town!
Drive
Driving
The next location is 145 miles away (~2.5 hours).
The drive from Grand Junction, CO to Vernal, UT – NOT Vernal, CO (be very careful when entering it into your GPS) takes about 2.5 hours start to finish. However, you should plan on taking a good part of the day exploring along the way.
A few great attractions between these two cities include:
Dinosaur Hill Interpretive Trail – Fruita, CO
Museums of Western Colorado/Dinosaur Journey – Fruita, CO
Fruita Pairo Area Trail – Fruita, CO
Mygatt-Moore Quarry & Trail Through Time – Fruita, CO
Douglas Pass View Point – De Beque, CO
Canyon Pintado National Historic District – Rangely, CO
Dinosaur National Monument – Dinosaur, CO
Red Fleet Dinosaur Trackway – Vernal, UT
Destination
Days 6-7
Vernal, UT
Vernal, UT is your last stop before heading back to Salt Lake City to fly home. Vernal is a small town flanked by two smaller towns, Maeser to the northwest and Naples to the southeast. All three of these towns would be a good spot to grab a hotel or Airbnb rental at for the night.
The best two attractions around Vernal are the Dinosaur National Monument and Flaming Gorge National Recreation Area.
Dinosaur National Monument is located in Jensen, UT. The best place to see actual dinosaur bones here would be the Quarry Exhibit Hall, which is only about an 11-minute drive up Highway 149. Trail brochures are available at the Hall.
The park features outcroppings of several small fossil fragments and many large pieces of dinosaur bones in their natural state, just as Earl Douglass found them way back in 1909.
To get a great view of some easy-to-see bones, hike the moderate-effort 1.2 mile (one way) Fossil Discovery Trail that starts at the Hall.
Drive
Driving
The next location is 175 miles away (~3 hours).
On the way back to Salt Lake City, you'll pass through the towns of Roosevelt and Duchense (hello again!). The trip back to SLC takes about 3 hours, which you'll probably want to do the day before your flight home if you need to be at the airport early.
Departure
Days 7-8
Salt Lake City, UT
You've finally completed the Dinosaur Diamond road trip. It's time to head home, and again, the closest airport to fly home from is Salt Lake City International. If your flight out is early in the morning, you'll probably want to make the drive from Vernal the day before and shack up in a hotel the night before.