Gateway Arch, Ozarks to Hot Springs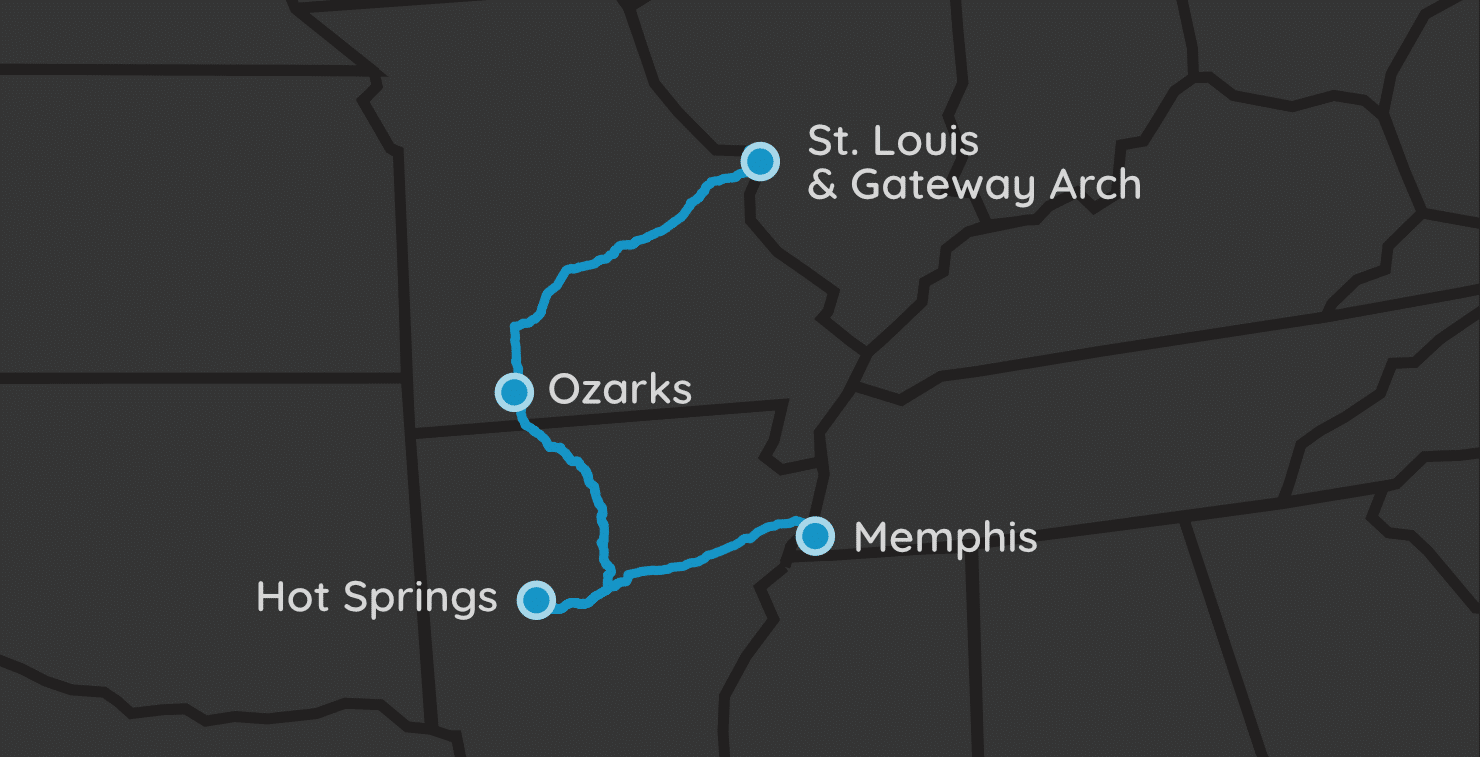 | | | | |
| --- | --- | --- | --- |
| Parks: 3 | Miles: 719 | Days: 7 | Hours: 14 |
The two national parks we visit on this trip are within larger cities, and are not the type of remote wilderness you first think of with sites in the National Park System. The Gateway Arch is a symbol of the US's expansion Westward, and St. Louis's most defining feature.
Hot Springs National Park is located on the outskirts of Arkansas' 11th most populous city, and its namesake. The park's naturally heated springs were the site of bathhouses in the 19th and 20th centuries.
Between those two National Parks, we visit the Ozark Mountains in Branson, Missouri. The area has over a dozen state and federal parks, with canyons, rivers, mountain tops and, of course, some amazing trails.
Itinerary Notes
We decided to begin this trip by flying into St. Louis to see the Arch. If the Arch is not in your plans, then this trip wouldn't be for you since we kind of snake through the rest of Missouri to eventually get to the Ozarks, then finally Hot Springs.
This trip can be revered like many of our other routes. Fly into Memphis, TN, then work your way north until you reach St. Louis.
Don't forget to reserve your rental car at your arriving airport. Spur-of-the-moment rentals can sometimes work out, but it's always best to call and schedule your car ahead of time. This is doubly true if you need a larger SUV for all the kids and adults, like we do.
Arrival
Days 1-2
Saint Louis, MO
We begin by flying into St. Louis's International Airport, and then find a place to crash for the night. Depending on when you get in, you can always visit the Arch that same day, but I think it would be best to spend the day exploring the city and the Arch, which is within city limits.
Must See
Gateway Arch National Park
St. Louis, MO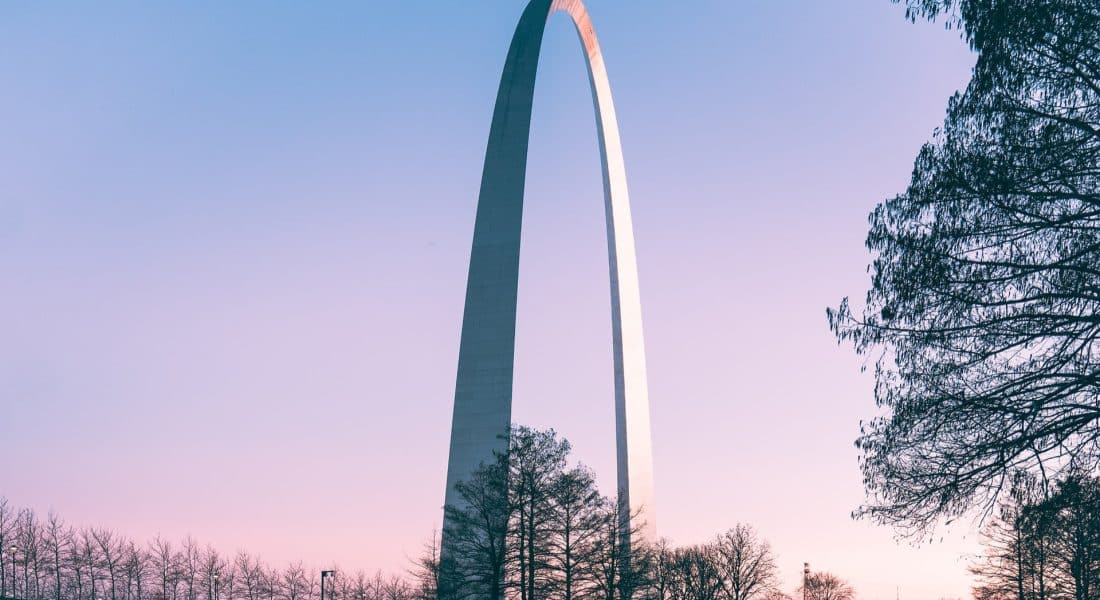 The Gateway Arch was built in 1963, and is made of stainless steel. Built in the form of a weighted catenary arch, this structure reaches 623 feet in the air in the city of St. Louis, MO.
Get to the Arch early to beat the crowds, especially if you are in the high-tourist summer season. You must also reserve your tickets ahead of time if you plan on riding to the top of the Arch, which you definitely should not miss out on.
Drive
Driving
The next location is 250 miles away (~5 hours).
After visiting the Gateway Arch, take I44 towards the city of Springfield, MO. About 45 miles (72 km) south of Springfield is Branson, which is a popular family vacation destination.
Destination
Days 2-4
Ozark Mountains
Branson, MO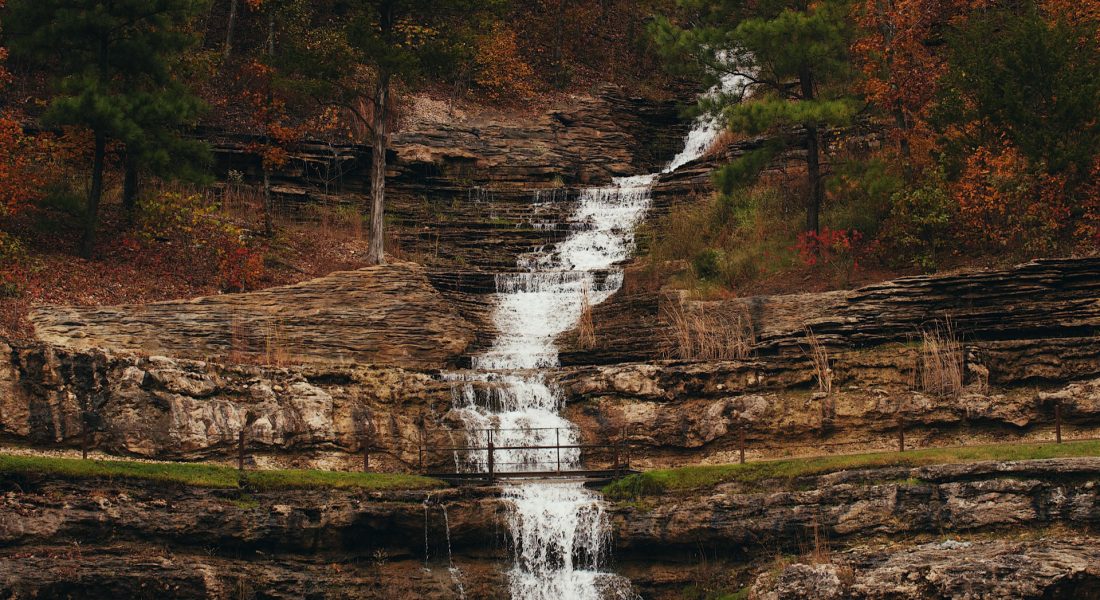 Downtown Branson, MO is famously lined with theaters where country music artists perform and many other forms of diverse entertainment.
Lodging
The easiest place to stay would be at one of the many hotels in the area or a vacation rental found on Airbnb or VRBO. For something more fitting for the trip, consider staying in the Branson Log Cabins. These luxury yet rustic-themed cabins in the Ozark Mountains offer you everything you need for the perfect getaway to Branson, MO.
Dogwood Canyon is a one-stop shop for everything in Branson as well. This beautiful resort offers its own trails, horseback riding and attractions. Consider this as your lodging option if you are looking for something more upscale.
Attractions
The Ozarks are vast, and feature various forms of fun for the whole family. Everything from hiking to waterfalls, to horseback rides, to kayaking and swimming.
The best hikes close to Branson would be the easy and kid-friendly Waterfall Hiking Trail and the Table Rock Lakeshore Trail. The nearby Dogwood Canyon Nature Park is also a great place to spend a morning (even if you're not staying in the nearby resorts). This park offers several different hiking options that overlook waterfalls and rock bluffs along the park's 6.5 mile paved walking trail.
Drive
Driving
The next location is 189 miles away (~4 hours).
It is a four hour drive from Branson to Hot Springs, Arkansas.
Destination
Days 4-6
Hot Springs National Park
Hot Springs, AR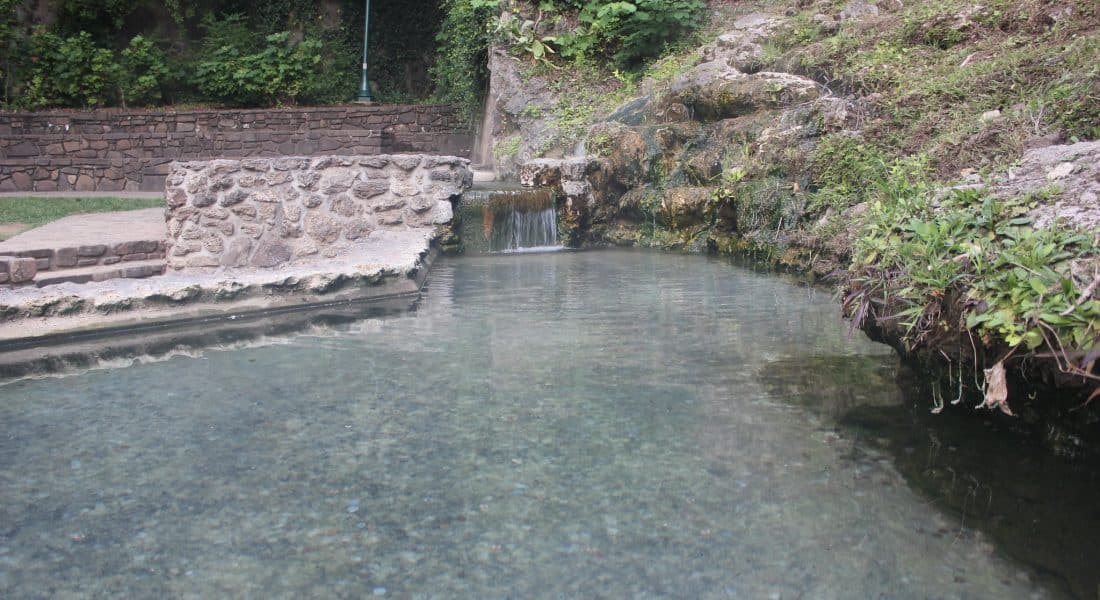 Hot Springs National Park is the only national park that protects a unique combination of lithology, geologic structure, and water sources that produce the only nonvolcanic geothermal springs of such high quality (temperature, taste, color, odorless) in the United States.
Congress established Hot Springs Reservation on April 20, 1832 to protect the hot springs flowing from the southwestern slope of Hot Springs Mountain. Known for its 47 thermal springs, this national park is the nation's oldest, predating Yellowstone by 40 years. The park features more than 30 miles (48 km) of hiking trails through the Ouachita Mountains. Thermal-feature tours are available during the summer.
Drive
Driving
The next location is 280 miles away (~5.5 hours).
Departure
Days 6-7
Memphis, TN
You'd think that Memphis couldn't possibly be the closest major airport to Hot Springs. However, it is. The next closest is Tulsa (TUL), which is an extra 20 miles farther away. The Clinton Airport (LIT) in Little Rock is the closest medium-sized airport, but I couldn't find any decent flights from my hometown. Your scenario may be different… so consider looking at that before booking your return flight home.