Glacier to Canadian Banff & Kootenay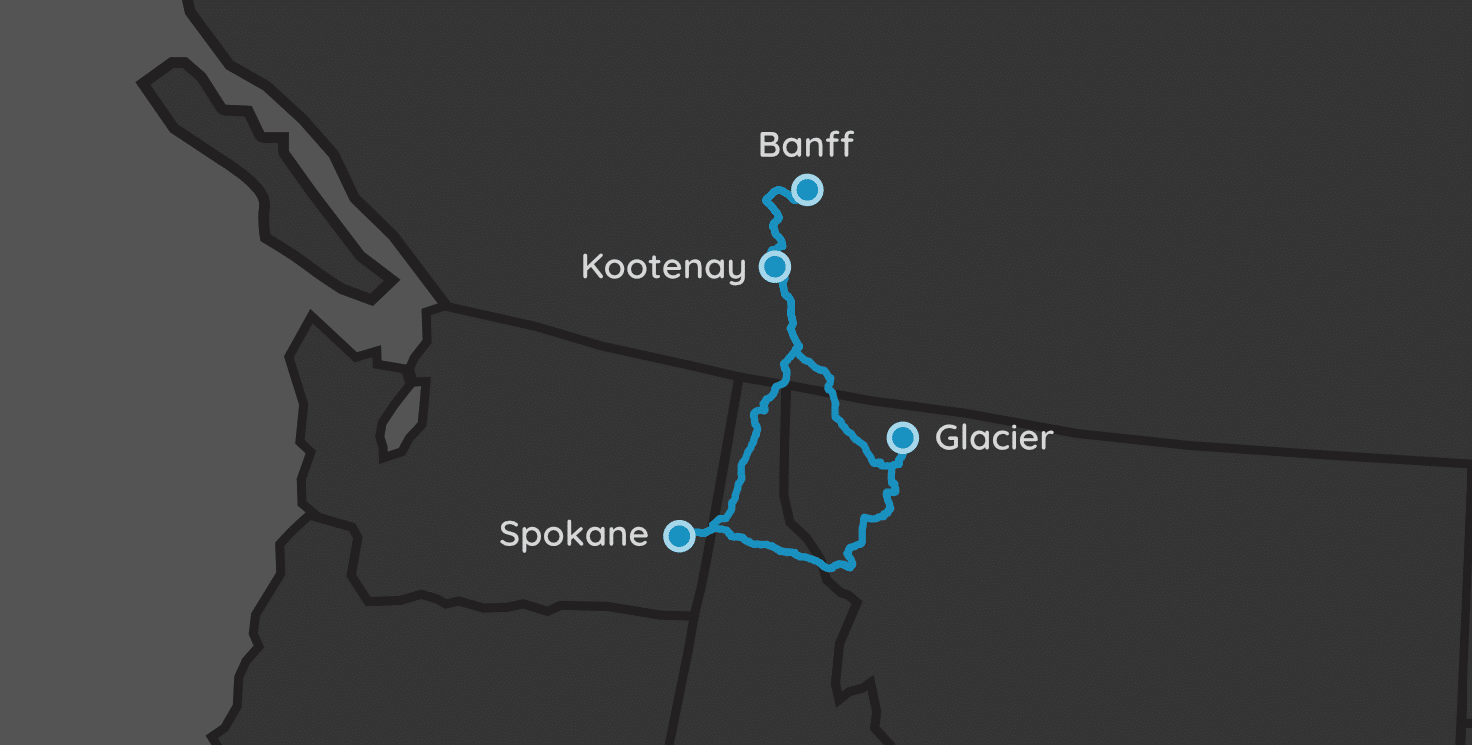 | | | | |
| --- | --- | --- | --- |
| Parks: 3 | Miles: 1,035 | Days: 9 | Hours: 15 |
This trip flys into Spokane, WA, then heads right to the Glacier National Park in Montana. We then switch things up a bit and take a detour into Canada to visit Banff (Canada's most visited park), its sister park Kootenay, before heading back to the US to fly home from Spokane. Canada actually has a Glacier National Park as well, but it is another 2 hours north of where we stay at in Banff, AB.
Itinerary Notes
As we mentioned above, this trip visits Canada. This may be a bit of an issue if your family is not fully vaccinated. Starting August 9th, 2021, Canada reopened its borders with the US for non-essential traffic. You will of course also have to have a valid US passport to enter Canada.
This trip cannot easily be reversed. Since this is a basically a trip to Glacier NP with a quick trip up to Canada, this route is basically the way you need to do it.
As for rental vehicles, it would be best if you check with your particular rental company, but Enterprise DOES allow you to drive a US rental car through Canada. However, we checked to see if we could do a one-way trip drop-off in Canada if we were to fly home via Calgary, but Enterprise did not allow that.
Arrival
Day 1
Spokane, WA
Glacier is about five hours away from Spokane, which is easily driven in one day, but probably not after a flight to Spokane (definitely not for us). Your best bet is to grab a cheap hotel for the night and get on the road first thing in the morning.
Drive
Driving
The next location is 280 miles away (~5 hours).
Get in the car and go due east. Glacier National Park is about 5 hours away, and unfortunately there are no national monuments on the way. You will however be driving through a number of national forests including, Coeur d'Alene National Forest, Lolo National Forest, and Flathead National Forest. They all have fantastic picnic areas and some easy trails to get out and stretch your legs if needed.
Destination
Days 2-5
Glacier National Park
West Glacier, MT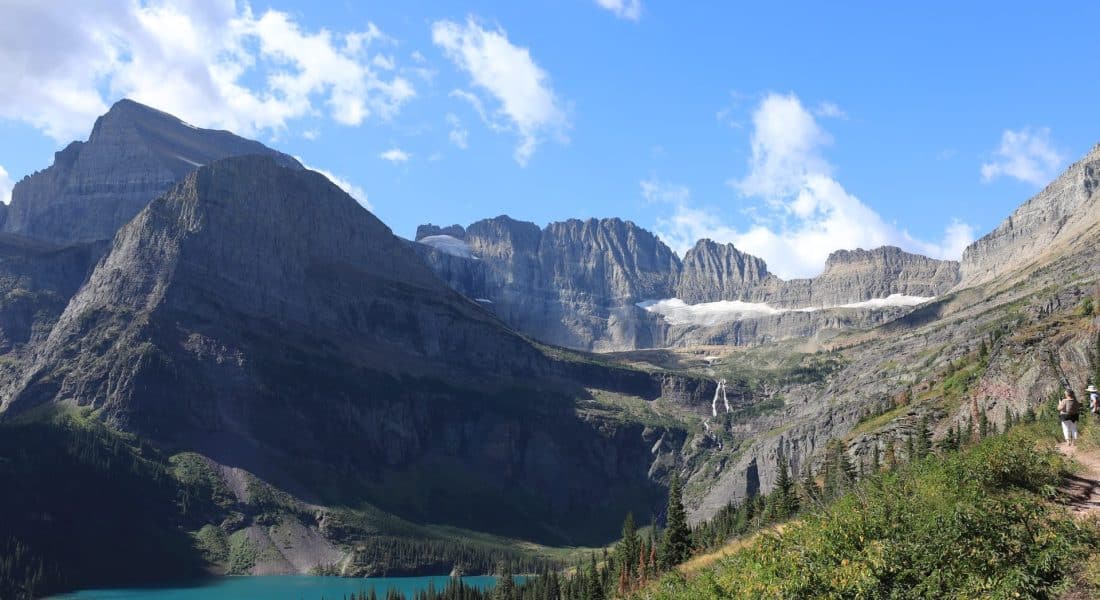 Glacier National Park is a remote wilderness area in Montana's Rocky Mountains, with glacier-carved peaks and valleys running to the Canadian border. Here you'll experience Glacier's pristine forests, alpine meadows, rugged mountains, and spectacular lakes. Glacier National Park has about two dozen active glaciers, which researchers have estimated will all be gone by the year 2100.
Lodging
Glacier is a park that is best experienced from staying inside the park. You'll get to take advantage of the early mornings and late evenings without the need to travel back out of the park. There are a couple places to stay within the park, most surrounding Lake MacDonald. However, it should be noted that these in-the-park accomodations fill up very quickly. They recommend making reservations 13 months in advance.
If you decide to stay out of the park for whatever reason, the towns of Whitefish and Columbia Falls both have a good bit of Airbnbs available. Both towns are about 30 minutes away from the park's entrance.
Attractions
Glacier's biggest attraction is the 50-mile Going-to-the-Sun Road that slices through the heart of the park. This scenic highway hugs cliffs and has sharp curves, leading to a lot of white-knuckle driving. The park has a shuttle that makes the loop up and down this road, so you can take that if you want to take a break from driving. This road now requires a ticketing system to limit traffic.
Everyone that comes to Glacier NP wants to see an actual glacier. You can see two glaciers from the Going-to-the-Sun Road, but if you want to hike closer to one, then the Grinnell Glacier should be in your plans. This is a 11-mile round trip that is considered strenuous.
Did you know that just the Canadian border from Glacier is the Waterton Lakes National Park of Canada? There is a scenic drive called the Chief Mountain International Highway that runs for 30 miles snaking through both parks (and countries).
Drive
Driving
The next location is 390 miles away (~4 hours).
After your couple days in Glacier, it's time to head to the Great White North: Canada. Banff, Alberta is about 4 hours away, so there is plenty of time to make stops and explore on your way up there.
Destination
Days 5-8
Banff National Park of Canada
Banff, Alberta, Canada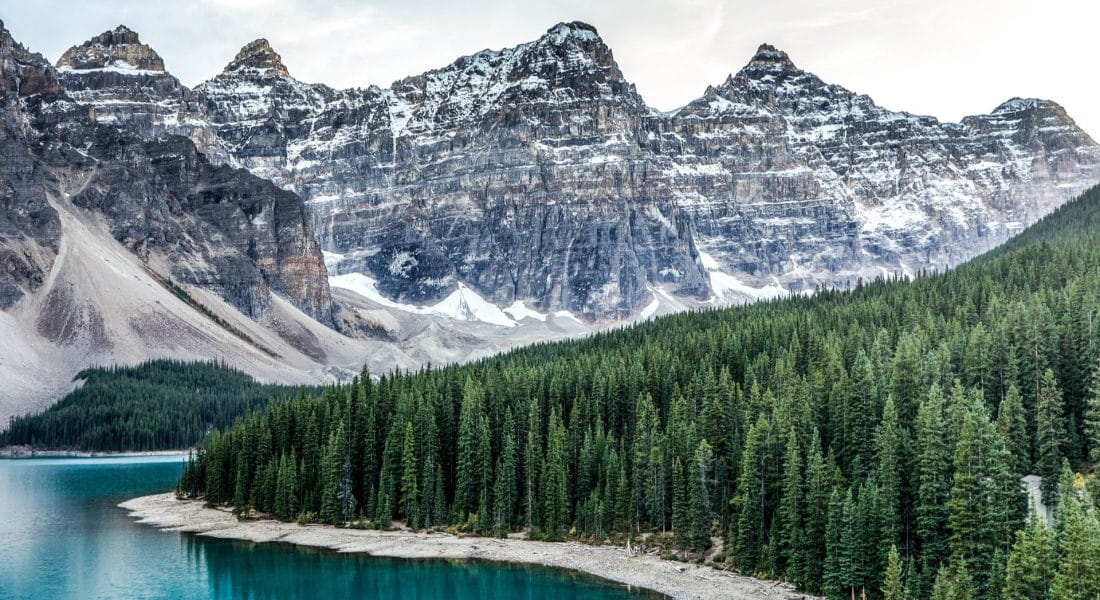 Canada's first National Park, Banff is about 1.5 hour drive from Calgary.
Lodging
There are four lodges and many campgrounds located inside Banff National Park. However, there are a ton of Airbnb rentals available in the surrounding towns. Banff, Lake Louise and Canmore, Alberta are within striking distance to the park's entrance, so this is where we decided to stay instead.
Attractions
Banff has an easy-to-use public transit system to help you get around the park and its surrounding features. This would be a great way to explore the area without driving at all!
Moraine Lake and Lake Louise offer beautiful views and numerous hikes and trails, both are reachable by public transit. At Moraine, the Moraine Lake Shoreline offers unbelievable views, some of which are hard to describe.
One of the best hikes at Banff is the Bourgeau Lake and the Harvey Pass area. The trail climbs steeply through a forest of lodgepole and spruce before opening out into meadows that lead to the shores of Bourgeau Lake. This is a moderately-difficult trip with a 9.3 mile round trip that climbs about 2,400 ft in elevation.
Drive
Driving
The next location is 85 miles away (~1.5 hours).
Either on your way home, or during one of your days at Banff, we suggest you visit Kootenay National Park. However, it is about an hour and half south of Banff on your way back to Spokane, so maybe on the way there is best.
Must See
Kootenay National Park of Canada
7556 Main Street East; Radium Hot Springs, B.C.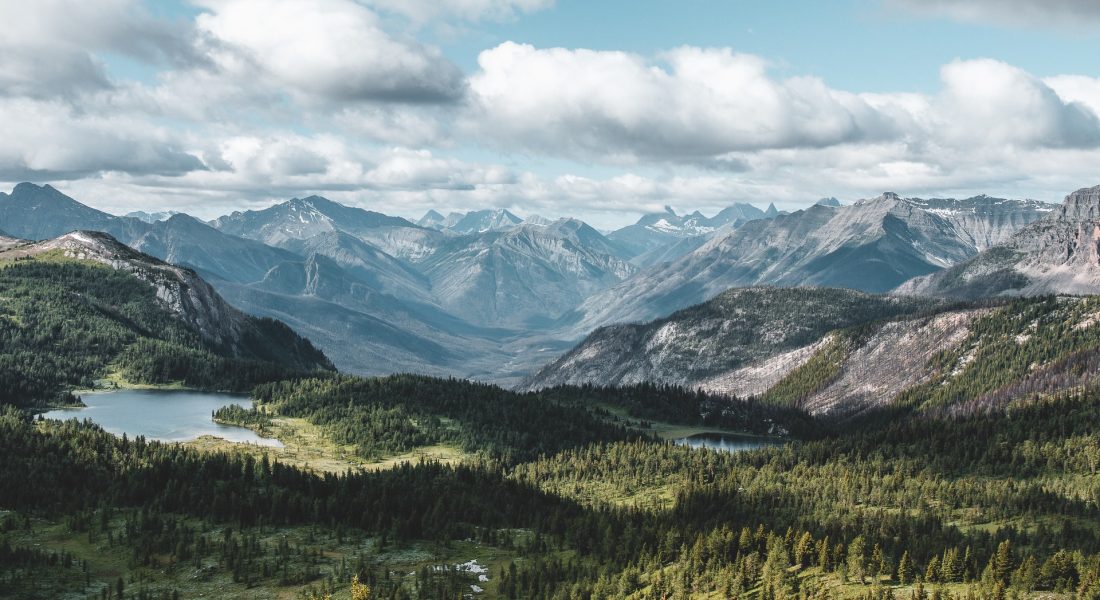 The visitor center for Kootenay National Park is in Radium Hot Springs, BC. Our recommendation would be to stop here and grab a map and ask the locals where it would be a good place to visit for the amount of time you have when passing through.
However, if you'd like to instead take our word for it, stop at the Kimpton Creek Trailhead area, just before you get to the visitor center. The actual trail is about 6 miles (10 km) long, but you don't have to walk that much before turning around. On a hot day, this forested trail is a fantastic place to stay cool. Follow the babbling creek before branching up higher, where you'll find awesome views of the Devil's Tooth Range.
Drive
Driving
The next location is 280 miles away (~5.25 hours).
From Kootenay to Spokane takes just over 5 hours to complete. Keep this in mind if you decide to stop at Kootenay and hike. Leave enough time (and energy) to get back to Spokane safely.
Note: If you decide to skip Kootenay NP, your drive from Banff directly to Spokane will be 7 hours (363 miles) instead.
Departure
Days 8-9
Spokane, WA
Now it's time to fly back home via Spokane International Airport. We would suggest spending the night here after traveling back from Canada seeing as the last leg of the trip was at least 7 hours – more if you stopped to hike Kootenay.