Glacier, Yellowstone, Grand Teton & Craters of the Moon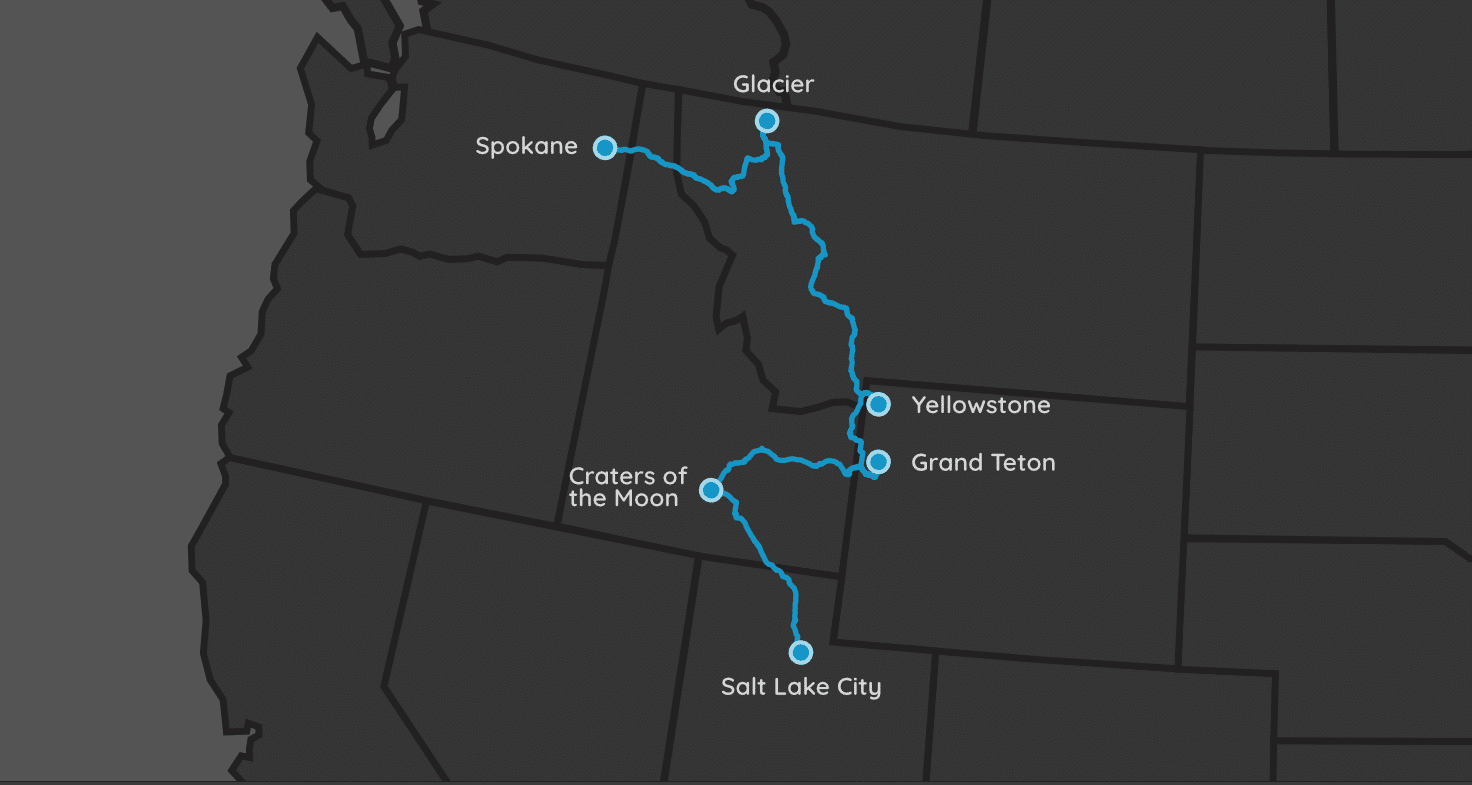 | | | | |
| --- | --- | --- | --- |
| Parks: 4 | Miles: 1,188 | Days: 11 | Hours: 21 |
Yes, this road trip is a long one.
However, 1,200 miles of driving will allow you to see three of the most iconic and recognizable national parks in the country. We first fly into Spokane, WA, then head to Glacier for a couple of days. After our time there is up, we head south to the dual-park area of Yellowstone and Grand Teton. Before heading home via Salt Lake City, we make a quick stop over at the weird landscape that is known as Craters of the Moon.
Itinerary Notes
Schedule a comfortable rental car well before you ever take your trip. I like to do it at the same time I book my flights. Remember, you and the family will be spending over 22 hours in this metal box. So, we highly suggest you get a vehicle that is a bit larger than you maybe would have any other time. This extra space will provide the necessary legroom and stretching out, so you and your fellow road warriors can take much needed naps.
This road trip can easily be reversed, just like most of our itineraries. Fly into Salt Lake City (SLC), and work your way north through Idaho, Wyoming, and Montana.
Arrival
Days 1-2
Spokane, WA
Glacier is about five hours away from Spokane, which is easily driven in one day, but probably not after a flight to Spokane (definitely not for us). Your best bet is to grab a cheap hotel for the night and get on the road first thing in the morning.
Drive
Driving
The next location is 278 miles away (~5 hours).
Get in the car and go due east. Glacier National Park is about 5 hours away, and unfortunately there are no national monuments on the way. You will however be driving through a number of national forests including, Coeur d'Alene National Forest, Lolo National Forest, and Flathead National Forest. They all have fantastic picnic areas and some easy trails to get out and stretch your legs if needed.
Destination
Days 2-5
Glacier National Park
West Glacier, MT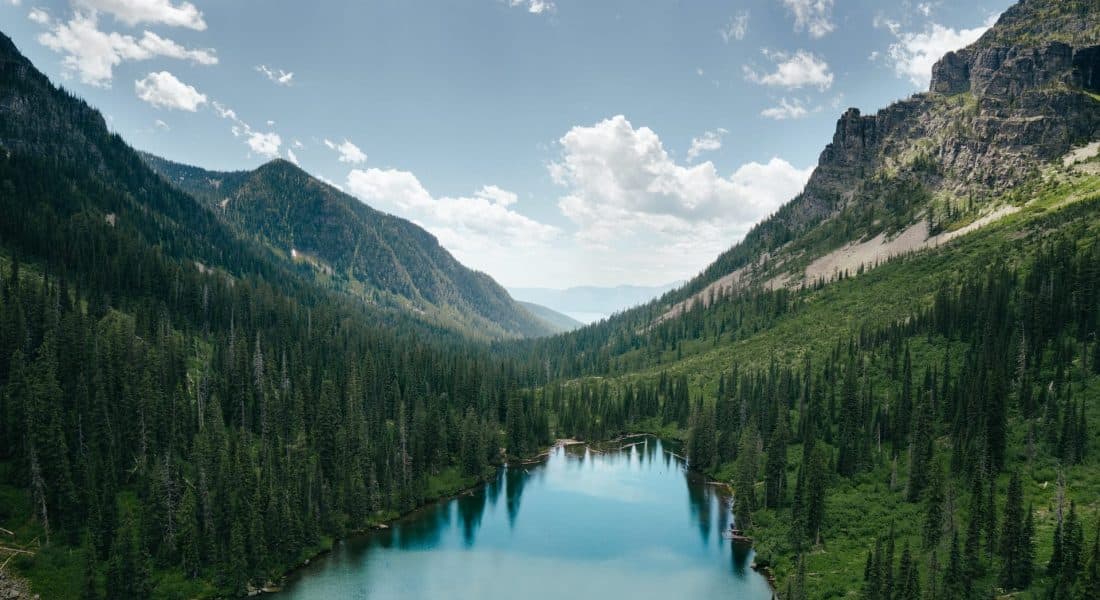 Glacier National Park is a remote wilderness area in Montana's Rocky Mountains, with glacier-carved peaks and valleys running to the Canadian border. Here you'll experience Glacier's pristine forests, alpine meadows, rugged mountains, and spectacular lakes. Glacier National Park has about two dozen active glaciers, which researchers have estimated will all be gone by the year 2100.
Lodging
Glacier is a park that is best experienced from staying inside the park. You'll get to take advantage of the early mornings and late evenings without the need to travel back out of the park. There are a couple of places to stay within the park, most surrounding Lake MacDonald. However, it should be noted that these in-the-park accommodations fill up rapidly. They recommend making reservations 13 months in advance.
If you decide to stay out of the park for whatever reason, the towns of Whitefish and Columbia Falls both have a good bit of Airbnbs available. Both towns are about 30 minutes away from the park's entrance.
Attractions
Glacier's biggest attraction is the 50-mile Going-to-the-Sun Road that slices through the heart of the park. This scenic highway hugs cliffs and has sharp curves, leading to a lot of white-knuckle driving. The park has a shuttle that makes the loop up and down this road, so you can take that if you want to take a break from driving. This road now requires a ticketing system to limit traffic.
Everyone who comes to Glacier NP hopes to see an actual glacier. You can see two glaciers from the Going-to-the-Sun Road, but if you aim to hike closer to one, then the Grinnell Glacier should be in your plans. This is an 11-mile round trip hike that is considered strenuous.
Did you know that just the Canadian border from Glacier is the Waterton Lakes National Park of Canada? There is a scenic drive called the Chief Mountain International Highway that runs for 30 miles (48 km), snaking through both parks (and countries).
Drive
Driving
The next location is 370 miles away (~6.5 hours).
This is the longest leg of the road trip. From Glacier to Yellowstone, you'll find yourself travelling the entire height of Montana. Helena (the state capital) or Butte would be good half way spots to grab a bite to eat.
Destination
Days 5-7
Yellowstone National Park
West Yellowstone, MT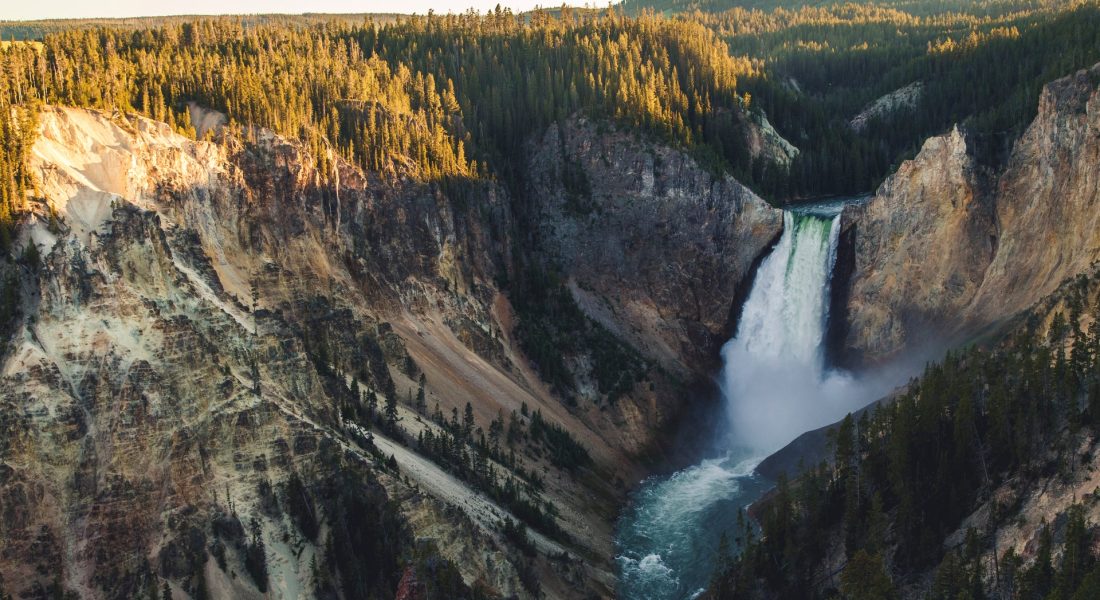 Yellowstone National Park hosts half of the world's geothermal features within its 2.2 million acres.
Lodging
Yellowstone National Park hosts around four million visits each year. More than half of these visits happen during June, July, and August. Coordinating your trip to be in May or September will make your visit much more enjoyable.
If you want to stay inside the park, you are recommended to reserve your stay 13-months in advance. Use the Xanterra site to book rooms at any of the many cabins or resorts within the park's boundary.
If you decide to stay outside the park, West Yellowstone, Gardiner and Carbella offer motels and various Airbnb options.
Attractions
Midday (10am-4pm) is when most of the crowds are out. If you are staying the night here rather than stopping on the way through, then keep these times in mind. Parking fills up early as well, so get there before 8am for the best experience.
Old Faithful Geyser erupts every 90 minutes, and shoots up to 8,400 gallons of hot water each time. Expect massive crowds here in the summer months, with the benches surrounding the geyser getting filled 30 minutes in advance.
Just north of Old Faithful are the boardwalks surrounding Midway Geyser Basis and Upper Geyser Basin. The Morning Glory Pool with its vibrant colors is a must-see location inside the Upper Basin.
Looking into the Grand Canyon of the Yellowstone you'll see the Yellowstone River, which cuts a 1,000 foot deep swatch through the rock. There are the Upper Falls and Lower Falls that you can hike to get amazing glimpses of both.
The best hike in the park goes to the Fairy Falls Trail, which is either a 1.5 or 7 mile round-trip easy walk that overlooks the Grand Prismatic Spring and it's falls.
Drive
Driving
The next location is 128 miles away (~2.5 hours).
The drive from Yellowstone to Jackson, WY will take about 2.5 hours if you circle around the parks, but you can always take Highway 191 that cuts through the hearts of Yellowstone and Grand Teton for a much more scenic drive.
Destination
Days 7-9
Grand Teton National Park
Jackson Hole, WY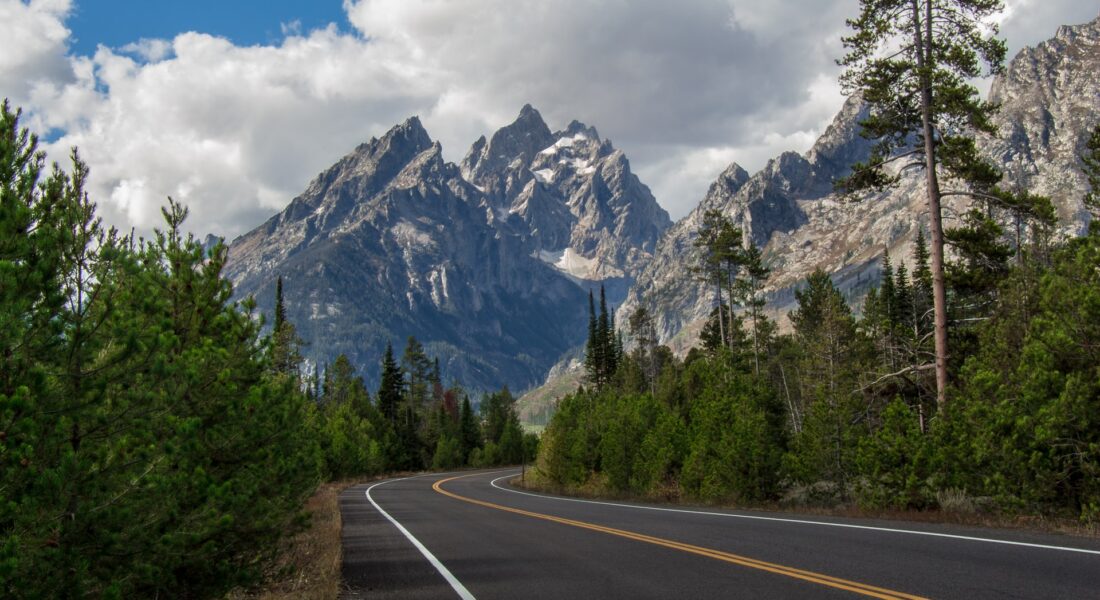 In Grant Teton National Park, sharp mountain ranges jut up from the landscape to dwarf everything surrounding it. This mountain range is the youngest in the Rockies, lending to the sharpness of the peaks.
Lodging
Jackson, Wyoming is less than 10 minutes outside the park's limits. It is a town with wonderful Airbnbs, hotels and restaurants. Victor, ID is slightly further away, but also has plenty of amenities.
If you'd prefer to stay inside the park, make your reservations 12 months in advance. There are about eight different cabins or lodges inside the park, with about the same number of campsites.
Attractions
Head to the Craig Thomas Visitors Center in Moose to start planning your trip. Drive north on Teton Park Road (24 miles) to get numerous views of the mountains. The Glacier View Turnout is a spot where you can view the Teton Glacier and towering Grand Teton.
The other scenic drives in the park include the Jenny Lake Road (8 miles round trip), and the Signal Mountain Summit Road (10 miles round trip).
The best hike in the park has to be the Jenny Lake Loop Trail that passes by Hidden Falls and Inspiration Point. The moderately-difficult trail begins at the Jenny Lake Visitor's Center, goes for about 7.5 miles and has an elevation change of 1,250 feet. At the top, it looks down on the blue waters of Jenny Lake.
Kayak or float down the Snake River and get unmatched views of the Teton Mountains. These activities range from cheap (kayak rentals) to pricey (guided tours on rafts). This may be a perfect chance to change up your trip a bit and do something a bit more adventurous than simply hiking.
Drive
Driving
The next location is 166 miles away (~3 hours).
The next stop is Arco, ID, which is a small town due west of Jackson, and just outside the Craters of the Moon National Monument.
We decided to squeeze in one last visit instead of heading back home right away. If you want to go back home immediately after visiting Grand Teton, then it would be either a 5 hour (290 miles) drive to Salt Lake City, or a 4.5 hour (230 miles) trip up to the Bozeman, MT airport.
Destination
Days 9-10
Craters of the Moon National Monument & Preserve
Arco, ID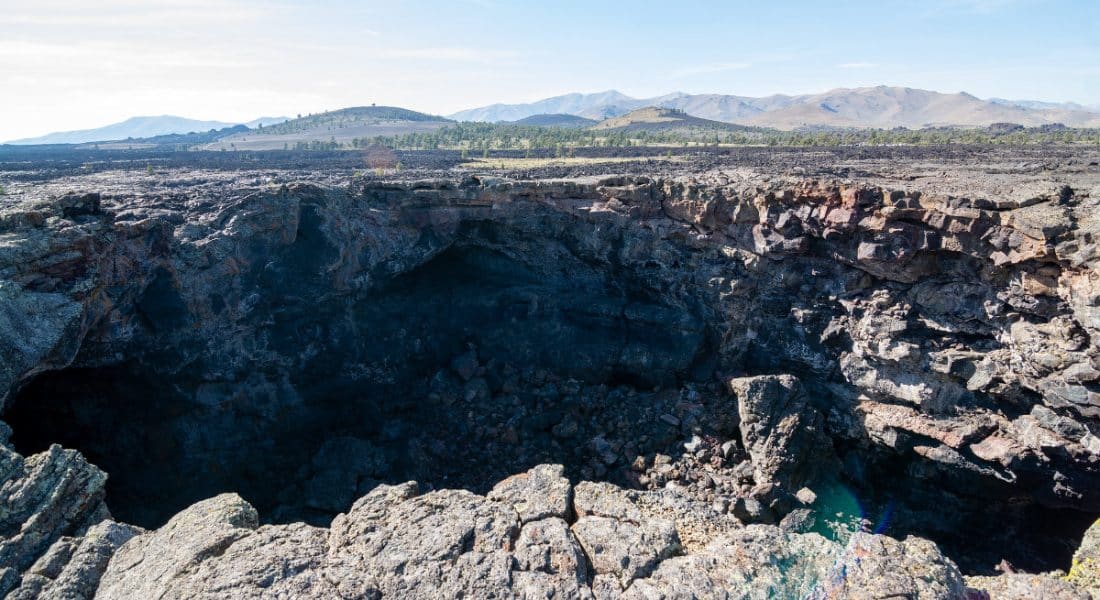 Craters of the Moon National Monument &  Preserve is a vast ocean of lava flows with scattered islands of cinder cones and sagebrush. The monument preserves around 53,500 acres of volcanic formations and lava flows on the northern rim of the Snake River Plain in south central Idaho.
Lodging
While we would have preferred to stay in Carey, ID, there just weren't any hotels or vacation rentals available. Instead, we chose Arco, ID, which ends up being about an hour away from the Craters of the Moon Visitors Center.
Attractions
The Scenic Loop Road is a seven-mile loop road points you to all the trailheads located within the park. Take this route, and stop along for a few hikes. The three best in our book:
Inferno Cone: While very steep, this 1/2 mile round trip trail takes you to the top of a volcanic cinder cone.
Broken Top Loop Trail: The easy 1.8 mile trail circles around a hill features a lot of different volcanic features along the way.
Caves Trail: There are five caves or lava tubes in the park, with all but one located along this trail.
Drive
Driving
The next location is 246 miles away (~3.5 hours).
The drive down to Salt Lake City will take just under four hours. If you're looking for a place to stop at on the way down, consider either a dip in the natural pools in Lava Hot Springs or viewing the petroglyphs in within Indian Rocks State Park.
Departure
Days 10-11
Salt Lake City, UT
It's now time to head back to your normal life and leave these southwest parks behind. Fly home via the Salt Lake City International Airport (SLC).