Grand Canyon to Zion National Park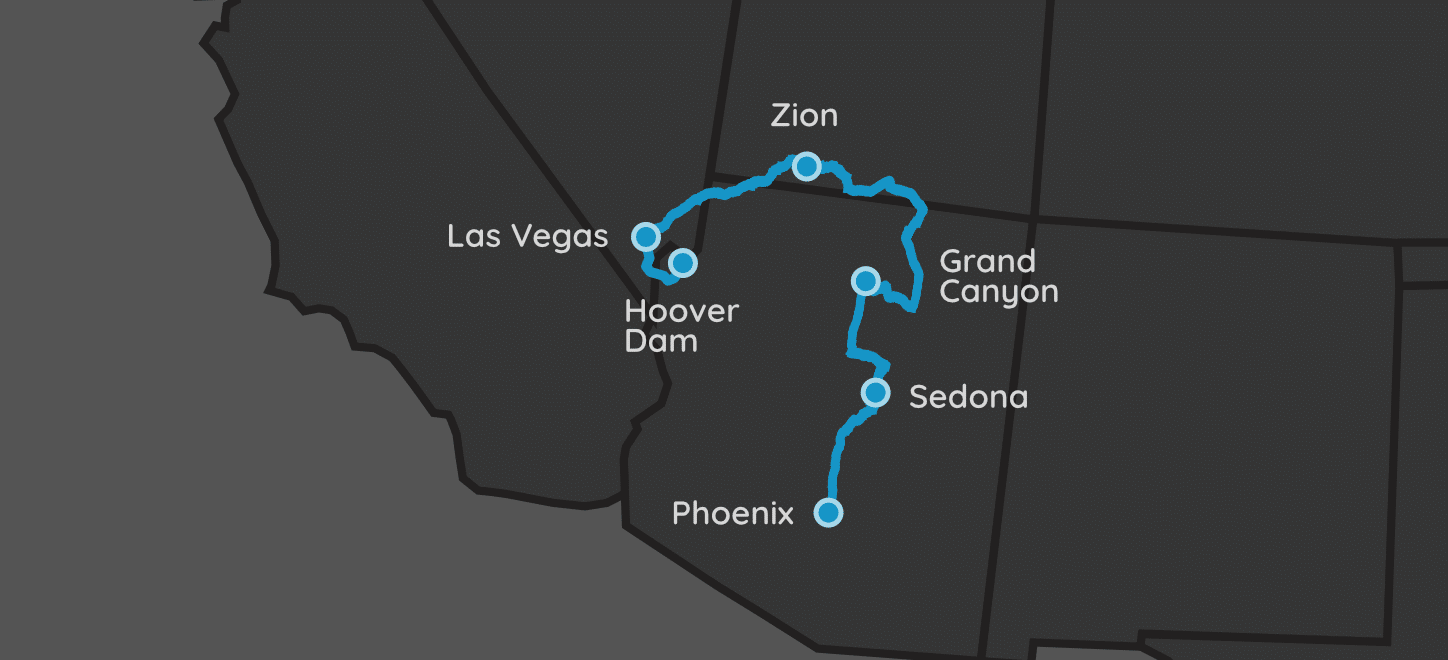 | | | | |
| --- | --- | --- | --- |
| Parks: 3 | Miles: 686 | Days: 9 | Hours: 11 |
This road trip takes you to places that are simply hard to describe. You really have to see them to believe them.
The Grand Canyon is so huge it looks like a painting when standing on the rim. Zion National Park is lush with greenery in the valley, and you spend the whole time there staring up at enormous sheer walls of rock. Sedona, AZ is quite possibly the most beautiful city in the United States, and the Hoover Dam is an inspiring testament to what humans can create.
Itinerary Notes
This 712 mile (1,146 km) trek takes just under 13 hours to drive start-to-finish, not including any bathroom, gas, or sightseeing breaks.
This trip can easily be reversed, flying into Las Vegas, and out of Phoenix. You can also sub out Salt Lake City, UT instead of Las Vegas if it is something that appeals to you.
On the drive from the Grand Canyon to Zion, you can easily add in a couple nights at the Bryce, Canyonlands or Capitol Reef National Parks. We decided against doing this because we wanted to spend enough time at each park to see everything we wanted to see. Sure, we could have hit 5 different National Parks within 9-11 days, but I would have felt I was skipping a lot of what I wanted to do at each park. Instead, we will save these parks for separate trip at another time.
Arrival
Days 1-2
Phoenix, AZ
Flying into Phoenix International Airport was an easy decision. We had family in Mesa, AZ we wanted to visit on the way north, and it is the most commonly used airport for trips that visit the Grand Canyon. We decided to grab a cheap hotel for the night after we landed, so we could get a full day of exploring on our way north the next day.
Drive
Driving
The next location is 116 miles away (~2 hours).
Drive north towards Sedona. Traveling through Sedona only adds about 30 minutes to your trip up to the Grand Canyon. It is a perfect half-way point to stretch your legs and is one of the most beautiful cities I have ever seen.
Must See
Sedona, AZ
Sedona, Arizona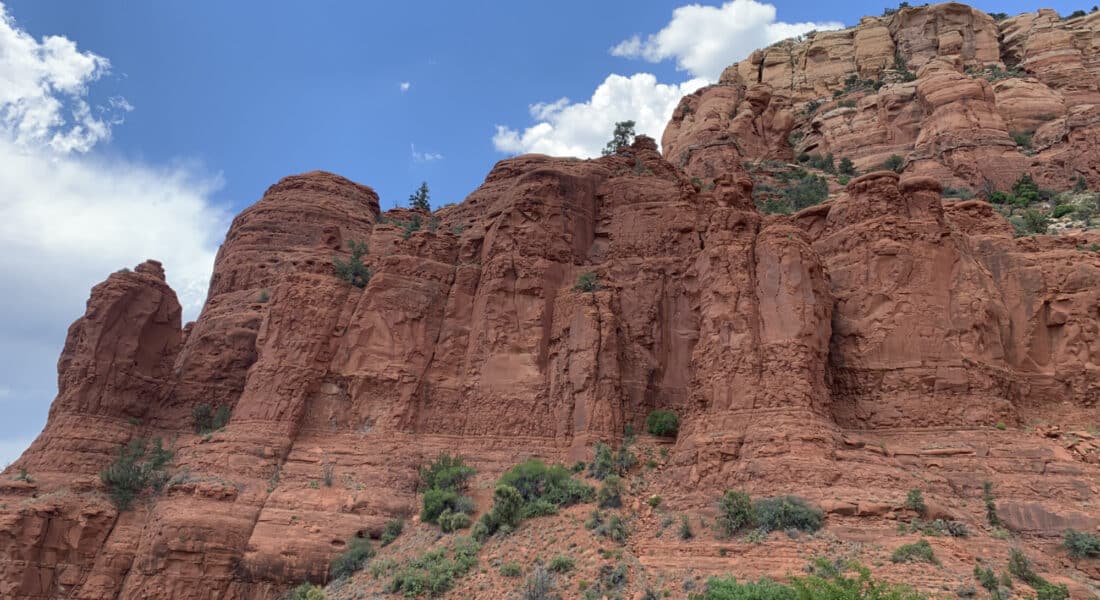 Sedona, Arizona is the very definition of "must see". The mix of high red rock formations and lush green underbrush is a sight you just need to behold.
While you can easily find enough to do in Sedona to spend the night here, we decided to drive through Sedona and stop only at the Chapel of the Holy Cross. It was a perfect spot high up above the city to take in the views and visit the iconic structure built in 1932. It is open 9 AM-5 PM seven days a week and a perfect attraction for anyone, regardless of your faith.
If you want a quick and easy hike in Sedona, I recommend the 2.3 mile Fay Canyon Trail. It passes by a large arch while walking through thick forests flanked by high red sandstone walls.
Drive
Driving
The next location is 113 miles away (~2 hours).
After leaving Sedona, we headed north, winding through Flagstaff. We stopped at Lumberyard Brewing and had a nice meal outside. It was a bit crowded, but there are a lot of other restaurants and breweries in the city as well.
Destination
Days 2-5
Grand Canyon National Park, South Rim
Grand Canyon, AZ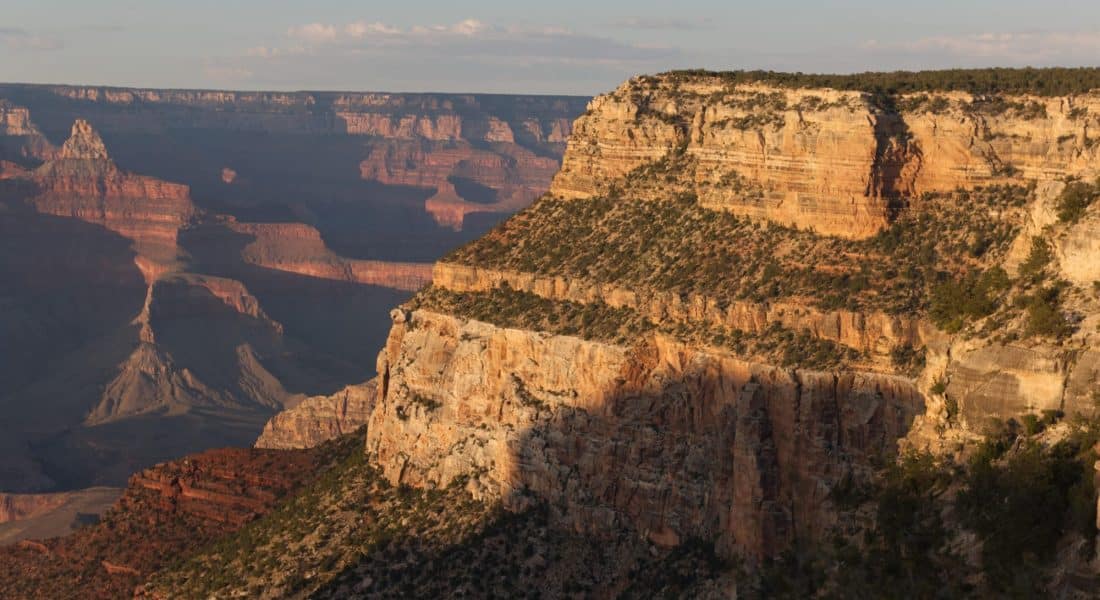 There are two main visitation areas of the Grand Canyon National Park. The park is most commonly accessed via the South Rim, which is open year-round, and the North Rim shuts down in the winter months. The South Rim also has much more attractions and trails.
Unfortunately, you don't get a great view of the Canyon on your way towards the South Rim, but you can tell something majestic is right in front of you as you pull into the parking lot.
Lodging
We stayed in the Bright Angel Cabins, and would not have changed it if given the opportunity to do it again. While these cabins are a bit rustic – no TV or A/C – most of the cabins are right on the Canyon's rim.
If you want a slightly more amenity-filled stay, consider the Bright Angel Lodge or the El Tovar Hotel. All the in-park lodging are managed by the same company and booking a night or two is extremely easy.
We would suggest not staying out of the park. With so much to do, having to drive from Williams (the closest "large" town, would suck up too much time.
Attractions
Besides watching the sunrise, the sunset and gazing at the stars in the darkest sky you've ever seen, there are a lot of attractions you should visit during your time at the Grand Canyon.
You will always find yourself walking along the South Rim Trail, which is extremely easy and does not have any major elevation changes. It is paved, and acts more like a boardwalk in places than an actual trail. If you want to go into the canyon a bit, we recommend taking the well-traveled Bright Angel Trail. It is extremely important to be prepared on this trail! It's steep, and hiking down is the easy part and will easily take twice the effort to turn around and hike back out. We only hiked down for about 20 minutes, and we were into the canyon quite a bit – you really don't have to go far to get a sense for how deep this canyon is.
You must also visit the Yavapai Point Museum, Moran Point, and the Oh Aah Point at the start of the South Kaibab Trail. All of these spots offer incredible views, but will also have tons of traffic during the busy season.
The best thing about staying within the Park's lodging is that once the crowds disperse for the day, you basically have the park to yourself. The early morning and late evening walks were our most favorite parts of our time here.
Drive
Driving
The next location is 228 miles away (~4 hours).
The trip to Zion forces you to go the whole way around the Grand Canyon since there's no bridge spanning it. The drive is peaceful and fairly easy – albeit long. We stopped at a few places to stretch the legs and take in some amazing views, but for the most part we just drove.
A popular attraction within this section of the drive is the Antelope Canyon in Page, AZ. We did not stop because it is quite expensive, but for smaller families it may be a worthwhile stop.
Destination
Days 5-8
Zion National Park
Springdale, UT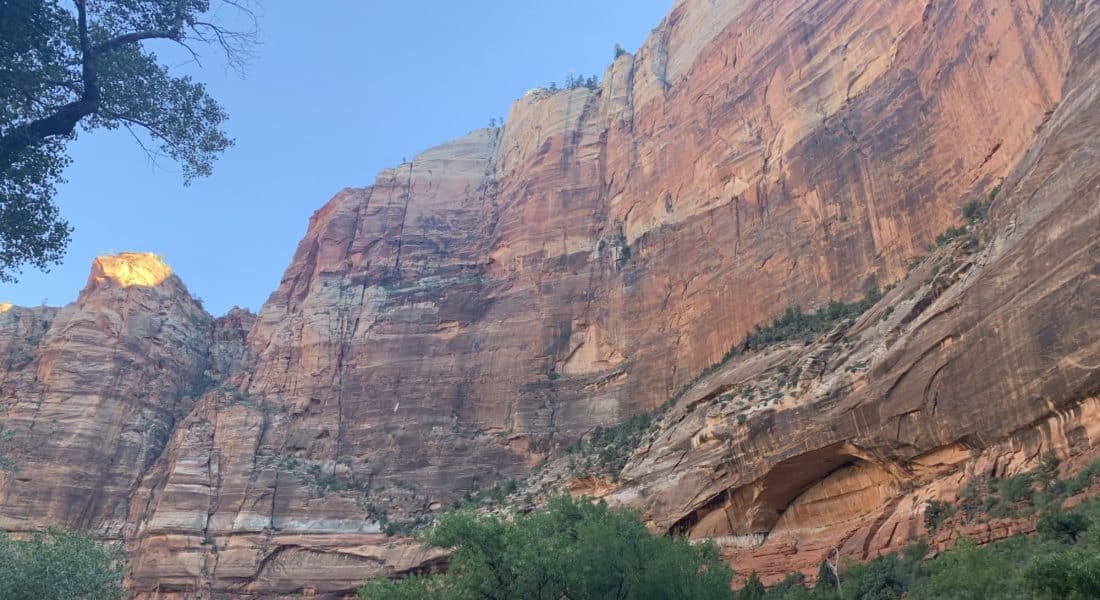 I like to think of Zion National Park as the "reverse" of the Grand Canyon. We spent 3 days looking down into the Grand Canyon, and now here we were at Zion staring up instead. While the Grand Canyon was almost too big for you to really appreciate its size, Zion had the opposite effect. The views here were amazing, and I could not get enough of this park.
Lodging
We stayed at the Zion Lodge, which was located within walking distance to the entrance of the Park. It really was the best place to stay, and it provided a nice change of pace from our Grand Canyon lodging. This place was more like a resort. It had a number of pools, spacious rooms and even a grill on the patio, so we could have cooked some of our own meals.
There were also a lot of regular Hotels and other accommodations within Springdale, UT (the city that the entrance of the park is in). No matter where you stay in Springdale, getting to the park is easy with the park's shuttle bus system.
Attractions
Get into the park early. By early, I mean really early. This allows you to beat the majority of the crowds and the midday heat. We got to the shuttle pickup area about 20 minutes before the first bus was to arrive, and there were already plenty of people waiting. Going early into this park will make your trip much more enjoyable.
The two most popular trails at Zion are also the hardest.
The Narrows trail is a hike through the Virgin River (provided you have water hiking boots) and gets you some of the most beautiful scenery the park has to offer. This trail is located and at the very end of the park, and is preceded by the Riverside Walk trail, which is long, but fairly easy. We decided to skip the Narrows and instead just do the Riverside Walk, and we all really enjoyed it.
Angel's Landing is a 4 hour, 5.5 mile trip to the top of an overlook, and is not for the faint of heart or small children. Being one of the most iconic trails in the park, it does get busy, and it has steep drop-offs, a combination that has proven fatal in the past.
There are many other easier and less-traveled trails in this park as well – all accessible by the shuttle that runs the span of the park (cars aren't allowed in).
Take a short hike up to see the Court of the Patriarchs, or a 1-1.5 mile trip to see the Emerald Pools or the Watchmen. All of these trails require moderate effort, and are much less busy than Angel's Landing or The Narrows.
Drive
Driving
The next location is 197 miles away (~3.5 hours).
Leaving Zion was bittersweet. We only spent 3 days there, but we could have easily done a couple more. However, it was time to begin our trek back home.
This leg of the trip is almost exclusively on Interstate 15, and at times will look like you're on a deserted planet. About an hour into your drive to Vegas you'll pass Red Cliffs Recreational Area. There are a few great hikes in there if you're up for it.
You'll eventually pass the Lake Mead National Recreation Area, which would be a good spot to stretch the legs or use a restroom.
We decided to pass Las Vegas, and visit the Hoover Dam before checking into our hotel. If this isn't something you want to do, you can shave about 45 minutes off this drive by skipping it.
Must See
Hoover Dam
Lake Mead National Recreation Area, Boulder City, NV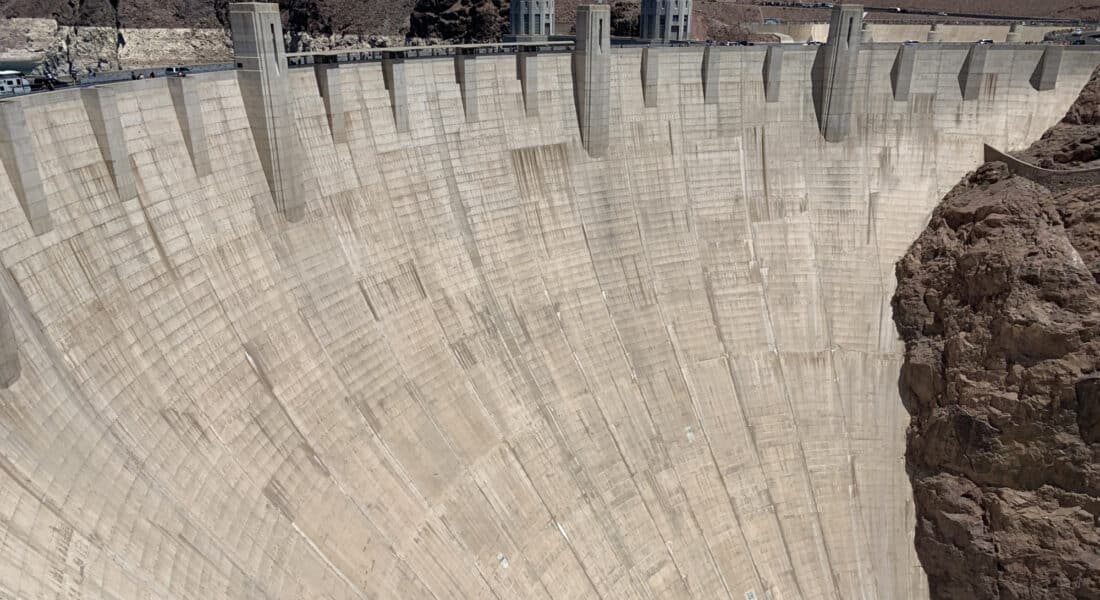 Unfortunately, you need to pass Las Vegas in order to visit the Hoover Dam. However, to see this iconic feature, it was something we simply had to do.
There is a small fee to drive over the dam, so expect that if you just want to pass through. If you want to stop, there is a huge parking garage and a visitor's center that you can see amazing views from.
We took the Hoover Dam Tour, which takes you inside the inner-working of this hydroelectric power plant. Seeing the enormous generates inside and hearing the history lesson was eye-opening and awe-inspiring.
Drive
Driving
The next location is 32 miles away (~.75 hours).
After leaving the Hoover Dam, we snaked back towards Las Vegas on the same road we came in on.
Departure
Day 9
Las Vegas, NV
We spent the night in Las Vegas, and woke up the next morning for an early flight out of town. Spending the night in Sin City was fun, but we were exhausted from the trip, and didn't really take in too much of the sights-and-sounds of the city.
The great thing about using Las Vegas to fly out of is that the flights are generally cheaper because the city wants to bring you in to gamble, and thus subsidize the costs a bit. It was still expensive for my family of five, but it was cheaper than if we had used Salt Lake City, UT, which was our second choice to fly out of.