Hiking the Fay Canyon Trail in Sedona, AZ
The Fay Canyon Trail is a popular hike in Sedona, Arizona. The town is known for its stunning red rock formations and natural beauty, contrasted with the lush greenery in the low-lying areas. I easily consider Sedona one of the most beautiful cities I've ever had the pleasure of visiting.
The trail is located within the Coconino National Forest, a vast area of wilderness that covers over a million and a half acres in Northern Arizona. This particular trail offers hikers the opportunity to explore a unique and diverse landscape, with a variety of plant life, wildlife, and geological features.
Fay Canyon Trail is a must-do hike for anyone visiting Sedona. With so many other hiking trails and other attractions, Sedona is the perfect destination for anyone looking to make a stop during a longer vacation, or simply stay around town.
Getting to the Fay Canyon Trail
Here are the GPS Coordinates to the parking lot of the Fay Canyon Trail trailhead: 34.902246, -111.857224 (Google Maps Link).
To get to the Fay Canyon Trail Trailhead, take 89A north from Sedona for about 3 miles, then turn left onto Dry Creek Road. Follow Dry Creek Road for about 2 miles, and then turn left onto Boynton Pass Road. The trailhead is located 3 more miles down Boynton Pass on your left.
Paved parking is available for around two dozen vehicles at the trailhead. There are vault toilets at this parking lot as well.
The Fay Canyon Trail is unfortunately not accessible via the free Sedona Shuttle. The shuttle routes only go as far north as Devil's Creek Trailhead, which is about 3 miles too short. Their shuttles are great to get around town and to other trailheads such as Solder Pass, Mescal, Cathedral Rock, Little Horse and Dry Creek trailheads. These shuttles operate year-round from Thursday through Sunday.
The Fay Canyon Trail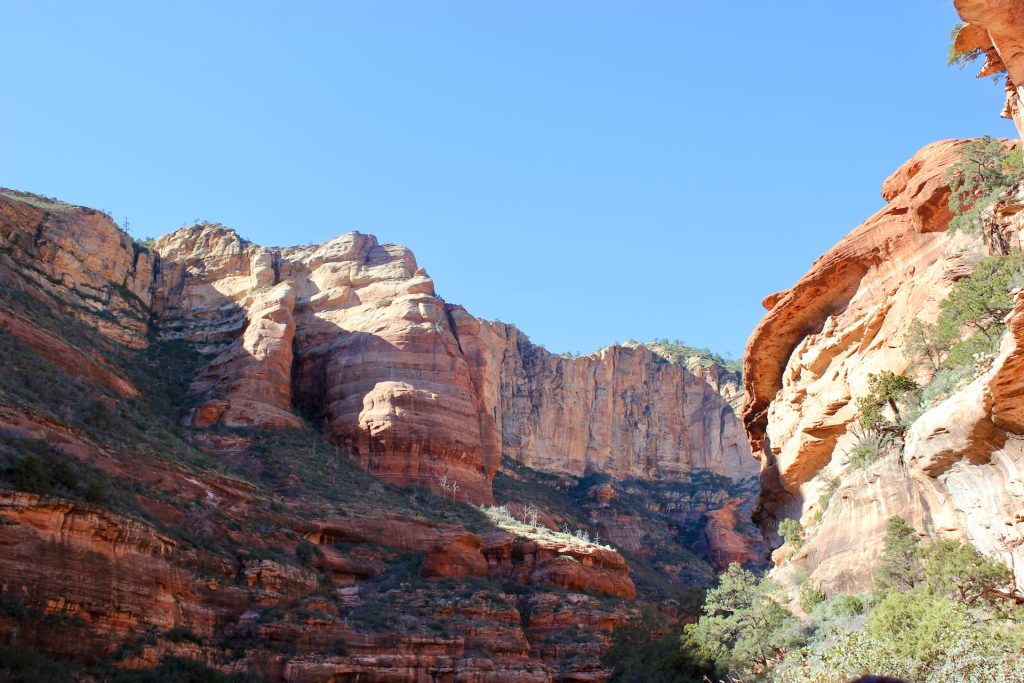 Once you reach the Fay Canyon Trailhead, you can expect to see a wide variety of natural features, including towering red rock cliffs, native desert plants, and dense patches of Juniper and pine trees. This short trail winds through a narrow canyon, offering hikers the opportunity to explore the unique geology of the area.
It is a relatively easy and flat trail, with a gradual incline along a well-maintained path. The easy hike is roughly 2.5 miles round trip, and the entire trail takes about an hour to complete.
| | |
| --- | --- |
| Hiking Distance | 2.3 miles (3.7 km) |
| Hiking Duration | 1 hour |
| Route Type | Out and back |
| Difficulty Level | Moderate |
| Elevation Climb | 193 feet (60 m) |
| Trail Type | Dirt |
| Pets Allowed | Yes, but on a leash. |
| Fees | Free! |
This great trail is one of the more popular trails in Sedona, and for good reason. Expect to see plenty of people if hiking during midday, although you can typically avoid the crowds by starting either early or late in the day.
Along the trail you'll see interesting rock formations, bright red sandstone, beautiful box canyon walls towering overhead of Fay Canyon. Parts of the trail follows along a dry creek bed on the canyon floor. The area enjoys a fairly dense forest, so the canopy should keep you relatively cool during this hike.
One of the main highlights of the trail is the Fay Canyon Arch, a natural arch that stands about halfway through the trail. You can walk right up to it, and it'll be bigger than you think.
The Fay Canyon Trail dead ends at the high red Supai sandstone cliffs, at which point it is time to turn around and head back on the same trail to the parking lot.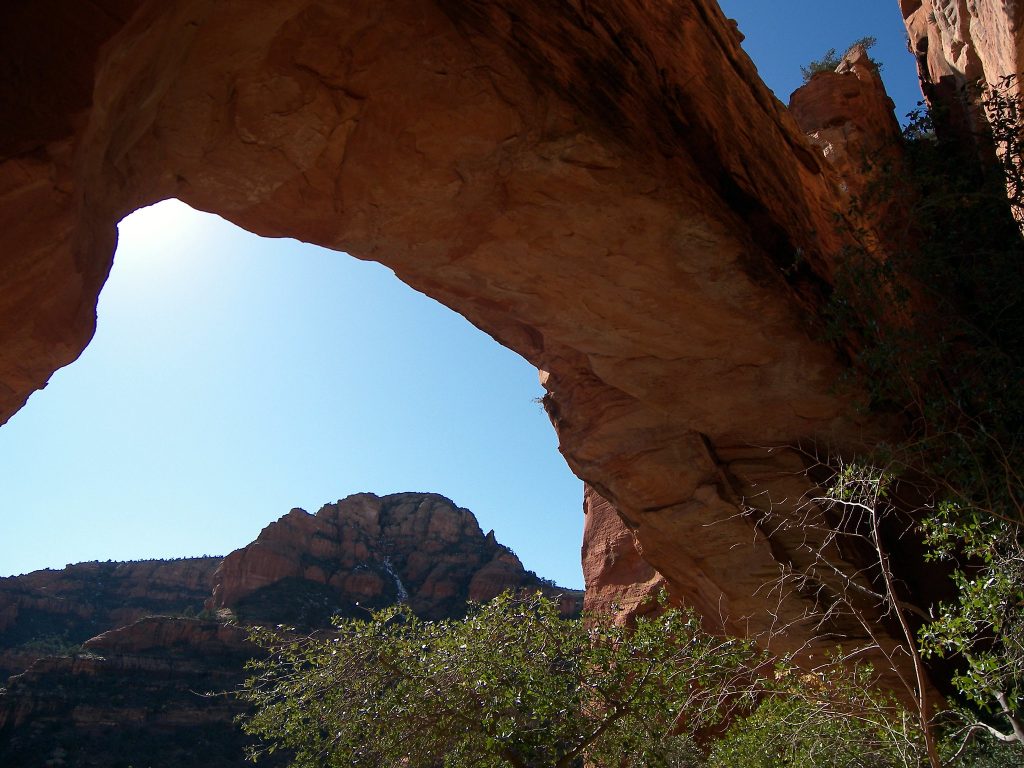 Nearby Hiking Trails
In addition to the Fay Canyon Trail, there are several other hiking trails nearby that offer a variety of experiences. Bell Rock Pathway is a popular trail that offers panoramic views of the surrounding area and is a great option for those looking for a more strenuous hike. Cathedral Rock Trail is another fun hike, known for its stunning views of the Sedona skyline. Additionally, Red Rock State Park, which is a 286-acre nature preserve and environmental education center, is located just a short drive from the Fay Canyon Trailhead.
Sedona Weather
Sedona has a unique climate, characterized by mild winters and hot summers. The temperatures can be quite warm during the summer months, so it is important to bring plenty of water and sunscreen. Any time is a great time to visit Sedona. The summer highs reach into the mid 80s, with the nighttime lows near 50 F. Winter sees snow occasionally and can get quite cold. Winter daytime highs barely reach into the 40s, so be sure to dress warmly if you plan to hike during this season.