Great Sand Dunes, Mesa Verde, Arches & Canyonlands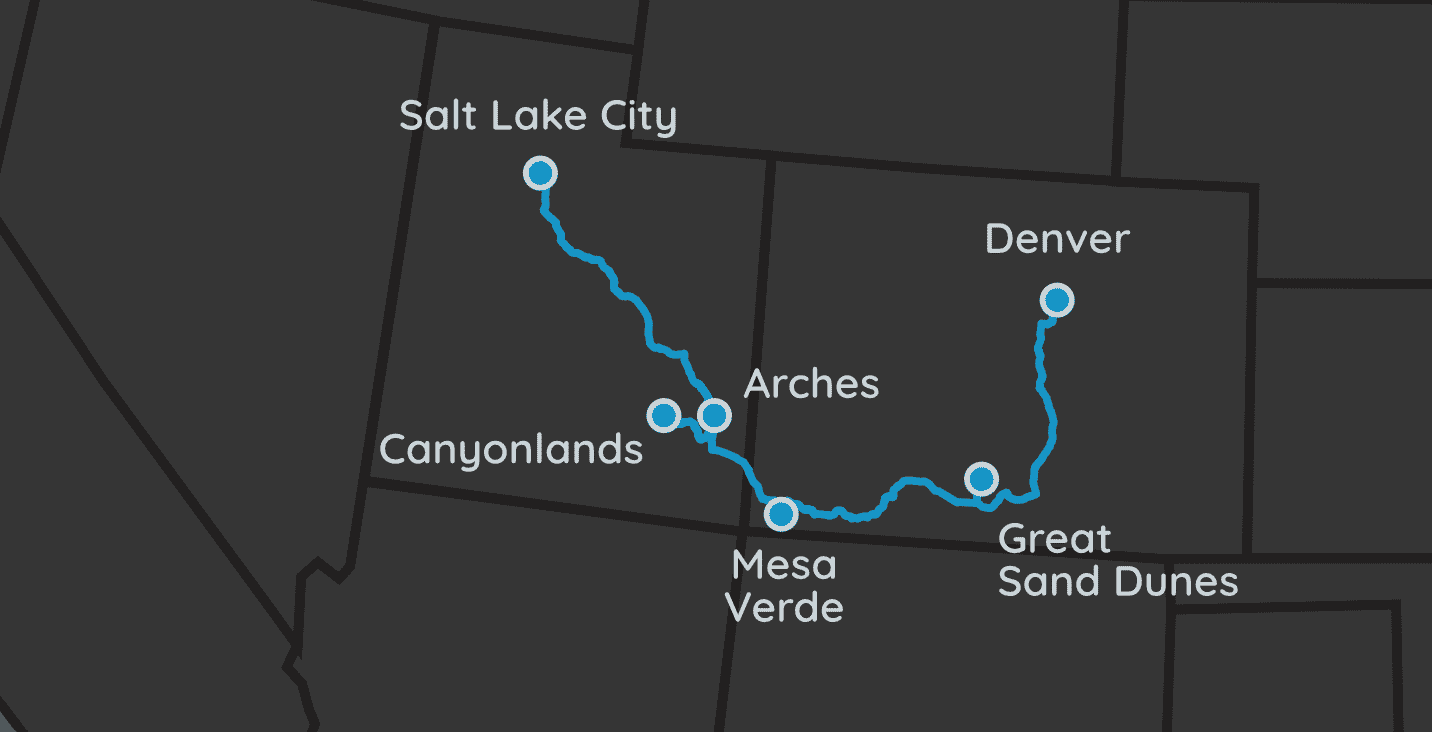 | | | | |
| --- | --- | --- | --- |
| Parks: 4 | Miles: 792 | Days: 7 | Hours: 13 |
This trip sees some of the lesser known parks in Colorado, then loops into Utah to see one of Utah's finest. Arches and Canyonlands are right next to each other, so a stay in Moab, UT provides a perfect jumping off point to see them both.
Itinerary Notes
This trip makes a stop in Arches NP, which if you are visiting between April and October, you'll need to purchase a timed entry pass. To cut down on congestion inside the park, NPS recently implemented this system that only allows you to enter the park in a vehicle during your allotted hour.
Schedule your rental vehicle ahead of time. Rental cars can be picked up and dropped off at different airports, but you just have to reserve it ahead of time. I usually do it as soon as I book our airfare. Do not wait to land in Denver and casually walk up to a rental kiosk. They might not have any cars available!
Arrival
Days 1-2
Denver, CO
We start this trip off by flying into Denver International Airport. An alternative would be to use Albuquerque International Sunport (ABQ) instead, but it adds about an extra 30-45 minutes to your drive to the Great Sand Dunes.
Drive
Driving
The next location is 250 miles away (~4 hours).
We suggest you spend the night in Denver before embarking on the trip. The drive to Alamosa takes about 4 hours, and goes directly through the beautiful city of Colorado Springs.
Destination
Days 2-3
Great Sand Dunes National Park
Alamosa, CO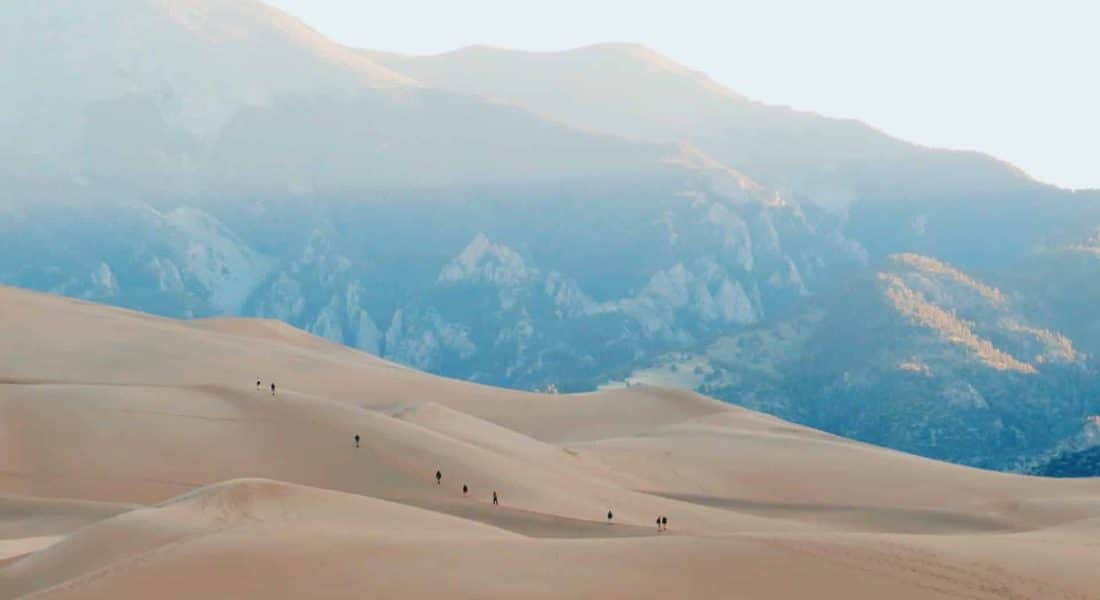 Located in southern Colorado, the Great Sand Dunes National Park is flanked to the east by the Sangre De Cristo Mountains. At the heart of the park is the remarkable dune field that features sand mounds over 700 feet high. The sands are constantly changing and shifting, with daily winds, water, and even gravity. This park is an otherworldly place with miles of sweeping sand dunes from another era.
Lodging
The best town to stay in when visiting the Great Sand Dunes in Alamosa, CO. There are a good bit of vacation rentals in the town, but your best option will probably be to shack up in a hotel for the night. We only stay one night here, so there is no need to get a place as big as what most Airbnbs are. There are no places to stay within the park itself, but there are a handful of ones directly outside of its boundary. Great Sand Dunes Lodge is located just south of the park's main entrance. There are also rustic camping cabins nearby that have no running water or showers, if that is your type of thing.
Activities
Just beyond the entrance to the park, on Highway 150, lies the main Visitors Center. From here, you'll quickly reach a couple of hiking trails, including the Dunes Overlook (moderate, 2.3 miles round trip) and the much easier half-mile Montville Loop.
We highly recommend you experience the dunes at night with nighttime dune walks and stargazing, many led by park rangers. This is the reason we schedule a night in Alamosa. This park absolutely needs to be experienced at night!
Did you know that you can go sand-sledding at the park? Rent boards and sleds at the Oasis Restaurant and Store (outside the park) and cross Medano Creek to find the best "slopes" to begin your sledding adventure.
Drive
Driving
The next location is 150 miles away (~3 hours).
Halfway through this drive, stop at historic Pagosa Springs to stretch the legs and grab a bite to eat.
Destination
Days 3-4
Mesa Verde National Park
Durango, CO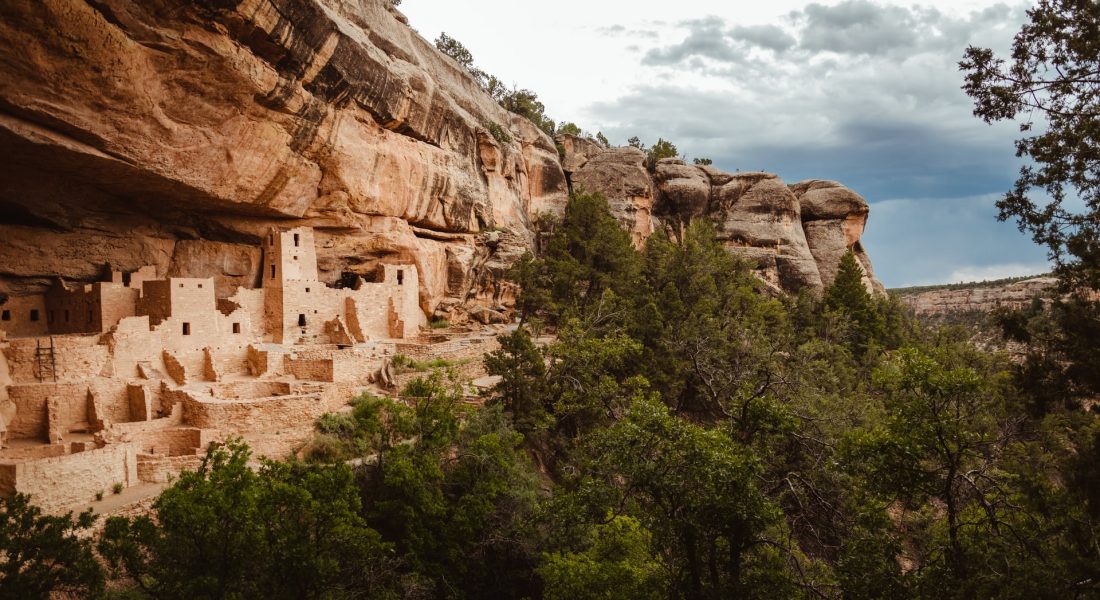 The main draw of the Mesa Verde National Park is its over 600 multi-story cliff dwellings created by the Pueblo Indians some 600 years ago.
Lodging
Pickup a hotel or vacation rental in Durango, CO. This historic town is a wonderful place to spend the night and experience the small-town charm of. Durango is about 40 minutes from Mesa Verde's main entrance.
Alternatively, the town of Cortez, CO is much closer to the park's entrance and also has a number of places to stay. If you'd like to stay within the park, Far View Lodge is your only option.
Attractions
Thee of the largest houses: Balcony House, Cliff Palace and Long House are structures that can only be viewed with a ranger-guided tour. Tour season runs from May to September, and can be purchased on Recreation.gov.
Hiking is most commonly done on either the Petroglyph Point Trail, or the Spruce Canyon Trail, both about 2.5 miles round trip, and located in the southern part of the park.
The curvy North Rim Road is an 11-mile one way scenic drive through the park, and passes numerous canyon overlooks. You'll drive most of this road accessing the points we listed above as well.
Outside the park, Canyons of the Ancients National Monument is located about 10 miles (ca. 16 km) north of Cortez. This monument contains the highest known archaeological site density in the United States, with rich, well-preserved evidence of native architecture and culture.
Drive
Driving
The next location is 158 miles away (~2.75 hours).
Along the drive from Mesa Verde to Moab, consider stopping at the Canyons of the Ancients National Monument. Similar to Mesa Verde, this archeological site sits on 176,000 acres with villages & shrines of Native American cultures and includes a museum.
Destination
Days 4-6
Arches National Park
Moab, UT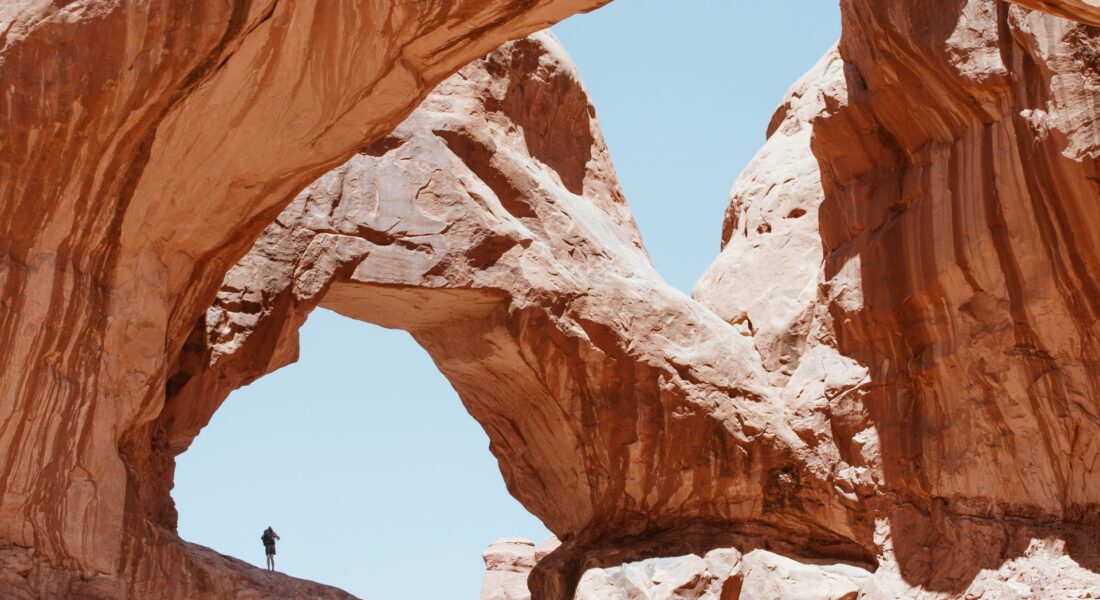 Arches National Park has over 2,000 natural stone arches and hundreds of soaring pinnacles, massive rock fins, and giant balanced rocks. The park is very busy between March and October. To avoid traffic, we recommend entering the park before 8 am or after 3 pm.
Timed Entry Pass Needed!
In 2022, Arches decided to implement a timed entry pass system. For a $2 fee, you receive access for one private vehicle to access the main Scenic Drive within Arches for only the hour you've reserved. You can stay as long as you want, but you must enter during your allotted hour.
Lodging
There are no accommodations or food inside the park. However, there is one campground near Devil's Garden. Lucky for us, the town of Moab, UT has everything you'll need and more. We just used Airbnb to find a place to stay, but there are plenty of other hotels and campsites there as well.
Attractions
Anytime you see a picture of Arches National Park (including on this page), chances are you are looking at the Delicate Arch. This iconic geologic feature is reached via a strenuous trail beginning at Wolfe Ranch. The trail takes about 2 hours and is 3 miles round trip. You can see the Delicate Arch from other vantage points (including sunsets) in the park without the difficult hiking. Park Avenue has a great view of the arch after a short walk off the road.
Other must-see features in the park include Balanced Rock, accessible via a short and easy trail just off Park Avenue and the North and South Windows. These can be seen up close via the trail at the Windows area. Also, a full tour of Devil's Garden (7.2 miles round trip, moderate) leads to eight incredible arches.
Must See
Canyonlands National Park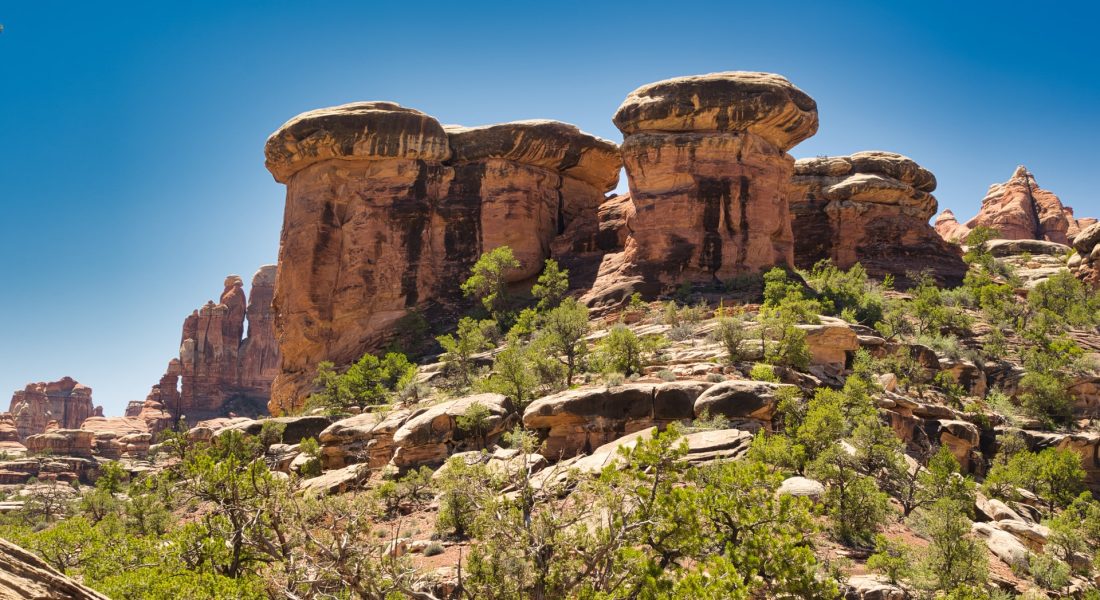 One of the days at Arches NP – or on your way to the next destination – take a ride down to Canyonlands National Park. It is only about 35 minutes or 30 miles (48 km) away if you're staying in Moab.
A one-day stop at Canyonlands needs to include visiting the Mesa Arch, which is only 1/2 mile round trip or 30-minute hike from the parking area. The parking area for the arch is located on the Grand View Point Road. This scenic road is a 12-mile long route that overlooks rock features such as Candlestick Tower, Buck Canyon and Orange Cliffs.
If you still haven't run out of time yet, take a look at the pictographs in Horseshoe Canyon. These prehistoric drawings are at the end of the 6.4 mile round trip Horseshoe Canyon Trail. It is a bit of a strenuous hike, so only attempt it if you're able.
Drive
Driving
The next location is 240 miles away (~3.75 hours).
After your couple days in Moab, it's time to begin the trek back home. We are going to fly home from Salt Lake City, which is a little less than 4 hours from Moab.
Departure
Days 6-7
Salt Lake City, UT
After a long trip, you can now head back home. We finish off this trip by flying home out of Salt Lake City's airport.
Looping back to Denver is also an option, but it would add about 2 extra hours to this final leg of your trip. The only benefit of that would be that you could then visit Rocky Mountain National Park if you extend your trip an extra day.